Lyran became a regular at our house. He was quite charming and a big help with Kat. She apparently adored him. As Kat grew weaker, Lyran would help me do everything Kat needed done. I even taught him how to give her the pain shots she was coming to need so badly.
It was the start of another busy week. Jareth was working, Kat was napping, Lyran was out picking up Kat's prescription while I puttered around the kitchen making Kat's lunch. I heard the door open and close. Lyran was back. I heard him approaching me.
"Did you get the medicine?"
"Yeah. Hey, do you know if…no never mind."
He said.
"What is it?"
"Well, I was just wondering if Kat has insurance."
"Um, no. Her health insurance stopped when she had to quit her job. Disability insurance hasn't picked up yet."
"That's not what I mean but that is good to know."
I walked over to the counter and sat Kat's plate down, then turned to face Lyran.
"What do you mean then? Does she have life insurance?"
I asked tightly.
"Yeah. I mean, I can't afford to bury her…I mean…I…uhh…"
"Her funeral is paid for. We've already made the arrangements. What makes you think we would ask you to pay for anything?
There was no way I was telling him about Kat's insurance or her money for that matter. His attitude about it all pissed me off. As if I would ask him for anything!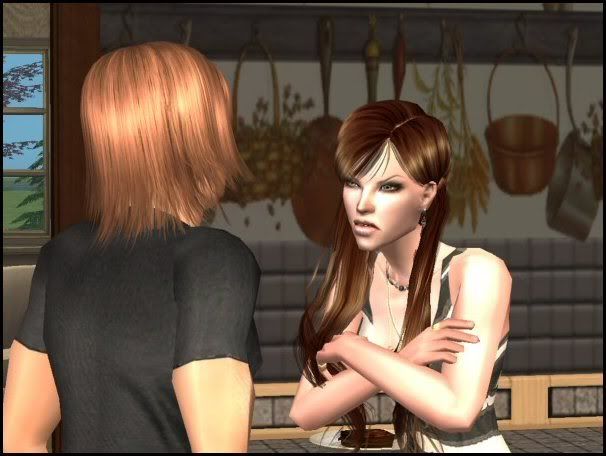 "Look, I see I should not have discussed this with you. I was only asking because I am in no financial shape to pop for a funeral. I am still looking for a job."
He said in a soothing tone that only infuriated me more.
"How are you going to look for a job if you spend all of your time over here?"
I know it was a snide thing to say but I was beyond caring.
"What's wrong with me spending time with my lady?"
He said through a sneer.
"You have Jareth over here at your beck and call when he's not at work."
"You can keep your nose out of my business. Whatever your intentions are with Kat, I'm here to tell you now, it is not going to work."
I took my time in enunciating each word so my point had time to settle in.
"Oh honey, you underestimate me."
He said with a grin.
"No, you underestimate the bond between Kat and me. And get this straight right now. My name is Jaysia, not honey or any other smart-ass word you want to call me. I demand respect in my own house. Don't forget where you stand!"
From down the hall, I heard Kat stirring around in her room. I took off to check on her, Lyran temporarily forgotten. She was on her feet, looking shaky and scared.
"Jays, what were you yelling about? Why are you mad at Lyran."
"Oh it's nothing sweetheart. I've got your lunch ready. Do you want me to help you to the kitchen or would you rather prop up in bed?"
"Stop babying me Jays and tell me what the hell all the yelling was about."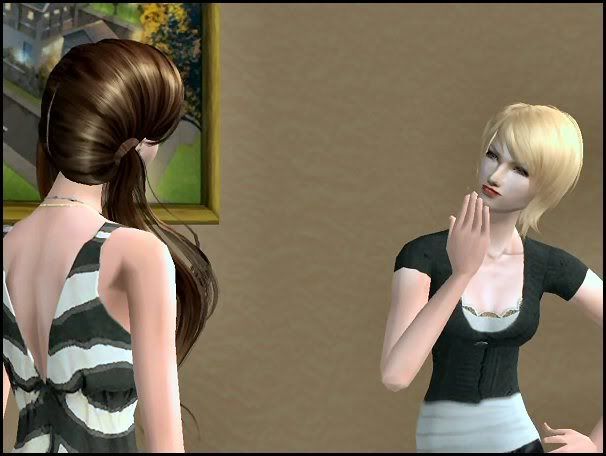 Lyran chose that moment to walk in. He folded his arms around Kat and held her close while he spoke.
"It was nothing baby. Jaysia and I just had a disagreement. Don't you worry about it. It won't happen again."
I was torn. Should I tell her what he asked me and how I felt, or should I agree with him to soothe her for the moment. I took the easy way out.
"He's right Kat. It was stupid really. I'm sorry if we woke you."
She seemed to accept our explanation, or maybe she was too weak to argue further. She let Lyran help her to the couch where he sat and pulled her onto his lap. She looked genuinely happy. Did I have a right to destroy that? Did I overact to his question?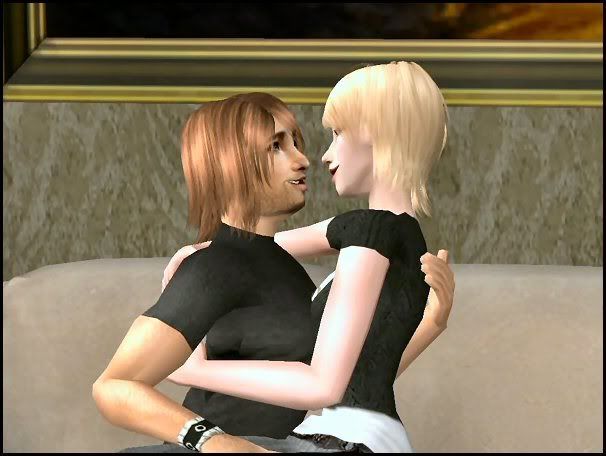 I avoided them for the rest of the afternoon. If Kat needed me, she had a voice. She could call out to me. When Jareth came home, I drug him into my old room and told him what was said between Lyran and I.
"Why didn't you tell Kat? You know she trusts you."
"I know, but she looked so worn out. You know how bad she is lately."
"We should tell her tonight when Lyran goes home. Do you think we can keep her awake long enough?"
"Yeah, I will hold her shot for a few minutes. Maybe that will give us time to talk sense into her."
I said as I gestured wildly.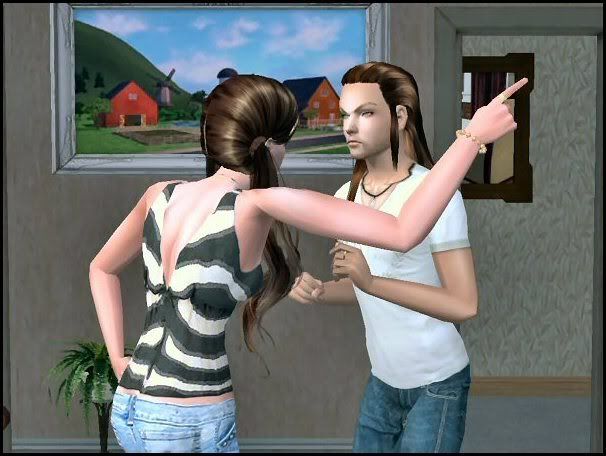 I was on edge until Lyran said goodbye. I stood at the window and watched him drive away. Jareth brought Kat into the family room so that we could have a talk with her. She seemed confused and let me know it.
"What's going on Jays? Isn't it time for my shot? I'm starting to hurt again and I feel sick to my stomach. Are you and Jareth ok? Don't leave me hanging."
I sat down on the couch beside her and told her about Lyran.
"I want you to listen to me Kat and not interrupt. I might have overreacted today when Lyran and I had our little argument but, I promise you, it was the way he said it and how he looked that put me on the defensive."
"I think Lyran is a gold digger." I added bluntly.
"WHAT?"
She yelled.
"He asked me today about your finances. Well more directly, if you had insurance because he said he couldn't pop for a funeral. Has he made any mention of money to you?"
She seemed to be hesitating. Seconds ticked by in the now silent room. Just when I was about to ask her again, her weak voice met my ears.
"As a matter of fact, he asked me today if I had any savings and if we could get a place of our own. He told me I should make him the beneficiary of my life insurance. I don't know how he even found out about my policy. Jeez, he sure had me fooled."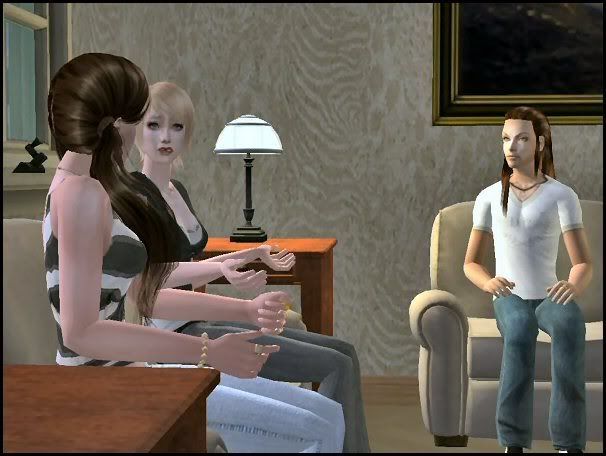 "He had all of us fooled Kat."
Jareth said, his voice thick.
"At least we found out before he could do any real harm or get a hold of your money."
"Yeah."
I chimed in.
"I wish you had said something when I asked you but I guess you had your reasons. I'm glad it is all out in the open. Will you guys excuse me so I can call the dirt bag and tell him it's over?"
"Sure honey, but don't get worked up."
I gave her hand a gentle squeeze as I followed Jareth from the room.
When Kat finished with Lyran, she called out to me and asked me for her shot. I gave it to her and helped her settle into bed. After she was settled, I sought Jareth for comfort. He held me in his strong arms and I finally relaxed.
**********************************************************
Thanks for your comments. Keep em coming! Chapter 10 will be up this week. I'm getting attached to my characters and it makes it more fun to do the story.