The Next day, Jenny decided to drag Mimi along with her to the mall to meet Dylan. Mimi didn't really want to go and be the third wheel around Dylan and Jenny as they locked lips everywhere ten seconds. It just wasn't a situation Mimi wanted to be in.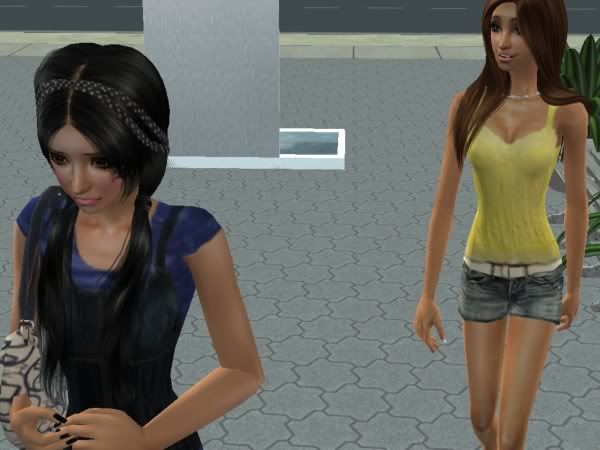 When they arrived Jenny was being a bit conspicuous as Mimi was following her through the outside corridor.
"Jenny?" Mimi said her name all weary.
"What best friend?" asked Jenny who had begun to fiddle with her hair.
"What are you planning?" Mimi asked raising an eyebrow trying catch up to Jenny and see her facial expression. Whenever Mimi could see Jenny's face, she could tell if she were lying or not.
"Nothing, don't be so paranoid Mimi", said Jenny walking faster.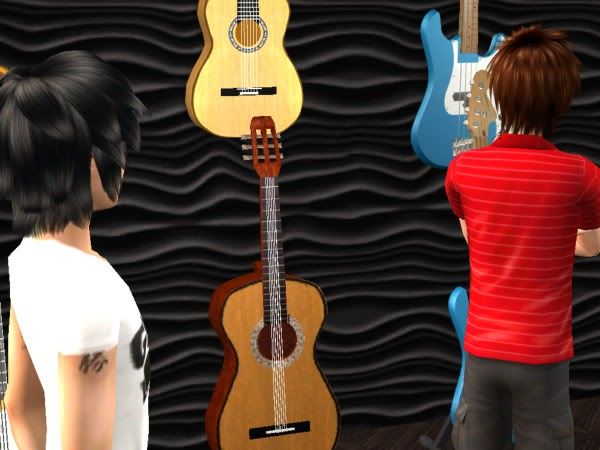 Kyle observed all the guitars that had hung over the walls and were lined up on the wall. He was beginning to wonder if he needed a new guitar, but really he only came to the store to get some guitar strings.
"Dylan are you ready to leave? I've been waiting on you for about half an hour", said Kyle grunting at the fact Dylan shopped like an old woman.
"No give me ten more minutes, I swear", said Dylan trying to distract himself with something.
"You said that last time, and if you keep wondering around here any longer the cashier might start to wonder if your stealing something. Your not stealing are you?" Kyle said getting worried. He didn't want to be apart of Dylan's crazy little rants.
"Of course not, I have money", said Dylan.
Just as Dylan finished speaking, Kyle turned his head to the elevator that made a loud
bing
and spotted Jenny...with Mimi behind her.
"I knew you were up to something! I'm out of here", Kyle said frantically as he began trying to exit on the opposite side of the store.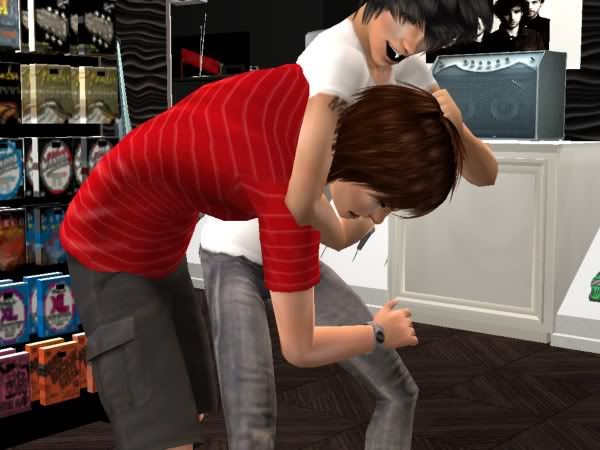 "Oh no your not!" Dylan grabbed a hold of Kyle and held him against his will.
"Dude, not funny anymore let go seriously!" said Kyle getting aggravated as Dylan kept him captive in a headlock. He wasn't ready to face Mimi yet and certainly not unexpectedly.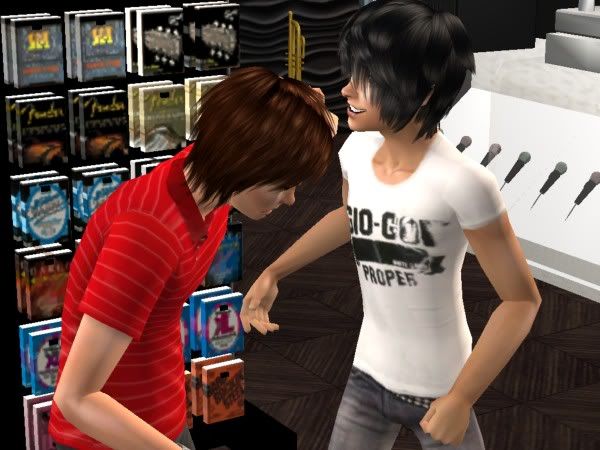 Dylan finally let go of Kyle who had looked so pissed at Dylan for that.
"Jenny, Mimi! Over here!" Dylan shouted signaling them forth. The girls looked pretty lost
in the store.
Jenny and Mimi finally spotted Dylan...and Kyle. Mimi wasn't expecting that.
"What the hell Jenny?" Mimi said murmuring under her lips as she pretended to smile.
"You can thank me later", said Jenny who murmured back then went up and kissed Dylan,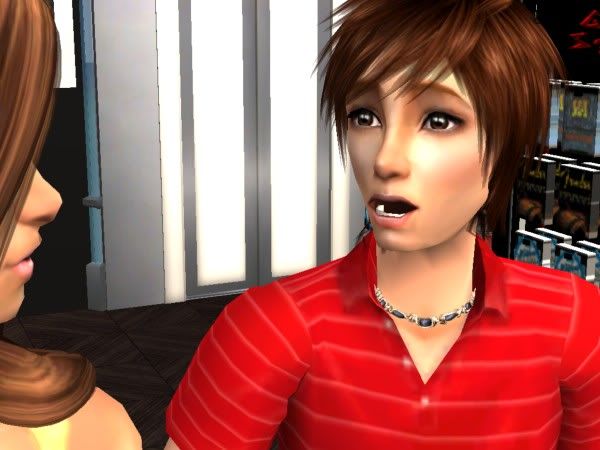 Mimi stopped right in front of Kyle sort of ignoring his presence. She felt so awkward being there with Kyle in the room. She didn't know whether to slap him or just go to another store. How could Jenny do something so ridiculous to her? This was the part when she wished she was the third wheel.
"Hey", said Kyle trying to brush off the silence.
"Hey", Mimi said all weird. She felt too uncomfortable and walked over to examine the music that was in the store.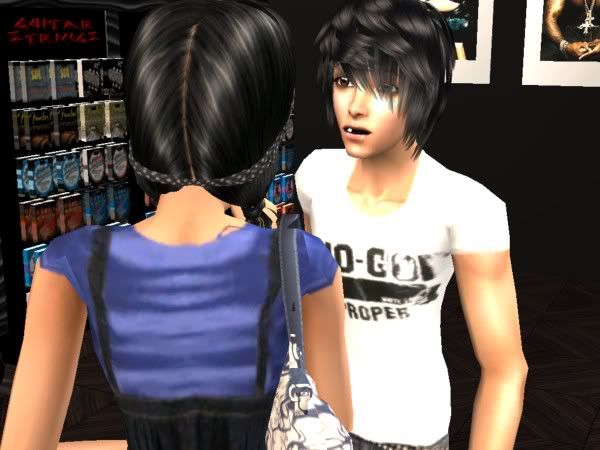 "Dylan I don't know about this, they aren't really chatting", said Jenny as she watched Mimi and Kyle.
"Trust me, Kyle will wisp her off her feet in no time", said Dylan. He had confidence in Kyle, but at the same time a little concern. Kyle was kind of different around Mimi than he had ever been with any other girl.
"I'm not too sure about that", said Jenny.
"How so?" Dylan asked raising a brow, "Jenny what aren't you telling me?"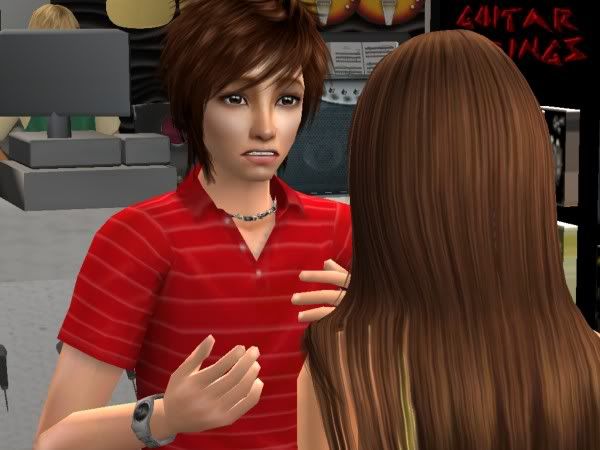 Kyle approach Mimi as she was looking over the CD rack.
"Mimi, I'm sorry about last night. That kiss took me by surprise", Kyle said apologizing.
Mimi was at first silent but then said,"It's okay, I was kind of winded too besides the fact of you running out afterwards. I mean. Was I a bad kisser or something?" Mimi rambled on.
"No no no, I was just taken back. And no, your not a bad kisser...wait a minute was that your first kiss Mimi?" Kyle asked. He was hoping not cause that would be a god awful first kiss since he totally ran out on her.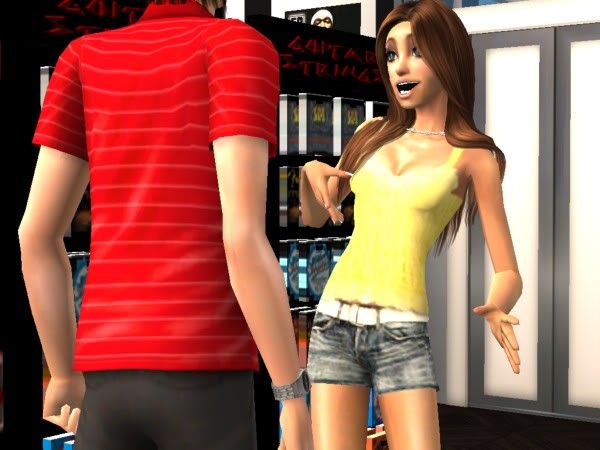 "Well if you mean to guy that I like then yes", said Mimi as she tried to be cool about it.
"Okay now I feel like an douche bag and you like me?", asked Kyle as his heart skipped a beat.
"Well not everything is suppose to be perfect Kyle it's okay, and well yes Kyle Hammon, I have fallen for your impeccable charm", Mimi said laughing.
Kyle was glad Mimi didn't sucker punch him or anything. If it were only other bratty girl he dated...or maybe even kissed, they would've have definitely been way more offended. Like Taylor for example.
"Mimi..." Kyle said embracing her.
"I like you too", Kyle said holding his arms around her.
Mimi's heart was pounding pretty fast to the point where she thought it could explode. She had never felt this way about someone before and it was a lovely feeling none the less. As Kyle embraced her she could probably smell the fragrance he was wearing, was it Calvin Klein? or Axe Spray? She wondered.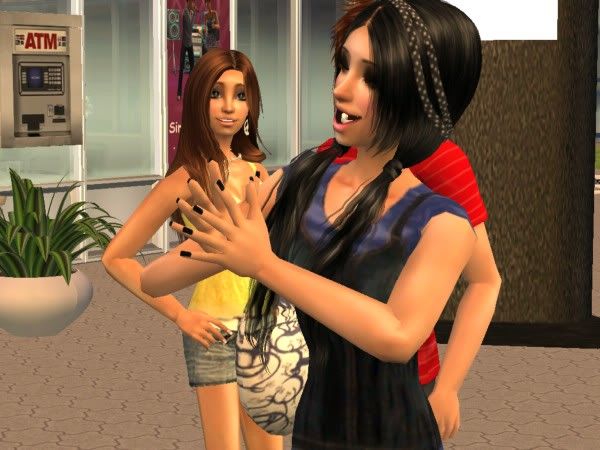 After being in the music store for three hours Kyle couldn't take it anymore and was ready ready to leave.
"Me and Dylan are going to try and write some more music together and I think my work is done here, later", Jenny said walking away behind Dylan.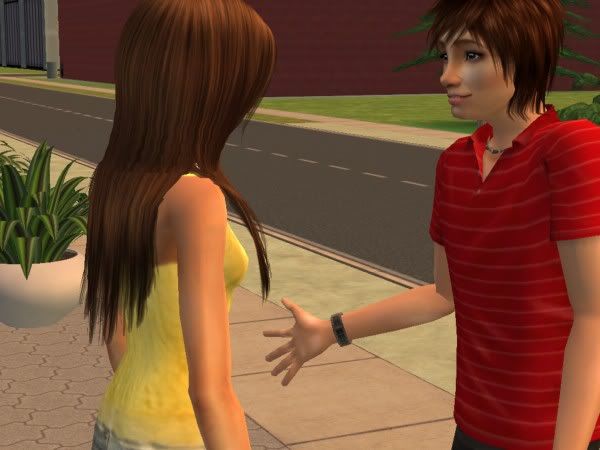 Kyle and Mimi watched as the two drove off in Jenny's green jeep.
"So, want to go to the beach?" asked Kyle
"I don't have a bathing suit but okay", Mimi said.
"No worries, I promise we aren't going to get wet", Kyle said reassuring her.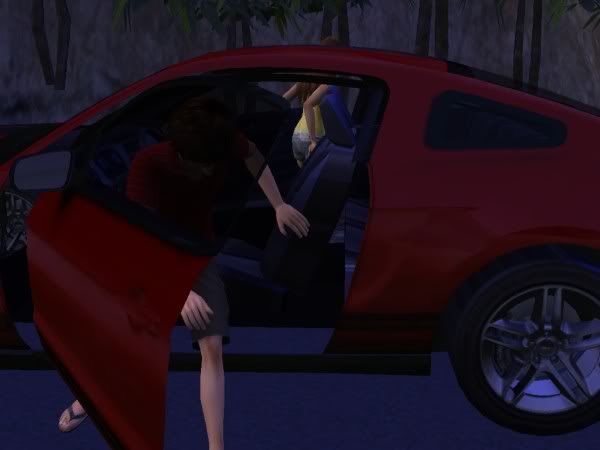 Kyle's car made a stop in front of the pavement. Mimi had gotten out of the car to only notice that they were surrounded by a million trees. Where in the world was Kyle trying to take her? Cause it certainly didn't look like the beach. It looked like the Evergreen Forest.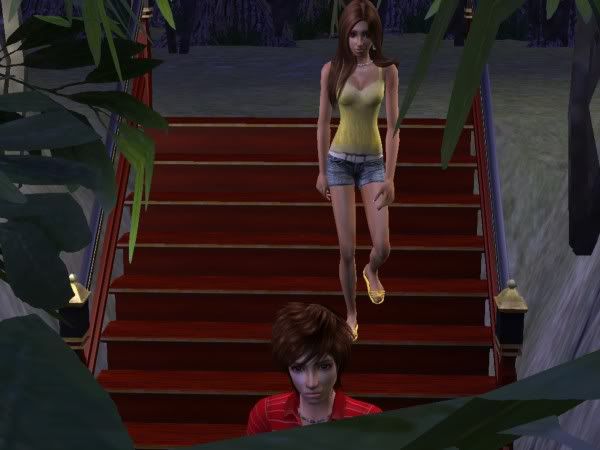 He lured her down a flight of stairs that followed a very long deep path. Luckily all of it was lit by a few lights, or there would be no way Mimi would walk through that amazon in the dark.
"Kyle are you trying to lead me out to a place where you can kill me and bury my body, cause I'm not going to lie but that's what it looks like.
Kyle started laughing then said, "Well I guess you're going to have to reach the end of the trail to find out".
About five minutes had passed until they finally reached sand. Mimi was pretty stunned that she had never noticed this place in Cali at all.
"And this is the beach", Kyle said showing her.
"Kyle, why aren't there any waves?" Mimi said laughing.
"Well it's not really a beach", Kyle laughed, "It's actually one of the closest boat piers we have, I just call it a beach cause of the sand".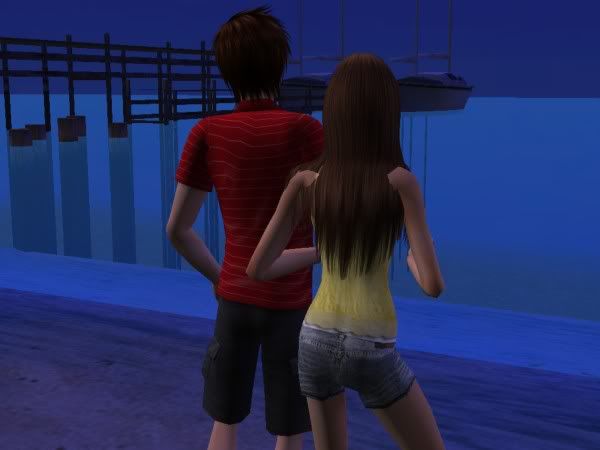 "So do you have a boat or something?" Mimi asked.
"Yeah, actually I do. Maybe I'll take you and others on it one day", said Kyle looking at the docks.
"And how many girls have you shown this place to?" Mimi asked the playboy as he began rubbing his.
Kyle made a fake cough, "Six".
"Kyle!" Mimi waled like a little kid who got candy taken away.
"I'm kidding! This is actually a place me and the guys discovered that no one really knows about. And we sort of promised not to tell anyone about it, so shhh", said Kyle.
They continued to look out at the ocean view. It was bountiful and the air was filled with the aroma of sea salt, but yet so fresh.
As they watched a couple boats float by, Kyle began to hold Mimi's hand. Her hands were soft and not too cold and not too warm, but just right. He began to feel as if he could hold them forever.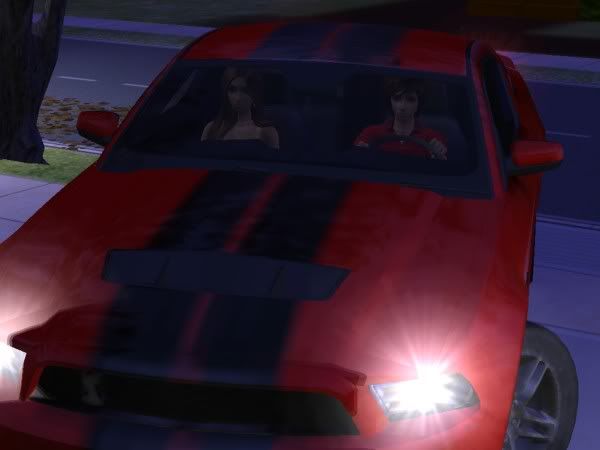 After they had finished their little rendezvous, Kyle drove Mimi home. Luckily for Mimi, her father wasn't home to see his daughter hop out of some guy's red mustang or else he'd come outside with his badge and gun and inspect Kyle.
He even offered to walk her up to her doorstep. After that they sort of stood there in silence and didn't know what to say. They weren't ready for goodbye even though they had school tomorrow.
"Well I'll see you at school tomorrow then", said Kyle.
"Kyle wait", said Mimi as she tugged his arm
Mimi kissed him once again. Though Kyle wasn't really expecting that again anytime soon since he screwed the first time around.
"Goodnight", Mimi said as she walked inside her house closing the door behind her.
"Yes", Kyle said whispering to himself as he was halfway down the staircase.
Now he finally knew the way Mimi felt about him and it felt relieved only for a split second until he had realized he still needed to tell Anthony.