New Hair, Clothes, Sims, and more on Tumblr.
Date Posted: 26th Apr 2013 at

11:04 PM
Lately I've taken a liking to uploading my content on tumblr. Here's a link to all my exclusive tumblr downloads, here's a comprehensive gallery that shows all my downloads across tumblr, modthesims, and leefish.nl, and below are some examples of recent tumblr exclusives. You can also see all my offsite content in this journal entry which I keep updated as I post stuff elsewhere.

Sim Update: Jessica Hamby
Date Posted: 14th Apr 2013 at

12:07 AM
I've edited my Jessica Hamby sim's face a bit since posting her here on MTS. You can see pics and download the new version on my tumblr if you so desire.

Tumblr Gallery of All My Downloads
Date Posted: 1st Mar 2013 at

05:02 AM
I've put together a gallery which lists all my downloads across modthesims, tumblr, and leefish.nl. Everything is shown in each appropriate category (like hair that's only packed on a sim is shown in the hair gallery, an outfit that can be worn as everyday and formal is shown in both categories, etc.) to make it nice and comprehensive. Here are some sample pics. Click here to visit the gallery!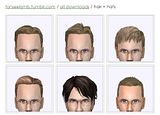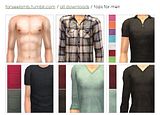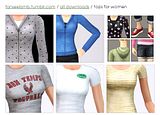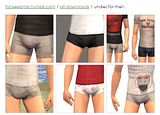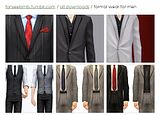 Fixed Pregnancy Morphs - Long and Short Sleeved Hoodies
Date Posted: 5th Sep 2012 at

07:39 PM
Fixed a couple of older pregnancy morphs. They had some weird shading since I didn't realize you have to use Cat's Normal Smoother on the baby bump after reshaping it. Whoops. So that's fixed now and looks much better. Click the pics to get the updated files from their download threads.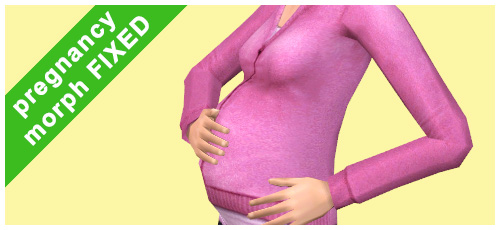 Brown Leather Jackets and Pregnancy Morph Added to Old Post
Date Posted: 28th Aug 2012 at

04:26 AM
Added two new brown leather jackets to this old post. Also added a pregnancy morph to the mesh.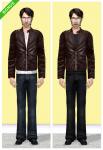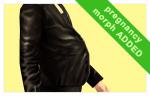 Ladies' Hoodie MESH UPDATED
Date Posted: 10th Jul 2012 at

08:08 PM
The hoodie mesh shown below has been updated as of July 10, 2012. Somehow the left sleeve had gotten screwed up after taking my upload pics, and this bad mesh is the one that got uploaded. You can see what I mean here. Yeah. Sorry. Didn't anyone notice that? Why didn't you tell me so I could fix it sooner? Anyhow, I've fixed it now. If you have the old mesh, please either redownload the hoodies file in this thread, which now contains the FIXED mesh along with the 3 hoodies.... OR you can download just the fixed mesh by itself here.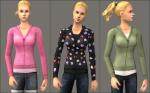 Date Posted: 6th Jul 2012 at

04:35 PM
Sometimes I upload stuff exclusively to tumblr or leefish.nl. Here's a handy thumbnail gallery of those downloads. You can also view a comprehensive gallery of all my tumblr, leefish.nl, and modthesims content!


Date Posted: 19th Jun 2012 at

08:38 PM
Added this new recolour to my old Long Sleeved Cowboys upload. You can download it HERE.


Old Upload Gets New Improved Textures
Date Posted: 5th Jun 2012 at

05:33 AM
I've re-imported all the textures in this old upload because they were pretty badly pixelated. All files in the post have now been replaced. Please redownload if you have the old ones. The files are all compressed and the textures are much improved. I won't be redoing all the pictures, but here's a look at three of the new improved outfits: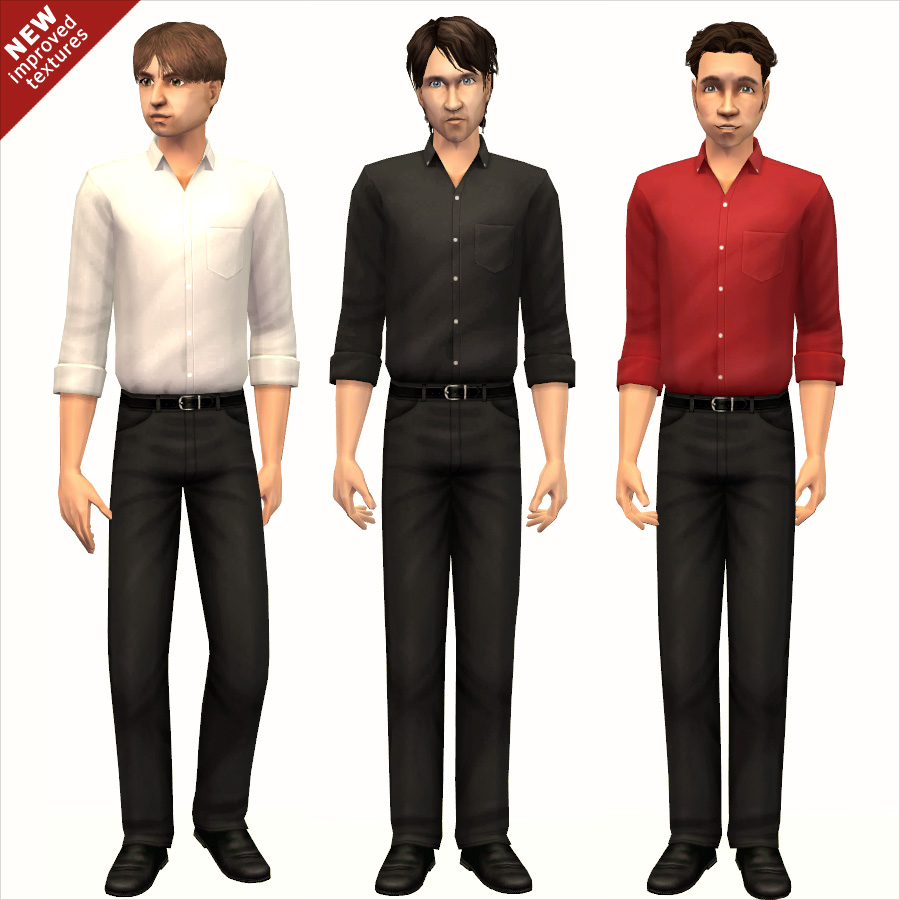 Users Viewing This Journal: 0 (0 members and 0 guests)