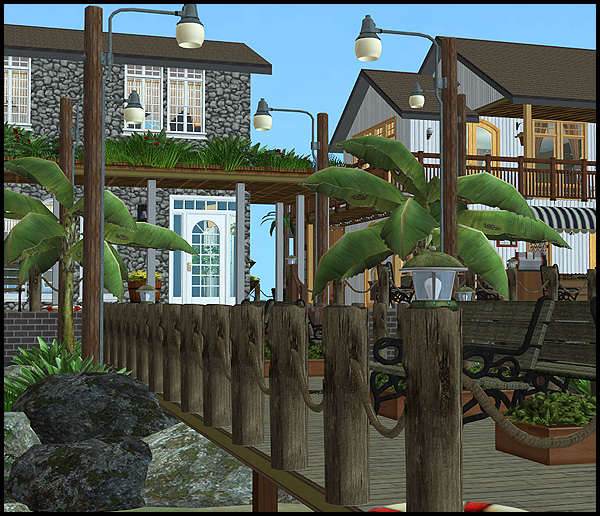 Let your sims take a strole down Rainbow Village's historic pier. With the caress of the sea breeze on their back and the smell of salt in their air, once they arive they might never want to leave again.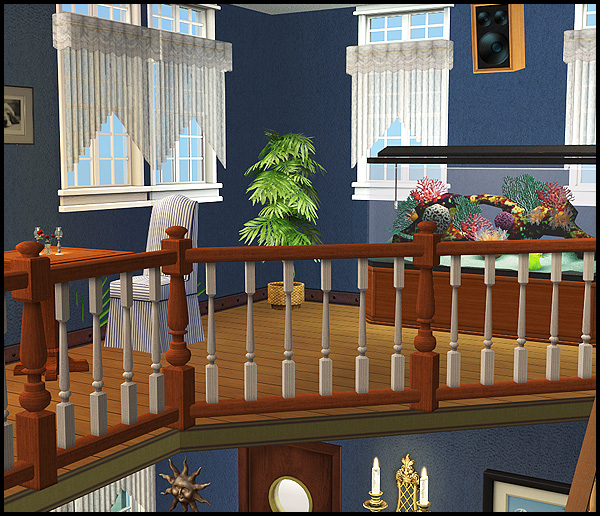 More than just a beach and sand, the pier also contains numerous shops, beauty salons and activities for your sims to enjoy, including a waterfront seafood resturant.
A games room is conveniently located above the bakery for those colder months when swimming isn't an option.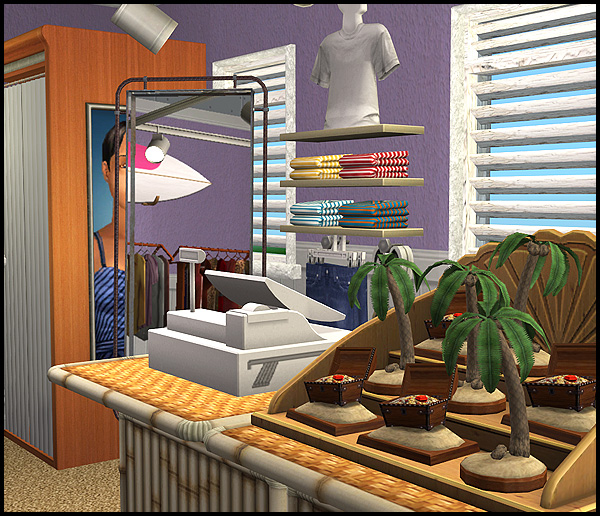 Finally no pier would be compleate without a swimwear and 'discount' souvinier shack for a priceless memory of your outing at the beach.
CC pictured but not included:
Chair and bench recolours by
Piggi
Enjoy!
Lot Size:
5x3
Lot Price:
171586
Custom Content by Me:
- Plaster and mold wall in lilac HS edit
- Plaster and mold wall in Clay HSedit
- White tile wall
Custom Content Included:
- Worn Beach Fence by Adele by
Adele
- Stone Paving by
SimoneA
- Waterfall Matching Rock and recolours by
Marvine
- Waterfall Matching Rock 3 by
Marvine
- Waterfall Matching Rock 4 by
Marvine
- Waterfall Matching Rock 5 by
Marvine
- Waterfall Matching Rock 6 by
Marvine
- Waterfall Matching Rock 7 by
Marvine
- Waterfall Matching Rock 8 by
Marvine
- Manor House Climbing Ivy by
Phoenix_phaerie
- UpRite Column, 5% Taller by
Sophie-David
- UpRite Column, 31% Taller by
Sophie-David
- Platninum brick by
Kittyispretty69
- Midnight black brick by
Kittyispretty69
- Snazzy vertical siding by
Sixtyten
- mediterran hideaway short window mesh by
Olemantiker
- mediterran hideaway short open window mesh by
Olemantiker
- Mediterran hideaway long open window mesh by
Olemantiker
- mediterran hideaway window recolour - white by
Olemantiker
- Mediterran hideaway long window mesh by
Olemantiker
- HS Adelle dining chair recolour by
Annex Blog
- 'Adelle' Dining Chair by Holy Simoly by
HolySimoly
- Low Wooden Planter by
Khakidoo
- Tall Wooden Planter by
Khakidoo