-
Other
(
http://www.modthesims.info/forumdisplay.php?f=204
)
- -
Ann Gerrish
(
http://www.modthesims.info/showthread.php?t=402149
)
| | |
| --- | --- |
| Miuki | 12th May 2010 9:17 AM |
---
Ann Gerrish

6 Attachment(s)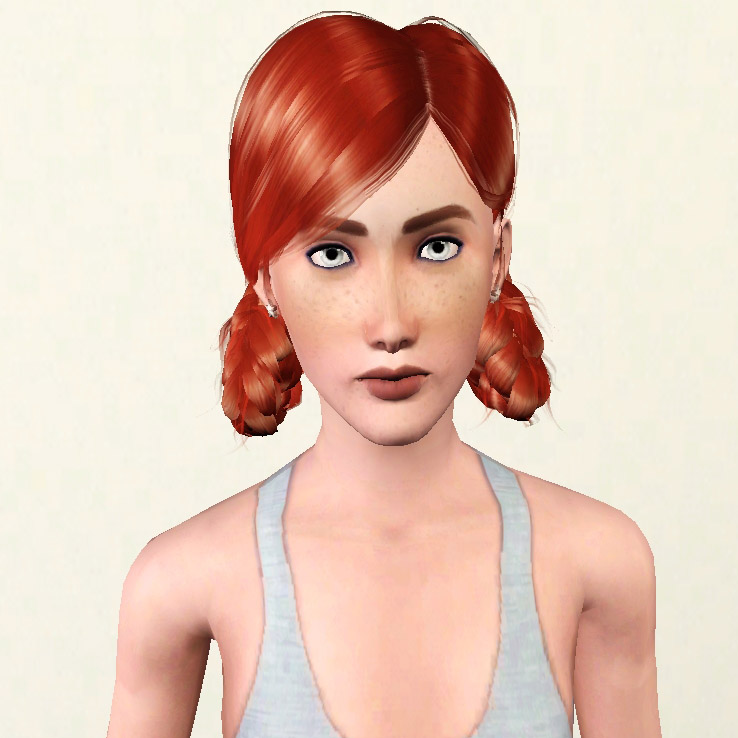 Meet Ann. She is a curious know-it-all. Almost noone likes her at first, it is difficult to spot her erudite mind and good sence of humour behind her superior and explosive personality. She has few friends and lots of acquaintances, who call her "that-smart-ass-Gerrish-brat".
She was brought up in a good and quite wealthy family. Her father was the successful politician, continuosly leading election campains for llama rights. Still, he always had time to read and to explain things about world and such to Ann, when she was small. People say she took after her father a lot. Ann is extremely well read and when she starts something she usually carries it out till the end no matter what. She started to live alone when she went to colledge, working to pay the rent after classes, as she didn't want to live in the shade of her father's name anymore.
Currently she is fresh out of uiversity, looking for her own place in life. Her recent goal is to become Star News Anchor, but it's easier said then done even for so motivated girl as Ann. Will she be able to find a compromise between her future career and marginal lifestyle?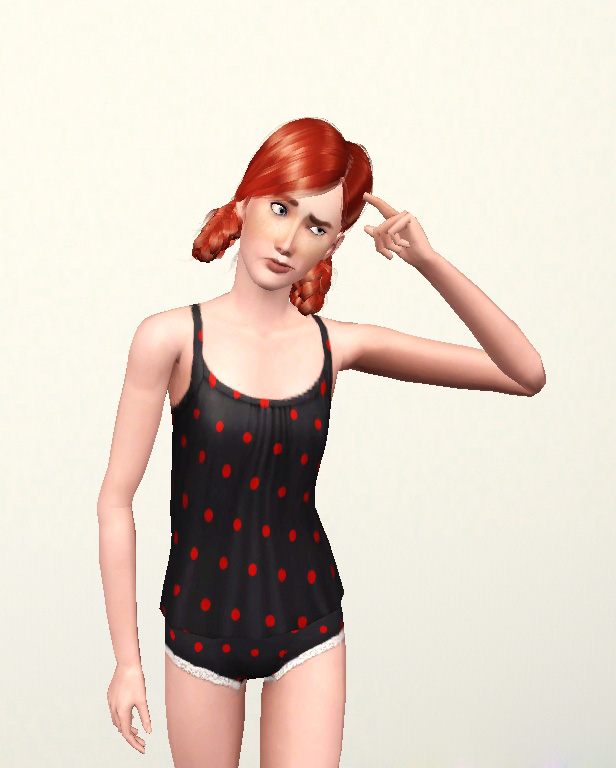 So, Ann's traits are:
Absent-Minded;
Hot-Headed;
Perfectionist;
Bookworm;
Heavy Sleeper.

She likes:
Indie music;
Fish and Chips;
Red Colour.

Age:
Young Adult
List of CC used:
Hair
from Club Crimson;
Plain Scull Tank
from All About Style;
Eye Bags
from Kittyklan;
Star Earrings
by Tamo;
Freckles (version 3)
by Lady Frontbum;
Natural Lipcolour
by Arisuka;
Blush
by Subaxi.
To Install
Extract from the rar and place the .sim file in the SavedSims folder in: Documents/Electronic Arts/The Sims 3/SavedSims.
It will show up in your sims bin in CAS. Don't forget to install CC if you want her to look exactly as she is.
| | |
| --- | --- |
| whitewaterwood | 12th May 2010 10:44 PM |
---
She is lovely! And the personality you made for her was amazing! Thank you so much. I'll be sure to have lots of fun playing her!
| | |
| --- | --- |
| Nyn | 13th May 2010 6:03 PM |
---
She really suits her personality very well!! thanks for sharing

| | |
| --- | --- |
| AdventCaptain | 15th Jun 2010 10:35 PM |
---
My Sims 3 folder doesn't have a SavedSims folder. Do you have to create the folder inside of the main Sims 3 folder?
| | |
| --- | --- |
| Miuki | 2nd Jul 2010 1:15 PM |
---
Yes, you should create it yourself. It'll definetly do no harm. I didn't have this folder either until I saved my first sim in CAS bin, then game generated it.
| | |
| --- | --- |
| Alan_Gast | 7th Aug 2011 12:14 AM |
---
She's so cute.

All times are GMT +1. The time now is

6:25 PM

.
Powered by: vBulletin Version 3.0.14
Copyright ©2000 - 2013, Jelsoft Enterprises Ltd.