Gwrych Barony 1x2 Merchant Cottage
**POTTER'S COTTAGE***
(NO STUFF PACKS)
Potter Cottage INFORMATION
:
Lot Size:
1 x 2
Lot Cost
:
50,069 Simoleons
Bedrooms/Beds
:
2 Bedrooms with 2 beds (Sleeps 3)
Toilets
:
1
Showers/Tubs
:
1 Bathtub
Furnished
:
YES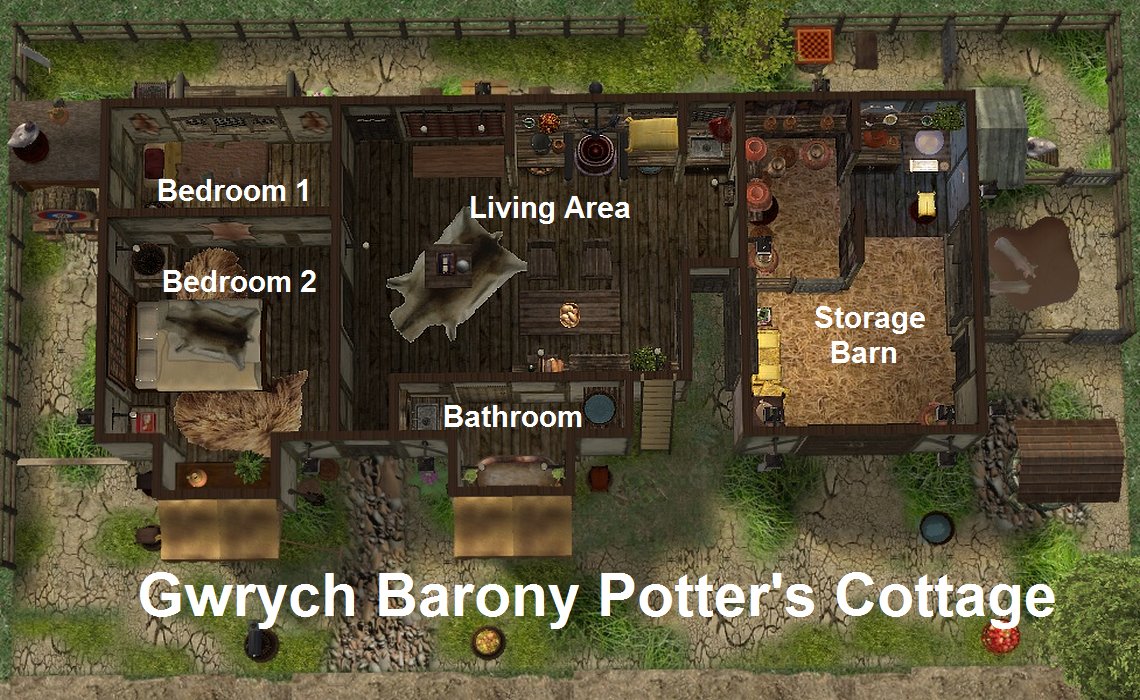 This 1x2 lot is ideal for a Potter who lives close to the main village. It includes a master bedroom and a second bedroom for an apprentice or a young child. There is a cozy living space with a sitting area, a dining area and a kitchen. This house has 3 entrances to the main building.
There is also a small barn. It is for personal use for the merchant's family. It has one small stall (which is loaded with pottery). There is a small work area (with a Crystal Ball computer). There are 2 entrances to the barn. The side door leads out to the the pig pen and the henhouse. There are a series of gates leading from the pig pen to the henhouse and out to the rear of the property.
The rear of the property has a small barbecue area and a chess barrel. There is also an ax throwing log to the west of the property.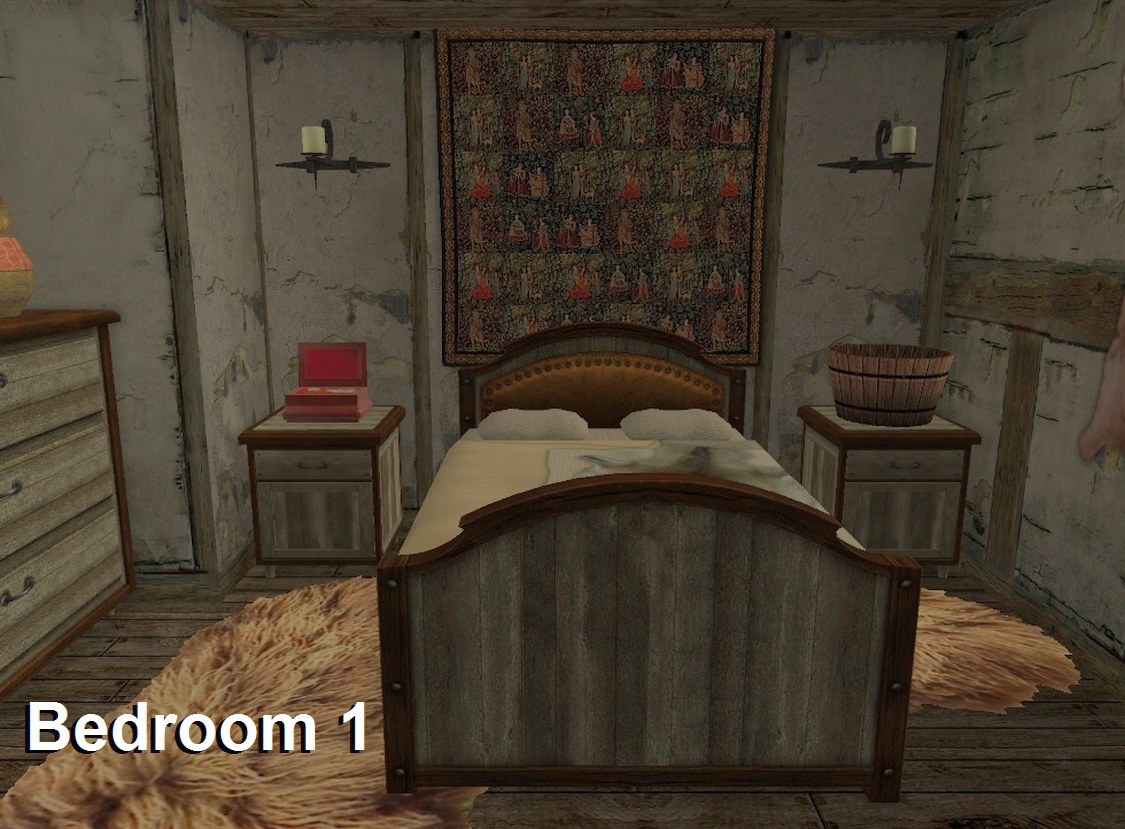 IMPORTANT NOTES
:
*Ermelind has other roof options available at her site here if you are interested:
http://www.sims2collage.de/ermelind...brokenroofs.php
*The kitchen appliances are included. In the Gwrych lots, the refrigerator is typically invisible and can be found in a bucket of food under a counter. There is also an invisible dishwasher that is also located under a kitchen counter and accessed by clicking on the bucket of water beneath the counter. The Pot Belly stove by
Numenor
serves as both stove and trash compactor.
*There are lots of BARRELS in the game thanks to
Sophie-David
. Some are tables, others chairs and others purely decorative with neat clickable options. Still others are trash barrels. I suggest you click around and discovery how things work in the lot for yourself.
*This lot comes with an invisible smoke detector in the necessary rooms. There are also burglar alarms hidden behind certain furniture so they don't stand out. Please note, I have an adjustable height patch (created for my use by
Sophie-David
) that allowed me to raise and lower the burglar alarm at will. If you move the burglar alarms, you will not be able to get them back as they were.
*This lot is not meant to be a home business, BUT by adding adding a few shelves in the barn, placing the pottery on the shelves and adding a cash register, you can easily transform the barn into a small pottery store. There will be other lots that are home businesses.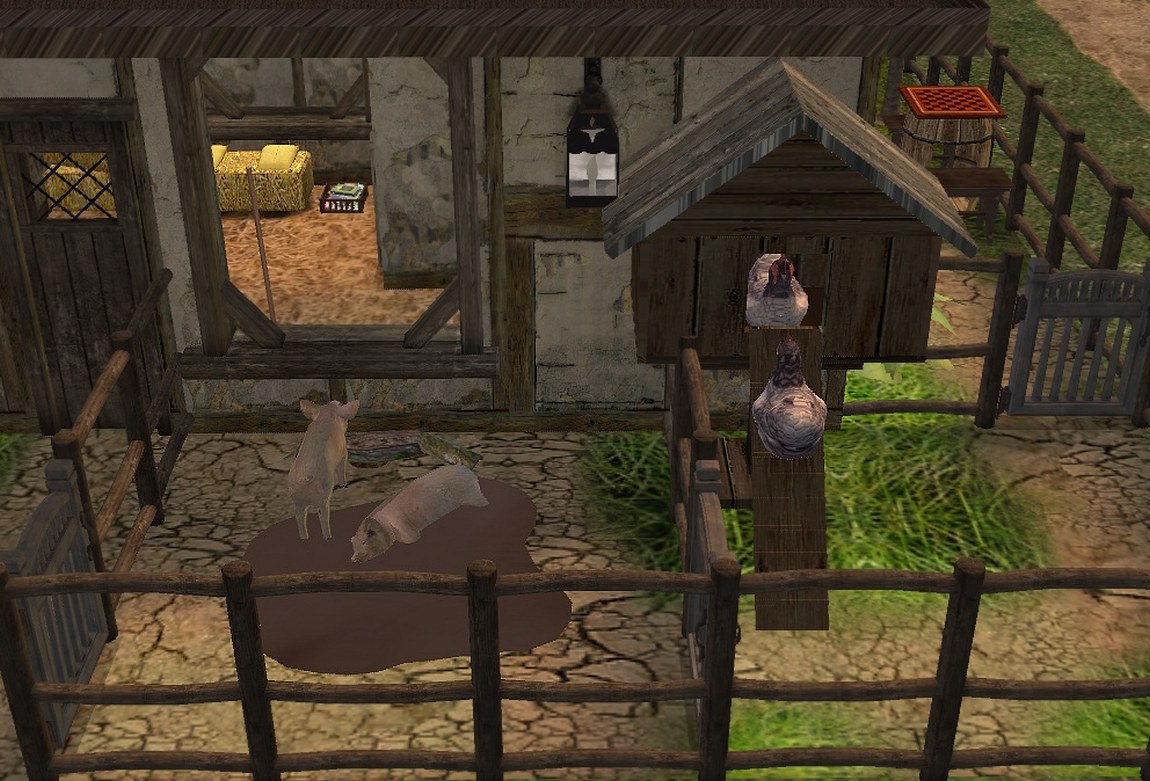 *Since this is a medieval themed lot, you can download patches that will allow your Simmies to earn physical points for dancing and ax throwing. Links below:
Earn Physical Points Dancing
http://www.moreawesomethanyou.com/s...pic,2383.0.html
-
More Awesome Than You
Earn Physical Points Ax-Throwing
http://www.modthesims.info/d/435442
-
Sophie-David

Enjoy the download!

Lot Size:
1x2
Lot Price:
50,069
CUSTOM CONTENT
: All necessary Custom Content is
included
in the download for this lot.
Custom Content by Me:
- Medieval Floor 42
- Elemental - Stones 2 Terrain
- Beach Grass Terrain 1
- Medieval Terrain 14
- Medieval Terrain 16
- Medieval Terrain 18
Custom Content Included:
- Lantern Red Mesh & Black Recolour by
-Maylin-
- Merry-making 1 Tile Table by
Ailias
- Amphore Vase by
hopebayler
- Delectable Variety Breads and Bread Roll Basket by
mdhttr323
- Single Floor Mattress by
Atavera (retired)
- Sims Acres Horse Feed by
Paleoanth
- Toddler Rideable Piglett by
Rebecah
- Good ole' fashioned Chess on a good ole'fashioned cracker barrel. by
Aligeth @ MTS2
- Medieval Awnings by
Crocobaura
- Insane Sorcerer Crystal Ball TV by Cthulhu Gizmos Inc. by
wintermuteai1
- 3x4 Floor Rug by
Nicolafred
- Hay Bale by
Paleoanth
- Axe, Saw, Shovel and Handcart by
Hexameter
- Wood Roof by
Ermelind
- Pile of Wood by
feeEssen
- Hen & Hen Houseby
Tarox
- Invisible Smoke Alarm by
pfish
- Banya Broom by
Jeka
- Atlanta Wall Mirror by
Parsimonious Sims 2
- "Eponymous Garden" Foxgloves by
Parsimonious Sims 2
- "Imperial" Simple Candle Lamp by
Parsimonious Sims 2
- "Mottleweed" Witches Broomstick by
Parsimonious Sims 2
- "Pirate Bay" Fence, Door and 3 Windows by
Parsimonious Sims 2
- Decorative Mailbox Cover & Rustic Recolour by
Parsimonious Sims 2
- "Sultana" Jug by
Parsimonious Sims 2
- "Trading Places" Earthenware Vase & Recolour 2 by
Parsimonious Sims 2
- "Winterwood" Table Lantern by
Parsimonious Sims 2
- "Woodcutter" Kitchen Bathtub by
Parsimonious Sims 2
- Mortar and pestle by
Lethe_s
- Music Box by
Lethe_s
- Wallpaper mask by
Dark Project
- Just a Ladder & Gray Recolour by
marvine
- Medieval Bench, Toilet and Kitchen Bench by
Tarox
- Pottery - Mesh & Recolour by
Blacky
- Pet Bowl - Tree Bark by
feeEssen
- "Good Ol' Times" Coal Stove (UV) by
Numenor
- Magazine Rack Recolor by
Shoukeir
- Magazine Rack & Magazines by
Numenor
- Antique Scroll-in-a-Box Table Phone Base & Handset by
HystericalParoxysm
- Firewood Shed by
RealGanacampo
- Comfy Bucket Chair by
Sophie-David
- Decorative Barrel & Bucket by
Sophie-David
- Decorative Puddle Master, Chocolate Recolour and Prodigious Size by
Sophie-David
- Barrel End Table and Table by
Sophie-David
- Horizontal Sack Master & 3 Recolours by
Sophie-David
- Simple Barrel by
Sophie-David
- Storage Bucket by
Sophie-David
- Trash Barrel Master by
Sophie-David
- Barrel Content Apples, Oats and Potatoes by
Sophie-David
- Barrel Colors Dark Oak, Aged Oak, Old Oak and Dark Red by
Sophie-David
- Water Bucket by
Sophie-David
- simsisticmeat1412 by
simsistic
- Recolour by
Lord Darcy at MTS2
- Pelt Rug 2 and 3 by
Magick Modders
- Pelt Wall Mask 1 by
The Guild Masters
- Plaster Village House Set (2-6, 11, 12, 14) by
sunni9676
- Medieval Wall by
Magick Modders
- Xanathonian Crystalsphere Personal Conjurer (PC) by
xanathon
- Medieval Door Recolours - Just a Door & Open Sesame by
Magick Modders
- Second Hand Bedspread by
Dewshine
- Dark Wood Maxis Set (Chair, & Table) by
DLMulsow
- Hearthstone Quilt Recolors - 2d and 4a by
Gwenke33
- 3 piece Plain Mountain Bed Set Recolours by
Justmoi
- Stone Maxis Sink Recolour by
Mia86
- Maxis Wood Recolours Counter, Spice Rack, Juice Rack and Shelf by
Kalimero
- Invisible Mini Fridge & Invisible Dishwasher by
Sophie-David
- Straw Bedding by
The Guild Masters