"It's understood
By every single person
Who'd be elsewhere if they could
So far so good
And life's not unpleasant
In their little neighbourhood"
Neil Peart, Middletown Dreams
Click for movie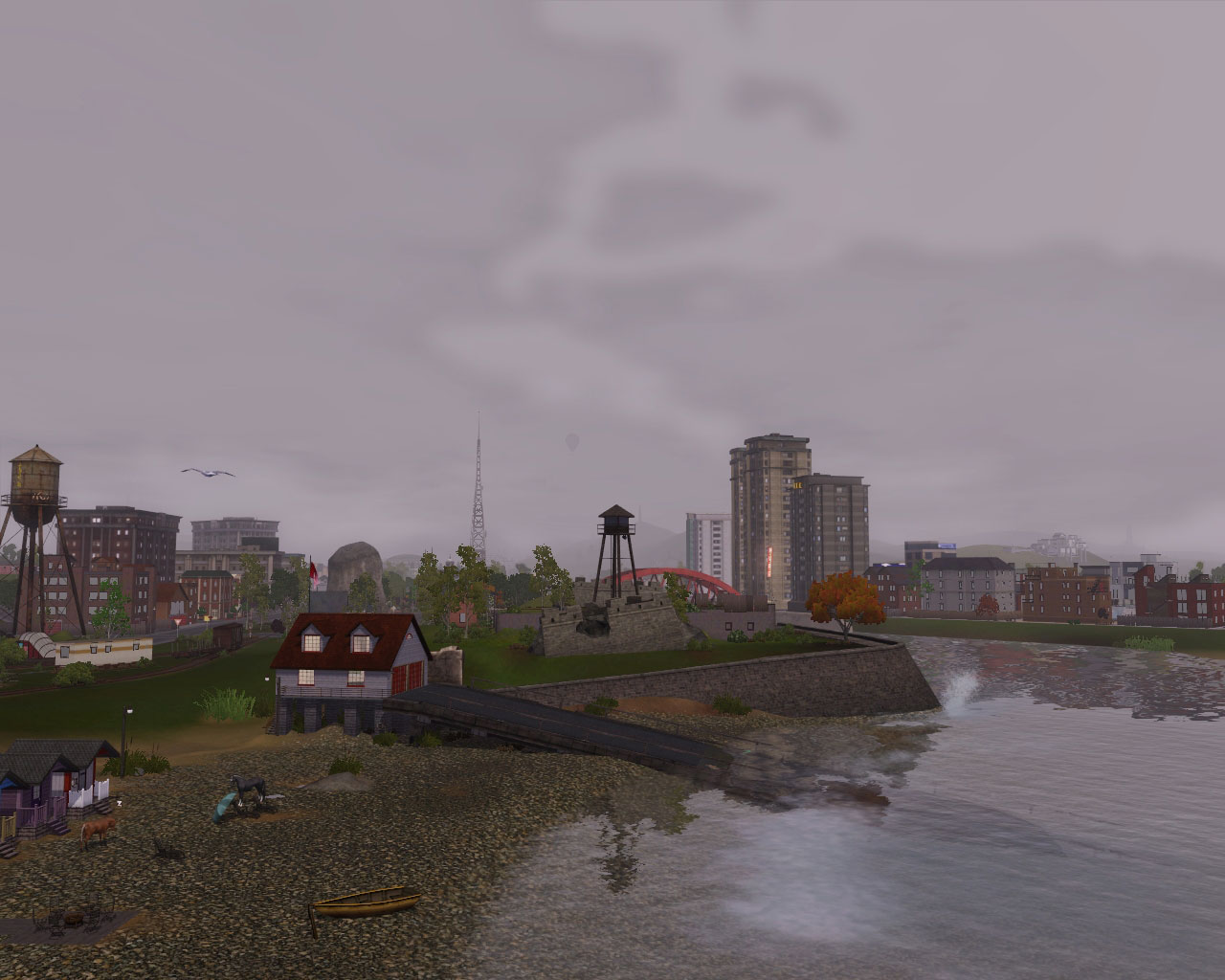 For the Showtime update of this world,
click here!
Jericho
There has been a settlement along the Kaen-Garen River for as long as anyone can remember. The Old Town of Jericho was a sleepy place, caught in the past, drifting along quite happily in its own little world.
Until one day, someone constructed a big red bridge across the Kaen-Garen, and a new City Hall and high rise buildings sprung up on the other bank. Newcomers moved in, a local government was formed, and new institutions and businesses arose. All at once, the people of Old Town found themselves invaded by a new way of life, and they were not happy!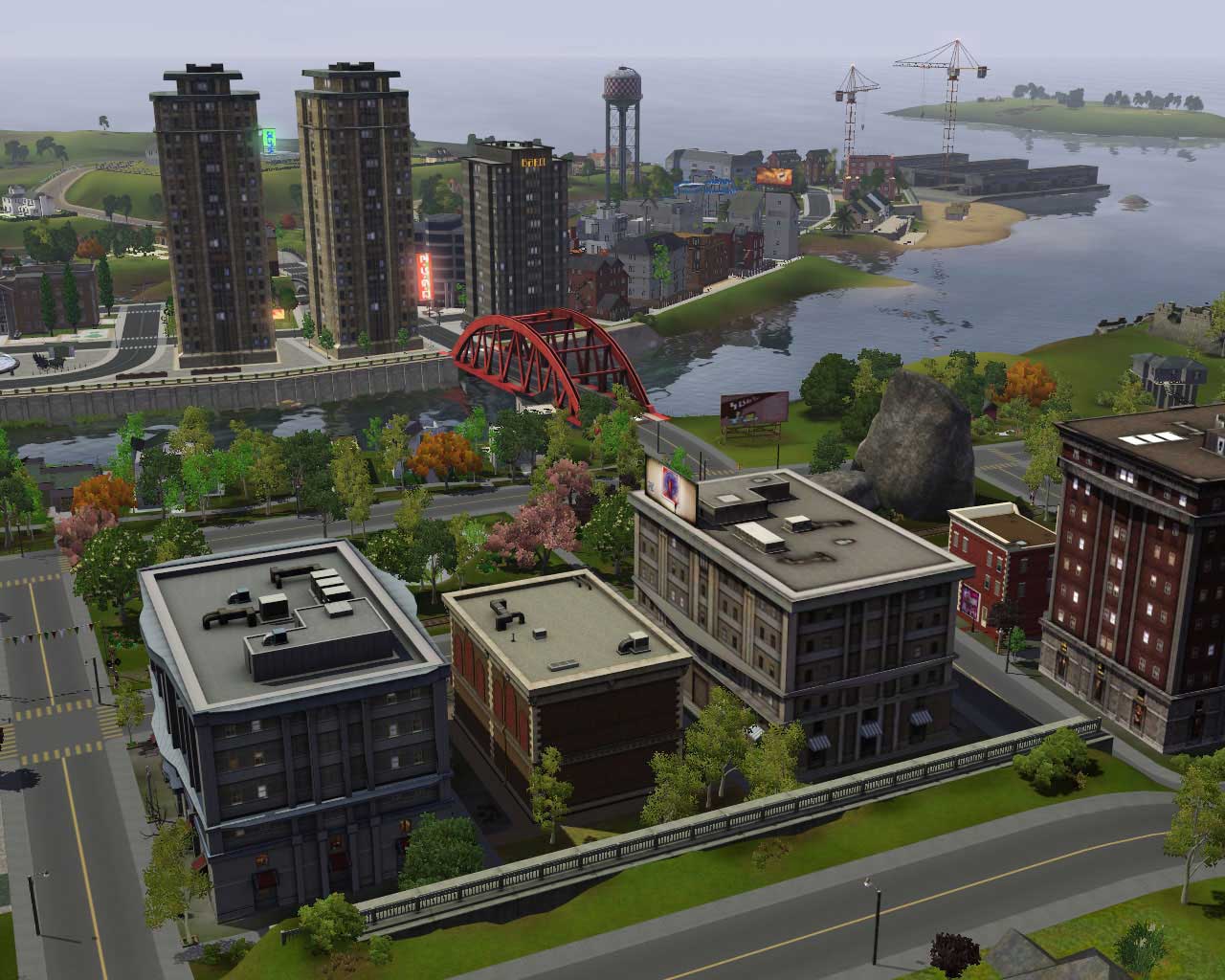 Will the Old Town citizens be able to preserve their customs, or will they be forced to adapt to the new ways? Will Old Town become part of New Jericho, or will the old buildings remain as a monument to the past? Will the newcomers be accepted into the Old Town culture, or will the societies be ever kept asunder?
Only your sims can decide!
Images
For more images,
click here.
I have some images of my sims in Jericho
here,
I will be adding to those as I play.

Jericho is featured in a great magazine,
SF Magazine
. Click
HERE
to read it! Jericho is on pages 106-109. Thank you to asiashamecca for that!
Armiel has started a story about a Sim (Kimi Raikkonen

) who lives in Jericho, check it out
HERE!
Thanks, Armiel!
Fourk has started a blog which is set in Jericho, check it out
HERE!
Thanks, fourk!
Kiwi_tea wrote a very flattering review of Jericho, read it
here!
Thanks, Kiwi_tea!
Geography
Jericho is situated on a peninsula in the ocean. The city of Boscaster can be seen inland, in the distance. The Kaen and Garen Rivers cut the land, creating a natural boundary between New Town and Old Town. The commercial area lies where the rivers merge, conveniently situated for access from both New and Old Town. To the south of the Jericho Peninsula is a swamp area, and several small islands formed by the Kaen are reclaimed for the New Town settlement. Jericho boasts sandy beaches as well as shingle, and several ancient monuments form landmarks on the Eastern hills. Climate is temperate, with varying skies. The wealthier residents tend to live in the New Town area, but some more expensive properties have been constructed on the Old Town river bank, perhaps prophesying a turn of fortune for that neighbourhood.
A map of Jericho can be seen
here.
Population
Jericho is unpopulated. As you play, sims will be moved into the neighbourhood, or you can move your own sims in. If you wish to have more control or to rapidly populate the town, I recommend
Twallan's Story Progression Mod.
If you are looking for sims to move in to Jericho, I recommend looking at the Sim download section of this site, or perhaps the Population Project at
Custom Sims 3.

I have the sims I made for Jericho and other worlds available in my studio.
Get them here!
Treacle O'Flynn is the one I used to start my Jericho 'legacy' family.
World Information
Map Size:
Large 2048X2048
World Type:
Jericho is a suburb (the same as Sunset Valley).
Game Requirements:
Basegame 1.26, WA-AMB-LN-GEN-PETS 10.0.96.
Riverview
(non-decrapified) is also required.
Performance
System Requirements:
The majority of this was built upon a very low spec computer, however Pets has pushed up the minimum requirements somewhat. This is a large world and it is also very complex; it makes use of effects and has a large number of lots.
Custom Content:
None used (except for Riverview).
Custom Resources:
I have made extensive use of custom resources in this world, these are files that are included in the world file itself and only function for this world.
Effects:
Jericho makes extensive use of in-game effects, some are lot-based and some are at world level. Some of the world effects were imported from the EA worlds using
this method.
The number of effects in Jericho is comparable to that in the EA worlds, so should not cause performance issues.
Technical Content
Number of layers:
13
Terrain Paints:
Jericho uses 15 terrain paints.
All of the terrain paints were created by myself, most are EA recolours/realphas but some are made from textures found online. Each world chunk has 8 or less textures.
Routing:
The majority of the land is routable, including offshore islands. Near to the distant terrain is a band of non-routable terrain, this is to prevent your sims from seeing the join! Some steep areas have been marked as unroutable, where it would look unnatural for sims to walk.
Spawners:
All basegame and EP spawners have been included, except those which can be found in the WA Vacation destinations (although one or two exotic fish spawners are placed). I have made a map showing the location of OFF-LOT spawners; I have not included the lot based spawners in this, since those can be changed to your liking.
Click here for spawner map.
Small animal/bird spawners are placed on lots; however the metal/gem/seed spawners seem to spawn small animals and birds too, so you should see plenty in Jericho after a few days.
Lots:
There are 162 lots, 82 residential and 80 community.
Known Issues and Notes
Installation Instructions:
Thanks to Armiel for these, I pinched them from her Charlton Island thread!
Alternative Download Link:
Create-A-World files for Jericho
If you are a world creator and would like the CAW files for Jericho, I have uploaded them to a file host. You do not need these files if you just want to play Jericho, they are only here for people who would like to edit the world file for their own use.
Resources for Jericho
If you would like the custom recolours and sea/sky files for Jericho, I have uploaded them to a file host. You do not need these files to play Jericho, they are just for people who like to build their own worlds.
Fabulous Persons List
Thank you to all who have downloaded, commented and sent me kind messages regarding Jericho. I am really pleased that so many people are enjoying this world, and am grateful for all of the feedback!