Browse Finds from LiveJournal - SHOWER_SCREAM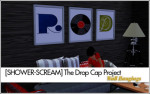 #503

The Drop Cap Project
added on January 30th
Illustrator Jessica Hische creates these drop caps for use on blogs and other various websites, for free...daily! Just beautiful. So inspiring. I knew they would look even more lovely if they were framed and up on a wall so, I present 26 of these drop caps ( one for each letter in the alphabet), in a single package file.
O REPLACEMENTS.
COST 50 SIMOLIANS.
ENVIRONMENT SCORE IS 13.
CLONED FROM THIS FREE MESH - Baylee the Bunny Cupid - FROM THE SIMS3 STORE.
SCOC AND S3PE USED; AND PHOTOSHOP.
Direct Link
http://shower-scream.livejournal.com/5814.html