Didn't we come across similar issues during your last build contest regarding google docs? Anyway, I'm so glad I got back from my trip in time to join. Armi coming out of retirement just gives me one more reason to kick ass and take names.
Also: We should totally get extra points for sucking up. Just saying. (Hi SeeMyu! How are you? Love what you've done with your hair. TVR your Ziggy Atkins never fails to cheer me up on a bad day. That bio is fantastic and he's just so adorable.)
Without much further ado, I give you the Meadow Family Home. A small, two bedroom family home for Ren Meadow and his new family. He married his beautiful wife, Zahara at a small beach ceremony only a few years after meeting her at college, and less than a year later they welcomed their baby girl Sarah into their lives. Ren inherited his new home from his grandmother not long ago but he and Zahara are very quickly making the house into a home, and are slowly replacing the nature photos favoured by Ren's grandmother with photos of their own growing family.
The Exterior keeps much of its old world charm, located in scenic skaggit valley in Washington State. The green is a colour favoured by both Ren's grandmother and his new wife and so it stayed when they moved in. The window frames and doors have all been replaced, but made to look worn. The fence and porch supports however are completely new. Nothing but the best for the new Meadow girls. The various flower bushes and roses were all mostly there but in terrible condition. Under Zahara's green thumb however they have found new life and flourished like never before. Pruning may be needed if they continue to grow at their current rate.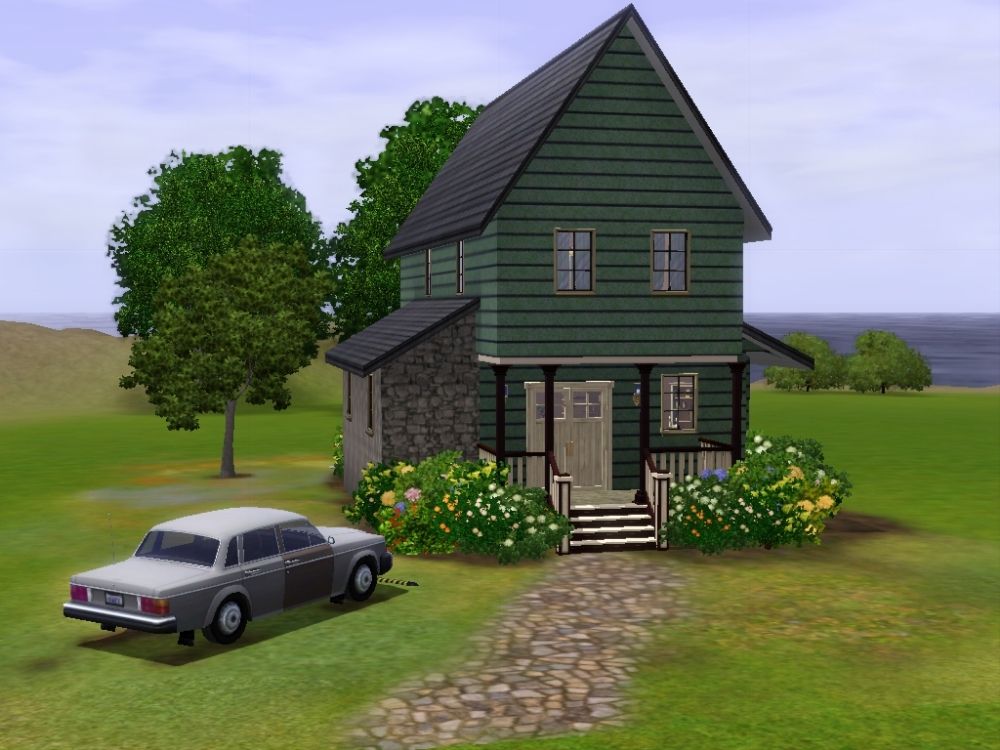 Hope you enjoyed and thank you for reading.
CC used:
Various items from the sims 3 store, item of note being the curtains from the faire folk collection which are scattered throughout the house.
Paintings from Qbuilderz'
Match Things!
painting set.
With thanks to:
- Miss Roxor's advice on how to fix the "HOLY SHIT MY LOT HAS SUNK" problem.
- Armiel for her fantastic
Builder's Island - DIY
- Granthes for the fantastic and super helpful
OMSP
Edit [July 28]: Added overhead view of roof because I was derpy and forgot it the first time around.