Hope it's not too late to enter. I've been trying all evening, but MTS has been down.
Okay, here's my attempt, in a story-ish form.
Have you ever heard of a house costing one simoleon?
You're asking yourself, "What's the catch?" I asked myself that very question when my husband told me about this great old house we could get for that unbelievable sum. He did admit it needed work...
The house in question was a Second Empire home, built in 1884. There was quite a bit to work with, but... so much effort, between repairing broken windows, patching the leaky roof, and just clearing out all the junk left by vandals and drug users. (Did I mention this house was deemed an eyesore and nuisance by the city and was under consideration for demolition if it couldn't be rehabilitated?)
We've been at it for the past year, cleaning, fixing, replacing, and restoring. It's still not done yet, but we've at least finished most of the lower two floors; the attic, though... that's just too big a job to tackle for the moment.
Did I mention some previous owner painted over all the brick exterior at some point in the past? So the bricks will never look like they once did, but the faded old paint makes the old girl look shabby chic on the outside; and as long as I live here, she'll be shabby chic inside, too.
House is currently 3 bedrooms, 2 baths, with an attic space waiting to be upgraded.
Required exterior shots:
Front of house: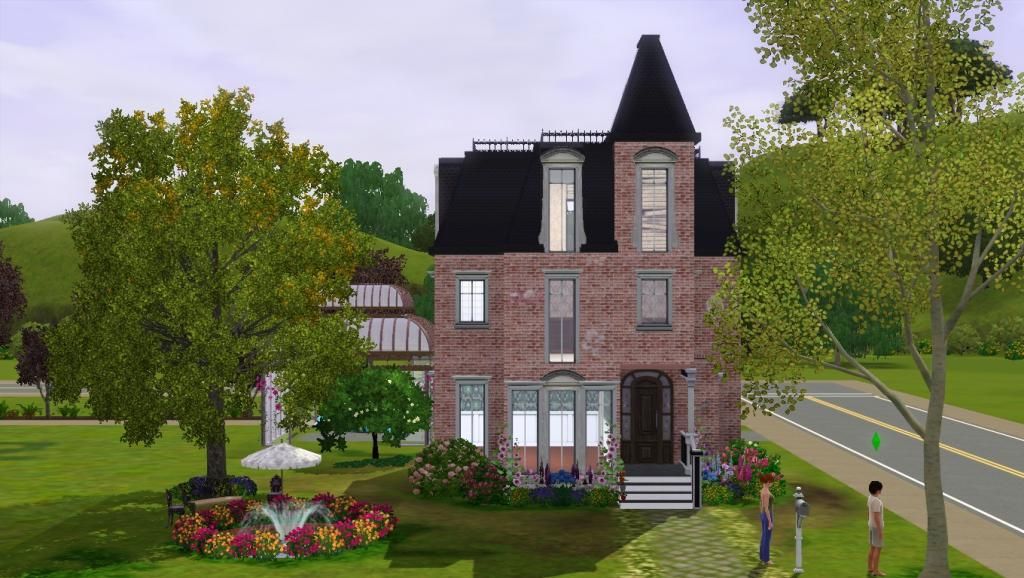 Back of house: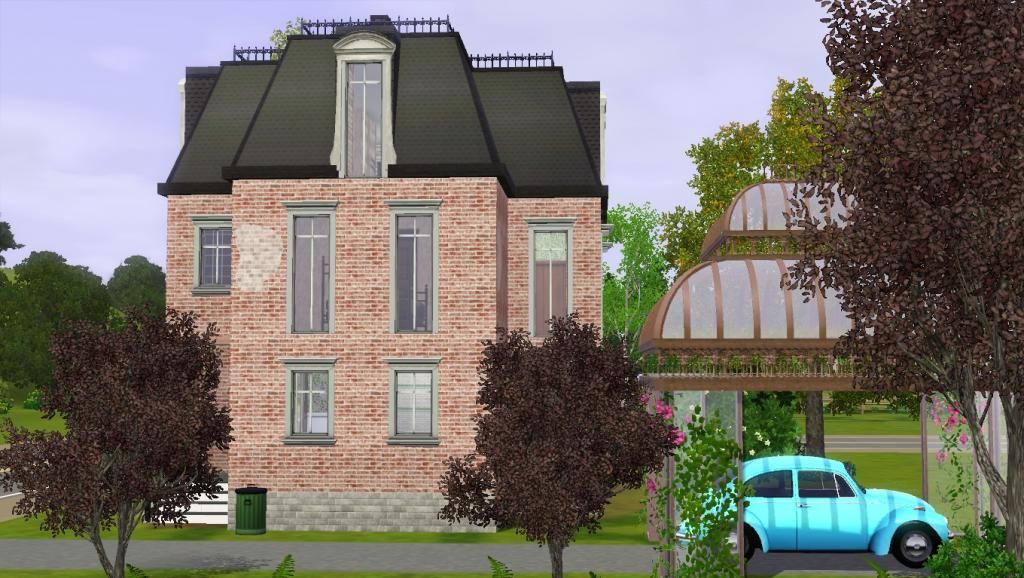 Extra house exterior shots:
Three-Quarter front of house: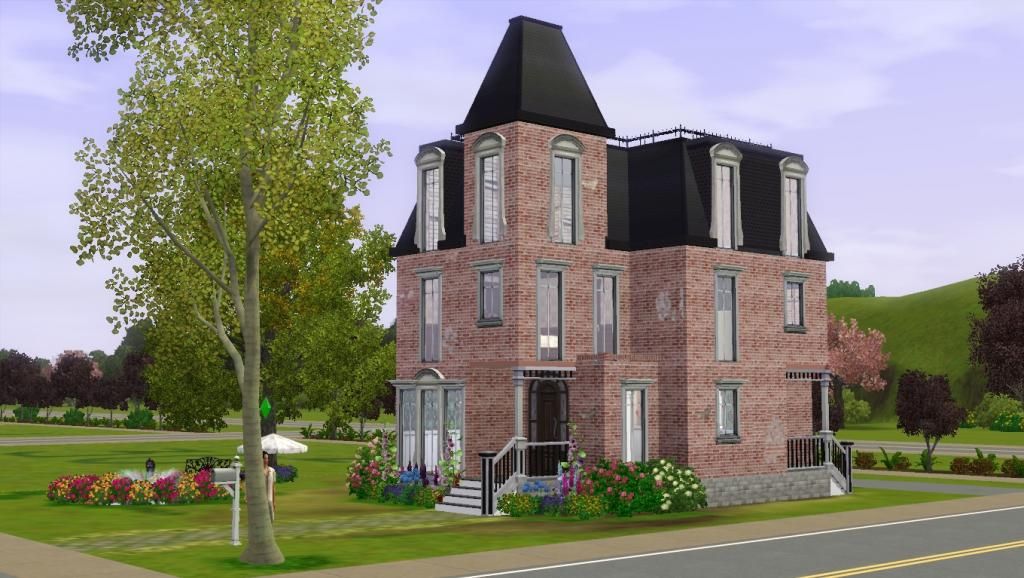 You can see some of the old paint still clinging to the exterior in some places.
Three-Quarter Back of house: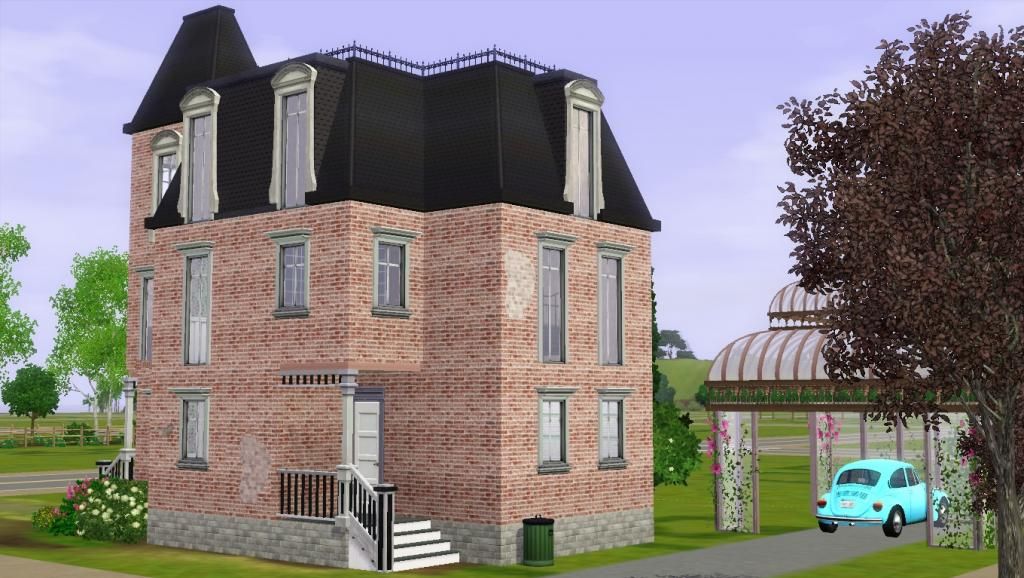 Here you can see the old greenhouse, which was nearly collapsing when we bought the place. We hated to tear it all down, so we salvaged what we could and turned it into a grand carport. Tres elegante!
Required overhead shots to show the floorplan:
First Floor: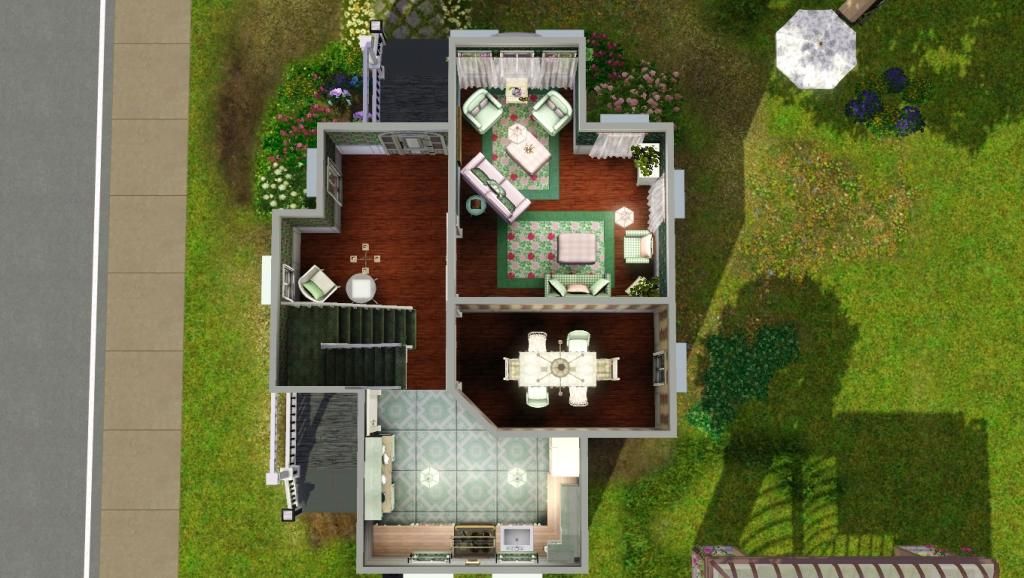 Foyer, living room, formal dining room, and kitchen.
Second floor: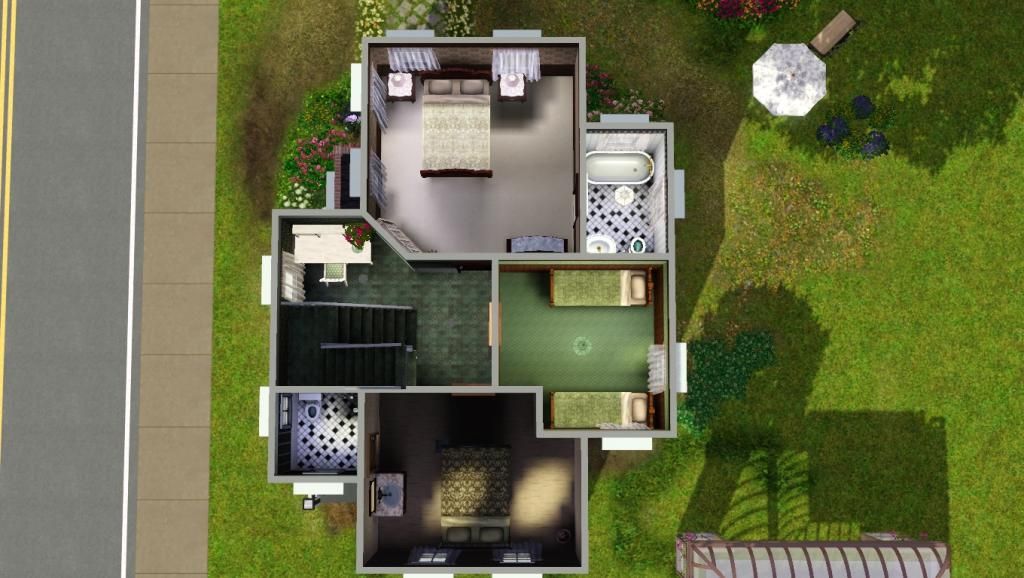 Master bedroom, two additional bedrooms (only minimally decorated), two baths, and an office area on the landing. The second bath is toilet and shower in the bathroom, the sink is located in the bedroom. This was typical in old houses of the period, when a full bath was added later in an old closet.
Attic level: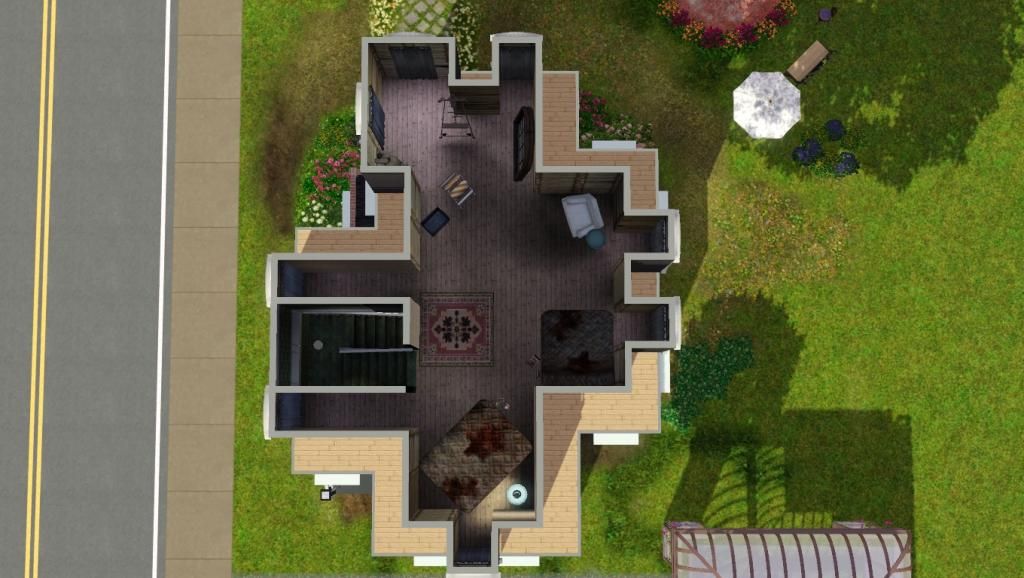 You can see we haven't gotten around to clearing out the mess up here. Have you ever had a situation where the job just seems so big you can't take much more? Yeah, that's how we feel about that attic sometimes...
Roof: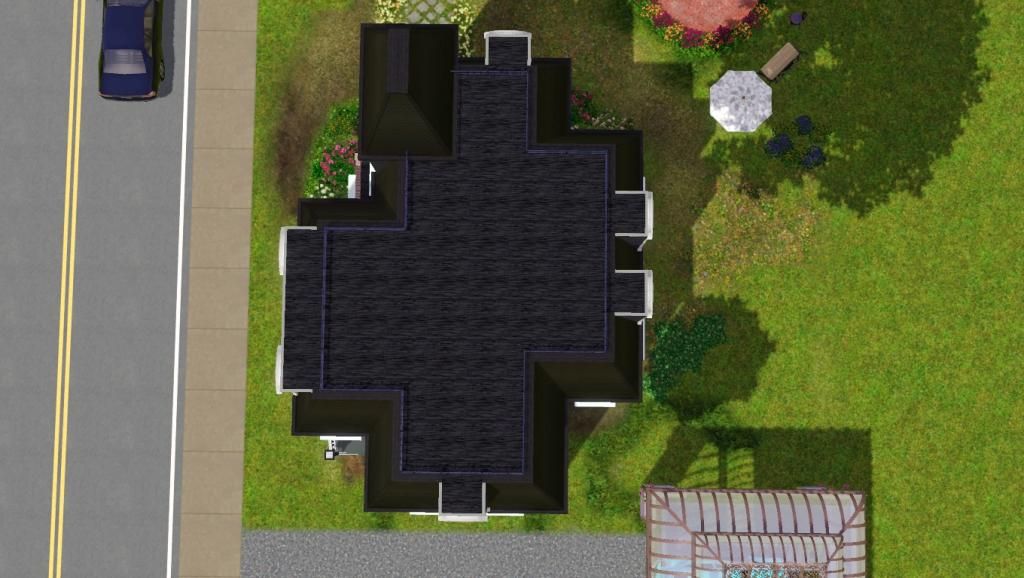 Additional Interior Shots:
Living Room: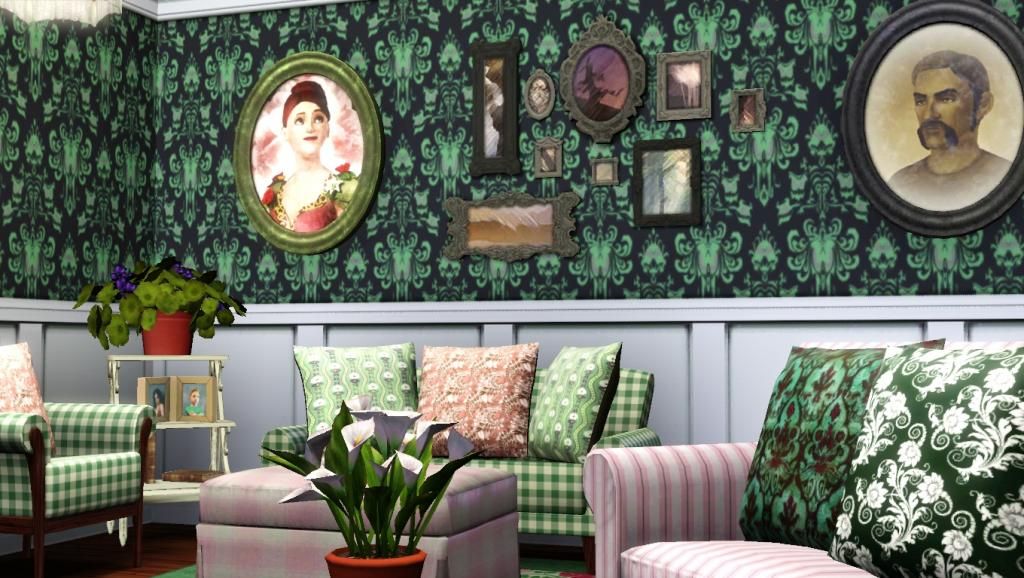 All the photos of the ancestors! Great-great Grandma Lil was quite a woman!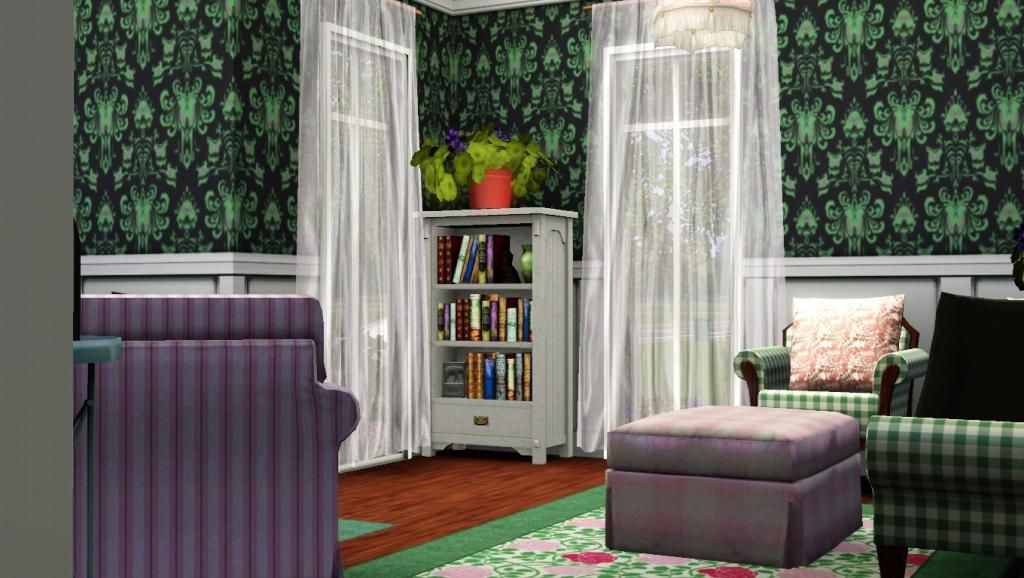 Bookcase.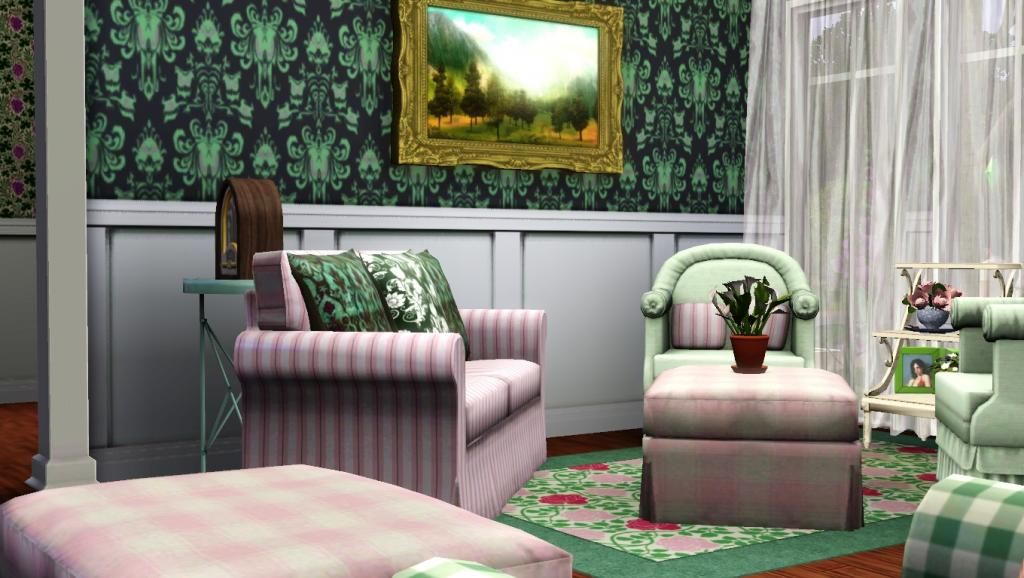 We even found an old radio that still works!
Here's a peek from the living room into the foyer. Back in olden times, when you didn't want a stranger to come too far into your home, you'd have them sit out in the foyer.
Dining Room: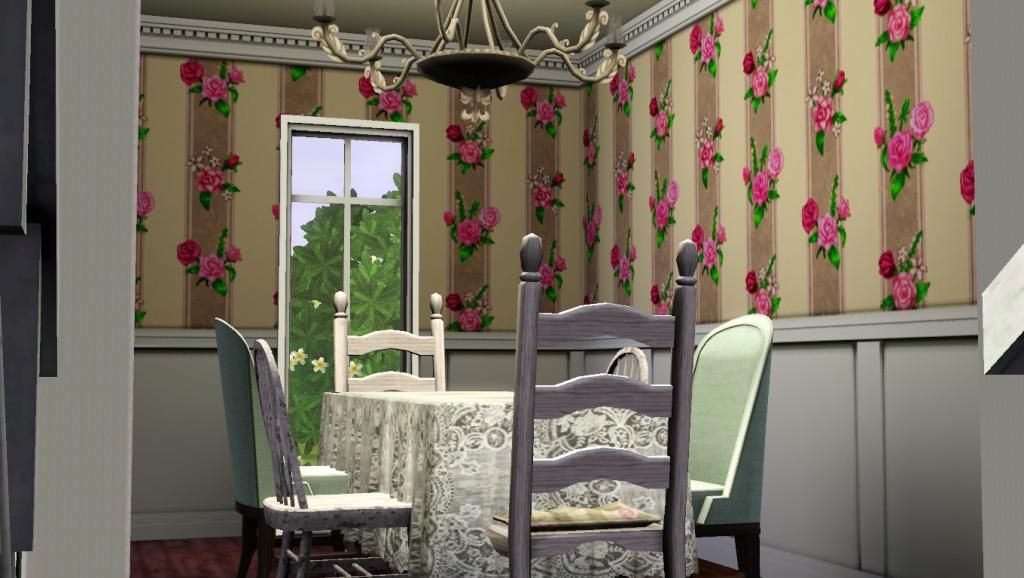 We could only find two each of three different chairs, but I like that everything isn't all matchy-matchy.
Kitchen: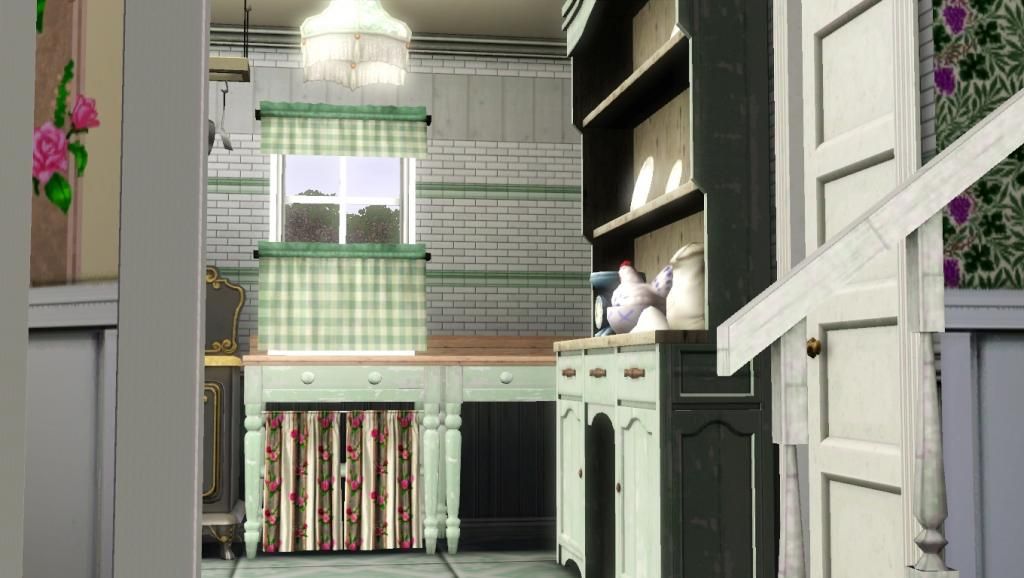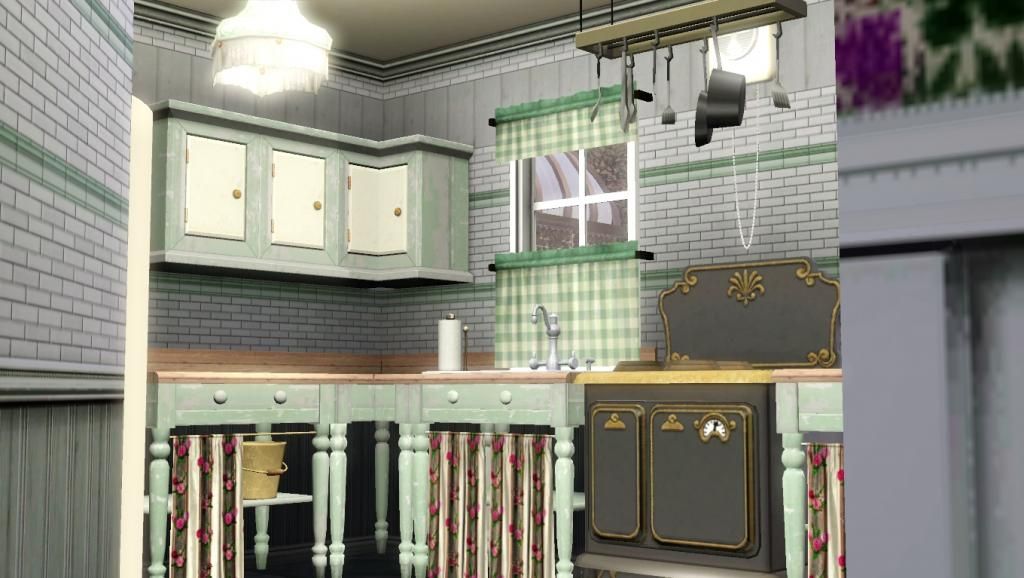 The old stove is original to the house. The fridge? 1950s.
Back door and peeking back into the hallway.
Master Bedroom: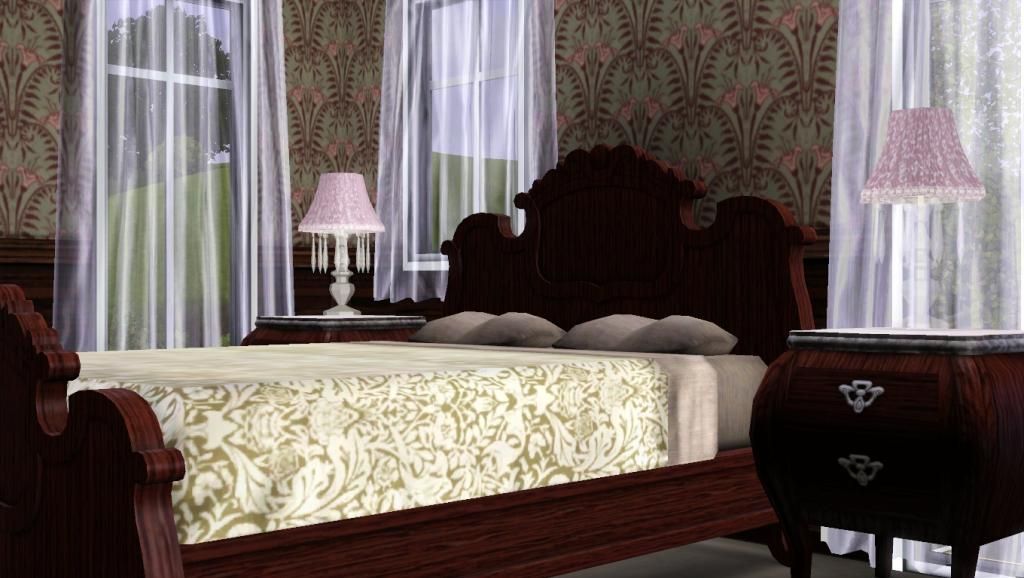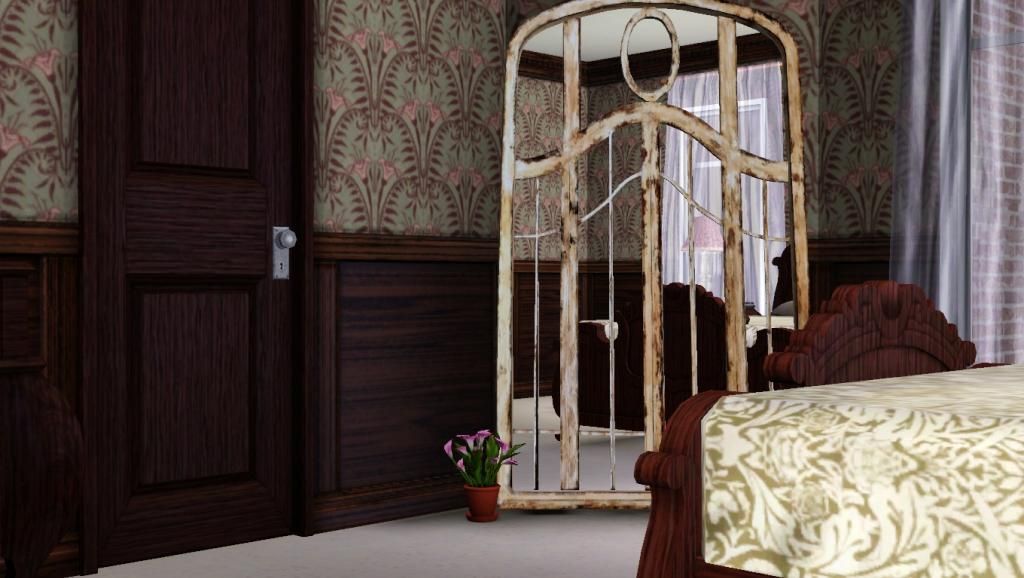 Mirror we found at another flea market.
Office area on the landing: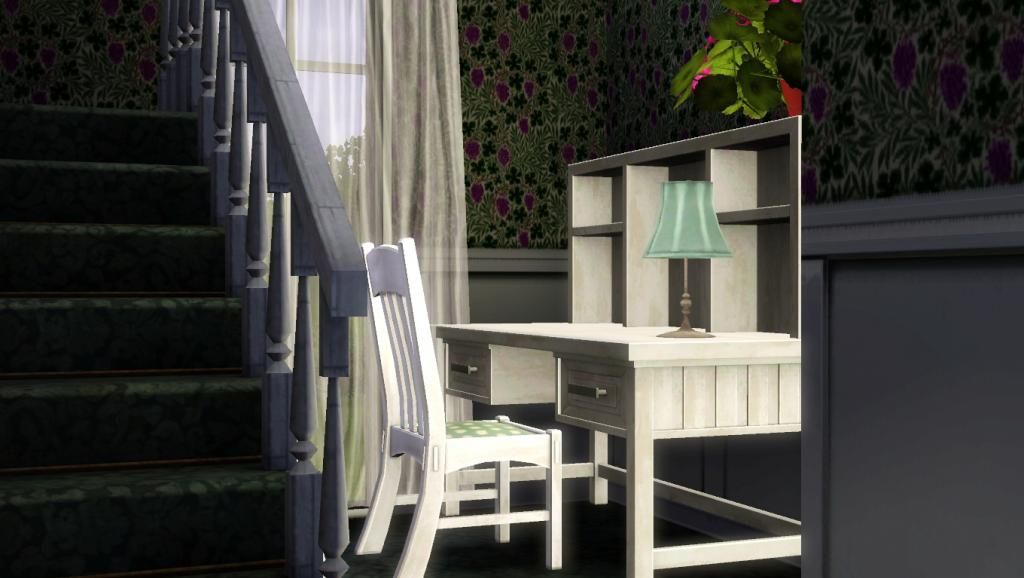 Attic: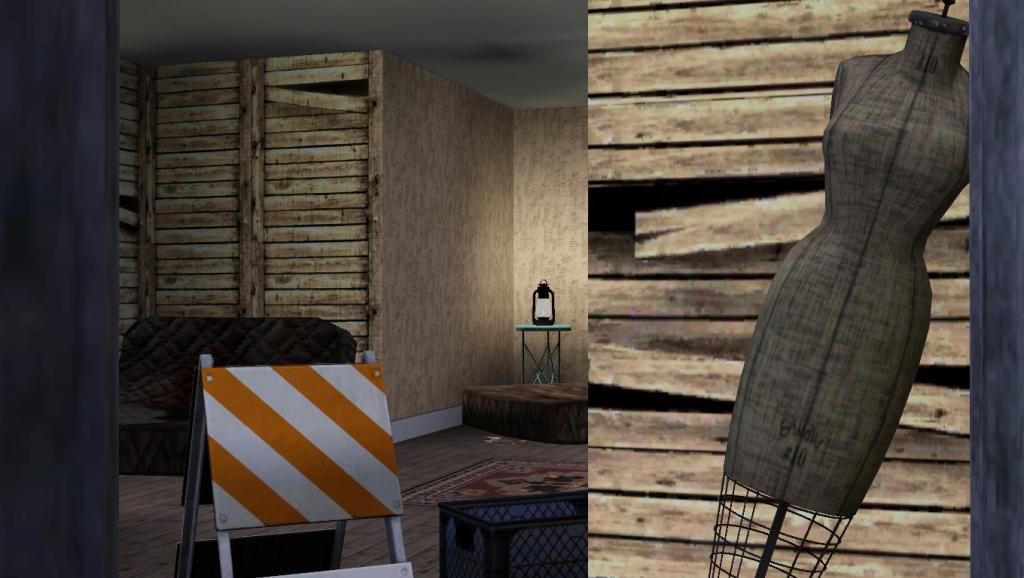 They really tore up the walls up here. Even the lath is coming off in some places. Eeek!
Apparently the previous "tenants" used to live on cigarettes and Count Chocula. I don't even want to think about where all the blood on those mattresses came from...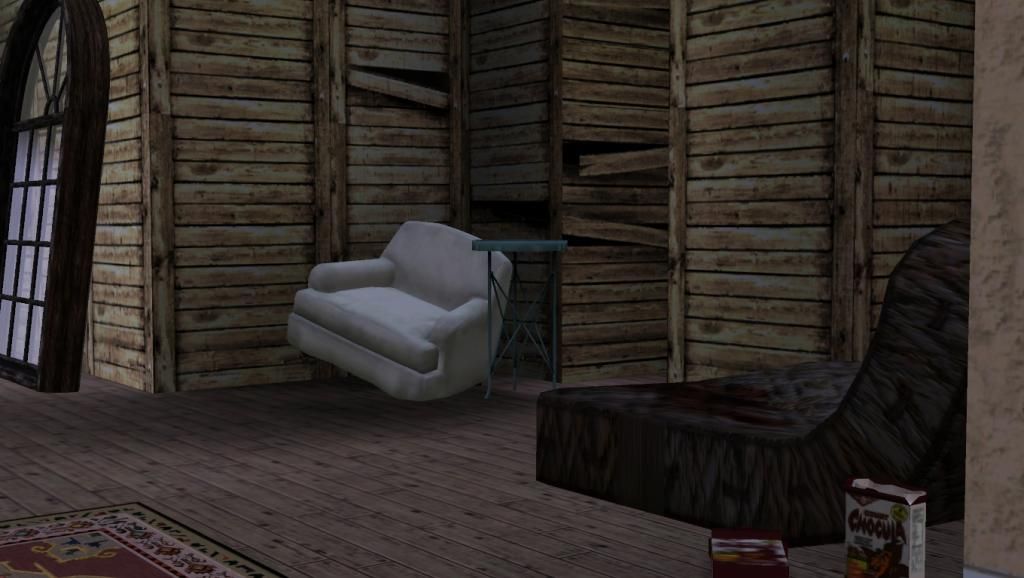 A broken chair and a spare window that clearly never went with this house...
A few exterior shots to round things out: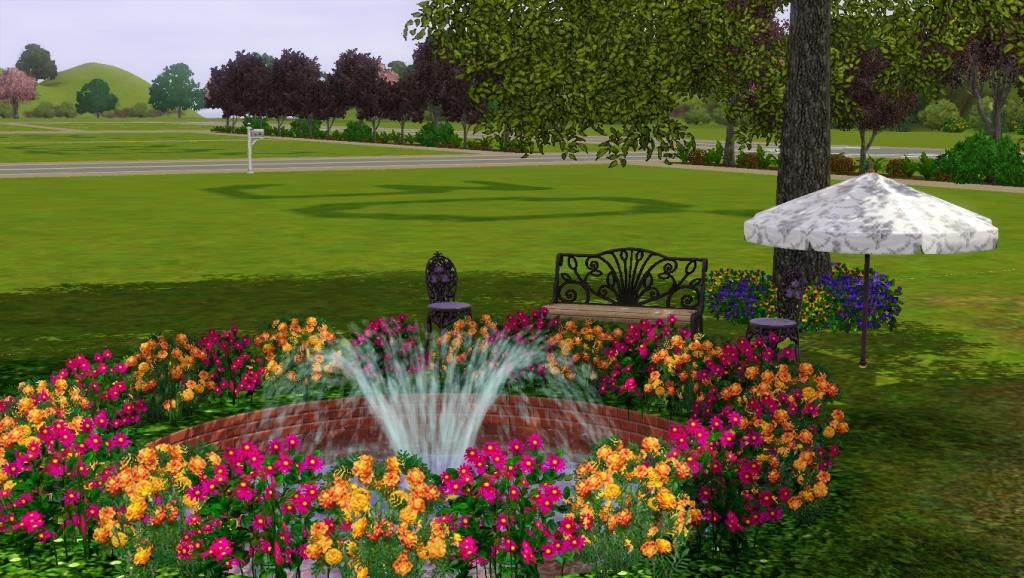 Fountain and a seating area to enjoy our handiwork.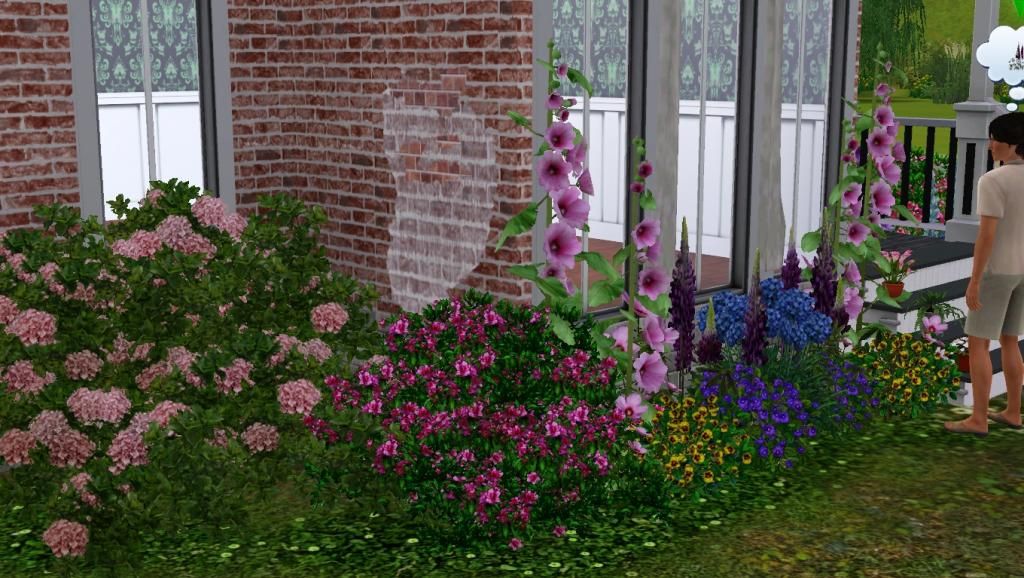 The flower bed in front of the living room. As you can see, my husband isn't too keen on all the work that represents...
So, there you have it; a house for a simoleon that looks pretty darned good!
CC:
aikea guinea and gelydh at Club Crimsyn
baufive
fresh prince
Goggalor (converted the TS2 Mansion and Gardens mansard roof pieces)
gosik and inge jones
hysterical paroxism
lhawk07
lisen
lunasimslulamai
Luslipz73 @BPS
madaya74
pocci
repulisvely desirous
skeletalscreams
Suza at Simply Styling