Frankencottage
Hey there Simmers! My name is Byron Crumpletopper and I'll be your tour guide for the day.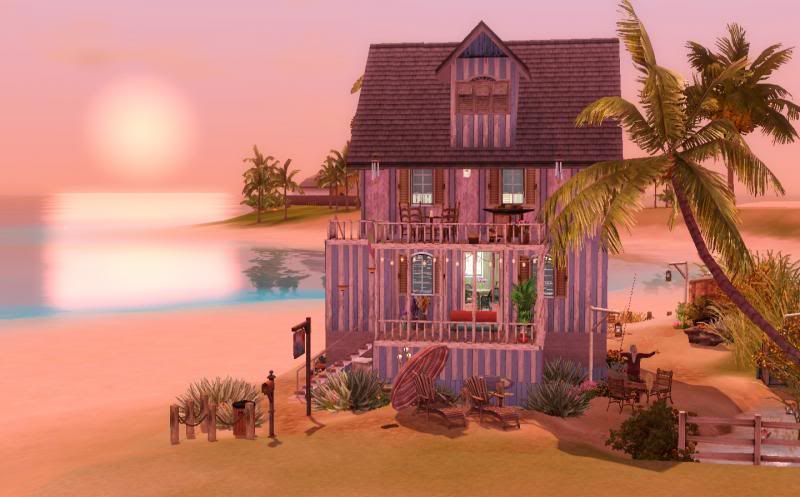 That's me...fishing down by the pond. Looks like it'll be mac 'n cheese for lunch again today.
Some hundred years ago, my Grandpappy got himself a job working over at the cannery and starting looking for a place to call home. There wasn't much of anything here in them days, so he bought up a sliver of beach and built a little shack.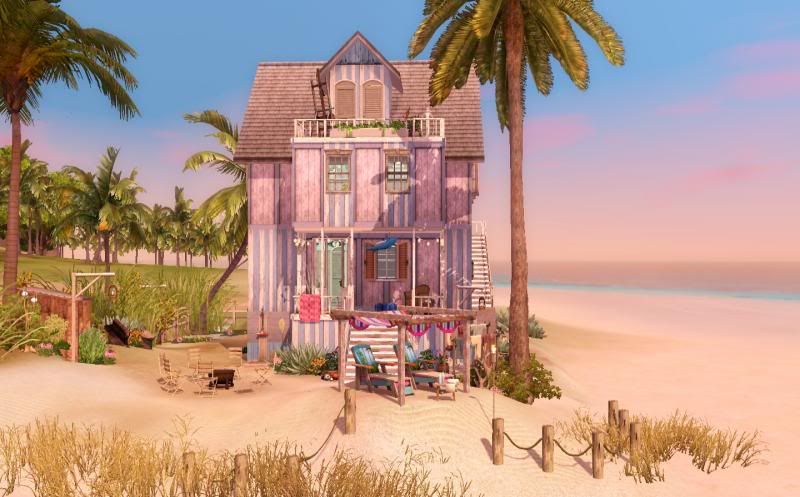 Over the years, it's grown and shrunk. Been knocked sideways by hurricane Goopy, flooded more times than I can remember, bombed during the Great War by that loony old General, Wrongway Goth (and he was on our side) and once, accidentally set on fire by a foolish boy who shall remain nameless. It's been rebuilt so haphazardly so many times that I lovingly call it "Frankencottage".
Not too many people livie here year round anymore. The cannery closed up years ago and there's nothing to keep the young folks on the island. Mostly it's just us oldtimers and something called eco-toursists. Can't say as I know what that means but they bring in some money and keep the taps at the Lucky Pirate flowing.
My youngest boy married one of those interior design people and she's always doing something to the place when they visit. Don't think it needs it myself, but the little ones like their rooms and I have to admit that rugs feel nice on these wrinkly old feet. Still don't know why there's flowers on the toilet though...who stencils flowers on a crapper?
The outdoors though, she's still all mine, right down to the old outhouse. It's filled in with sand but I keep in around for old times sake. The flowers like it too.
And that's about it. Stay tuned for some terribly exciting messages from our sponsor...I'm off to the Lucky Pirate. I hear there's been some sort of a disaster in Twinbrook that has the whole place quarantined...something to do with stretchy children disease.

--------------------------------------------------------------------------------------
CREDITS for cc used:
Lisen (plants)
Helen (laundry basket, tulips)
Quima (paintings)
Alelore (paintings, wallpaper)
SinKitty (walls)
Simmiller (terrain paints)
Adele (fence)
Luna (doors, windows, shutters, fences, stairs, blinds, candle, patterns, and the blue and white striped board that gave me the idea for the whole thing)
Velocitygrass (stencil remover)
Helaene (paintings)
Cloudwalker Sims (outhouse)
Random Stuff:
Thanks to lewisb40, from whom I
shamelessly stole
borrowed a decorating idea.
See here for theft.
And a big thanks to QBUILDERZ for organizing the contest, and to the poor judges who must be increasingly horrified by the number of entries.
Good luck to all!