Round 3: Colors and bushes
Here is my entry for Round 3! (and about time too...)

If you can't see my headers, blame your theme.
Robottien kotitalo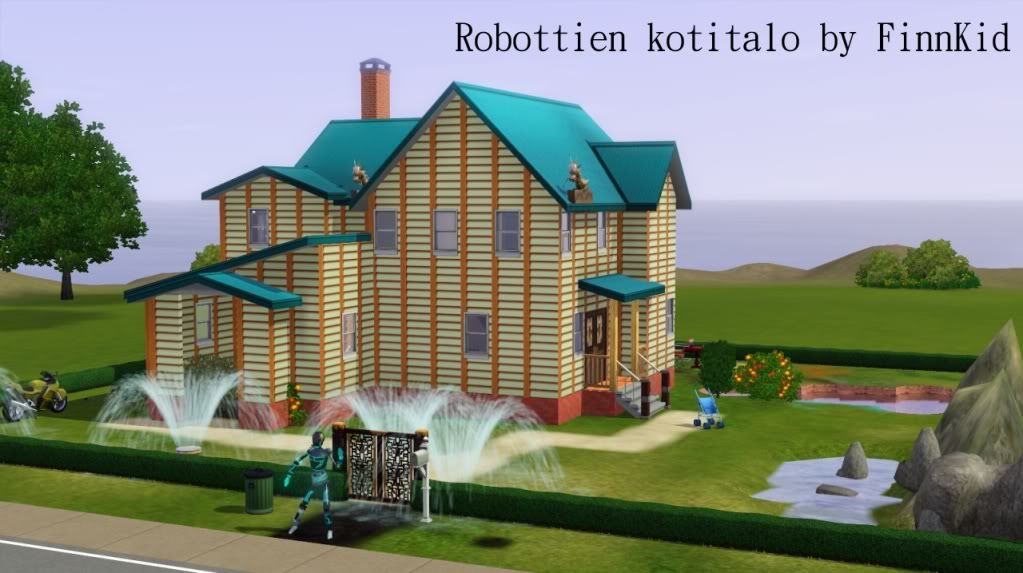 Far far away, on an island with no name, rests a house. This house is not just any house, as there live robots!

Vibrant colors and fountains give this lot a distinct look, there is no other like it. The entrance is guarded by Vahtirobotti Pou x5gc4.
The robots are rich as hell, no poor people allowed! There is a big cellar, full of treasures (and water). The robots came from the future.

The dragons are the guardian spirits of the house. You may invite Kung Fu Panda if you wish (AKA Dragon warrior). There are also enemy distraction devices (the fountains), remember, they are watery traps! Entering is only allowed with a motorcycle.

The swimming pool cost 5million simoleans (yeah, no poor people allowed!). Making a full house, a castle, it would have taken years. So it was good this house with a diamond roof was made. It was a lot faster.



Sims (if rich enough) are allowed to move in, as long as the FinnKid is informed about the matter beforehand. Changing anything in the house is strictly forbidden, especially when it comes to the colors!

If you wish to see more of this awesome house, please visit my Photobucket http://tinyurl.com/mfnzo4e.

Regards, the house with full of valuables.



My kid was so excited about this contest, I had to let him build a lot for it, and then take pictures. BTW, you guys have no chance, he's determined he'll win all four rounds, and builders with years of experience, with his one entry.


Yeah, he's nine, and has quite high self-esteem when it comes to things...
Now, if you survived that without too much of tummy ache or rolling eyes,

please see the real entry for this contest.



Colors and bushes
This lot gave me even bigger butt-ache than the previous one, but of course that is all part of Q's evil master-plan.

You'll see what I built in a moment, but before that, a few words.

The house, it's not prolly anything you expected to see from me (ok, I guess the first picture in this post dropped you off your chairs already). I know I have quite the distinctive style as well, so yeah, this is something different. Or at least stuff I haven't done in years.

I was slightly grumpy the R2 scores and feedback didn't make it in before I had finished the lot. So this lot is pretty much based on the feedback from round 1.

But yep, without more blabber just now, let me show you what I made.



Required pictures

The front of the house, that is modern (OH THE HORROR!), is pretty much covered in bushes. You have to be acquainted with the family to see this house closer up (yeah yeah, I'll make an exception with you guys!)
The lot is rich with color. The scheme follows through the house in and out, even on the bushes. The house is pretty much CFE'd together, the main feature being the tilted roofs I spent a little time cussing with.


The left side of the house is covered with bushes as well, though I did slam in some fencing too.


The fence carries on at the back of the house, securing it nice and tight. Just like the front side, there is not much to see about the house, unless you can fly (and take fancy pics).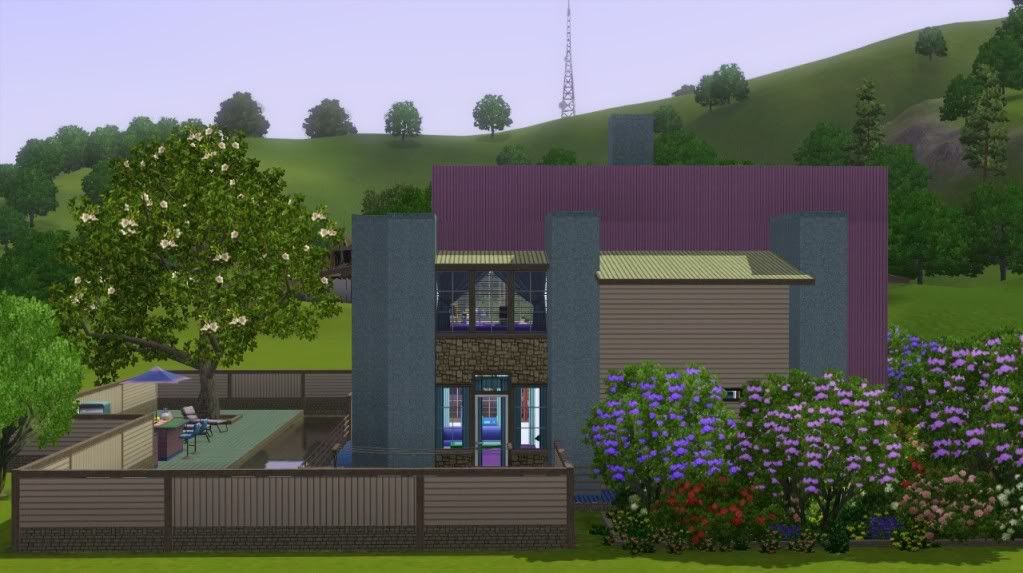 The right side of the house. The back entrance, little bit of view to the patio, and a ton more bushes (of course).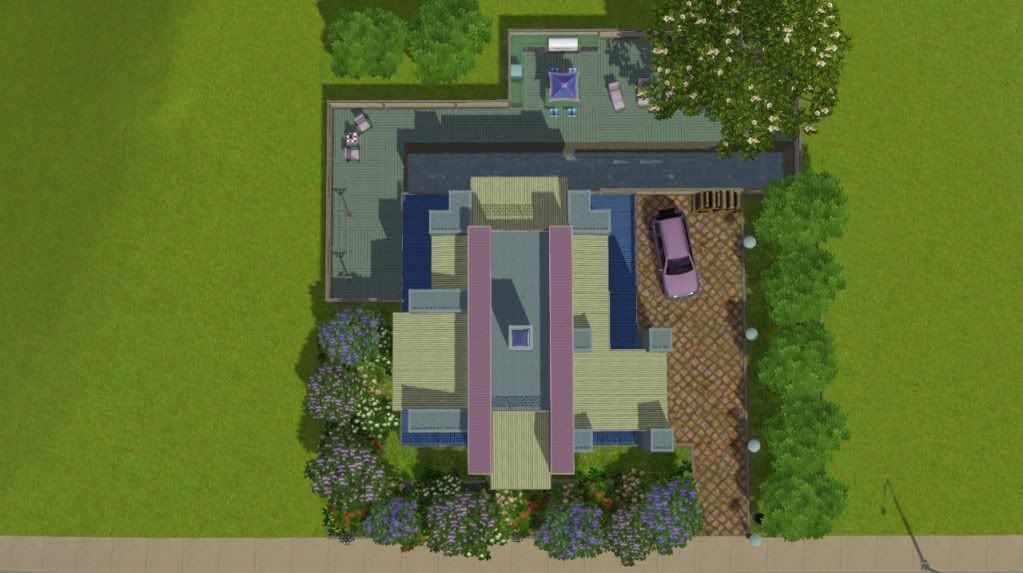 The overview shows you a bit more of the layout of the lot. And more bushes at once.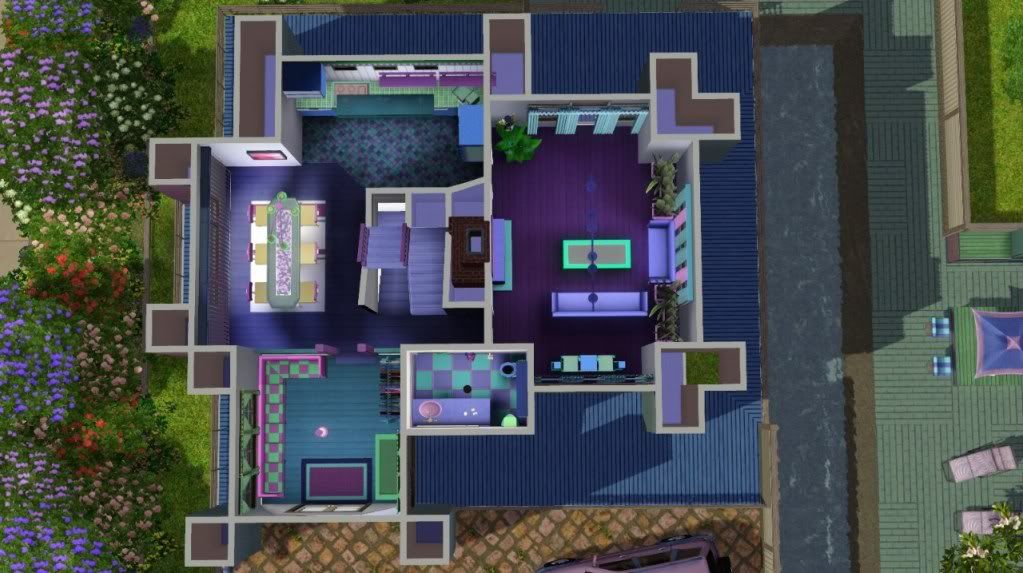 Dunno how much you rolled your eyes with the colors on the exterior, but if you though, heck, she finally did something more colourful, you underestimated badly, lol.
The main floor of the building welcomes you to the world of various pink, blue, purple, turquose, and yellow tones. The layout is really simple; what is loses in complexity, it pays up in color though.
The first floor houses a spacious entry, dining room with attached kitchen, and a sitting room.


The second floor continues on the same line. The hall is semi-open to the below kitchen and dining area. There are also two bedrooms and a master bathroom. Not sure how peaceful the dreams will be for the sims living in this house. Probably full of color!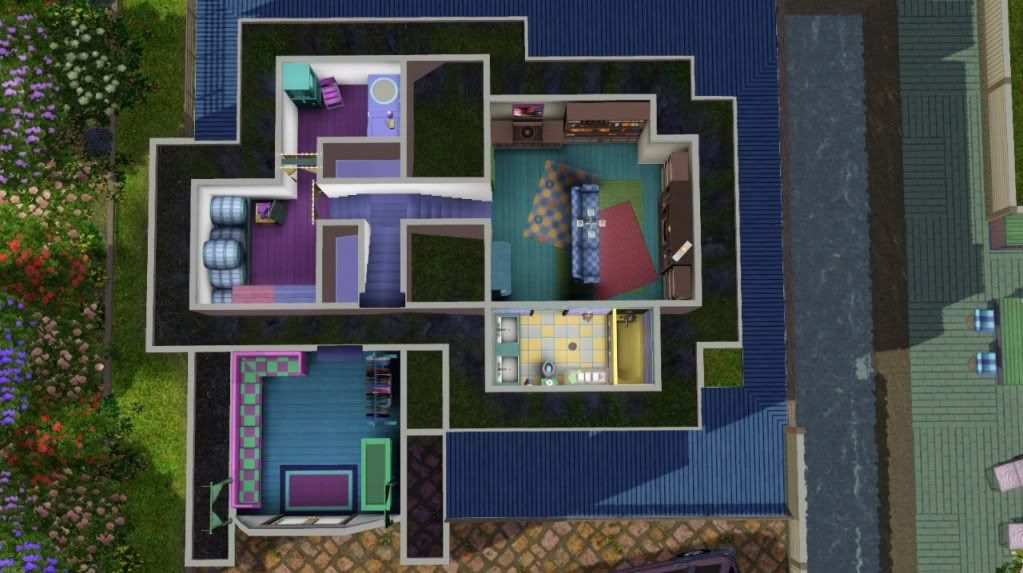 This is a picture of the basement floor, and it also acts as a prrof of concept regarding the foundation. The blue patio on the outside is made of pure decoration, and thus there are not even any items on it. It's just there to add a little more shape to the house. No rules broken! (only bent, maybe, cause Imma bad Finn, and a rebel)
Anyways, there is a booze-stack and a laundry room on the basement, as well as a family room, that is NOT full of those all hippy happy bright colors, but decorated more peacefully with 70-80's stuff that the family has saved from the time they couldn't afford colors.



Tilted exterior shots and landscaping
Here's some more pictures of the exterior of the house.


Yep, you need to know how to fly to see the lot a little better. Doesn't change a thing though, still full of colors and bushes!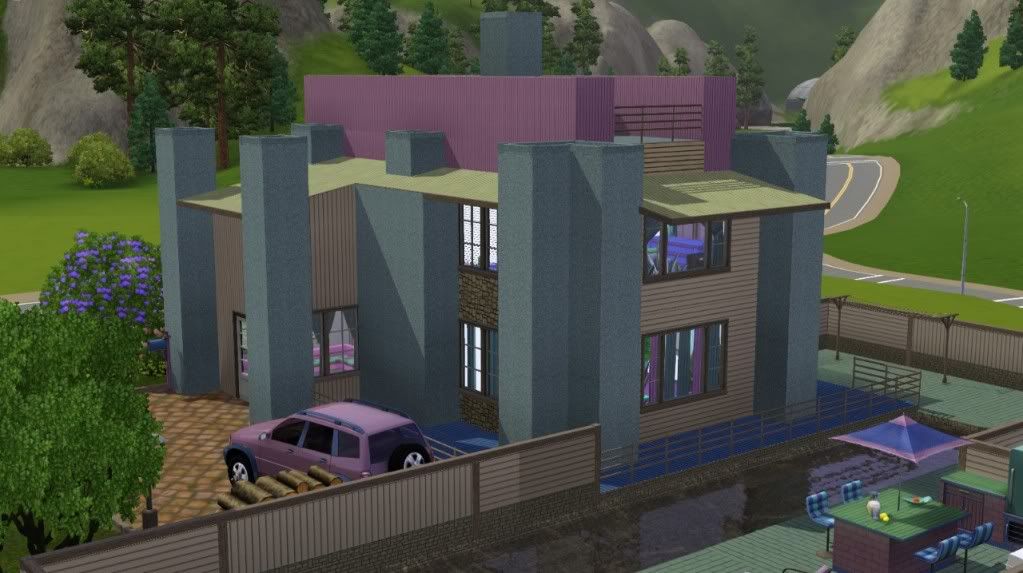 A closeup of the bushes. Suppose there is a bit of house in the pic as well.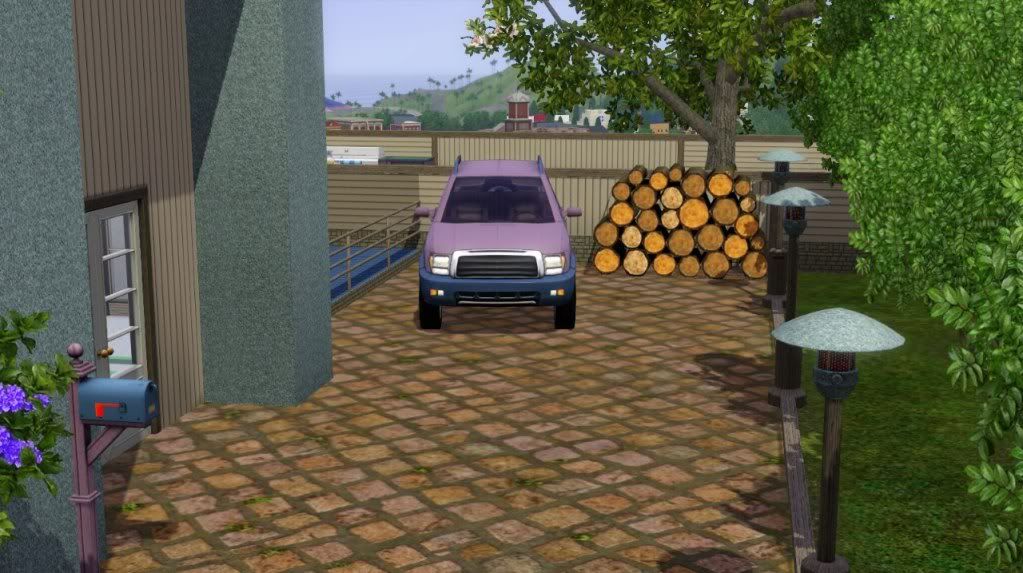 Front yard and the family car. And some lumber for the fireplace.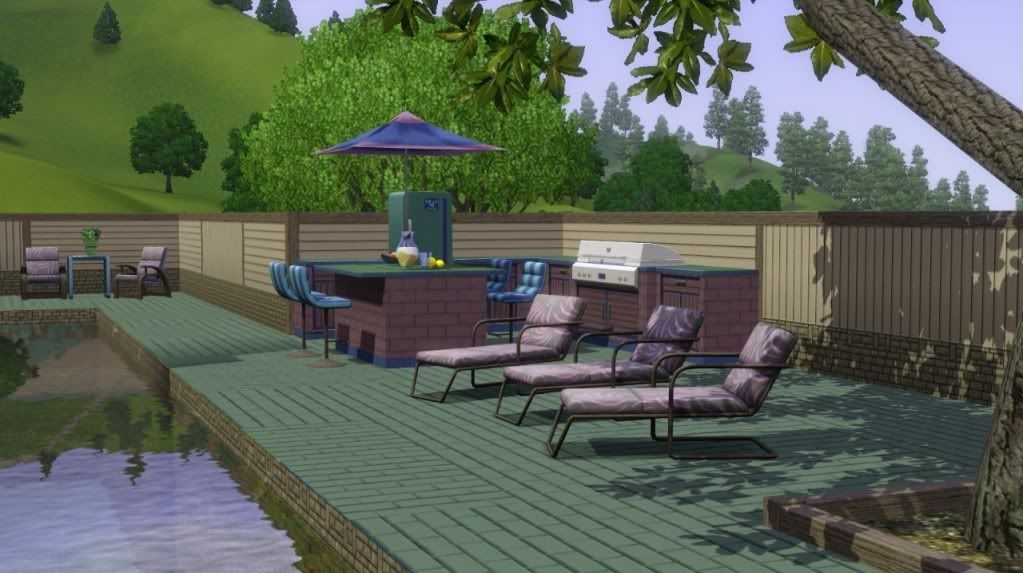 Back yard patio, with an outdoors kitchen.


Just another view of the patio.



Tilted floorplans and interior shots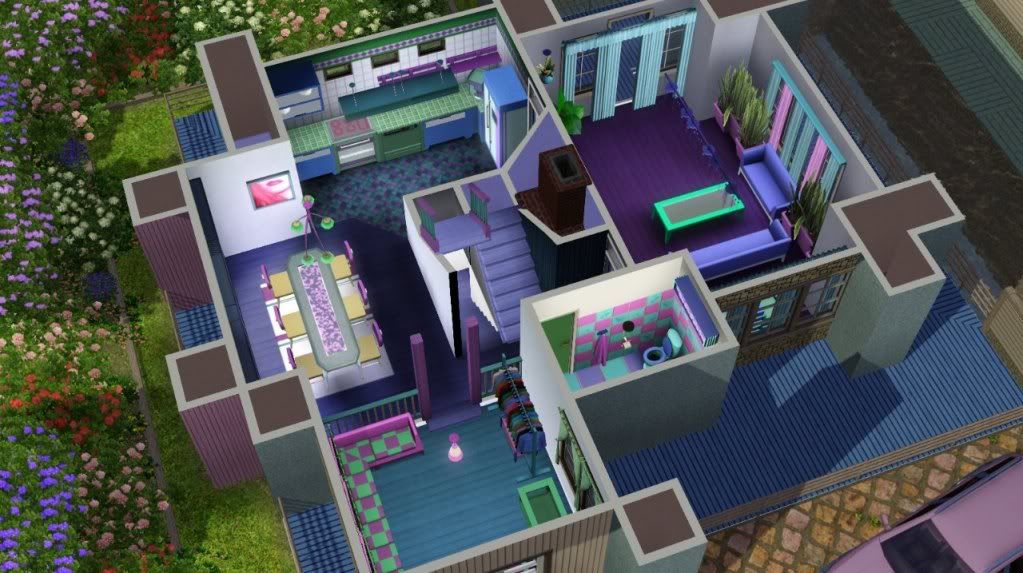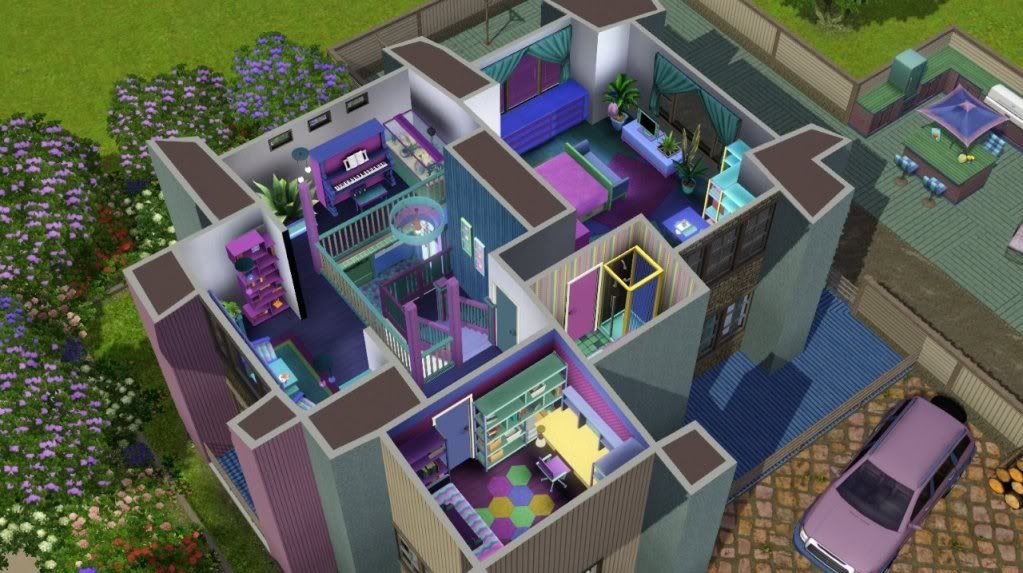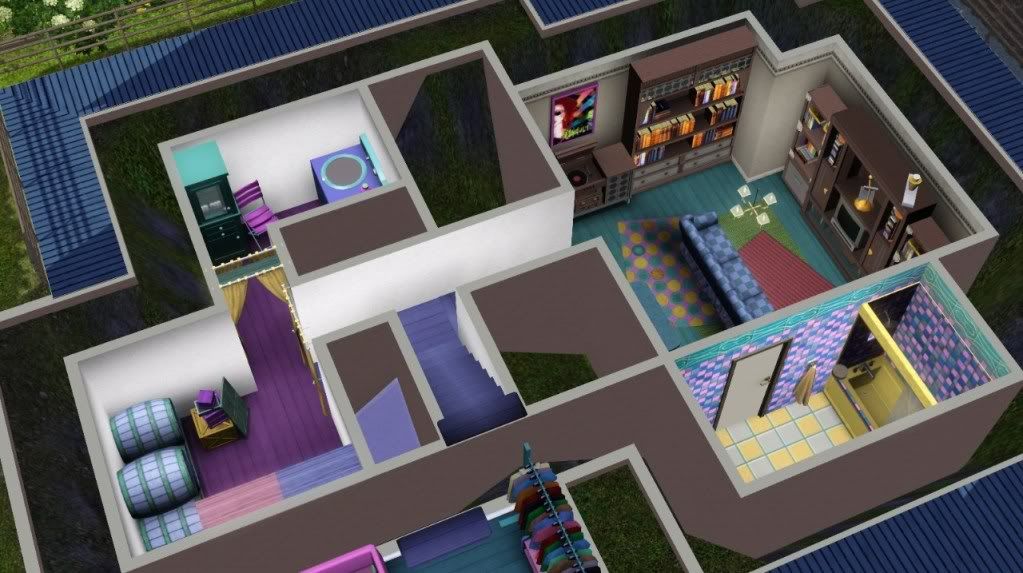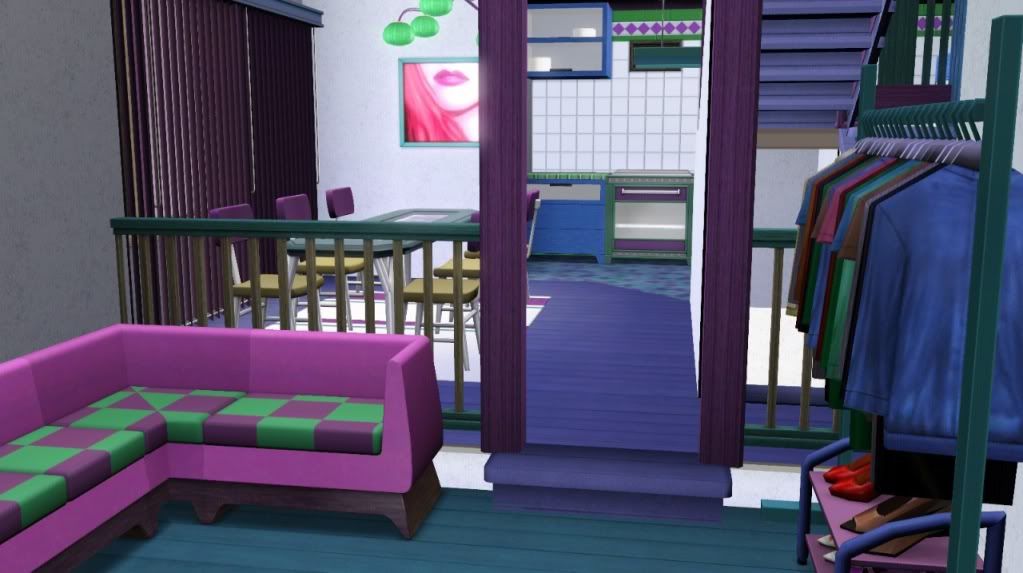 The view from the entryhall.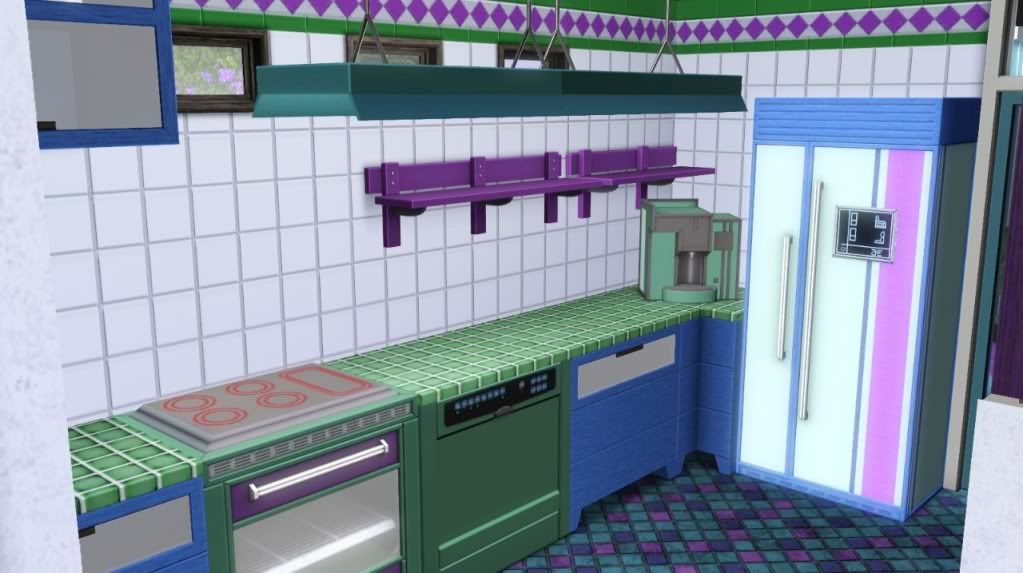 The kitchen, equipped with just bare essentials.


Sitting room, has some artsy fartsy curtains, a stereo for dancy Sims, and sofas for the ones that either can't be bothered, or got themselves tired already.


Bathroom, for bathroom business.


Second floor hall, with a view to a reading nook.


Same hall, another angle. Someone killed all the fish, so the tank is waiting for a refill. A more artistic Sim can entertain the rest of the family with some piano playing, that can be heard all across the floors due to the opening below.


Kid's bedroom. Tight enough to house a ton of bookshelves and a nice comfy self built sofa.


Master bedroom, sleepy side.


Master bedroom, worky side.


Master bathroom. No idea what they had in mind when they chose the wallpaper.



Architecture shots
These pictures are solely for the purpose of showing the exterior and architecture of the house better, so all bushes and most of other stuff has been removed.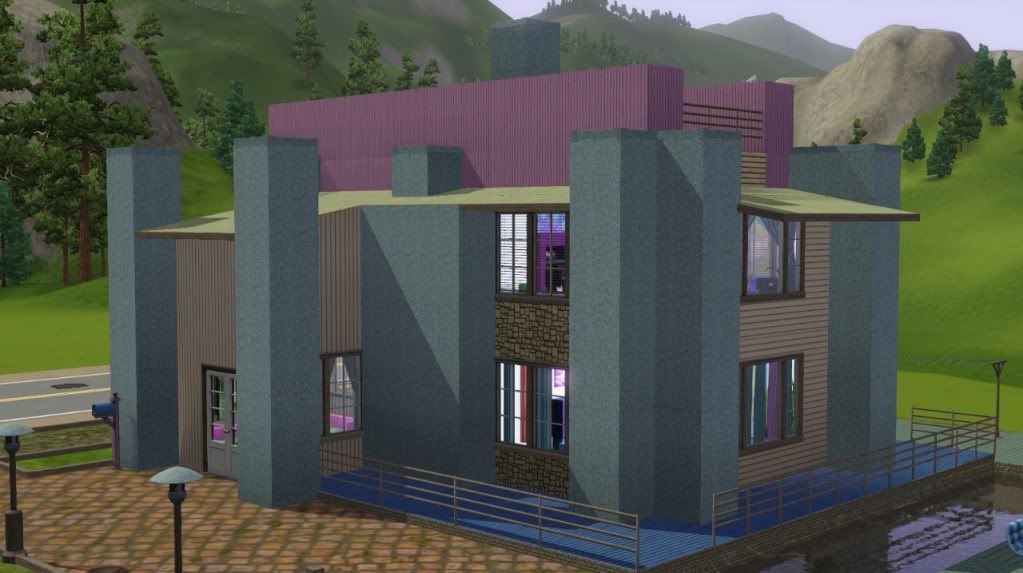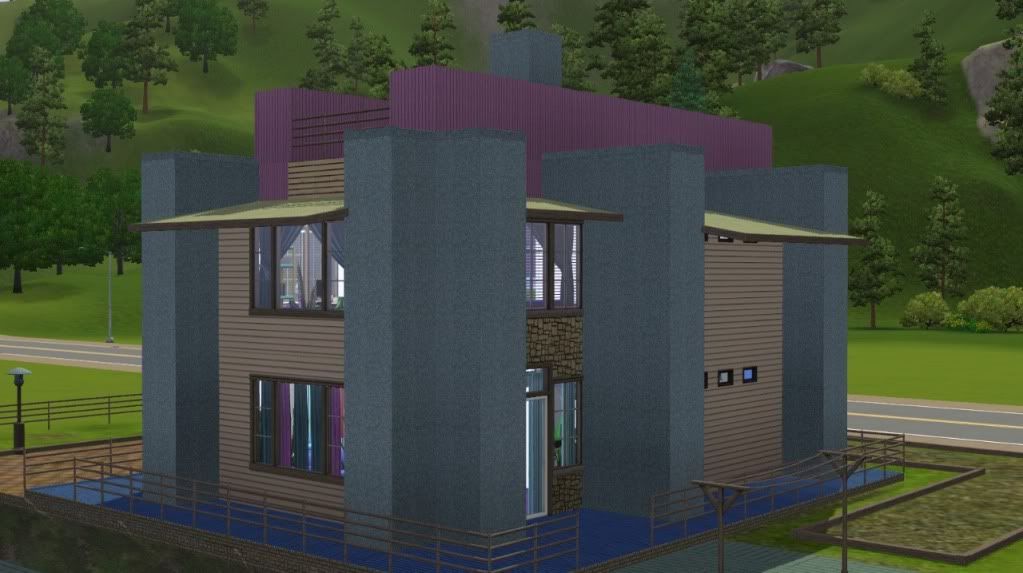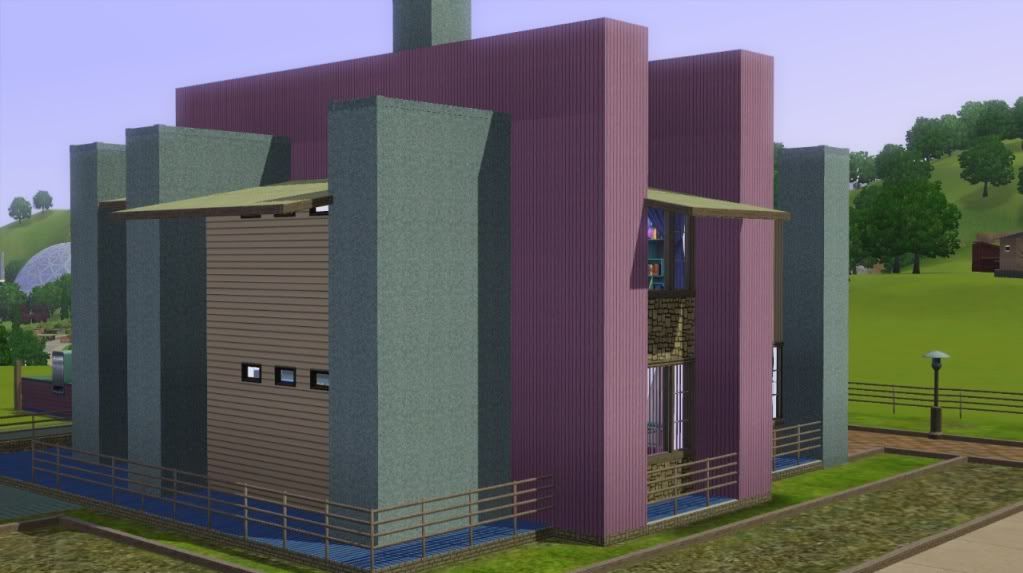 Info
This was my third attempt on this foundation.
I had to move the lot 4 times before I found a suitable surrounding for the build. For the first time ever, I too experienced the water in the basement -annoyance.
I crashed the lot twice when CASTing. My PC doesn't like bright colors, and neither do I
The foundation shape is exactly as given. I did remodel the entry some what.
The wrap around porch is made of that whatever decking I forgot the name of. It's purely deco and doesn't break the rules.
Kid had more fun building his lot. I didn't have fun when he was building, as he blabbered non-stop, and didn't let me use my PC.
Credits/Thanksies
Thanksies to Q for the contest and foundation!
CC was made by me. Columns, fences, bush recolors, some terrain paint and patterns, piano.
Mods used OMSP and Curtain height adjustment by granthes, Stencil removal mod by Velocitygrass, Builder stuff by Buzzler. Thanks for the creators!
Otherwise it's fully EP/SP content, no Store stuff.
Thanks to the people who commented on the lot when I showed pics.
Thanks to kid for making his version, and eventually letting me use my PC again.


Yep, I think that pretty much covers it. I prolly forgot something and will be editing stuff in in a haste later. I hope you liked this definitely different Finn build, and well, if not, I hope you at least had good laughs with the story/description kid told me to write.

Someone prolly saw me deleting and undeleting this entry.. Goddamn BBcode was being a bitch, and broke my formatting totally.