Final version!

Hacienda Hell
For Rent: One bedroom luxury hacienda
Price: If you have to ask....
Are you a SimCelebrity who's ready for a getaway? Here at Cashgraab Realty we have the perfect vacation rental for you.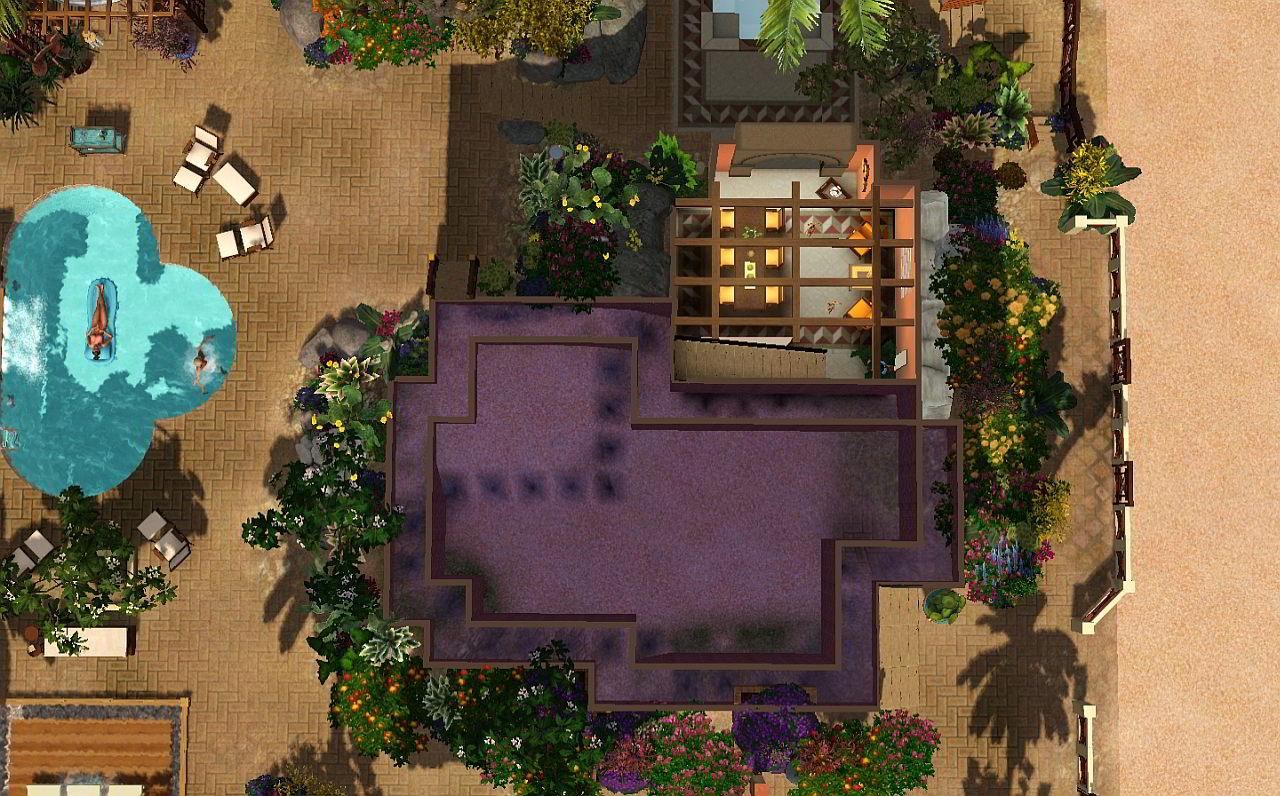 Hacienda Hell offers you the finest in Sim luxury. The house boasts a formal dining room, state of the art kitchen with casual dining, a sitting room with a breathtaking view of the mountains, 2 bathrooms, and a luxury bedroom with sitting room and private veranda.
Take advantage of the house's many amenities, including pool, hot tub, meditation fountain, and a private spa all nestled on beautifully landscaped grounds.

.
Cashgraab Realty is also proud to offer the best in discreet personal staff. Contact the office for more info on private cooks, maids, masseuses and security to keep the paparazzi at bay. Security provided by Killer Tomato Squad Ltd. Call 1-$00-MOAR$$$ now!

Annflower1(mirror)
Matomibotaki (mirror)
Playful (mirror)
Mensure (mirror)
Eddielle (coffee table, lights, deco)
Shakeshaft (pots, clock, mirror)
Lily of the Valley (wall sticker)
InnaLisa (wall sticker)
Quima (paintings)
Alelore (paintings)
SimPicasso (paintings)
Eris 3000 (shower, sink)
Kriss (door)
WOE (ceiling beams, fence)
VictorTor (ceiling beams)
Sim_man123 (plants, beams)
Mutske (kitchen set, candles, deco)
Severinka (pillow)
Lemoncandy (books)
HugeLunatic (window)
Helen (tulips)
Lisen (plants)
Awesims (cushions)
Riccinumbers (hamper)
SimsArtGallery (couch)
Wolfspyre (lamp)
FantasticSims (plants)
Velocittygrass (stencil remover)
Ayyuff (terrain paint)
Hatshepsut (terrain paint)
Misukisu (mod for moving things around)
Luna (arches, fountain deco, outdoor deco)
Porphyria (plants)

I'd also like to thank:
Qbuilder and the judges for all their hard work with the contest.
Ditway for the instructions for using Irfanview
Armiel for her CFE tutorials
Lsteffensimlady, Yogi tea (and minions) and all the others in the thread, for their encouragement...and a special thank you to Fairycake for telling me to shut-up and get on with it when I was panicking
...and, Gandalf