#201

6th Feb 2015 at 7:13 PM
Jeepers this is harder than I thought it would be! My girls spent the first week filthy, starving, and sleeping on the floor of the one-room house. Then Sunny and Juliet fell in love with each other.....
#202

2nd Apr 2015 at 8:49 PM
My reactions when I saw this challenge? 1. I NEED TO DO THIS.
2. I LOVE EVERYONE WHO DID THIS.
(I hope that you'll love me & my wonderful sims too

) Okay, before I do anything else, I'll say I do not have Kama Simtra or woohooer or any of those mods (which I hopefully spelled correctly.) Just plain ol' woohoo. I will probably get it in the future, though!
We're in Moonlight Falls with my trio of sims, who are:
Aurora Anderson, who is Loner/Computer Whiz. (She's above, not below :p)
Valentina Lush, who is Flirty/Great Kisser.
Clementine Waters, who is Athletic/Brave.
Group selfie!
Here's our, ehem, adequate brothel:
It's big, so I won't be adding on to it, I'll be adding on to the INSIDE.
So excited for this challenge!

#203

19th Aug 2015 at 7:28 AM
I'm still working on this one! I tend to take long breaks from Sims. It's needed for the sake of my sanity, haha.
For anyone interested in this challenge with a twist, here's a link to my 100 baby version of this challenge:
http://modthesims.info/showthread.php?t=523489
Anyways, I was playing around with the fire spell of one of my third-gen witch whores when suddenly I got $300k from insurance just for burning a random patch of grass! I'd already almost made $200k, so it's not like I needed the money or didn't already meet the challenge's requirements, but it still feels really unfair since I didn't lose anything in the fire. So I decided to see if there were any whorehouse lots available for download that I could move my whores into. I'm absolutely horrid at building houses myself, so my current brothel isn't very appealing.
I ended up finding this GORGEOUS house modeled after an actual movie set! It's really great if you're looking for a more... classy look. I just HAD to share it with you guys! So if you end up having lots of money to blow and need an upgrade to show your brothel's success, this is a perfect place for it!
http://www.modthesims.info/download.php?t=551629
#204

21st Aug 2015 at 1:43 AM
or simply do what I do put my game on epic mode download the woohooer si you can go to the spa for your ckients and cyber woohoo in the morning makes extra money for your sim and I have rgese mods part time porn industry and full time porn indistry career and prostetude career you can get from sexysim.com includeing othere stuff plus the mode from lovers lab web site oinij something gives your sim the anility to do threesomes and annal and b jpbs and that etc and lets you hang around the same all othere hookers do so that would give you prently to do the mod lets you teen or sim become school bike to but the question is whats the best world for her to be in? an how cam I be able to like teach her how to become a good sucsefull hooker and go up the ranks from school bike, cam whore full time porn industly to adcertise her career then a hooker? when I juat what my sim to be a hooker unless I create sims one for each career
#205

5th Jan 2016 at 6:08 AM
HEY SO...what's the policy on necroing challenge threads because if this one disappears i'll be a Sad Dad

Test Subject
#206

5th Jan 2016 at 4:56 PM
I'm glad you dug this up, as soon as i get home i'm gonna give this bad boy a go :D
#207

6th Jan 2016 at 3:06 AM
Quote:
Originally Posted by Feelthewaltz
I'm glad you dug this up, as soon as i get home i'm gonna give this bad boy a go :D
Oh man, post pictures! It's always fun to see other people's progress 8)!!
#208

6th Jan 2016 at 1:21 PM
I decided to do this one again, I haven't done it since 2013 and I'd like to think my simming style has changed a good bit since then. I built a kind of tacky motel type area for the brothel itself;
There's three bedrooms so far, a kitchen and a bar in the reception area. I was going to make 3-4 sims but I'm lazy so thus far I've only made two. I noticed a lot of people do the supernatural thing and I didn't wanna ditch my MF save so I moved 'em in there! Non-human sims are more fun to play, anyway.
MILDRED DUONG;
Neat, Natural Cook//
I imagine her taking on the role as the 'peacemaker' once we get more working girls moving in. She's a werewolf, very goofy and sweet. Really loves baking in her free time, arts n crafts too. Probably keeps a scrapbook of all the Johns that visit, hahaha//
RITA WOODRUFF;
Flirty, Great Kisser//
Kinda based off of the "Femme Fatale" archetype, has an unfortunate affinity for the whiskey and gambling. Smokes more than she should too, but she thinks it makes her look refined. And she's a fairy, so I guess getting old isn't currently written under her list of concerns. She probably takes a little too much liberty playing with her health, haha. She doesn't really fit my usual idea of a fairy; she's always been attracted to the big cityscape and glittering neon lights. Like a moth drawn to flame, kinda. I think she has some sort of ego thing where she doesn't really want to associate herself with other fairies because she thinks they're primitive. Anyway;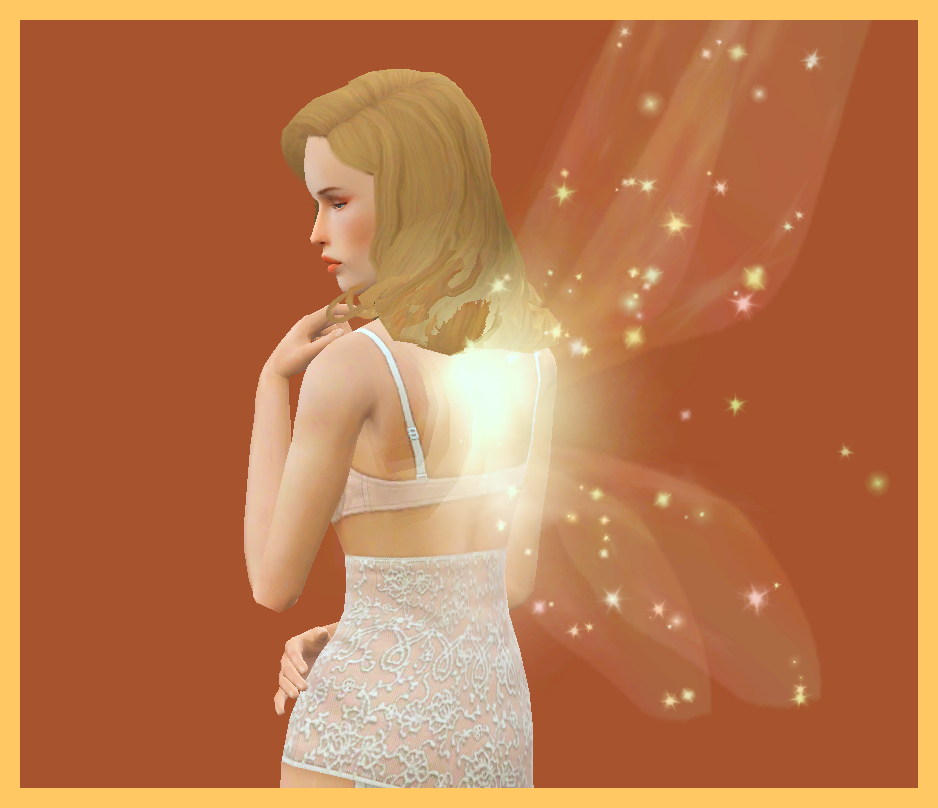 Despite living together, they don't really interact except for when they're counting money or eating. Mildred is very keen on small talk, Rita is not. I think their ideas of fun are pretty different, and Rita never wastes time acting interested when she isn't. Mildred doesn't mind though, since Rita's pretty good at snagging customers, especially the ones that pay well. Seems to be especially drawn to married men, though. Oh well.
#209

6th Jan 2016 at 5:04 PM
I'm going to try this it sounds very interesting. Let's just hope my game doesn't crash before I save it lol XD.
#210

12th Jan 2016 at 1:27 AM Last edited by PoeticBeauty : 12th Jan 2016 at
2:17 AM
.

Escorting Challenge
I really love this challenge (Thanks for digging this up Ribbonista!) and I made some additional rules to this and changed the name to Escort for my own play style purposes. I didn't want to make a separate thread for this because I used her words and didn't want to make it seem like I stole her idea. If you are interested it's under the spoiler.


**This will get updated as I think of more options add to the challenge.***

Getting Started:

*Obviously the first thing you need to do is make your escort residence. You must buy the largest lot available to start off, leaving you with less than $3,000. If you end up buying a smaller lot, you must get rid of your money in some other way (buying trees and other non useful items, using familyfunds cheat, etc) Your escort residence must begin as a seedy and low brow place. You must add a bar in the lobby area, and make sure it has several closed off rooms with beds.

Gameplay:

Sims in your escort must gain clients to date or woohoo with passerbys in order to get money. They cannot make money in any other way unless specified. No jobs, writing books, doing art, etc. After a successful date and/or woohoo has taken place, you may type "kaching" into the cheat box and get paid for your...ahem... services.*

Alternatively, your sims may also go out on the town and look for clients to bring back to the escort residence. However, your sim can only do this at night after sunset. If you woohoo with a client in public/or outside the escort resident lot and a police officer happens to be on the same lot as you, then you go to jail for "prostituting". You do not get paid and you must pay a fine and go home for the rest of the day.

* Once per generation, your sims may recruit townspeople to join the escort residence but in order to do so they must have the charismatic trait or have all charisma skill points. They also must be best friends with the person. You then can use testingcheatsenabled true to "add to household." No significant others may join, only new escorts. These prostitutes do not count towards the next generation.

* If your sims completes their lifetime wish and has an extra 100,000 in LTR points in reserve they have the option to get out of that lifestyle and move out to get married or whatever. Other than that no sim can get married or move out ever. So if you ever want a sim to have this option, it would be wise to not choose an career oriented lifetime wish.

* You may not have the same client twice in a day. Unless specified or the restriction has been lifted.

* Your escorts can be either male and/or female.

*Each sim must build their charisma skill to be able to woo their clients better and get more money.

* Choose one sim to be the head sim in charge or HSIC. They will be in charge purchasing items; and renovation of the residence; handling complaints; getting sims out of jail; enforcing rules etc. (This is purely for story telling purpose and doesn't really effect game play) This sim still does escorting services.

* If a sim becomes sick they cannot date and/or woohoo until well. This includes base game food poisoning, season sicknesses, or nraas vector mod. When sick they must only eat and rest/relax until well. We don't want the clients to complaint about sickness.

**For an added challenge: You must shutdown your residence move out and/or bull doze lot and start from humble beginnings again if:
• Social worker comes on the lot - the social worker will see what type of place it is and will order the place to be closed and take away all the children.
• Escorts go to jail x10 (you can set the number however you want for your own play style purposes)- Law enforcement are getting wind of your business and with a court order, forces the HSIC to close the residence down.
• Escorts create 5 or more dislikes/enemies sims at the same time altogether - People will start to protest against your type of business and want your residence condemned and shut down. (Evil + Charismatic escort enemies will count as 2 towards the total regardless of how many enemies they have)



*Some lifetime rewards that would be beneficial for the challenge:
• Above reproach (Generations
• Attractive
• Better Mixologist (Late Night)
• Clean Slate (Generations)
• Excellent Groupie
• Fertility Treatment (you could use as a penalty for unlucky sims with dislikes children or reckless sims with daredevil and childish traits)
• Legendary host for awesome parties
• Master of Seduction (Late night)
• Observant for learning traits
• Watering hole regular (Late Night) for making dates cheaper with discounts at all Late Night Clubs/bars


Create your escorts:

You may create as little as 2 escorts or as many as 5. This is up to you.*

You must use a random number generator to roll for 2 of your traits for each escort. The rest of the traits are up to you.

Your resulting number corresponds with the following traits and gameplay for that sim. It may help to write it down, along with the name of your sim so that you remember.

1-*Kleptomaniac & Mooch:*This is the only sim that will be able to obtain money in another way besides the brothel. They may mooch from their clients or steal things on random lots.

2-*Flirty & Great Kisser:*This sim will do a good job seducing their clients, too good a job at times. Every woohoo your sim successfully completes must be "try for baby."

3-*Hopeless Romantic & Over Emotional:*This sim is extremely emotional and has a hard time separating woohoo from relationships. They must always make their client a boyfriend/girlfriend before woohooing, and must break up with them before woohooing the next client. However, their woohoo is more satisfying and every successful woohoo is worth 2 kachings.

4-*Unlucky & Dislikes Children:*If your roll this, your sim must contribute to at least 1 of the next generation's heirs due to unlucky accidents with birth control failure. They also can never use the babysitter for their child(ren). They may not help their children do homework, teach them to walk, or talk.

5-*Unflirty & Commitment issues:*This sim will only woohoo with another when the relationship is at its highest possible. However, their woohoo is more satisfying and every successful woohoo is worth 2 kachings.


6-*Party animal & Friendly:*The only way these sims can woohoo is at a party. So obviously they'll be hosting a lot of parties.

7-Athletic & Brave:*After reaching the top of the athletic skill, these sims can woohoo as many times with the same sim as they'd like because of their smokin hot body and lack of insecurities.

8-*Insane & Inappropriate:*This sim is at their lowest point in life and is only working the brothel because of undiagnosed mental illness. As a result they are not very motivated and can only woohoo once a day. They also may not have children.

9-*Computer Whiz & Loner:*These sims can ONLY find new clients online. They then can build a relationship using the phone and invite them to the brothel. They are the only ones that can use the computer like this, but they also cannot meet people any other way.


10-*Neat & Natural Cook:*These sims must take care of the other members of the brothel. They must have a good relationship with everyone, make a large meal for everyone once a day, and keep the brothel clean. If this sim's relationship with any other member drops into the red, that member must be kicked out of the brothel.

11- Evil and Charismatic: Their evil with a silver tongue. This sim is cold and calculating. Their buttery words lure them in setting up for the trap and after they make the sale and take their heart they stomp them to the ground. They are the love em' and leave em' type with no remorse and they prefer to escort married men! The more destruction they can cause the better! Make the client fall in love with them before woohoo then afterwards insult; argue; break up with them/make them an enemy. Even worse? Try to make the client fall back in love with them another day only to break their hearts again. Truly evil.

12- Perfectionist and Snob: These sims prefer fancy clothes and rich sims. Will only woohoo after two or three dates and high relationship score. They prefer to dine at the Bistro and club at the finer establishments. The fancier the better. They will never date slobs no matter the cost! Neat sims are a bonus! X2 kachings They always send a letter after a date (Generations). After all it's the proper thing to do!

13- Good and Family Oriented: This sim has the highest morals of the group. They will prefer to date single sims and only after they have become good friends. They would never want to hurt a happy home! They always sends letters after dates (Generations). They always strive to give clients their favorite food and listen to their favorite music. Dates with cops are a bonus! X2 kachings. They are also very caring and nurturing to the children of the house. They will be doing the most skilling/reading and activities with the children to ensure the best childhood.


14- Daredevil and childish: These sims are immature and reckless. They love going to the extreme. They prefer playing games with their clients. They hardly use any birth control when woohooing. Every woohoo is risky woohoo if you have woohooer mod from nraas. If not then every 3rd woohoo is try for a baby.


15- Virtuoso and Artistic: These sims provide entertainment with their music at parties and gatherings and art services such as portaits for clients for a fee. They can date only if they wish to and when their instrument skill is high enough they can serenade their date for an extra fee.

Next Generation:

Before your original escorts turn into elders, they must produce the next generation:

The heirs must be able to contribute to the escort residence. You must roll for their traits when they are born in the same way you rolled for their parents traits. In order to ensure that you are able to give them the traits you rolled for, be sure to give them the best childhood and teen years possible, at least until they have both traits.

* Otherwise, if the game gives the child conflicting traits from different numbers then you may not use them in the brothel and they must be moved out asap when they turn young adult.*


* Each generation may have as many as 5 heirs or as little as 2.*


Ultimate Goal/Money:

*The ultimate goal is for your escort residence is to rise up from its humble beginnings into a high class place of business. Your challenge will go on for as many generations as it takes.

Kaching when:

* One of your escort sims has positive reaction for date with a client and/or woohoo/try for baby with client
* If the client is labeled "Rich" by the game, you may kaching twice
* If the client turns out to be in the law enforcement track, you must woohoo them for free.
* If a escort sim shares a trait with one of their clients (ex- they both have the evil trait) then you may kaching twice.


You may successfully end the challenge when your escort has over $100,000 and a nice place to operate from.*

Brothel must have:

• Jacuzzi
• Game Room
• Two port car garage with 2 cars for escorting around town
• Big swimming pool
• Gym Room with at least 2 treadmills and 2 exercise machines and a stereo
• Office for the HSIC
• Reception area with coffee bar and regular bar; sitting area with television
• Party Room complete with Dj Booth (Showtime)/Stereo for music, dance floor (Late night)/area to dance, bar and at least 5 decoration items.
• 4+ rooms for "special services" each bedroom must be equipped with: double bed, moodlight candle, night stand, light, mirror, curtains, dresser/wardrobe, hamper (ambitions), and at least 5 deco items.



In addition, these restrictions are in place until your brothel reaches these milestones:

Over $5,000: Your escort residence can purchase a smoke alarm

Over $20,000: Your escort residence can purchase a burglar alarm.

Over $40,000: Your escort residence may hire a babysitter, and maid.

Over $50,000: Your escort residence can woohoo the same client 3 x a day so long as they are not labelled "rich" by the game.*

Over $100,000: Congrats, your escort residence is a success!


Recommended Mods:

Nraas Woohooer and Woohoo KarmaSimtra
Working Bed by Ani (also found on Nraas website)
Edit: I'm too excited about this if you can't already tell and made plenty of edits to this post.

I'm also thinking of random occurrence scenarios specifically for this to make it even more challenging.


Lab Assistant

#211

26th Jan 2016 at 12:24 AM
Best add-on to this: Twallan's Vector mod with an STD component lol. My town is having an outbreak of STDs at the moment, thanks to this challenge.
#212

19th Mar 2016 at 2:42 PM
Someone should make a brothel challenge version (rules) using the Kinky World mod. Don't know if it would have to be different or not.
http://www.loverslab.com/topic/4324...ed-24-dec-2015/
I absolutely can't play Sims 3 without this mod, and I love the brothel challenge....I'm not good at making rules and all that stuff.
#213

2nd Apr 2016 at 2:53 AM Last edited by Heart Sims : 3rd Apr 2016 at
3:21 AM
.
I have a question. I was thinking I could woohoo with cops that are evil/mean spirited/inappropriate/insane or any others because sometimes in real life cops run brothels. Also, the girls are sometimes kidnapped and forced to work so if they become best friends with a cop then they can tell the cop and everyone who is not there by will (if they or born in they are automatically the "willingness" (as i'm calling it) of the mother EXAMPLE: I have 2 sims, Esmeralda, the owner who is there by will, and a girl she kidnapped Sandy, who is not there by will. Sandy's babies will not be there by will, but Esmeralda's will. If you become friends with someone and invite them to live with you, then they are there by will. If you kidnap them (the add to active household cheat) then they are not there by will and her babies won't either. The only way Sandy's babies can be there by will is if they roll a 8 (or with 14, 12, and 11, or any others you see fit if you are doing the escorting challenge). If you become friends with the cop, anyone who is not there by will gets kicked out and bulldoze the lot because the police shut it down. Everyone who is there by will has to move cities and start another brothel. You could also kidnap a cop in place of a recruit. this person has to do the rolls (look at their traits. I did this and my person had brave, athletic, and daredevil so i'm doing the brave and athletic one with also a part of the daredevil one (every third woohoo is a try for a baby, but since they aren't full i'm doing every fith woohoo.) and they can only eat once a day, because they are a kidnapped cop and they also can't leave the lot or if you have a fence they can't leave the fence. I just wanted to see if this is ok, and if it is i just wanted my suggestions to be up there for others might like my ideas.

thanks

feel free to add my ideas to the escorting challenge if you want, poetic beauty.
Back to top