Replies: 228 (
Who?
), Viewed: 24159 times.
|
You are currently not a member of this group. Would you like to join it now?
Page 10 of 10
#226

4th Nov 2018 at 9:51 PM
According to my pictures, many weddings took place in this rotation - something to celebrate, right?

Aryana Baker (Romance Sim btw) married former townie Derek.
I would usually expect some drama out of a marriage like this, but I'm not sure because he's sick with some disease (which is dangerously spreading thru the hood, no fatalities so far) and things may be more dramatic for himself than for his marriage.
Also newly wed, dear Kliive Gorge and Prid White-Entayta. They make a wonderful couple and I'm hoping for some children in the future

Prid's younger sister Priss is married to Kliive's younger half-brother Trod (small world!), they are parents to three children I think and they want more.
Cute pic in the birthday of the youngest.
The other White-Entayta sibling is Disarp, who is married to Regina Sell, having a children in common... and I'm afraid he'll have another baby, because he got abducted!
Yay for a chance of getting another "pure" alien baby!
And Kliive and Trod have also another brother, Vrodde, who just married Jappung Daeli-Jobs.
Yes, I'm hoping for more little green ones out of this marriage too.
Also a very funky marriage took place.
Vradia Zadra, long a widower, decided to propose and marry a much younger woman... who quickly got pregnant.
Meaning he'll be fathering a child who is younger than his many grandchildren.

Might be genetical.
One of this daughters, Rivia Lowe, has a teenager - and just gave birth to a little green bean named Nadia.
And because I mentioned her early, Florence Delarosa got married as well.
Last but not least, a lovely pic of Cassius and Lucy Freeman and their children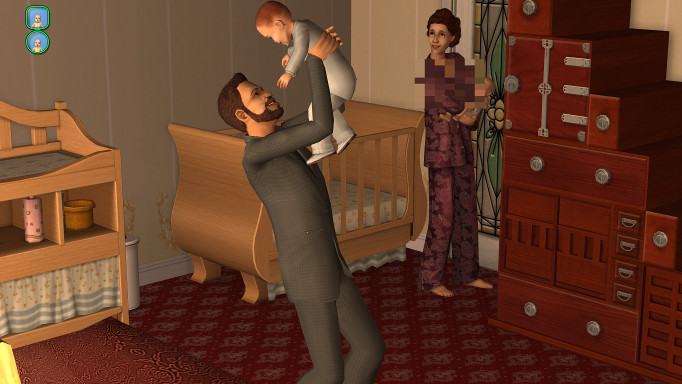 Hybrid baby: Nadia Lowe

| Rotation | Rotation score | TOTAL SCORE |
| --- | --- | --- |
| #10e | Hybrid babies x1: +10 | 201 |

Scholar
#227

8th Nov 2018 at 11:26 PM
@Amura
Ohh Lots of Hybrid babies and lots of matches between Hybrids how cool. Also do you have a Multi PT Mod? I have one and I am using BoilingOils, I think it is pretty cool. Works wells from what I can tell.
#228

9th Nov 2018 at 7:01 PM Last edited by Amura : 18th Nov 2018 at
9:45 PM
.
Yes, I have so many alien hybrids that it's quite common that they marry each other :D
Let's see what happens in the next generation though.

I don't use multi-PT mods.
I considered it in the past but I disliked the fact that they can't be removed as is, you must be careful - and I did not want to risk forgotting about it and eventually screwing up.
So I made a bunch of different PT replacements, and I rotate them. This way I don't get always the same genetics - but the game consider them as siblings anyway so I can't match them. It's a good compromise for me.
#229

18th Nov 2018 at 10:16 PM
So many hybrids in this rotation!
First Disarp White-Entayta gave birth to his baby (Disarp was abducted, hence the baby is only his). The little one is of course alien looking (I'm not peeking into the actual genetics but there is a chance he has a pure alien genotype) and he was named Xander.
His wife Regina is one of the many who are sick with the flu - it's spreading everywhere but no fatalities so far.
Klaav Walker (neƩ Gorge-Mayhew) was pregnant again.
Klaav and Christian already had three chidren (teen Lack in picture, also children Leon and Lorna) and now had twin babies (Maurice and Ellen) who are both alien-looking.
Last but not least Vradia Zadra finally celebrated his wedding to Tracy Bruenig, who was also obviously pregnant.
She gave birth to twins too - Jeremiah and Meadow Zadra-Bruenig - so now it's a household of 8 (two elders: Vradia and his son Arvian, two adults: their wives, two children - Arvian's, and now two babies).
More babies were born in the Bluewater Village subhood, perfectly human babies.
Considering the number of biths (and despite a few old-age deaths at the Heritage Manor and Denise Jacquet at Bluewater Village) population is growing a lot lately.
Hybrid babies: Xander White-Entayta, Maurice Walker, Ellen Walker, Jeremiah Zadra-Bruenig, Meadow Zadra-Bruenig

| Rotation | Rotation score | TOTAL SCORE |
| --- | --- | --- |
| #10f | Hybrid babies x5: +50 | 251 |
Back to top