Field Researcher

#551

17th Aug 2018 at 2:28 AM Last edited by Yvelotic2001 : 17th Aug 2018 at
1:13 PM
.

Round 4 - 57 Road To Nowhere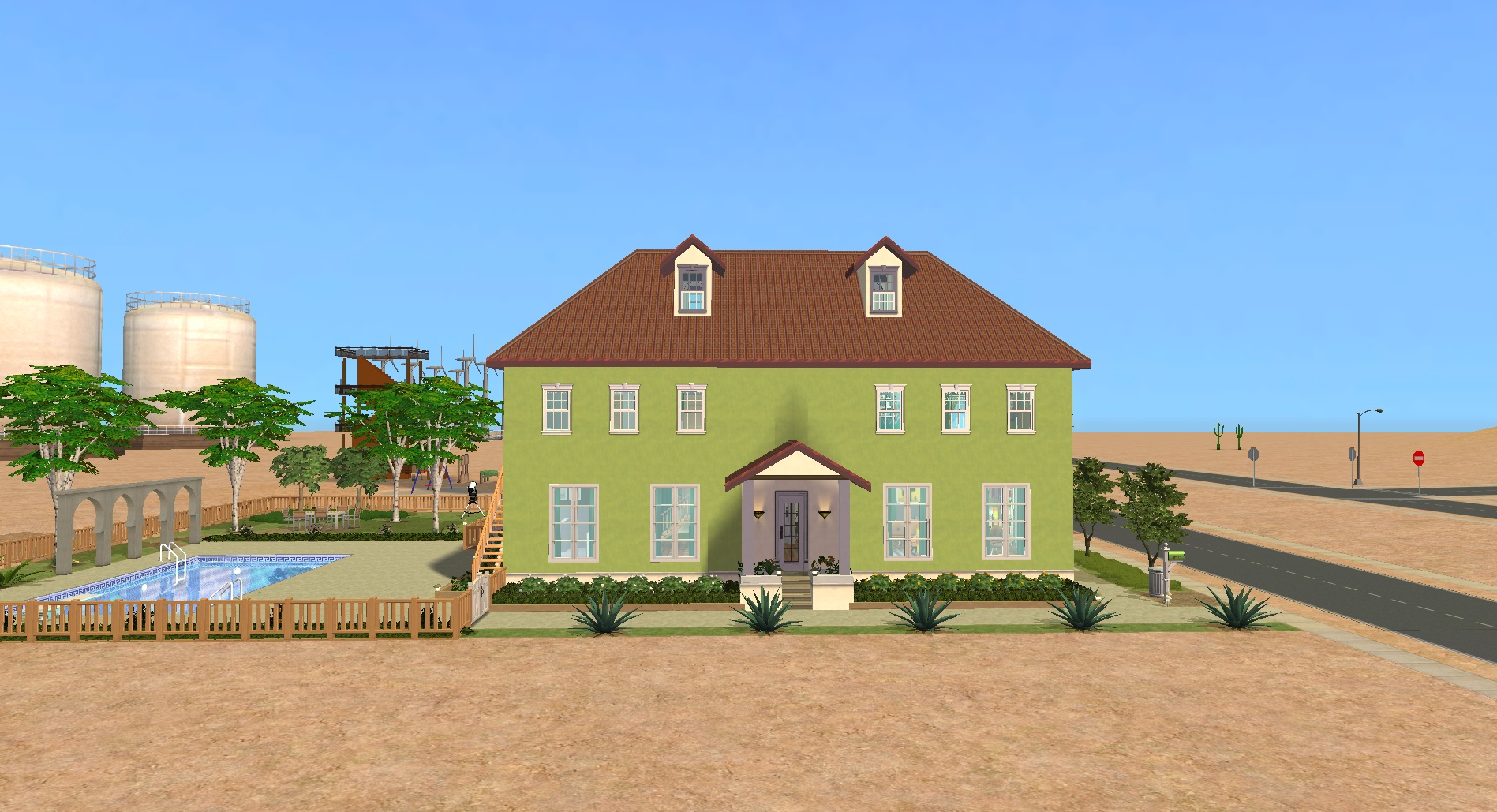 Quote:
17th August 2018
Strangetown

Dear Mr. Smith
It is a pleasure to inform you that the town council of our great Strangetown has decided to assign the house on 57 Road To Nowhere to you and any other members of your household. The house is in need of some repairs, but a mysterious benefactor donated a hefty sum to the town's treasury. Thus, the town council grants you total freedom in the refurbishing of the lot. You are free to redecorate and change the layout of the inside, nevertheless the outside shell must remain. Further stories can be added at your discretion. Do note that you are free to repaint the exterior.
We hope you the best for the rest of your life here in Strangetown.

Best regards,
Town Council of Strangetown

The new Smith residence
For the final round of this contest, we had an unlimited budget. And what do I do with an unlimited budget? I go overboard with the landscaping, that's for sure! In fact, if the lot was only a shell and the outside, it would cost 130K! Then again, the only thing PT9 cares more about than his lawn is his family, so he would surely go to the Moon and back (maybe he's even been there before) to have a great backyard. Outside, the lot has a Mediterranean-ish feel. With a total of 4 doors to the outside, the main door is the one on the left of the building - and that is the one used by the mailman, as I wished. The two back doors are only accessible through the gated backyard, though. Inside, my original plan was to decorate it in a typical Suburban family likes the Smiths always seemed to me, but I guess inspired by @iCad 's idea to recreate Strangetown in a 50's setting, I went for a mid-century modern decoration instead. Since PT9 is alien, I though I could give them access to a piece of modern tech here and there, hence the flat screen and the computer.
The house has wood tones throughout, with plenty of splashes of green, Jenny's favourite colour. In the living room, there are enough seats for everyone to watch TV, read a book or listen to music. Jill has left some of her toys there, though. Someone better clean that up before guests arrive. They have a spacious bathroom downstairs, but it doesn't feel like it is empty. Upstairs, both kids have their own room and the parents have their ensuite bathroom, as requested (the bathtub is functional, it was tested). Jill's room has a maritime theme. And while I know one judge mentioned they didn't feel like Johnny was a jock, I have to disagree. His bio states that he would like to arrive in a cool sports car, he has 7 body points and he has almost max interest in sports. So, his room has a massive pop-art painting and sports deco, like a rugby helmet and a jersey. Again, green.
The four-click high level between the first floor and the roof allowed me to build an attic, where they have some desks, bookcases, armchairs and an easel, as well as some MALM dressers to mimic cardboxes (thanks @Zarathustra!). Jill isn't supposed to go there, her father thinks the ladder is dangerous, but she sneaks in anyway when he's not looking.
This house has a burglar and fire alarm, so it meets Strangetown's safety standards, as well as a phone, a bin on every level except the attic and items for every skill. The aquarium under the stairs is merely decorative. The off-grid chess table works and I found no issues with the attic, other than carefully placing items as to not have them poke through the roof. And Johnny might not yet be the hero he dreams of, but at least he can drive a 1984 Pontiac Trans-Am and a 1967 Corvette. Pretty cool.
Here are the photos the town council took during their inspection of the lot:

This is the actual front when you load the lot, but for playing purposes the front is the picture not on the spoiler.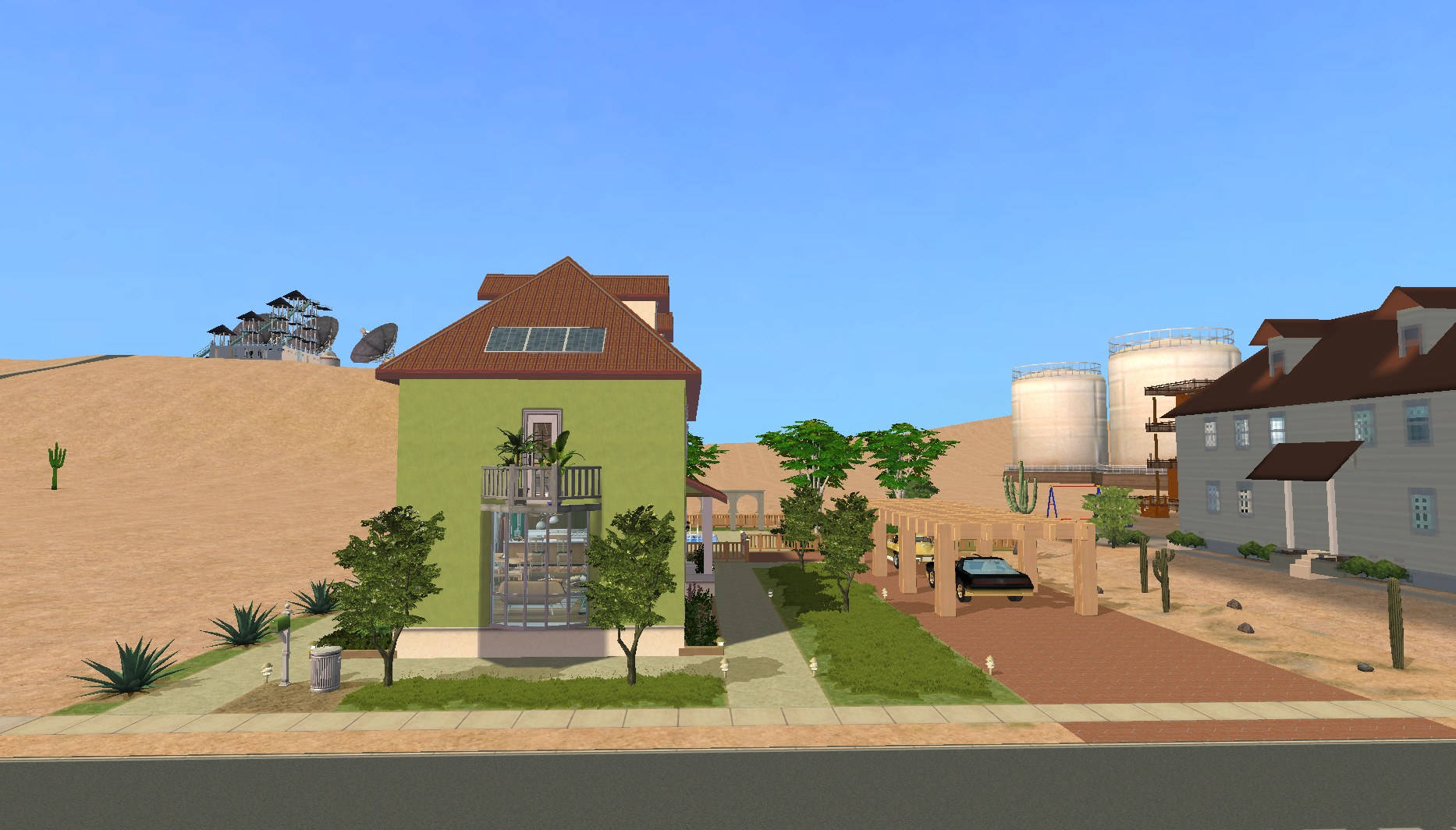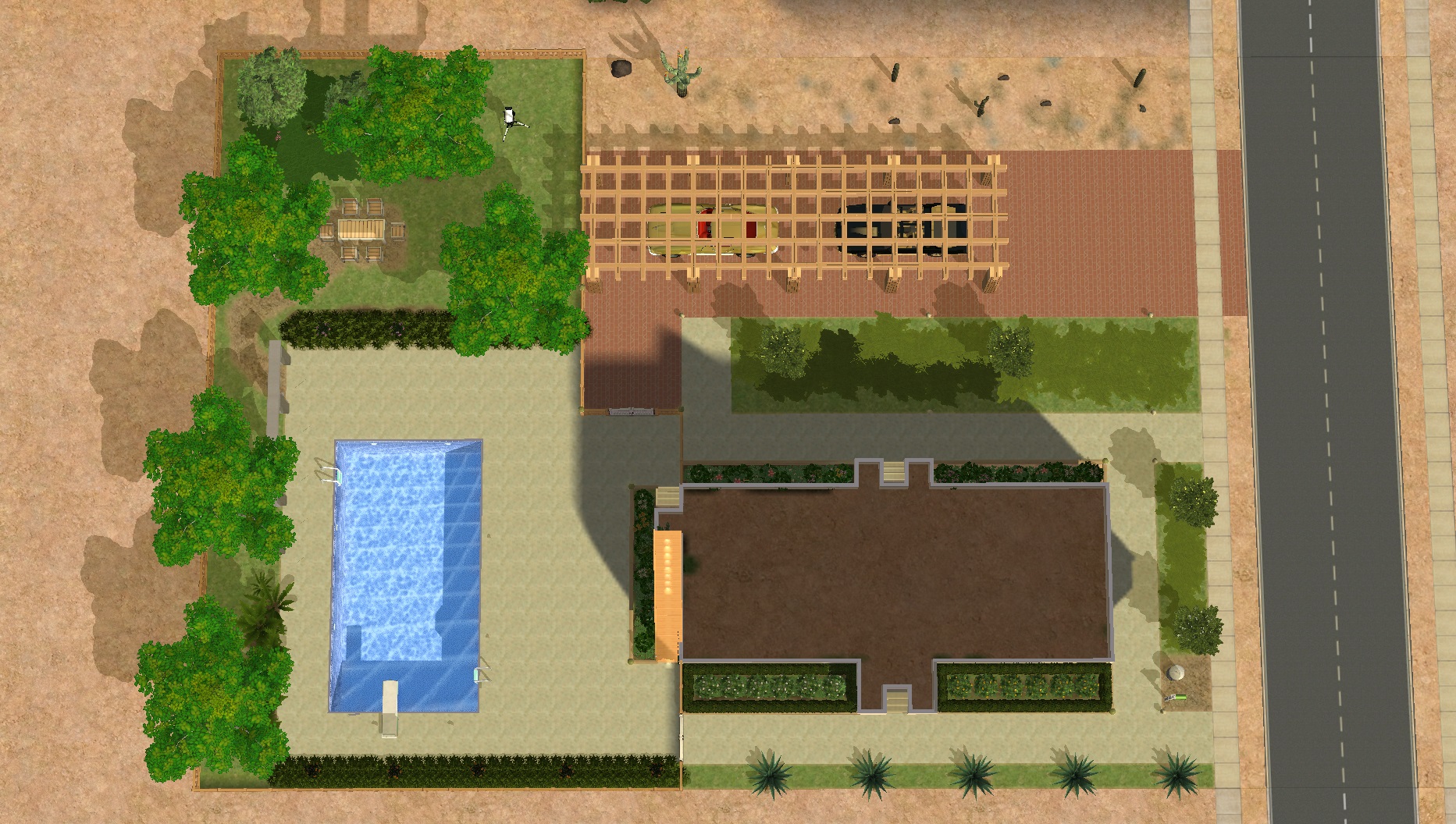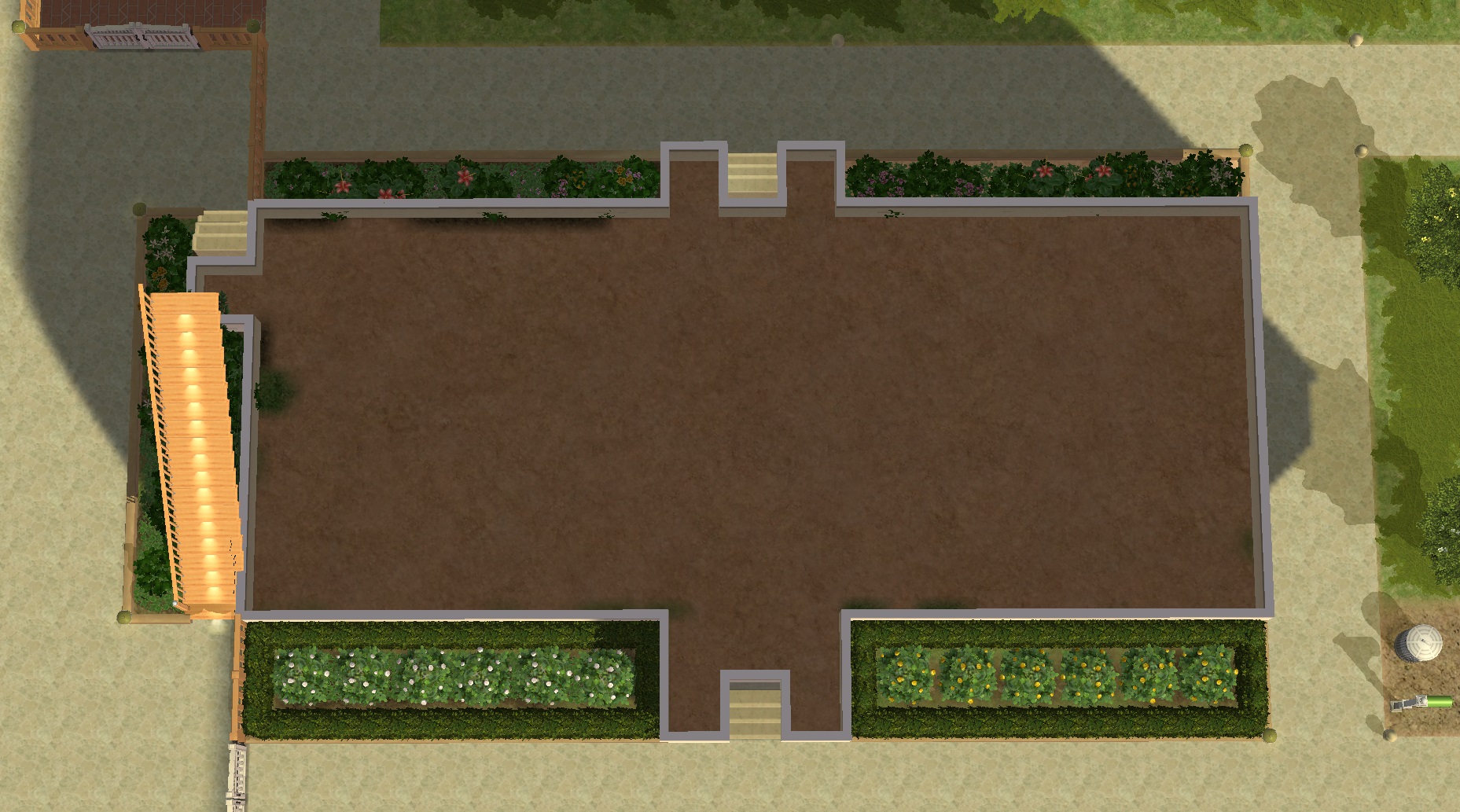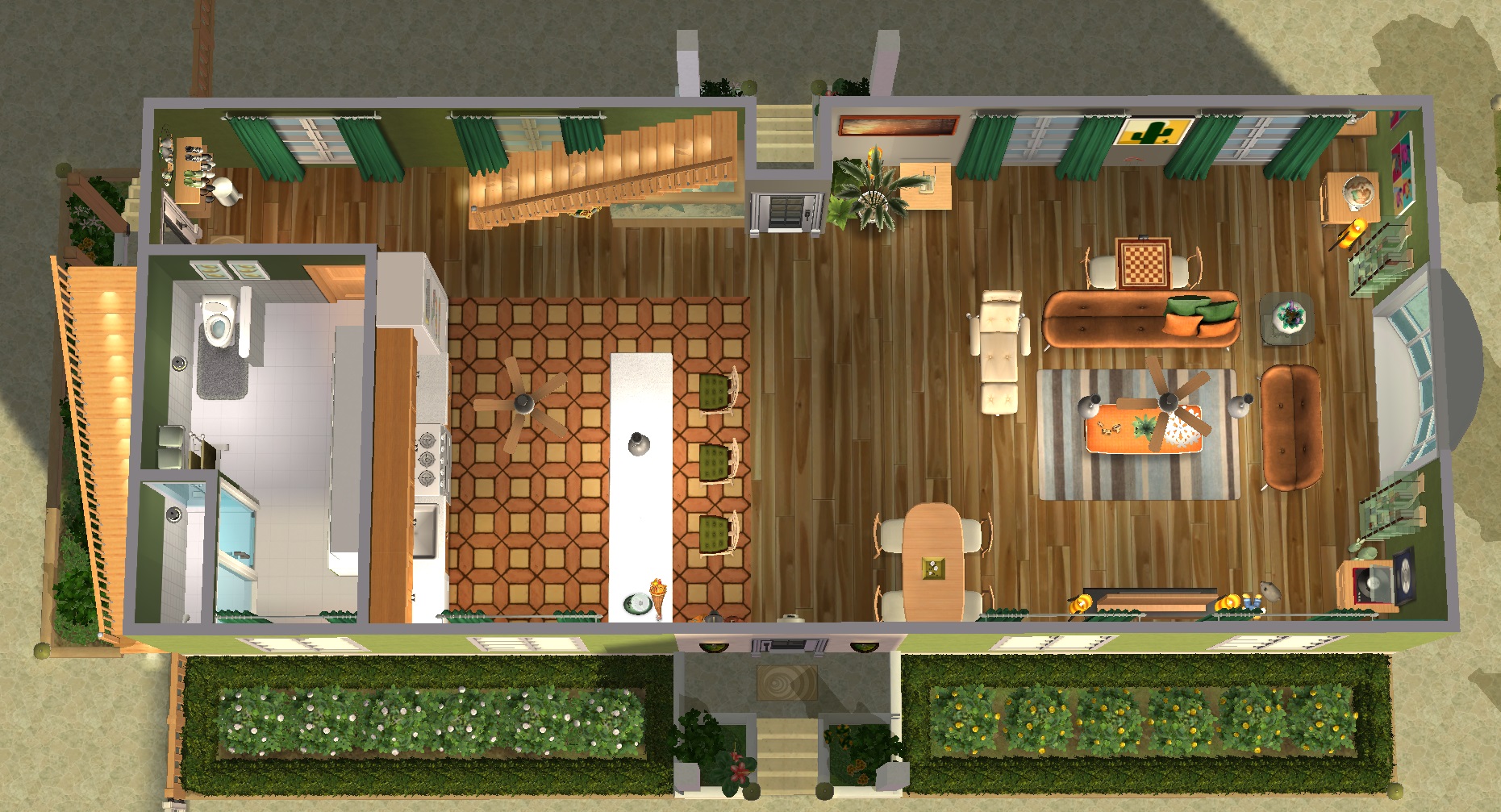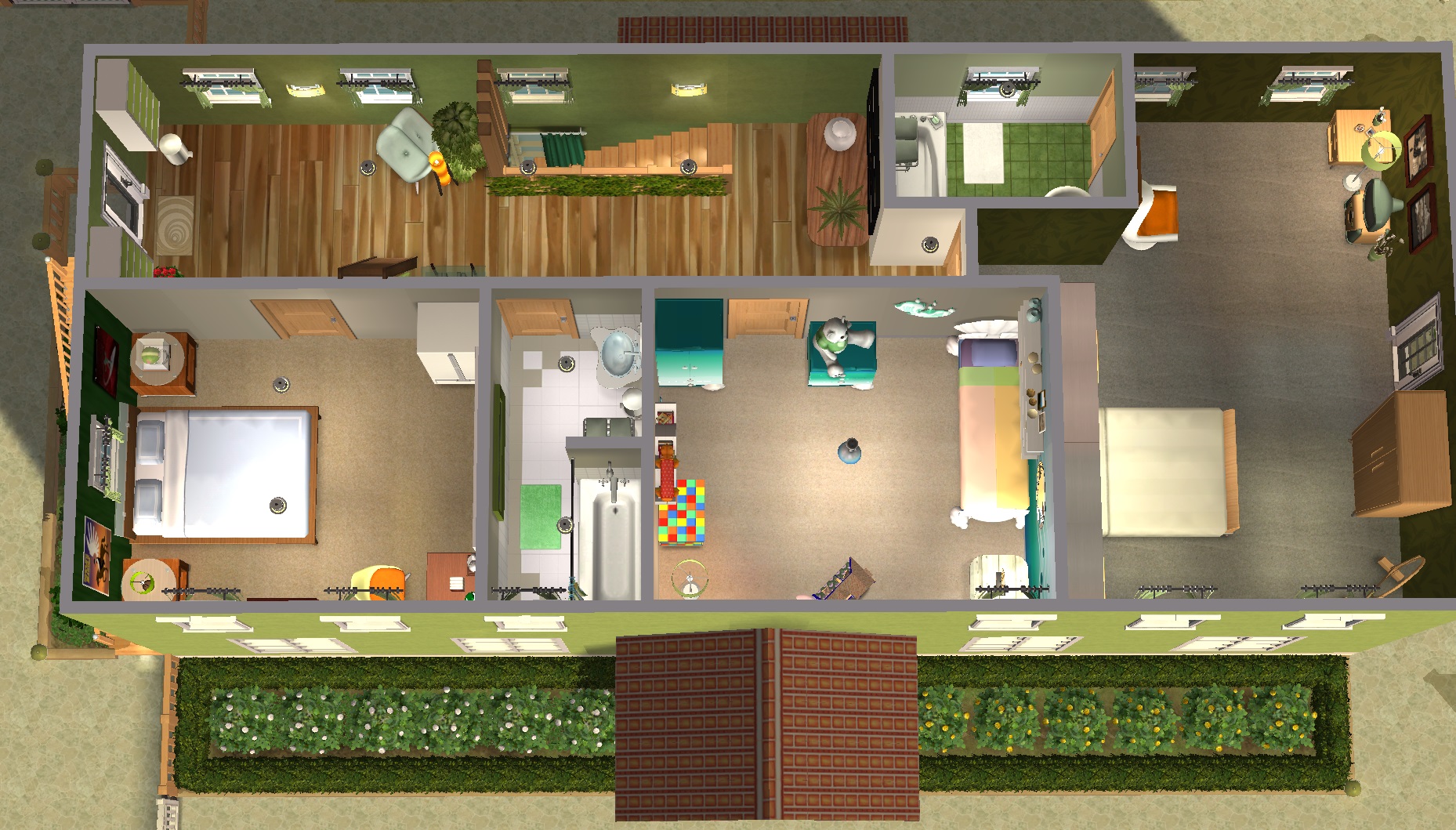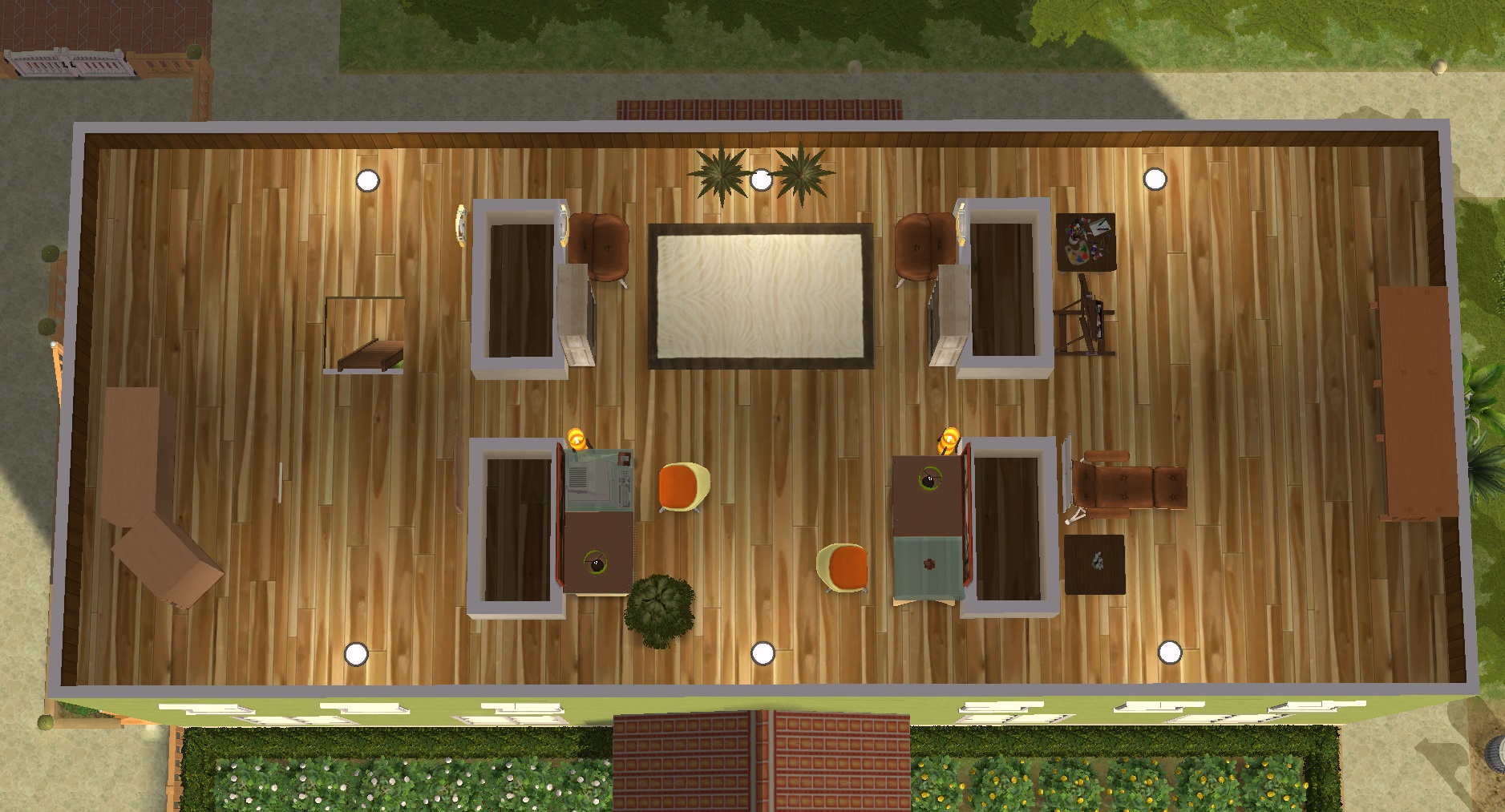 The inside decorations cost about as much as the outside decorations. Granted, there are two cars, but even so...


The only thing PT9 cares about more than his lawn is his family. Looking at how well he cares for his lawn, I'd say his family is pretty lucky.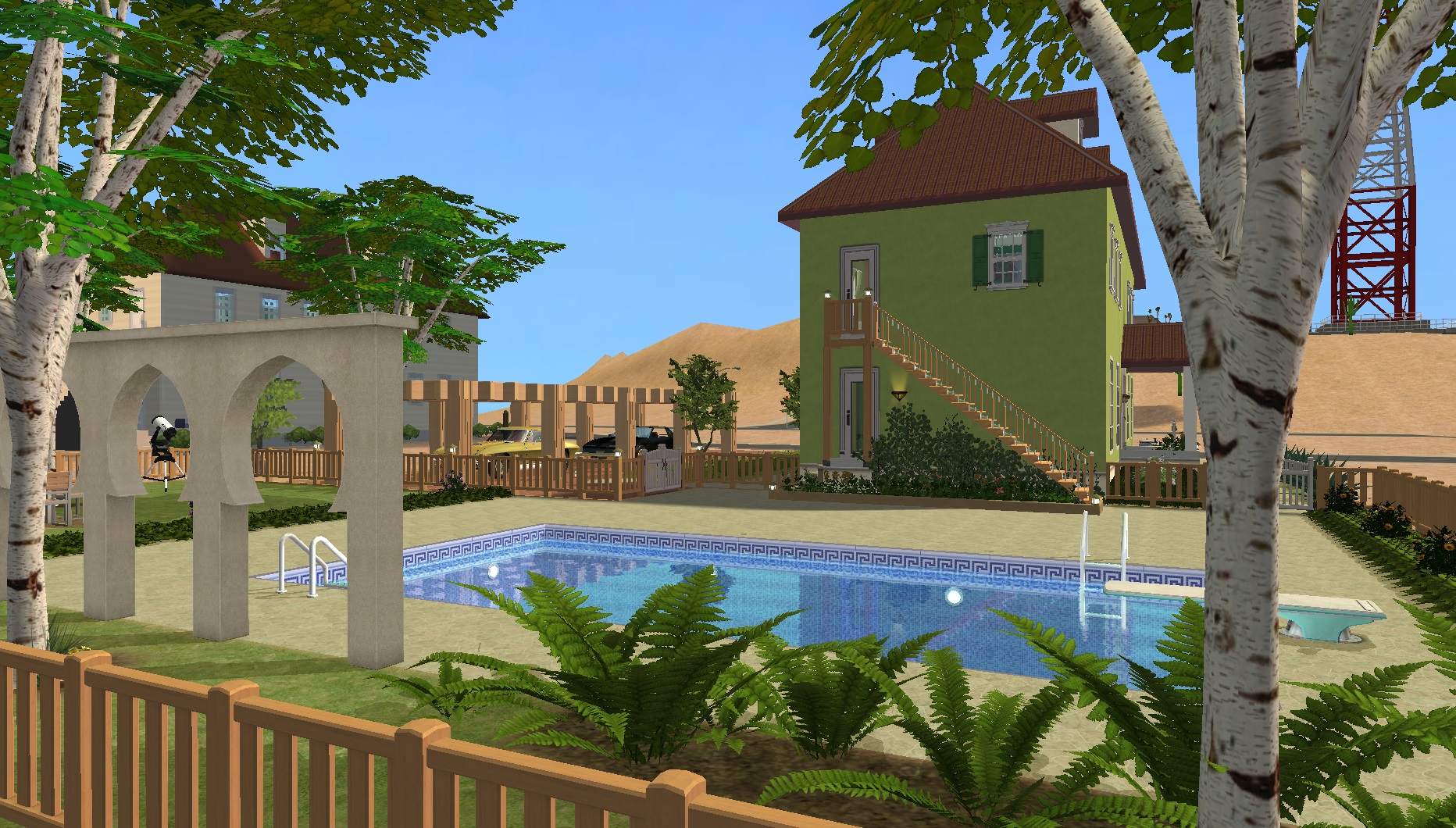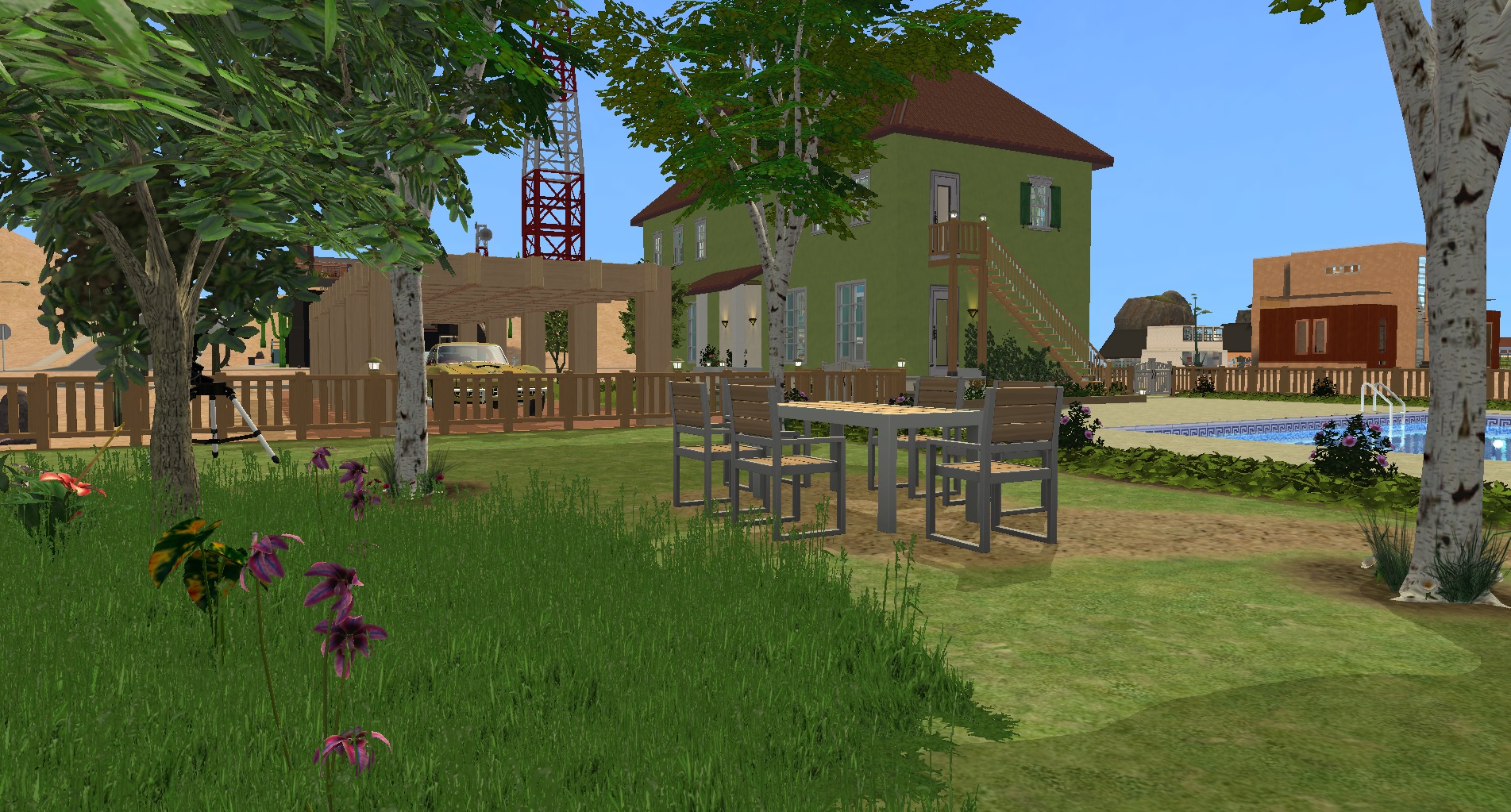 Now let's go inside: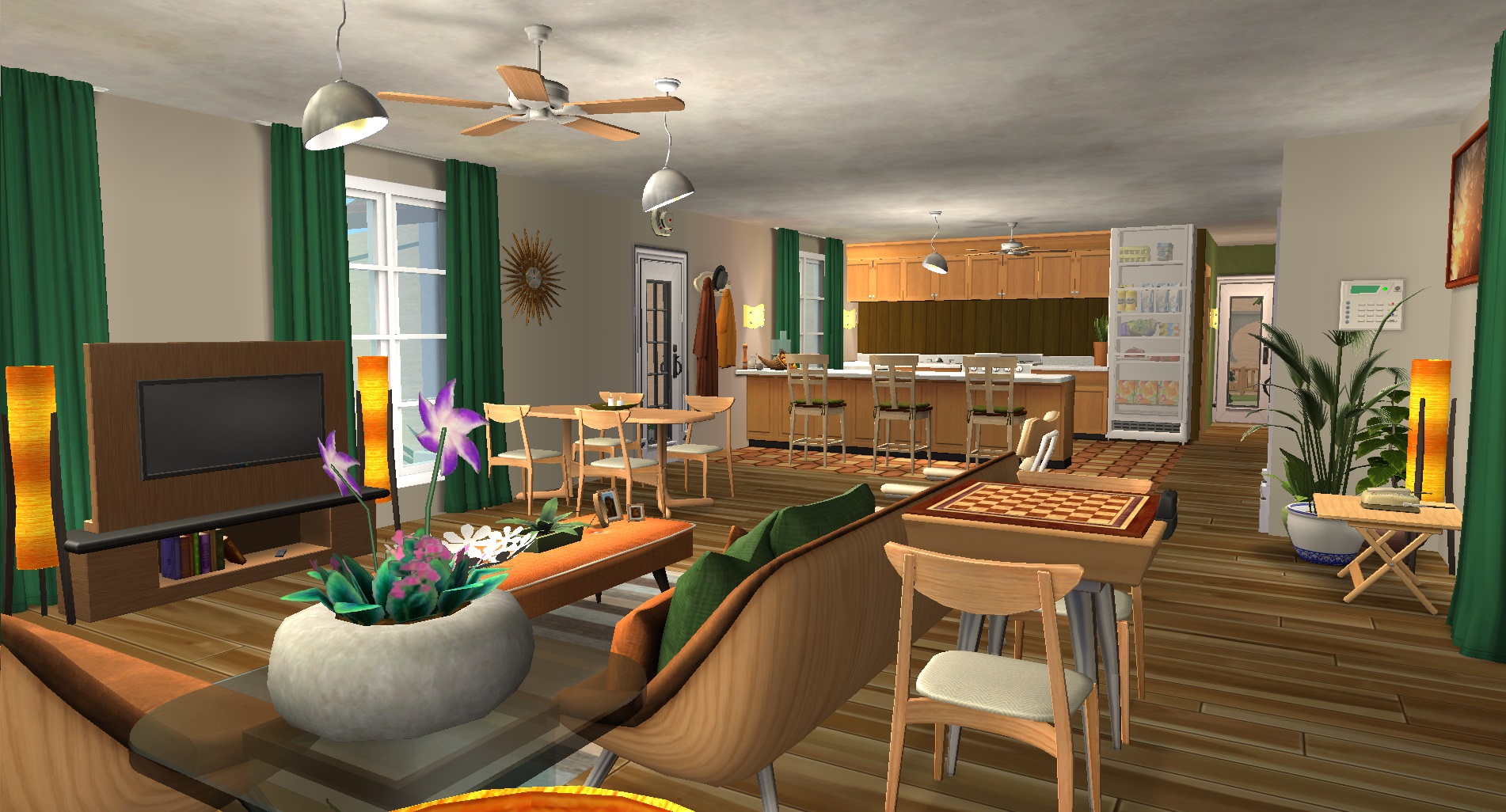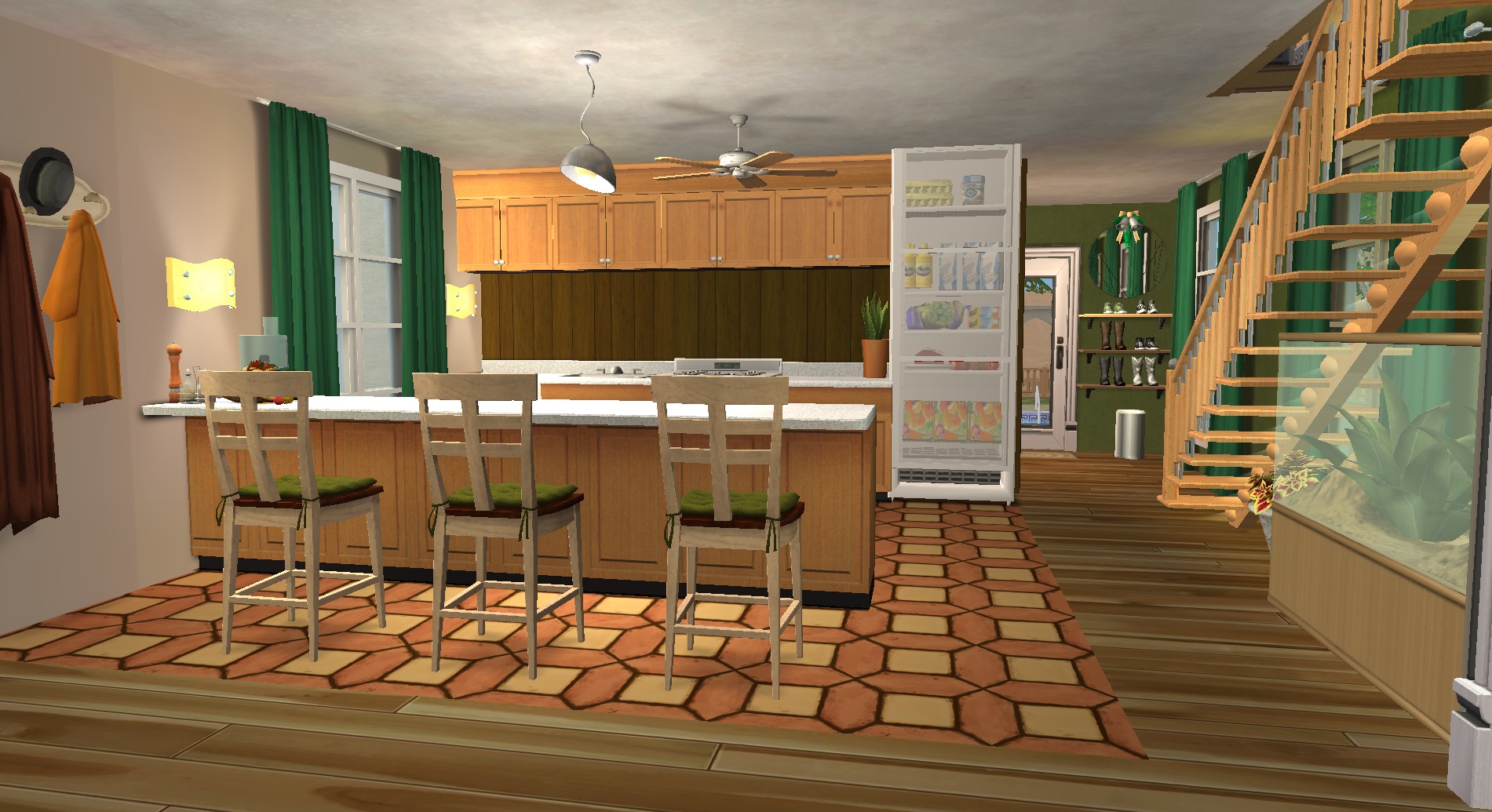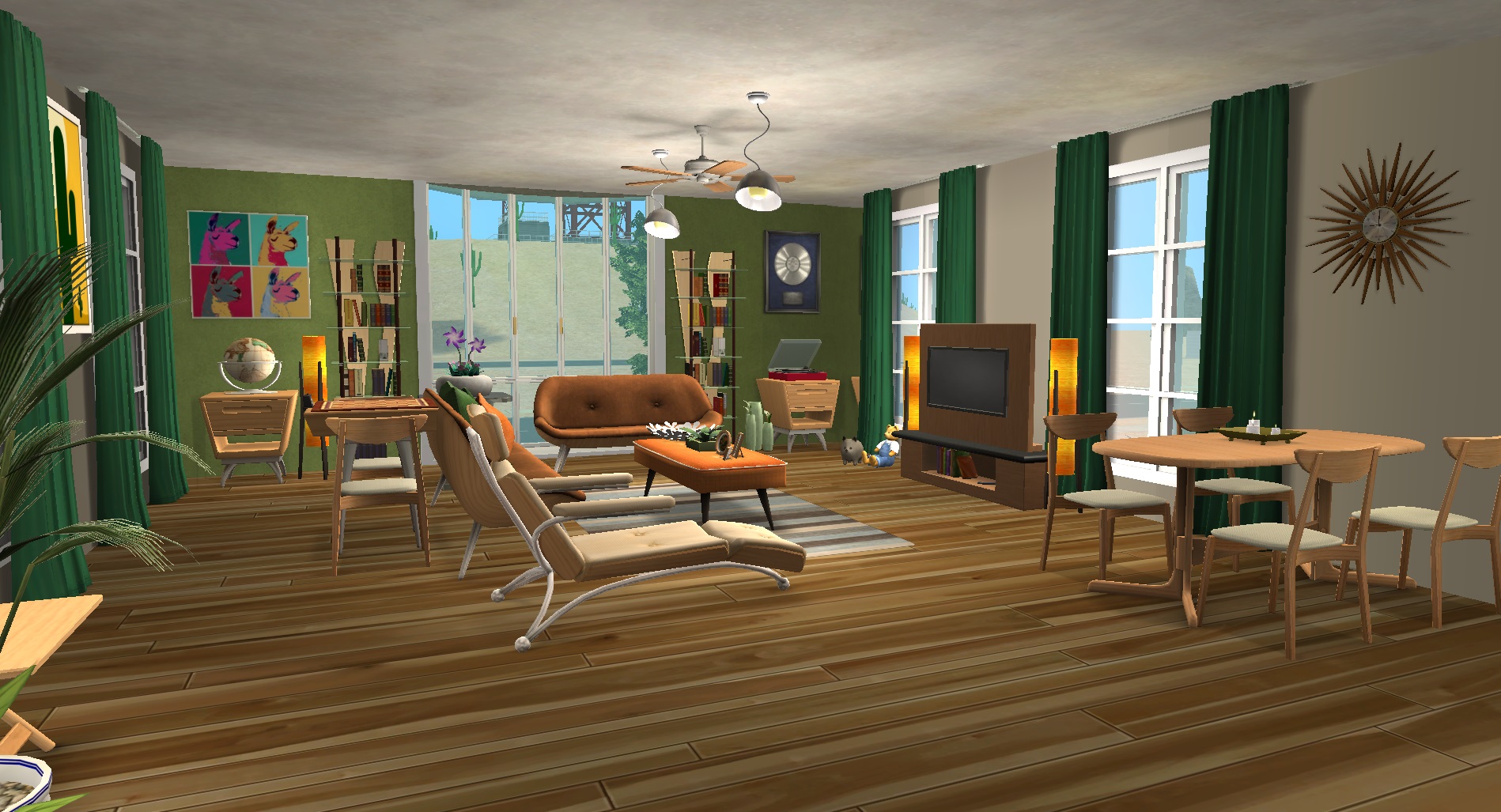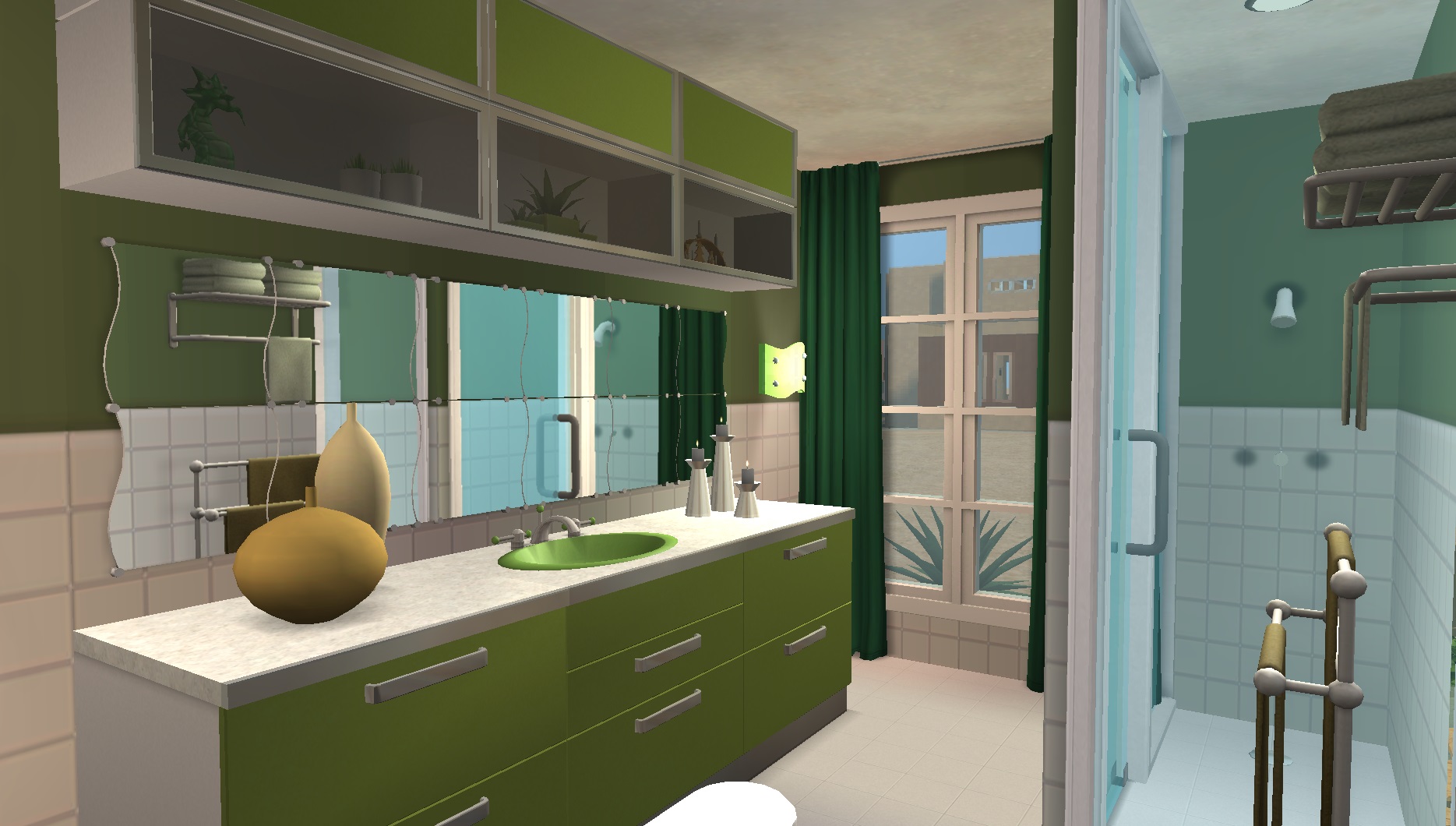 Jill's room: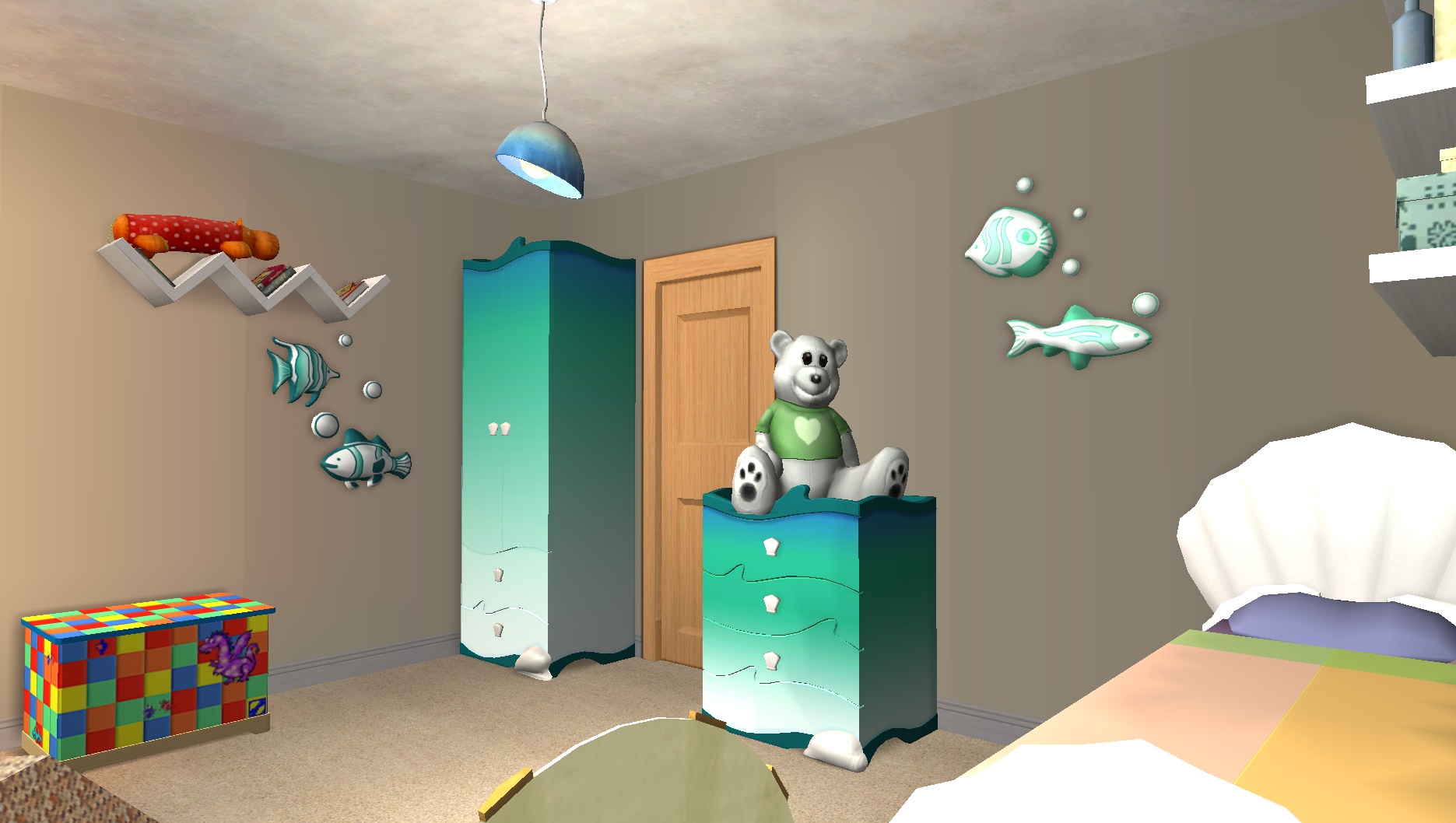 Johnny's room: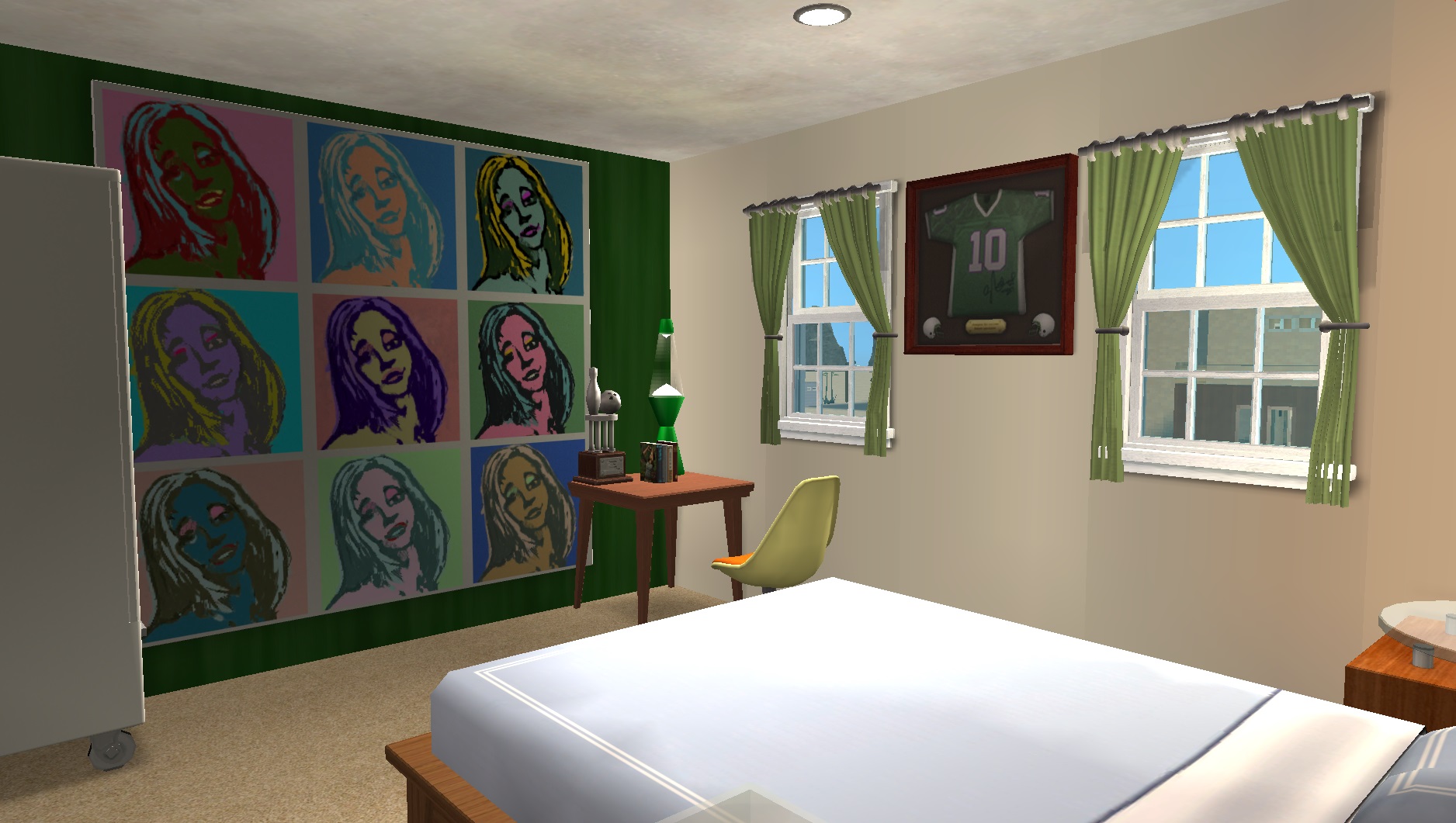 The parents' room: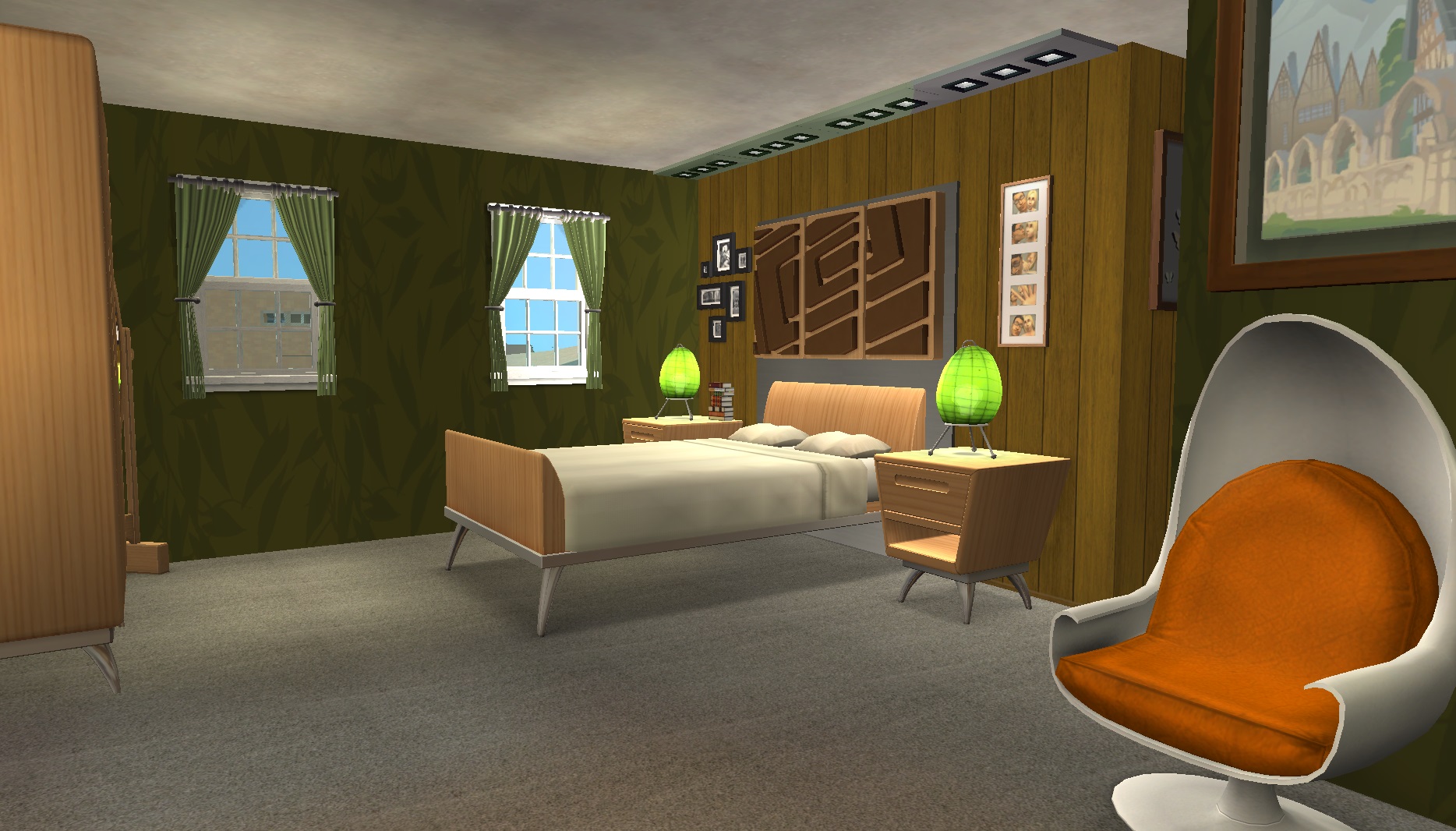 The attic: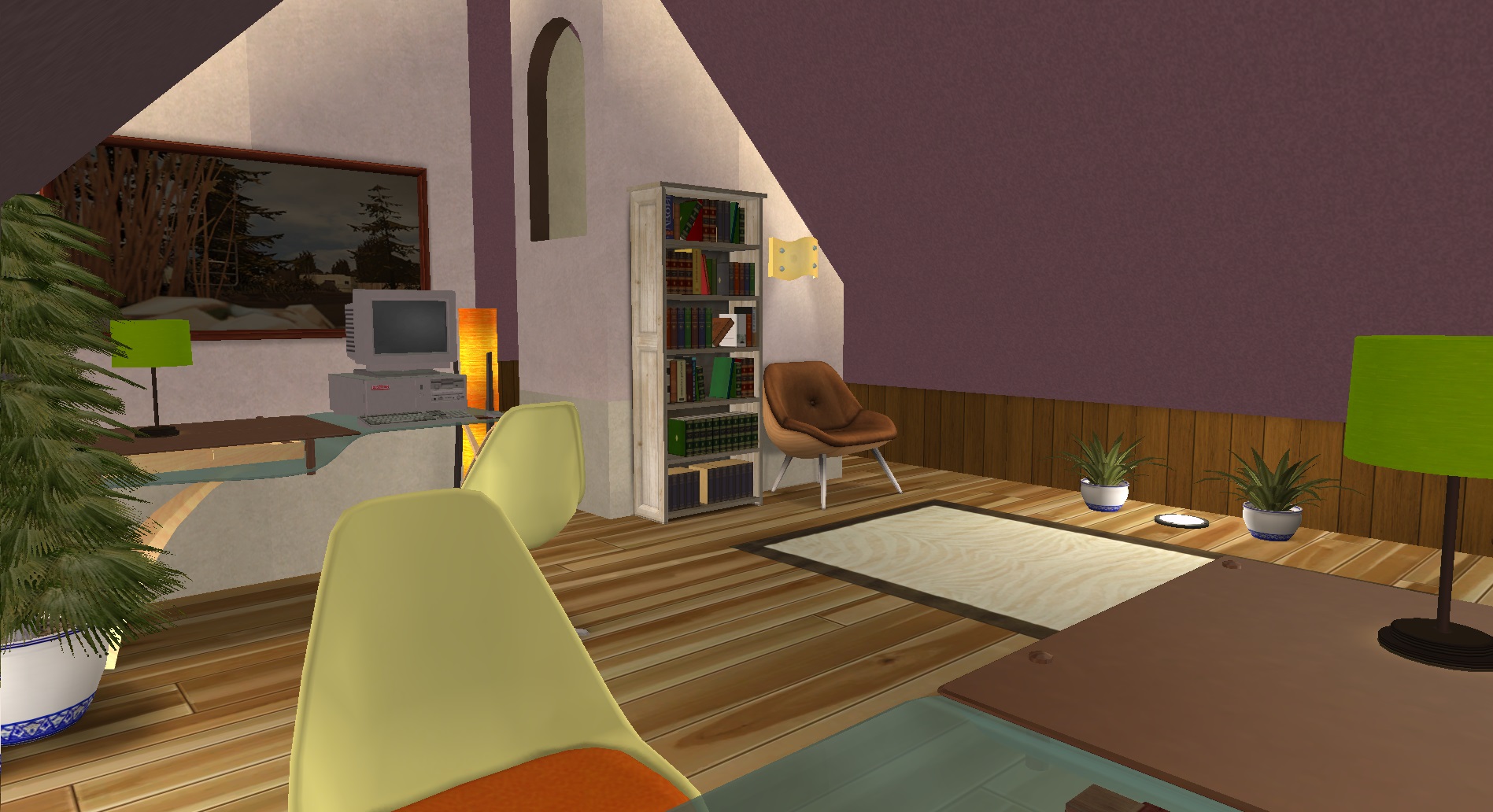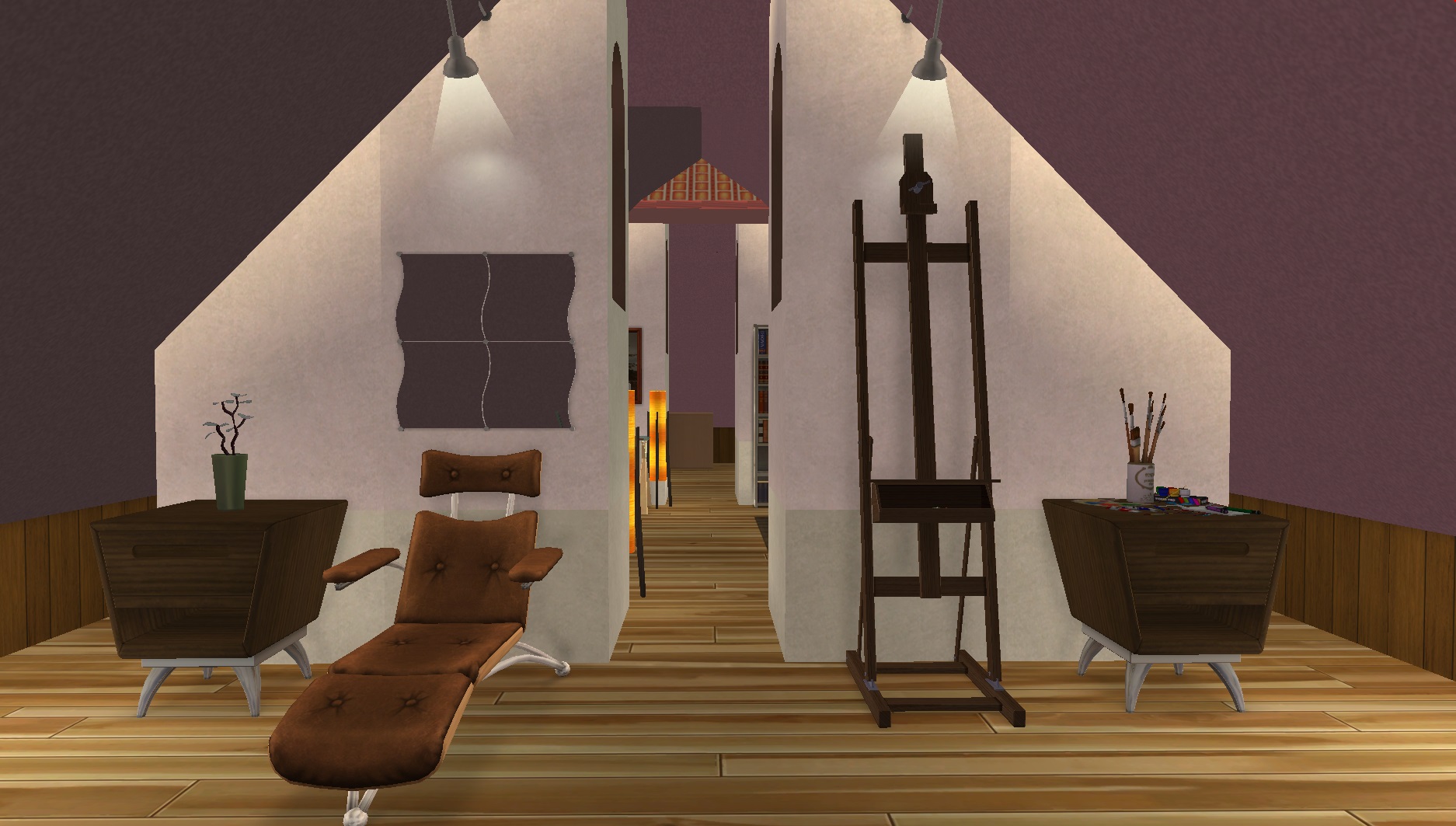 And finally, the original 57 Road To Nowhere lot. Pretty depressing, if you ask me.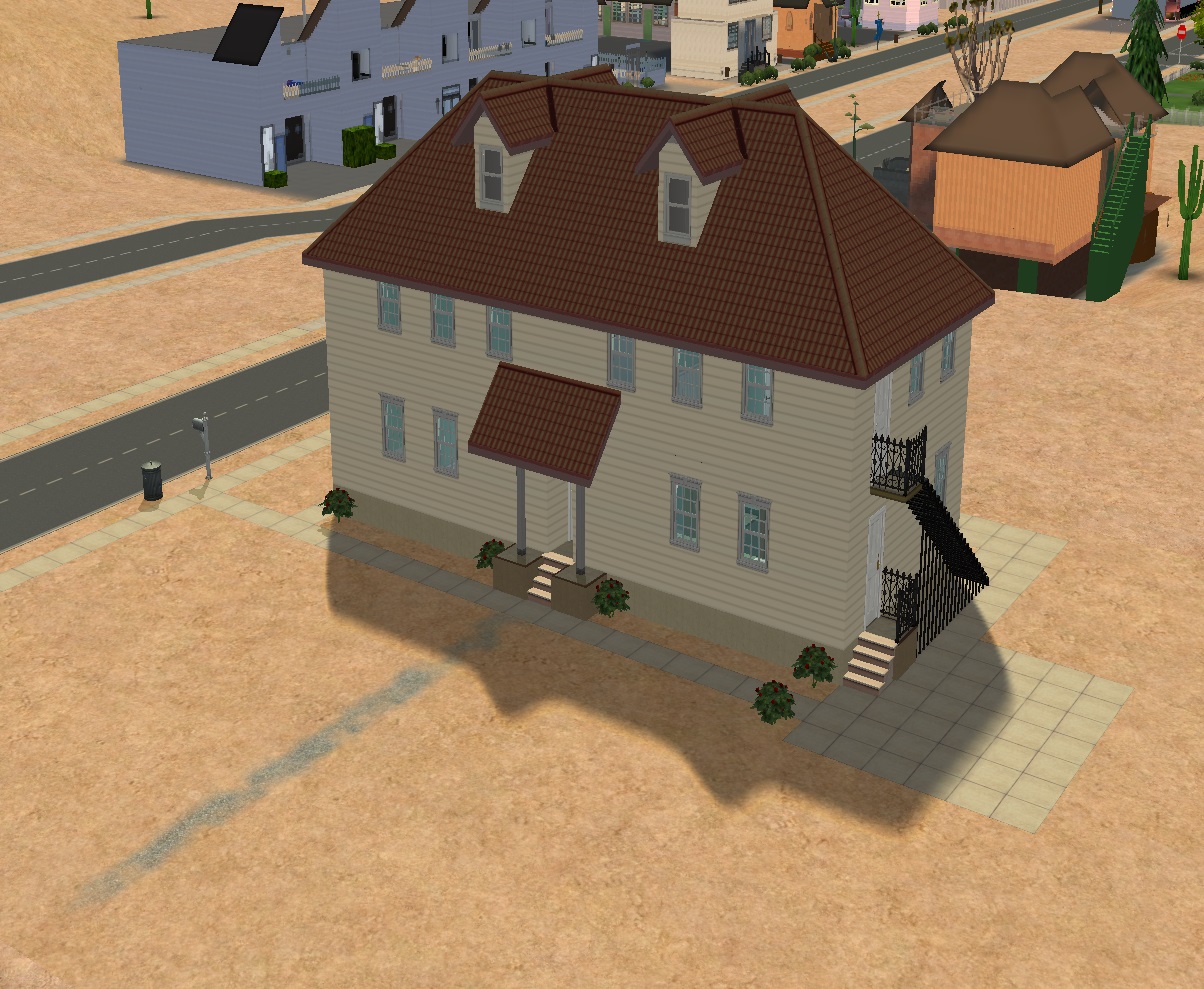 I think that's it for this lot. I loved this contest, it really helped me improve my building skills. Also, it finally made me go and grab a Live Camera mod. The camera is so much better now.
EDIT: Two things I forgot to say. First, sorry for the underside texture of the roof, but AFAIK, that can't be helped. The default replacement I had even made it worse. Secondly, like I said in a later post, chairs are placed off-grid to show how the house would look in a lived-in situation. They were put in the correct position after screenshot taking.
The stairs are modular stairs. And yes, there's only a 3-tile gap above them, not 4 tiles like they normally have. I did it and it works

Field Researcher


#552

17th Aug 2018 at 3:10 AM
Jo,
I will take the half point hit (or even one full point one, depends) .
My little niece was flew by helicopter to hospital this morning , after she hit her head to the dock of our cabin when she jumped to swim. Gladly her bigbrother was allready at the sea, so he helped her out of the water and alarmed us right away.
very lovely entries <3 I was lazy and went for Spectre/Nigmos lot, as no dormers there

---
~~~~Call me Ellu ~~~
Past the point of no return,
No going back now,
Our passionplay is now begun.
Past thought of right or wrong, final question, how long have we wait before we're one?
~Andrew Loyd Webber (Phantom Of The Opera)

Turquoise Dragon
staff: senior moderator

#553

17th Aug 2018 at 3:12 AM
BIG HUGS and keep us posted on your niece!

Needs Coffee
staff: moderator


Original Poster
#554

17th Aug 2018 at 3:30 AM
((hugs)) Ellu, keep us posted. I hope she isn't badly injured.
---
"I dream of a better tomorrow, where chickens can cross the road and not be questioned about their motives." - Unknown
~Call me Jo~
Field Researcher

#555

17th Aug 2018 at 1:06 PM
Ellu, hope she's alright!
Also, I forgot to say that in the photos I used setquartertileplacement to show how the chairs would look in a lived-in situation, but obviously I placed them correctly after taking the screenshots.
#556

17th Aug 2018 at 2:40 PM

Round Four: Ajay Loner Opens 'Taste of Belgium' Bakery on 91 Road to Nowhere
Wow! Talk about last minute lol, but I got my entry done

What follows is an excerpt from the latest edition of The Strangetown Inquirer.


Reporter Crystal Vu met up with Strangetown's newest resident, Ajay Loner, who recently finished remodeling 91 Road to Nowhere. Here, he plans to open Strangetown's first ever bakery. Mr. Loner allowed us to take a tour of his lot.



The property was pretty barren before Mr. Loner got his hands on the deed. Only lots of sand and an abandoned shack.



The new and improved lot features one and a half bathrooms, a combined kitchen-living room-dining room space, a master bedroom, and a covered back patio. Mr. Loner also commissioned the building of a hot spring in his own backyard!



The bakery itself is currently very basic. But, as Mr. Loner says, "You've got to start somewhere. I have plans for expansion once the bakery is up and running properly." When I asked him why he decided to open a bakery, Loner stated that "[his] interest in food is quite high."



The customer bathroom is quite clean and modern.




The living space is small, but very cosy. "I was inspired by those mountain cabins you can rent in places like Three Lakes," Mr. Loner says. "Those always exuded such a masculine vibe to me, and I put my own spin on it while considering this remodeling job."




"I've always had a big interest in the supernatural," says Mr. Loner about the movie posters in his bedroom. "I'm also a big culture and entertainment aficionado, so having those movie posters there inspires me so much. I also enjoy painting when I have a free moment. I take my favourite easel everywhere."




The master bathroom is clean in its lines, rustic and yet modern at the same time.




When he isn't painting, baking, or playing his guitar ("My interests in culture and entertainment manifest itself in many ways"), Loner can be found on his front porch or in his yard. "I used to love counting the grains of sand in my garden, but I barely have the time now with this new bakery!"




"The new hot springs are a real boon," says Loner, "I love spending a cold desert evening here. It's nice to relax."




The back patio is another of Mr. Loner's favourite places. "I love to have breakfast here in the morning, before it gets really hot. I also enjoy playing my guitar here. For some reason, the acoustics here are fantastic!"

We wish Mr. Loner the best with this new business venture! 'Taste of Belgium' Bakery opens next week.


I had a great time participating in the contest! Thanks Jo for organizing it, the judges for - well, judging lol, and the other contestants for participating

#557

Yesterday at 2:01 AM
@joandsarah77, just to let you know that it'll probably be Sunday (UK time) when my entry gets posted. I was sick earlier this week, and am now pulling an all-nighter at work. Once that finishes I expect to sleep most of Saturday, but I'm about two-thirds done so hopefully one more session over the weekend will get it finished.

Needs Coffee
staff: moderator


Original Poster
#558

Yesterday at 2:30 AM
Table updated with entries.
Thanks for letting me know Muridae.
---
"I dream of a better tomorrow, where chickens can cross the road and not be questioned about their motives." - Unknown
~Call me Jo~

Mad Poster

#559

Yesterday at 11:00 AM
Lovely entries, everyone

Thinking of you and your niece as well, Ellu, wishing her a full recovery soon.
#560

Yesterday at 10:44 PM Last edited by muridae : Yesterday at
11:57 PM
.
Just to let you all know - I've now finished my entry, and am trying to post it but can't get any images to upload to my post. :-(

Currently trying in two separate browsers, with no luck whatsoever. I'm about to give up and hope that I have more luck with it tomorrow.

ETA: image uploads are now working again for me. Apologies for the double post!
#561

Yesterday at 11:56 PM Last edited by muridae : Today at
12:24 AM
.

Round 4 - 51 Road To Nowhere / Singles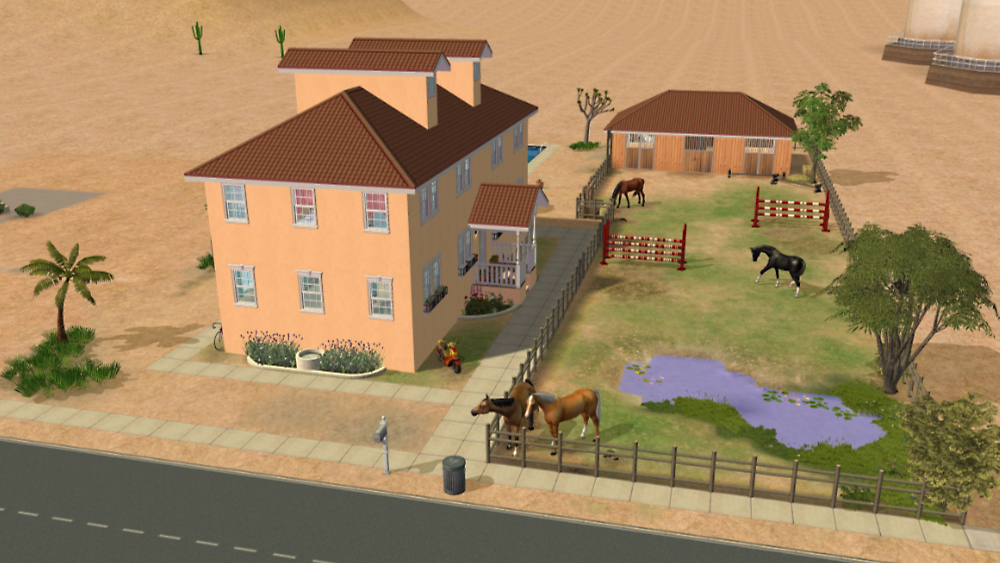 The Singles girls gathered around to discuss their windfall and discuss what they should spend the money on, over and above putting a roof over their heads.
"A pool," voted Erin.
"A pool... and maybe a hot tub so we can throw really good pool parties," added Chloe. "It'll be a great way to get to know everybody in town again."
"A pool... and a barbecue," said Lola. "All those thousands of people Chloe's going to invite to our parties are going to need to be fed."
"A pony," said Kristen, daring to be different.
Unfortunately she couldn't decide which horse she wanted to buy. So she bought five. Hey, unlimited budget!
Price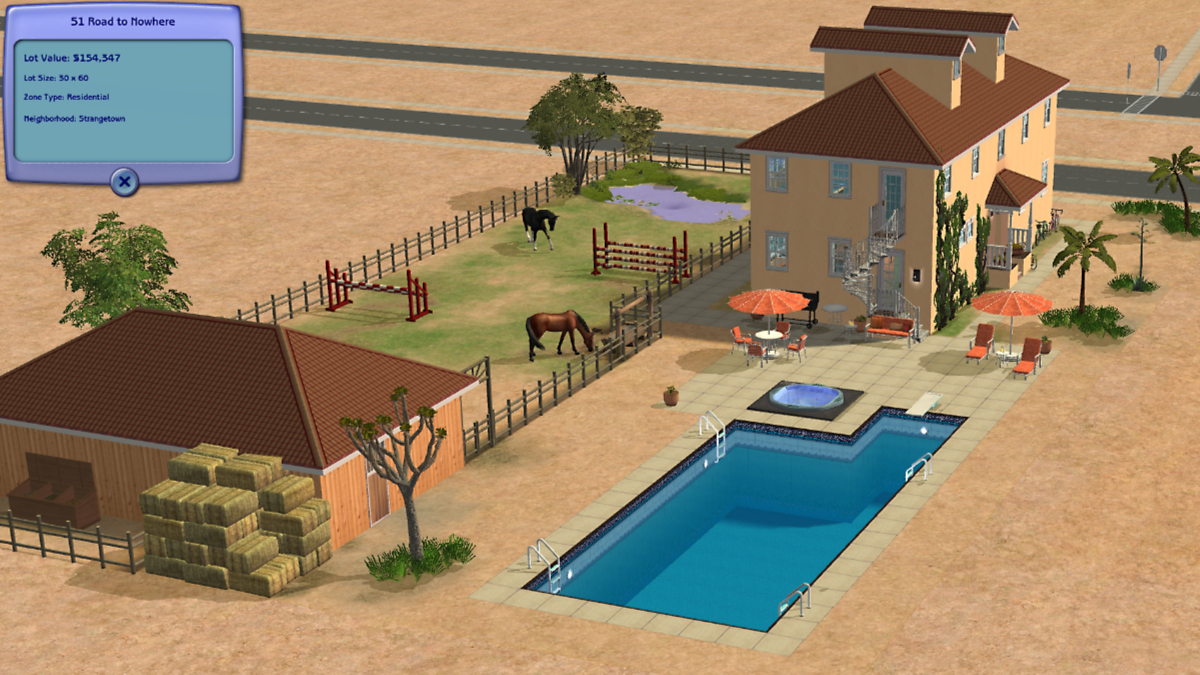 Entire lot: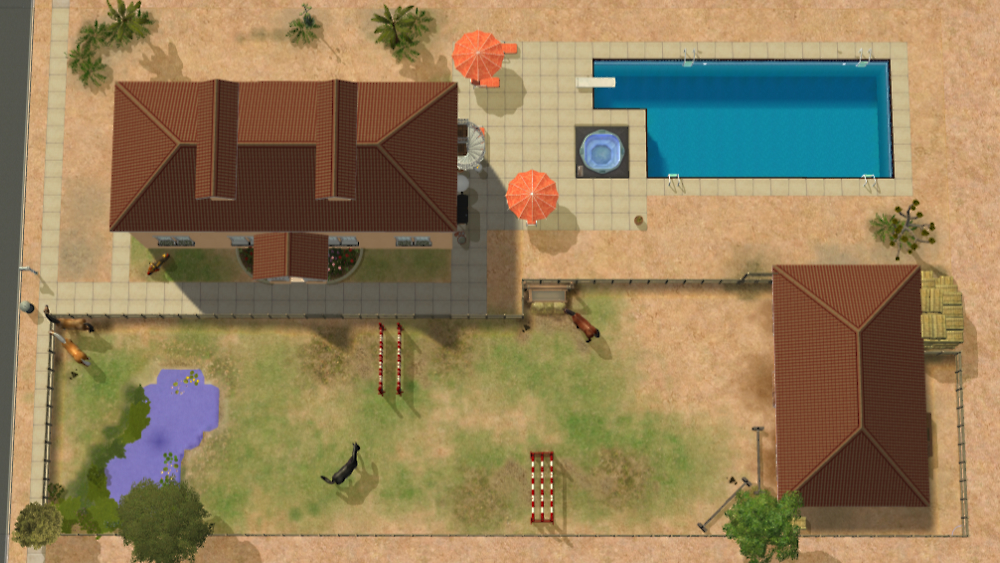 Floor plans: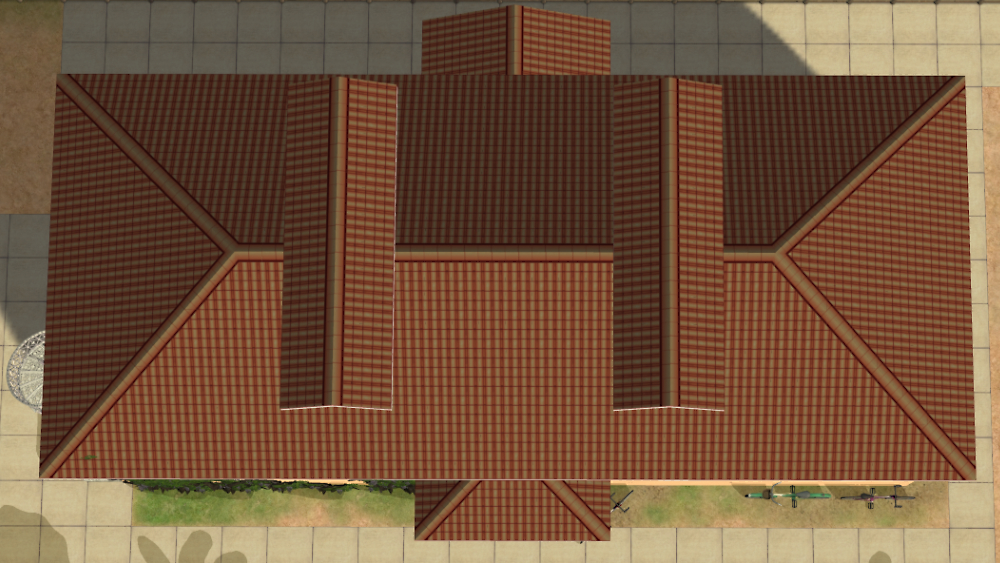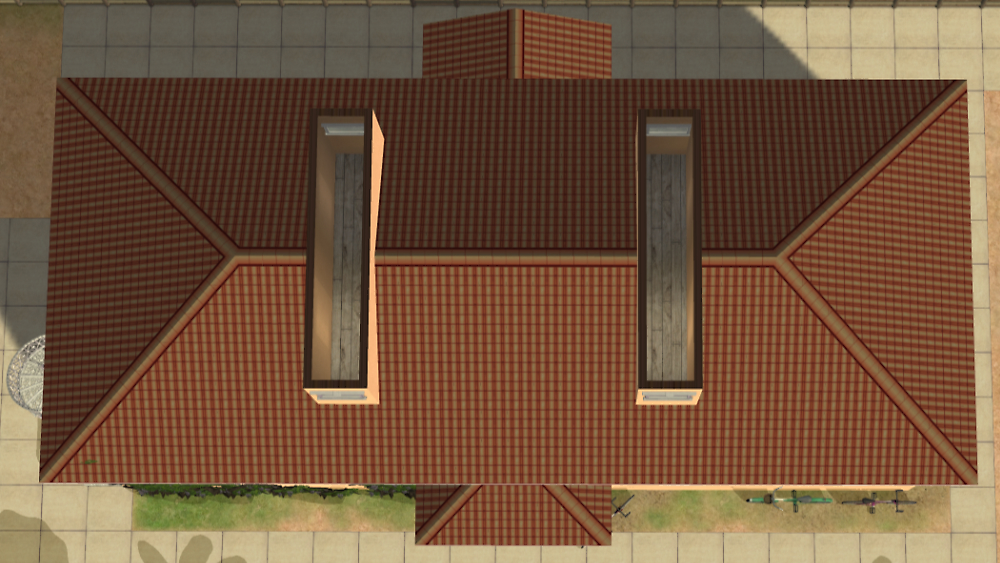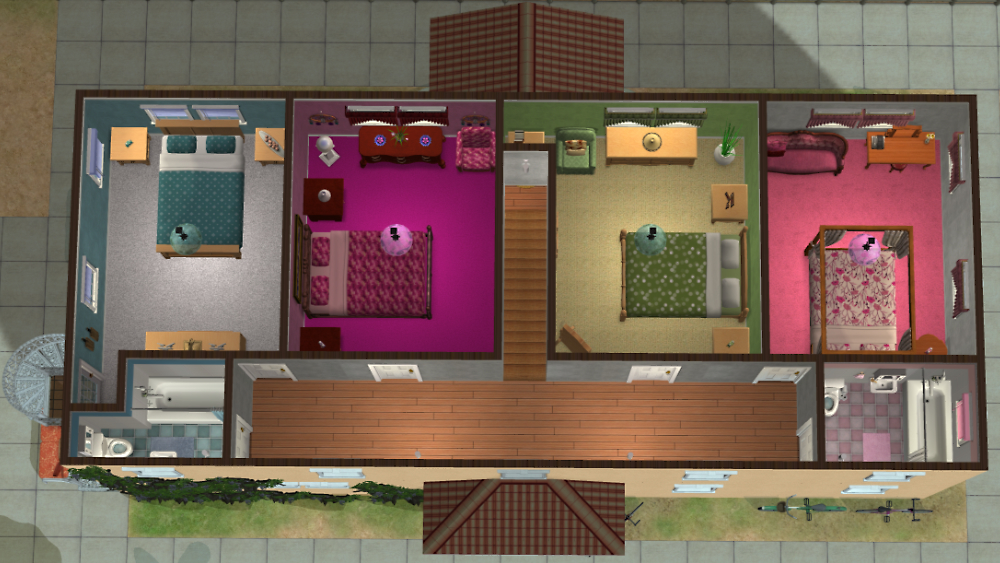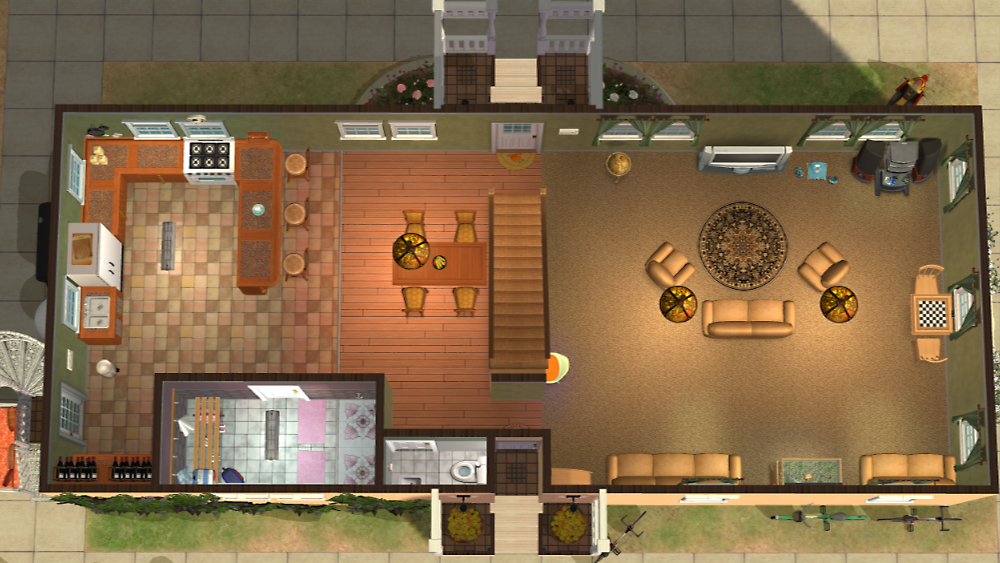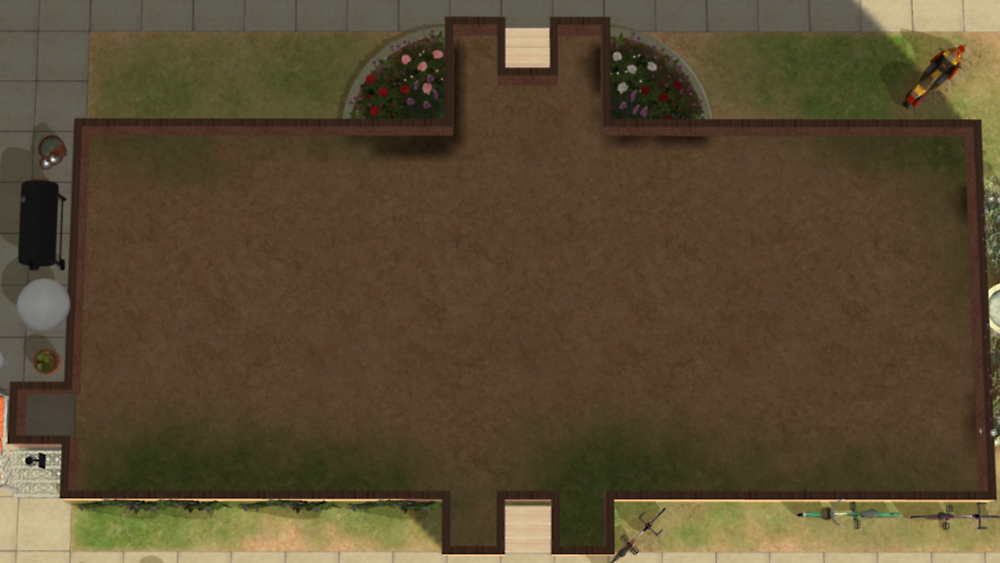 Stable floor plans: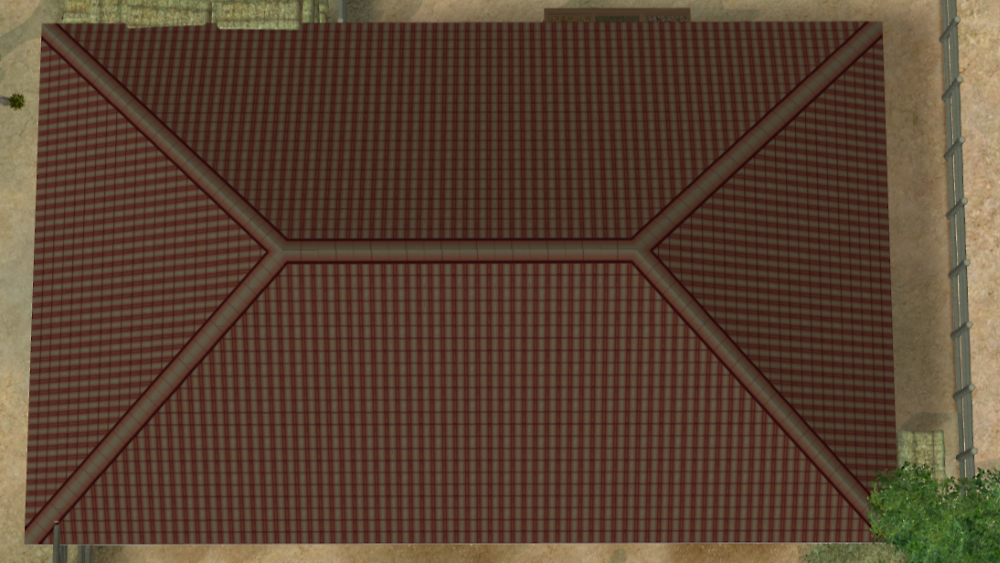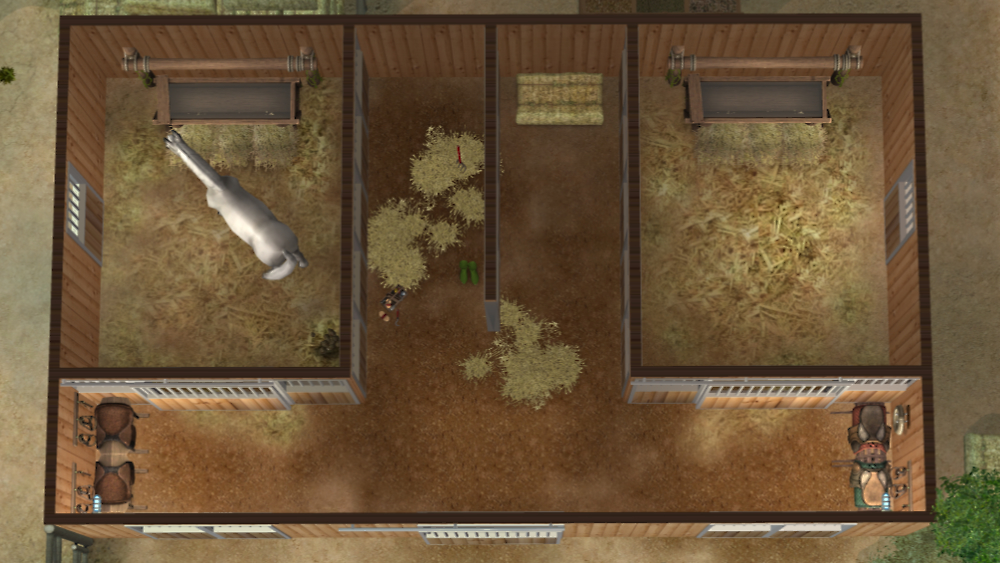 Original house: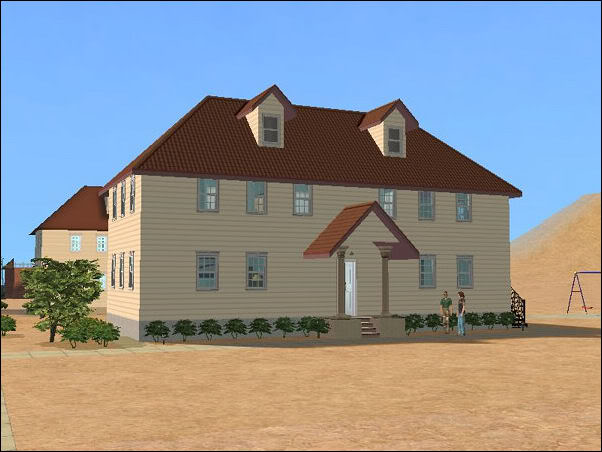 (From the Sims Wiki, as I moved everybody out of their houses on day one, and most of the outside stuff for that lot ended up in the General's inventory.)
Guided tour: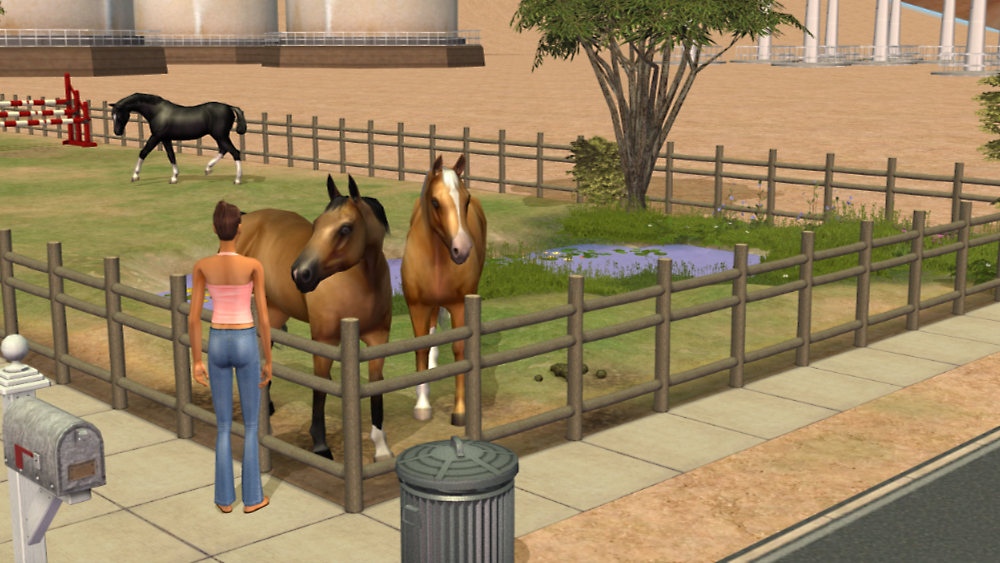 Kristen loves sport. Any sport. She swims, she cycles, she plays cricket, she jogs... but her special love is for riding. She's very glad that they could afford a house with enough room for a stable and paddock, and now she plans to school her new horses so she can fulfil her long standing ambition to become a top show jumper.

(Well, she thinks it's a long standing ambition anyway. If not, maybe it's something the aliens programmed into her. If it is, she's willing to play along.)

Mostly it's Kristen who rides the horses, but whenever the others are interested she'll put them up on the quieter and more well mannered mounts and take them for a hack along the Road to Nowhere.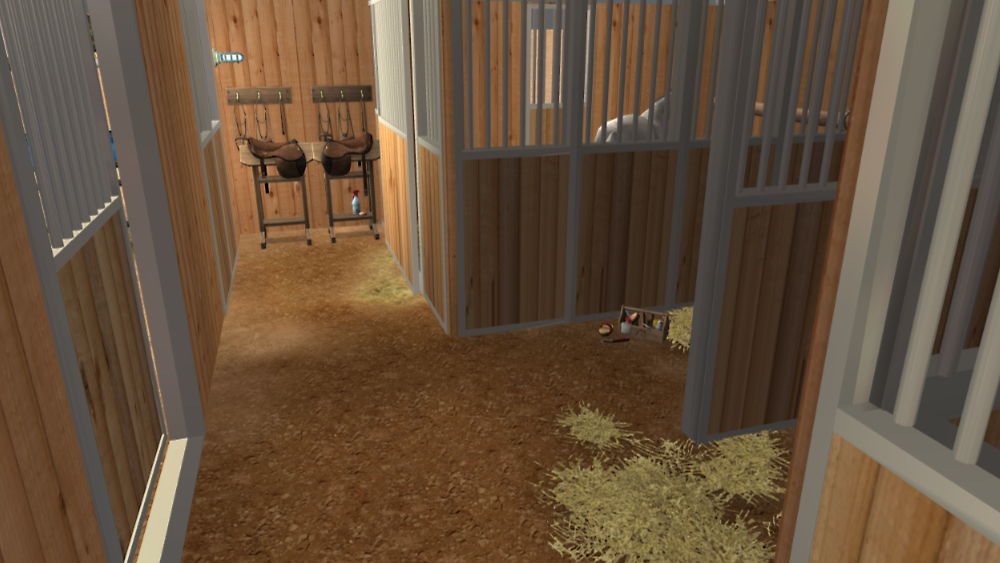 The horses mostly live outside, but there's a stable with a couple of looseboxes for when Kristen wants to keep them in or keep them from rolling the instant she's finished grooming them. Greys are particularly bad about doing that.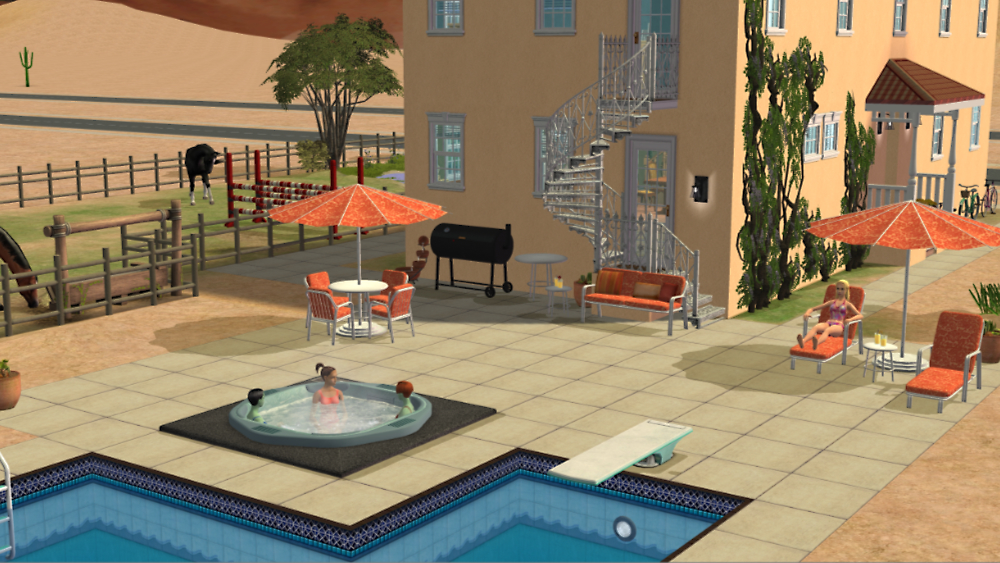 Chloe got her hot tub and Lola got her barbecue. They all got their pool, and a nice sunny area where they can laze about on hot days.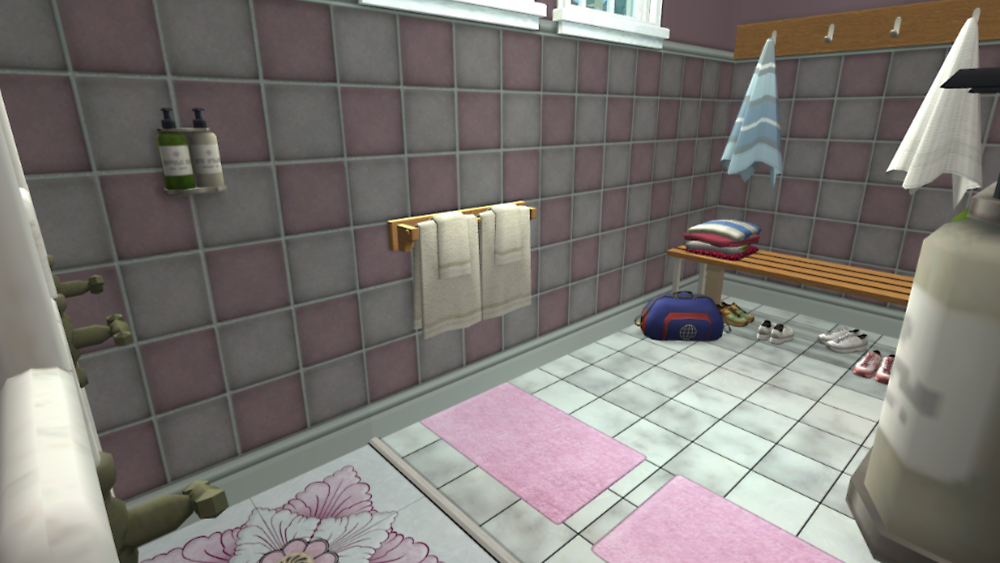 And whether they're coming in from the pool or the ponies, there's a shower room just inside the house to wash the dirt and sweat off.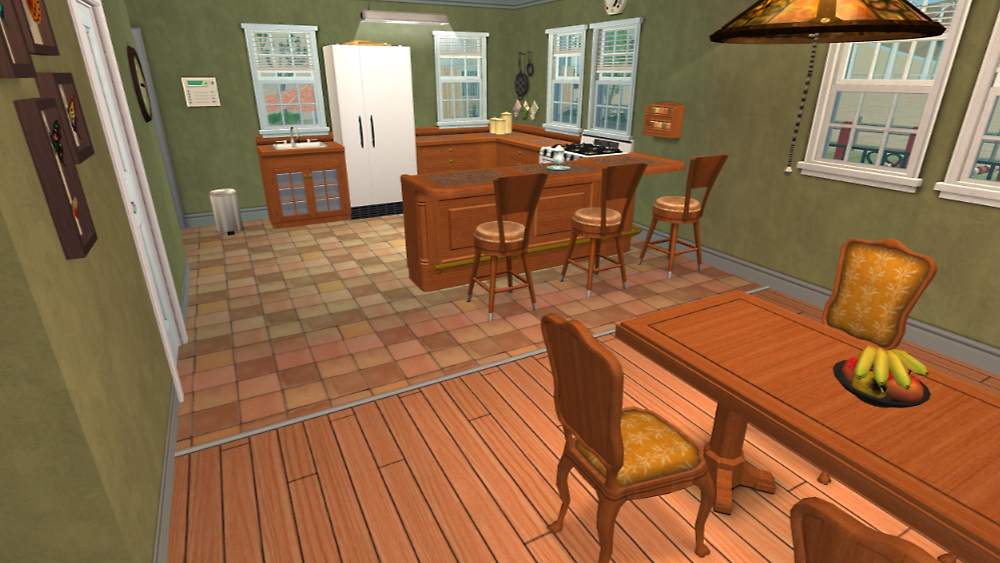 Other than the shower room and the littlest room, the ground floor of their house is mostly open plan. There's a breakfast bar for eating on the run, and a dining area for more leisurely and social meals.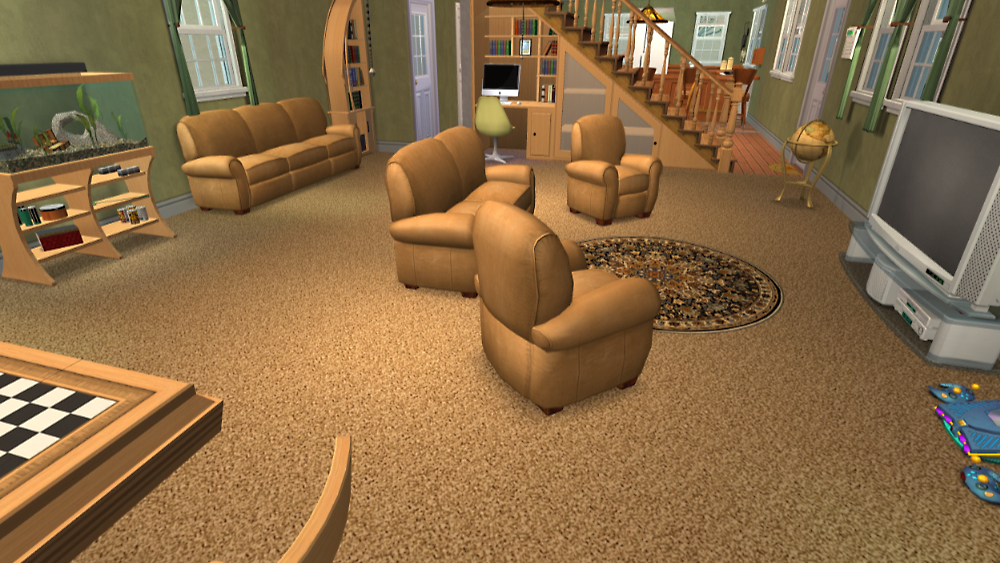 The computer is Lola's, though she lets the others use it when she's not busy reading and writing political blogs. The globe is Kristen's, so she can check where all those places that she'll one day compete in horse shows are located on the map.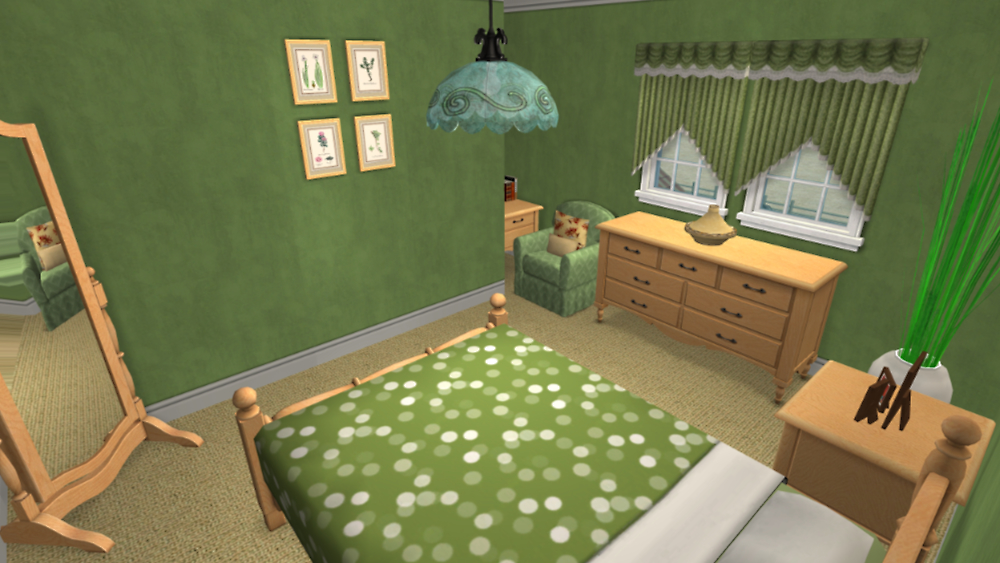 Lola keeps all the political biographies she loves to read and the others say are boring upstairs in her room. If the others are out and about she'll often come up here to sit and read. She has ambitions to stand for election to the Strangetown Town Council, and sometimes tries out speeches in front of her mirror.




Chloe is an unabashed romantic. Hopefully all that pink won't put the guys off, but she's well prepared with a loveseat as well as a double bed. She also has a telephone in her room, so that she can phone up all her old/new friends and chat.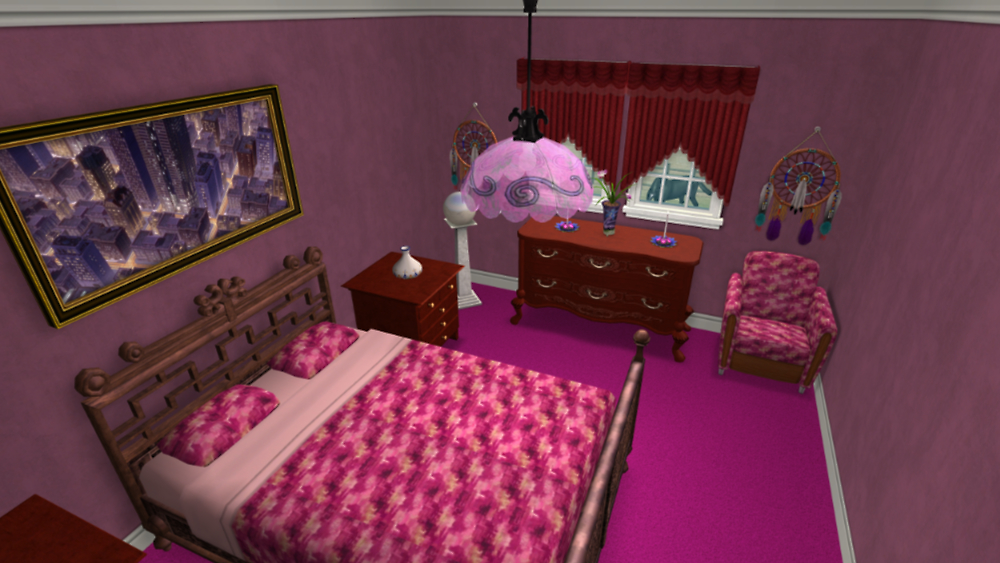 Erin likes to think that she's a little mystical, maybe even psychic. She's fascinated by Native American customs and has a collection of windcatchers. Sadly, her Tarot deck got lost when the aliens took them. She knows she used to have one, because she did a little retrocognition with her crystal ball.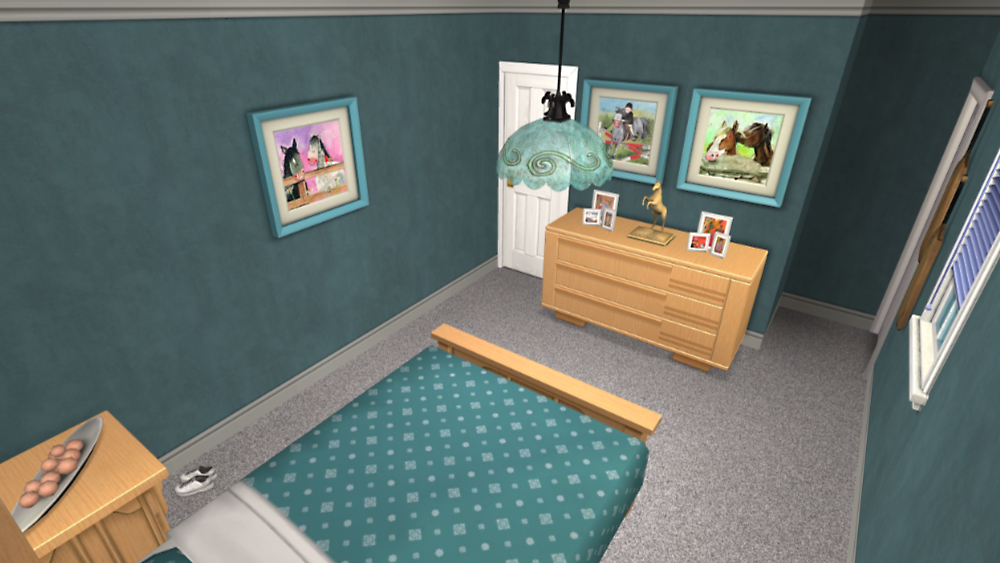 With Kristen it's still all about the horses. She has the end room, which allows her to slip down the fire escape and get to the paddock very easily. Though she does keep a couple of cricket bats handy, just in case she finds anybody else locally who knows how to play the game.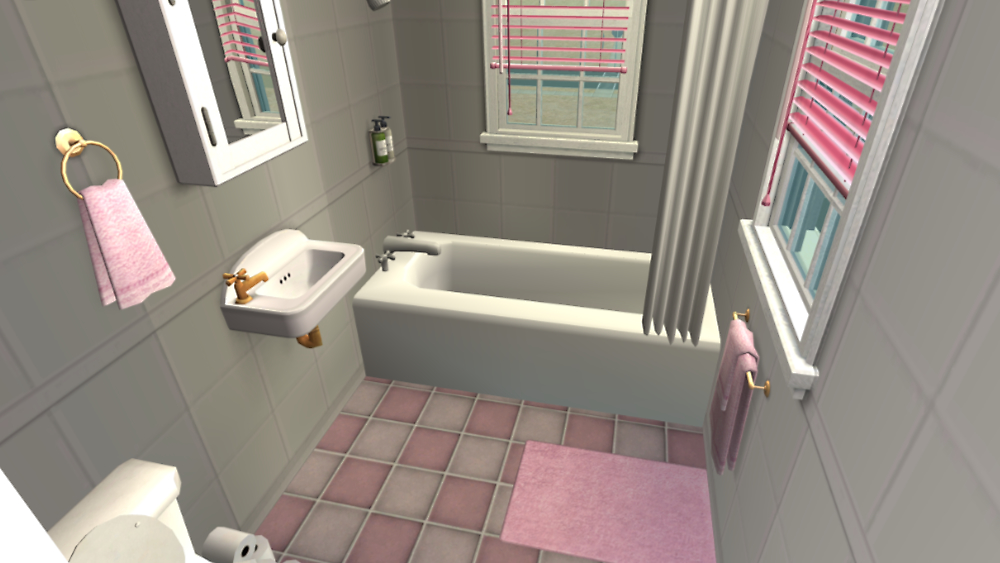 There's a bathroom at either end of the landing, so generally they pair up and share one. Unless someone's having a really long bubble bath and hogging the room, in which case it's first come first served for the other bathroom. The larger of the two bathrooms is next to Chloe's room, and she may have had some influence in the pink theme. She also thinks you can never have enough toilet paper.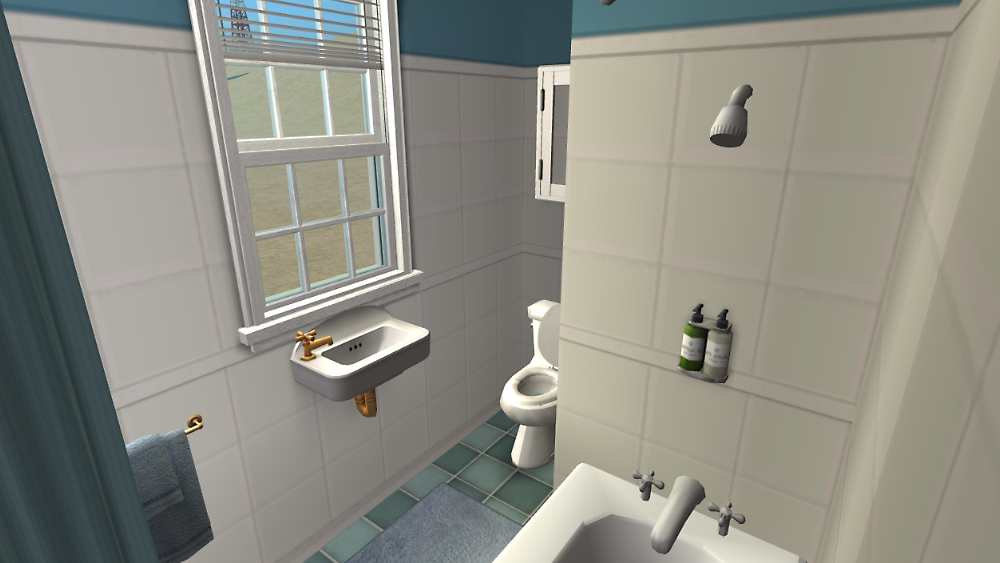 The other bathroom is next to Kristen's room, and is decorated in blue.

NOTE: The sinks in both of these bathrooms, as well as the small toilet downstairs, are deco objects and do not block Sims paths nor prevent them from getting into a bath.
Back to top