Replies: 135 (
Who?
), Viewed: 14504 times.
|
You are currently not a member of this group. Would you like to join it now?
Page 6 of 6
#126

30th Jan 2018 at 4:20 AM
Petya had quite the view there!

That was a cute little update.
I do like decorating my sim houses. I think my husband likes that I do it on the computer instead of wanting to redecorate all the time in real life.

I like building at times, too, but not nearly as much as I like decorating.
#127

31st Jan 2018 at 12:30 AM
@Charmful I love Kashmire Point and the boardwalks. They make me want to find some beach property that I have not already used for sim houses to do the same and I am thinking it might have to wait until I add another subhood with beach lots.
The tiny tale of Petya, the Little Green Robot is so cute!

Link Ninja
Original Poster
#128

10th Feb 2018 at 5:22 AM

Family: The Thackerys
Replies from last post
@Kukamuukaanmuka @lordtyger9 and @Cher64 - I am glad you enjoyed the tiny tale of Petya, thanks for leaving your comments

Cher, I know how that is where the husband prefers you go on decorating rampages in sims rather than in real life. My husband has tried talking to me while I am 'in the zone' on decorating sims 2 dwellings and it's like talking to a wall. Lol.
lordtyger, If you end up doing some beach lot/boardwalk real estate I would love to see how that works out in your game

The Thackery Family
The Thackerys are a newer family in Kashmire, showing up in game within the past five years IRL, and it's still just the main family that is kicking around as they haven't had time to grow and develop a multi-generational history within the hood. The family consists of parents Siri and Jarome, their son Antoine, and two daughters named Alarie and Alanna (not twins, surprisingly!) They moved to the region for Siri's job transfer to the Scandalica City Tribune when the daughters were just toddlers. They settled in a nice home on the west side of the island near the Harts and Pipers and other suburban family dwellers.
SIRI
Siri wears the pants in the family, so to speak. Her job as an investigative journalist brought her to the region so she is considered the spouse with the 'priority' job. She's constantly busy with work, somewhat of a workaholic and that's why Jarome stayed home with the kids and home schooled them until about junior high when they were released to the public school system. Siri is a fierce and beautiful woman, even as she ages, and has tenaciously risen the ranks of the print industry in Scandalica and is now currently a magazine editor. She is gunning for the top spot of media magnate. Whenever Siri has any free time she can usually be found working on writing a book, as she is a thrice published author.
JAROME
Jarome is a buff dude. His girls always bragged when they were children that their dad was the 'strongest dad in the world' since he could lift each off the ground fully with the power of each bicep. His fitness routine kept him in shape for the physical exams he had to take to get into the police force in Isla Del Kashmire; he wanted to continue to make his kids safe by joining. He was a found to be a great fit as a SWAT team leader which he has been in charge with the past half-decade. Before that, he was a doting father on his kids, as well as attentive teacher, and an excellent cook from watching cooking shows on daytime TV. He has a fun sense of humor and all his kids' friends like his company and cooking. He also likes to interior decorate when he has time to go to the Home decor store and gets ideas, the most recent refurbishing being the kitchen.
ANTOINE
Antoine was an engineering prodigy as a kid. He would often go around the house, taking things apart to see how they worked, and constantly tinkered. Jarome finally got fed up and bought him model cars and robot kits to build to keep him from tearing the house apart and this proved to be Antoine's calling in life. His enthusiasm for building machines rubbed off on his little sister Alanna even and she'd often bring him things to look at that she took apart, but from his experience that made their parents mad so he would put it back together (he knew how to fix anything at that point) and keep Alanna from getting yelled at. He is close with both his little sisters since they are all very close in age.
Antoine got engineering scholarships and attended Academie Le Tour where he was a darling in the robotics competitions, sweeping clean all awards every year he entered which caught the attention of a mech conglomerate based in Memosa Bay. Antoine fell in love with his sister's friend, Leona Hillenburg, when he was in high school. She was pretty, a talented singer, and most of all...she didn't laugh at him when he showed her his robots. She was three years younger than him and it was a dark day when her father caught them making out in her room. Antoine could have been beaten within an inch of his life if he hadn't sprinted out of there fast enough. He struggled with his feelings for Leona after that, knowing her father would never accept them.
Antoine did get to be with Leona for real for about a year when he was a senior in college but his new job after graduation took his time and attention away from her enough that she called it quits. He was devastated and threw himself into his work which the corporation was happy for because Antoine is a genius and has been working on A.I. technology enhancements the past year and demoing the prototypes all around the world at conventions. He is a minor character in my Sims 2 stories where you can read more about what is currently going on with his life in Kashmire.
ALARIE
Alarie is the middle child, only a year and a half older than Alanna and a year younger than Antoine. Alarie tries to get out of the middle child rut but still falls short as in she hasn't obvious passions that her siblings do. She is averse to nerdy hobbies and is more interested in fashion and parties. As a child she shared a room with her sister and developed a sort of rival mind set toward Alanna. She thinks Alanna has the world convinced she is perfect so to counter balance that Alarie has done some rebellious actions that have gotten her in hot water as a teen such as sneaking out or getting bad grades. Alarie is a fierce friend but also fiercely judgmental at times, she can be pretty sassy and argumentative too. She is much closer to Antoine than Alanna and encourages him and Leona to be together. She finds entertainment and purpose in trying to help those around her, even if her help is not needed. She has a long time on again-off-again boyfriend named Rafael who is her brother's age but in his last semester at SSU. Alarie attends Academie Le Tour, she is as smart as her siblings but doesn't apply critical thinking as often. Alarie is a main character in my sims 2 stories.
ALANNA
Alanna is as sweet as cherry pie. She is often described as having a warm smile, a calming presence...even as perfect, all due to her kindness, positivity, sense of humor, intelligence, and beauty. It's not hard to imagine how many males have gotten tangled up in an infatuation with her. She doesn't ask for all this attention but takes it in stride. She loves her family very much and she yearned for close friendships in her youth, dismayed to find out that others thought she was too good for them to try and be her friend. She never really put herself out there, socially, but was president of the chess club and won the science fair in high school with a weather-changing device which has caused an intellectual rivalry with Shane Calhoun since then.
Alanna's favorite color purple, like her sister, and finds enjoyment in reading, tinkering, and helping others—which is why Alarie often pokes at her, calling her a 'fairy tale princess'. Alanna currently attends SSU and lives in an all –girls dorm but visits home every weekend to see her parents, and if time allows, her best friend, Franz Schoulsburg—who seems to be her only close friend these days since she has a rigorous study schedule. A she is a biology student wanting to go into pre-med and be a doctor to help others, of course. She is a main character in my sims 2 stories and according to a poll I made after the first one, the most favored.


The Kidlets sharing the merry-go-round



Teen Antoine fixing little robots



Teen sisters staying warm by the fire



Teen sisters having breakfast together and Alarie is pissed about something.



Alarie getting kissy-faced with Raf her senior year



Alanna having a heated debate with her intellectual nemesis, Shane Calhoun



Siri at least has time to send her daughters off to their respective colleges



Antoine and Alarie on a rare visit home from college and Siri and her son are making the same face - probably something untasteful Alarie said but feels smug for saying.

Family Home
Like most other houses in my hoods, the Thackery family lives in one of Triciamanly's homes (can't seem to find the link here so maybe I got it of simsfanUK?)
It's a tall home, a three stories but only had three bedrooms and two and half baths. The kitchen is large, which makes Jarome really happy and the living room has high ceilings and lets in a lot of light. In addition there is a in-ground pool and jacuzzi in the back yard along with a patio for grilling that also has a fire pit for a very social family.

Living Room



Dining Room



Kitchen



Back Patio



Siri and Jarome's Bedroom (3rd Floor)

---
Uh oh! My social bar is low - that's why I posted today.
#129

10th Feb 2018 at 7:37 PM
Siri and Jarome are gorgeous; no wonder their kids turned out so gorgeous. Jarome has really done well as the primary parent AND handling a high level/high stress career.

I wonder if Antoine will one day understand that he actually chose work over Leona, and that he could fix that if he really wanted. Alarie is a handful, and I love her facial expressions. Alanna will do well, and it sure looks like she was winning that debate with Shane. She was already a formidable opponent even when she was young.
#130

12th Feb 2018 at 12:53 AM
Oh I really love the Thackery Family, Siri and Jarome are a gorgeous couple, and their kids are all really good looking. I like Siri and I hope that she will make it to Media Magnet soon. Is Jarome going to be Captain Hero soon?
I hope that Antoine, Alarie, and Alanna will all do well in the future. Is Alanna going to be in love with Shane do you think? They do look very involved and sometimes it might work that way.

just a girl


#131

12th Feb 2018 at 5:45 PM
You have such a wonderful well developed neighborhood. Lovely pictures. And it's nice of you to give links to houses and mods. Quite a shopping list!


Link Ninja
Original Poster
#132

17th Feb 2018 at 8:58 AM Last edited by Charmful : 17th Feb 2018 at
10:13 PM
. Reason: Fixed coding so everything can now be seen

Feature: Valentines Day
Hello! I was working on a little project this last week and a half to use the top date spots in each area of Kashmire as a backdrop for some sims dates. Some of the couples have previously been introduced in Family-specific posts and some are new to this thread. I will discuss the history of the location as well as tell the tale of how each date went, and provide pics of course

But first!
Replies from last post
@Cher64 - The Thackerys indeed are an attractive-looking fam. I kind of was inspired by Terry Crews' character from the TV show
Brooklyn Nine-Nine
for Jarome. Antoine chose his work over Leona but in turn Leona has her own ambitions that also get in the way of their future as a couple. Their work is important to them and both understand that, but can't help but to yearn for each other at the same time and don't know how to compromise. Alanna is a formidable opponent, she had taken 2nd place in the years leading up to her victory and finally Shane had gotten a taste of his own medicine.
If you are interested, there's more detail
here
and
here
about Leona and Antoine's relationship from the story perspective.
This chapter
also covers some more of Shane and Alanna's rivalry.
@lordtyger9 - I think Siri is on a trajecotry to achieve her goal as media magnate. She has a vision for the company she works for and puts in a lot of hours to impress the higher-ups. Jarome doesn't have the goal to reach Captain Hero, there's already a lot of cops that are more competitive and stepping up game to get that title now that Ash Calhoun has retired. There's a lot of work-politics involved and Jarome won't want to step on the toes of his Police Chief, Cheyanne Wellington who has been working toward being Captain Hero since she first joined the IDKPD force.
All the Thackery children are smart and have a lot going for them, even Alarie who seems to be in a sort of slump at college should be fine in the long run. Alanna may learn that not everyone and everything is as honest or kind as she would imagine. You know, you are the first person to ever pick up on Shane and Alanna's history and question if something romantic could come of it...and I will say, that you aren't barking up the wrong tree but I am not in a place to give any spoilers as Alanna's story is still being told in Nest of Vipers. Do you still read it?
@Lamare - Hi, it's a delight to see one of your comments on my hood thread, thank you for the compliment! I always try to curate some good pics on the subject of the post. You make some great cc and I have to admit that a few posts back where I mentioned Amelia Wellington had a part-time job as a dolphin tank cleaner is all thanks to that part-time job mod you made earlier this year. It's been working great so far

I try to add in links if they are relevant to the post at hand, and I will always apologize if I accidentally put someone into a download binge.
DATES AND DATING SPOTS
1 - ISLA DEL KASHMIRE - STARLIGHT AMPHITHEATER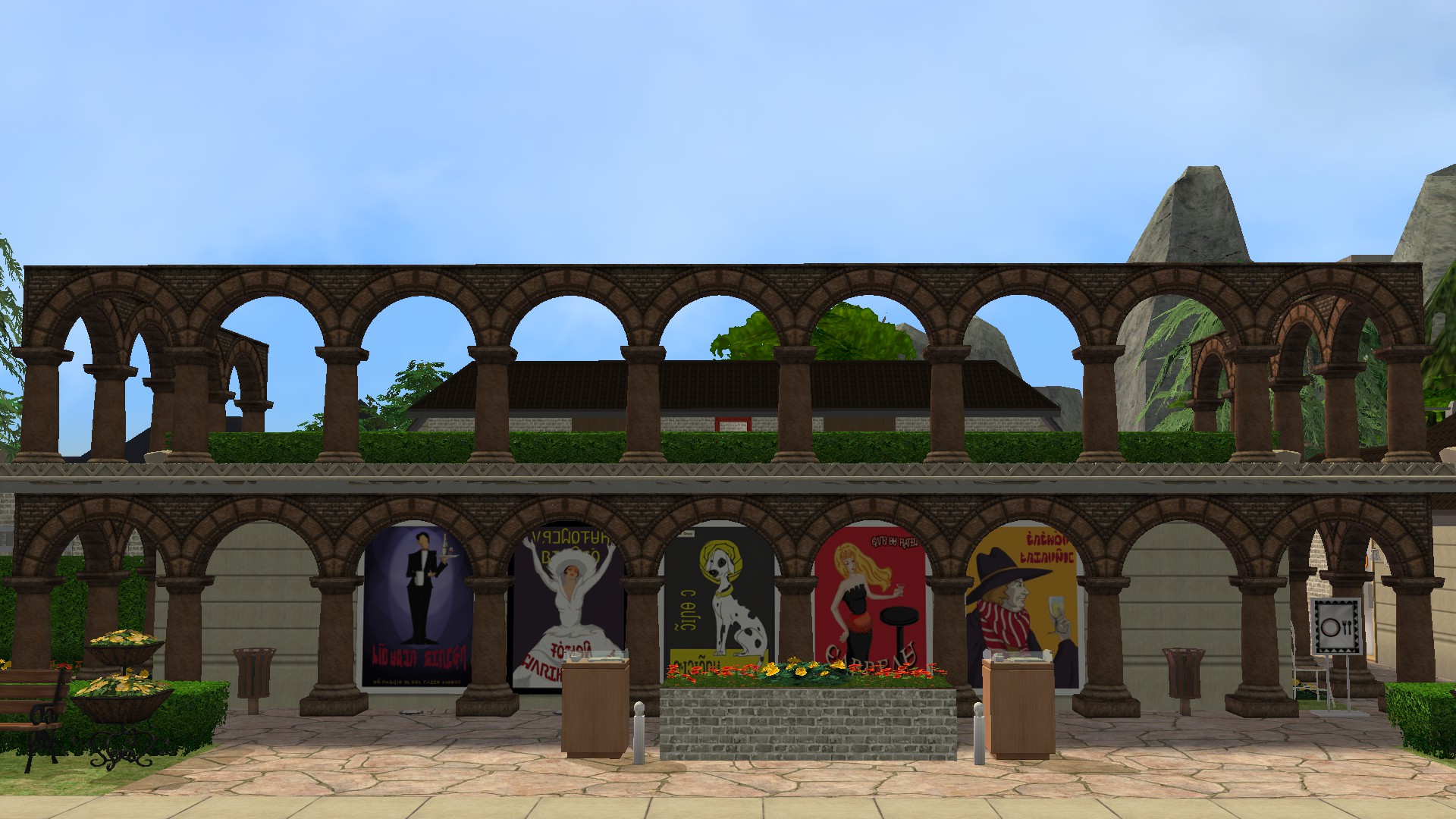 Eat, drink, and be merry! Starlight Amphitheater is a dinner theater where sims can enjoy fine dining and be entertained by any type of stage shows- whether it be musicians, magicians, or a theatrical production - the patrons are in for an unforgettable time!

Sims can be seated for eating by 1 of 2 hosts at the front of the amphitheater. There is also a beautiful garden off to the left of the entrance plaza with a fountain, a small hedge-hidden walkway, and two benches. The dining terraces are leveled so all dinner guests have a clear view of the stage. If your sims are looking to wet their whistle, there is a bar and a coffee stand along the entrance walkway near the bathrooms with some extra seating to chat and sip their beverages.

This is a popular dating destination, especially during nice weather in Spring-Fall seasons. The romantic atmosphere is even more potent at night, there is ample outdoor lighting to set the mood if not by the starlight!

I created this lot for the entertainment theme mid-2017. More details, images, and even the download file can be found here.



Jillian and Pierce have been touched upon before in the Cosgrove thread and as noted, they are pure nerds together. Even in their silver years the discipline of science still calls to them so it's hard to get some alone time when not in lab or board meetings discussing new bacterial breakthroughs or cross-pollinations. Pierce, being a scion of the affluent and influential Cosgrove Family, knows how to pamper his lady to an extent and he's been with her so long that he knows what will and won't surprise Jill. Dinner at the Starlight Amphitheater in Isla Del Kashmire is certainly not expected. Deserae Jones is performing the stage accompanied by Shaun Piper, the region's most noted classical musician and composer. Even more unexpected is that the food is prepared expertly, which one would usually assume that a new place to eat would still have it's chefs still getting bearings on how to cook the food on the menu. Jillian likes the prawns anyhow, and likes Pierce's porkshop even better when he gives her a taste. They listen to music and dine under starlight. Afterward they hold hands and stroll past the coffee and bar through the entry colannade on route to the garden. The air is still a bit chilly and the leaves haven't bloomed on the willow so it's the perfect opportunity for Pierce to tuck his arm around his wife and share in some warmth.


2 - SCANDALICA CITY - GARDEN OF EDEN

The Garden of Eden is a night club on the thoroughfare containing Scandalica City's best joints for some night life fun. Eden is a unique establishment because it is adorned with an abundance of plant life and offers dining, drinking, dancing and a hotspring where nature-loving lovers can take a dip. There's even a semi-private lounge to snuggle up to a sweetheart. The house DJ spins tunes under a garden trellis that holds the club lights in addition to string lights so it feels like one is outside in the garden. The name evokes a sense of perfection, beauty, and maybe a bite of forbidden fruit. It's open year round and there is no cover charge, all out of pocket expenses are for food and drink.

This was the first nightclub built in Scandalica City, nearly 9 years ago IRL. It recently was updated a bit, especially the dance floor area and the addition of the big, two-story windows to let natural light in.

The landscaped Bar area



The bars in the bar area. One for standing and one for sitting.



Main Entry. To the left is dining area. Straight ahead is the dance floor. Beyond that, outside in the back is the hot spring.



The semi-private lounge for kanoodling



Dining area


Tabitha Hillenburg and Andre Drake are engaged and have been living in Scandalica City for awhile now. They enjoy spending time together and love going out on the town. This Valentine's they decide to go to Garden of Eden. Tabitha loves the freshness about the place and especially the flowers. Andre likes the food and drinks. They both love to dance. Andre and Tabitha first take in something to eat and are lucky to get the nice booth - great for Valentines! Next they follow up dinner with a few drinks and toast to the occasion and Tabby just loves checking out all the landscaping Eden has to offer. Tabitha starts getting a bit handsy and backs Andre up against the bar to kiss him. The bar tender tells them to take it to lounge because that's what the lounge is there for. Pretty soon, they get distracted by the awesome tunes from the DJ out on the dance floor and are lured under that garden trellis where they get down. Because it's a special night they do make a visit to the spring at the back and revel in the intimate space and the heat of the spring contrasting with the chill in the air.


3 - MEMOSA BAY - METRO MUSEUM OF MODERN ART


It's fitting that a modern art museum has it's home smack dab in downtown Memosa Bay, the most cosmopolitan of all cities in Kashmire. It's a place that has long often been the destination of couples who love art or just like the idea of having an excuse of walking around with the object of their affection and hope that art is so boring they find something else to talk about, hopefully about where their relationships are going. There's a few galleries, the main one carries modern arts, some are part of the permanent collection while others rotate out depending on the exhibits. There's a metal and mask gallery to showcase 3D art. If visitors get hungry, there is a restaurant upstairs; if they get thirsty or a bit tired there's a small coffee shop in the east wing. There is a sculpture garden and bar outside in the back of the museum that also includes interactive bubble blowers that visitors can spend a fun time with.

There's a few buildings in my game that my architectural engineering friends in college had a hand in building, and this is one of them. She came over a few times to visit and built this museum for me and I think she did a great job and she especially loves to test out how lighting works as lighting is her specialty on her RL architectural engineering job.

Entry area for visitors



Main Gallery entry and view toward back



3D art gallery



Coffee Shop



Restaurant up the staires



Outdoor bar


Garrison and Gene Orbinson are the type of couple that actually appreciates the art and they've been coming to the MMOMA for years. Both men dabble in painting and find inspiration every time they visit. It's safe to say both men keep each other feeling young at heart. Maybe a little too much because the first thing Garrison does when the visit on Valentine's is pour soap into one of the fountains in the sculpture garden, only to have Gene make belly laughs as other visitors give withering looks of disapproval at the antics because they are men of a certain age. After Gene is all laughed-out they finally get a bit more serious and start appraising the new canvases while adoring old favorites. Garrison is quite a bit older than Gene, but their love didn't see an age when Gene was introduced to Garrison by one of his nieces when Gene was in college. Gene doesn't usually exhibit PDA but Garrison is so moved by some botanical art that he kisses his husband's hand quite ardently, making an old man blush with joy. After a romp through the galleries, the couple takes some coffee because it's late. Okay it's like 8:30 Pm but that's about bed time anyway. They persevere and make time to see the sculpture garden where in the cover of night, Gene steals a peck on Garrison to get him back for earlier. Because it's a special night they agree it wouldn't hurt to have a night cap, nor check out the bartender's cute rear end in unison. It's also safe to say they are fully confidant in their love for one another they can do that without getting jealous.


4 - PANDORA - WILD SCARLET OASIS & SPA


Water is valuable commodity in Pandora, which is usually dry as a bone. One place that draws locals and tourists alike is the one and only oasis in the area - Wild Scarlet Oasis. It consists of a fish-filled lake that one can swim in and a natural hot spring nearby. Named for the abundance of red-tinted flowers that grow along the banks of the lake, including the rare dry-fire poinsettia, which biologists have been fascinated with for decades since it's discovery -- the Wild Scarlet Oasis was a free playground for visitors for many years until the Spa Company moved in and fenced it off. Now one can only enter by reservation. While swimming in the oasis lake and hot spring is still no cost, the maximum occupancy limit is 10 and the waiting list to get in has extended to more than 2 seasons. The Spa's spokes-sim insists this exclusiveness is to preserve the natural beauty and wildlife of the oasis, but many tourists think it's a front for raking in money.

For extra simoleons, the Spa offers massages, luxurious lakeside cabanas, and a small, open-aired cantina with a self-serve grill. There is also a desert-landscaped meditation garden out front for those sims that tried to get into the Oasis to swim but were turned away because they didn't have a reservation.

I made the oasis for a beach/lake prompt in the build a resort contest a few years ago so more details and images of it can be found in this thread


So Miles Piper had never actually *met* 'Tia T.' in person, but from their long and...very interesting chats online he was, of course, curious to know if she really was as gorgeous as her profile photos. Miles is a tech nerd, single for all intents and purposes, and he lives alone in Memosa Bay. He has money to spend since he has no girlfriend, kids, or mortgage. Tiujuana Tease of Pandora could think of a few good ways to spend that money, especially for Valentine's Day when cute, lonely red-headed Miles asks her if she has any plans. She, of course, can make time for him--make him feel like the most special man in the world, all for the right price. That price is a day at the Wild Scarlet Oasis. Tia knows the manager, so can get those coveted reservations with the snap of her fingers. It also helps the manager is one of her clients. All Miles has to do is treat her to a romantic day and she, in turn, will happily be the woman of his dreams. They grab some food from the cantina, receive their massages, then relax in the sun while Tia slowly runs her fingers up Miles' arm to produce those little prickles of gooseflesh. Miles, moves them to the private cabana he rented where they get a little more affectionate. Then it's time to cool off with a swim in the oasis and then warm up again in the natural hot spring. All in all it's a good day and Miles didn't mind paying for so much fun. Tia believes Miles will become one of her regulars after this.


5 - KASHMIRE POINT - BOARDWALK 4

Boardwalk 4 is the largest of the Boardwalk lots along the west beach of Kashmire Point. It boasts a ton of fun things to do, so no wonder it's kind of a tourist trap but even the locals like to visit on the weekends. There's the Family Aquarium and Restaurant, The Galleon Art Gallery and art plaza, an outdoor roller rink, Davy Jones' Pub, Boardwalk Bookshop, and Amusement Alley that boasts a ferry wheel and carousel. Of course, the other main draw is the beach itself, prime for sun tanning, sand castle building, and surfing! You could spend all day on Boardwalk 4 and still not have enough time to do all the fun activities it has to offer.

I did a video showcasing my boardwalk project completion a few years ago (Boardwalk 4 starts on 14:24) and there is more about it the project in this thread as well (with pics!)



You know, it actually surprised Charlie Calhoun that his fiancee, Amelia Wellington didn't suggest they go surfing for Valentine's day. Granted the water is cold this time of year but even Amelia has a wet suit so that wouldn't stop her. Maybe she just loves Charlie enough that she won't bug him about it; she has been teaching hom how to surf ever since they started dating in college. They do hit up the boardwalk though, because Charlie is coming to visit. Amelia isn't too hard to please, as long as their romance involves water. Being in it, viewing it, whatever! So they visit the aquarium first, and Amelia loves the floor-to-ceiling fish tanks and regales Charlie about her wish to be a mermaid when she was a little girl. Charlie thinks that's adorable. They get a new smoochy pic to update their photo booth collection. Amelia takes a spin on the carousel and by this time they are both hungry and sit out on the boardwalk under a shaded umbrella and discuss something important: a date to get married. They must wait until Charlie graduates first, so he reminds her of that. The sky has been slowly darkening and suddenly unleashes light rain upon them but it's water! Amelia is ecstatic as raindrops hit her in the face but Charlie grabs her so they take cover under one of the beach umbrellas and kiss in the rain!


---
Uh oh! My social bar is low - that's why I posted today.
#133

17th Feb 2018 at 9:12 AM Last edited by lordtyger9 : 17th Feb 2018 at
9:29 AM
.
@Charmful your Starlight Amphitheater looks really nice, I went an clicked on the link and the layout of Starlight Amphitheater seems really good and I am sure that it is a great place for Dates.
The Garden of Eden night club lloks great and has a great layout. Another great place for Dates.
Metro Museum Of Modern Art, looks like a great art gallery. I never would have thought of having a resturant with the gallery. I like the idea though.
Wow I really love the look of the building outside your Wild Scarlet Oasis & Spa, I like Spas and I have a couple of them. I like the layout of your Wild Scarlet Oasis & Spa as well. I am going to make a Spa with the hot spring sometime. Yet another great Date place.
Kashmire Point - Boardwalk 4, is an Über Date Location, wow it has everything just about. I really like how the Building looks from the outside.
I liked all of the Date Pictures, you did a great job with all of the dates.

Test Subject
#134

18th Feb 2018 at 12:41 AM
Wow! Just, wow. I have really enjoyed reading and catching up. I'm loving your buildings, and the characters you have. It's like having a TV drama running in my head,that I can't wait for the next episode. :D
Lab Assistant
#135

18th Feb 2018 at 6:21 PM
What awesome structures and diverse decor, Charmful! Your building work is really inspiring. I think date locations would make an excellent building contest here on the site one day. Have you considered it?
#136

18th Feb 2018 at 9:51 PM
Thanks for the links. I must tell Alarie, despite what she thinks, Antione (or AB-toine, as she called him) did impress at least one other person besides Leona.

You have some great date spots in your game, and it was fun seeing a date at each location. I would probably go to the Garden of Eden, but the Wild Scarlet also looks like a great place to relax and have fun.
Back to top