Ch. 3: "A New Start"
Hey everyone! I was making this chapter a couple of nights ago, but I didn't save it on Notepad or Word or whatever... So originally, Carol accidentally says something that would make the burglar come to try to kill Carol or her husband a later time, but nevermind that.
Also, I have absolutely NO experience with pregnancy besides hearing about it, watching a bit on television (info, not the ACTUAL moment), and reading about it. Please, comment and correct me (I'll fix it) if I'm wrong at any time!
Enjoy!
----------------------------------
Dan called the cops after walking in to a burglar, after Carol was screaming crazily. The cops came and took the burglar away. After a few weeks of recovering, Carol finally notices that her tummy's really growing!
"Dan, sweetie, the baby's kicking! Come quick!" Dan immediately rushed to my side, and his warm, big hands gently were put on my tummy. "Wow, the baby's kicking! And we still haven't discussed baby names," He pointed out kind of upset that we still haven't done it. "Oh yeah! I'll make a list, and you can add to it."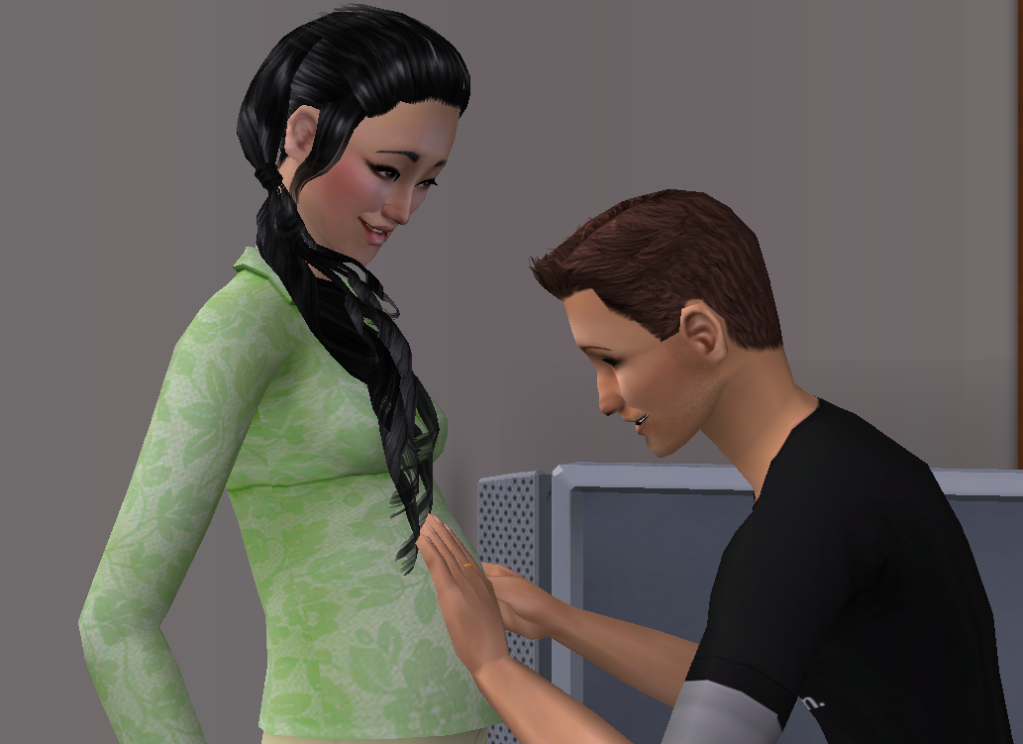 ~
After finishing our lists, Dan handed me his. I looked it over. "These are GREAT names, sweetie! Here are mine." I handed mine to his. We ended up having me come up with the girl names, and Dan with the boy names. I also chose one boy name: Aidan.
~
The next day, we chose our top picks. For girls, Jaena, Missy, Sally, Sarah, Britney, and Bella were the top 6. For boys, Aidan, Jacob/Jake, Danny, Samuel, Justin, and Santiago beat the rest.
Suddenly, my belly grew. Once it popped bigger, I was surprised! "Whoa!" I exclaimed. I called Dan over. "Dan, I'm bigger!! Look!!!" He rushed over to me and his face looked excited. "Oh my, Carol! This baby that's growing is getting me REALLY excited!!" He patted my tummy and talked to the fetus.
"Dan, don't you think we should check up with the doctor? To see when I'm due?"
"Sure, let's get in the car right now!"
"I got to grab my purse first."
At the doctor's, I rested in bed waiting for the doctor to finish explaining the definition of something to my hubby, Dan. Finally, he turned to a machine, and his eyes bulged open. "Wow! Carol, you're about to go in labor!" This was a MAJOR shock; so fast?! "This is crazy! I am not going to go in labor!" I got up to grab my purse and fetch the car keys from Dan, but then a sharp pain hit my guts. My water broke. "DANG, YOU WERE RIGHT!" I screamed, and almost fell down, clutching my throbbing, painful tummy. "HELP!" The doctor and Dan rushed to me & held me up. They quickly took me to the emergency help. My step-cousin, (we're like sisters) who happened to be there, stepped in to help and called the nurses around the room. (My step-cousin is named Angelica.)
~
Finally the pain was gone. I couldn't believe it; several, literally, hours spent giving birth and now I was free from that bag of pain... and, the best part? My baby was born!
A nurse stepped in and happily (and proudly) announced, "Your baby has been born! It is a wonderful, beautiful baby girl. Congratulations! She's perfectly healthy, too!" I jumped up, excitedly. "A Girl?! Oh my gosh, thanks for helping me!" The nurse winked at me and left. The doctor came in.
"Where's my baby? I want to see my baby girl!" A nurse walked in, holding a girl with dark skin. She didn't look related to me. "Meet baby Natalie-- oops, wrong room."
I requested to see my baby again. "Okay, follow me. But what's the baby's name, for documents?" I remembered. "Since it's a girl, I name her Jaena." I signed everything and went to go see her.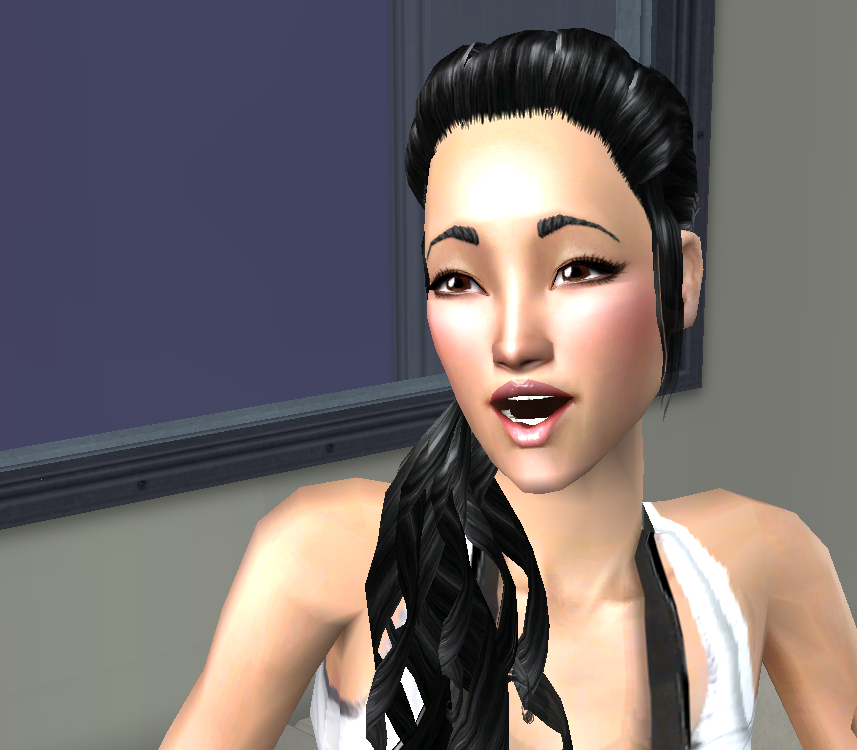 ~
She looked AMAZING. Her eyes were stunning, and her smile could melt away all your problems. Her cute, little nose was heartwarming and could put a smile on your face. Her ears were perfect; they were wonderful! Who am I describing? My baby girl Jaena!
I picked her up in a private room Dan managed to get with our hospital room. I heard that only this hospital offered those special rooms, although they weren't spacious and could be violating to a claustrophobic Sim. The walls were covered in toddler wallpaper and the carpet finishing was a type of dark-ish blue.
~
Finally we got home. Angelica and I were hanging out, watching Jaena's every move, in the nursery. Angelica asked me a question as I was taking Jaena out to let Angie hold her.
"So what are you two lovebirds planning to do now?" She appealed, and I gladly took this into consideration. "I don't know, really, I guess watch the baby over. I mean, really Dan can decide for us. Only time can tell."
"Well, Dan told me he was thinking of a vacation before the baby news came out."
"Really? Well, he hasn't told me.. yet. Maybe he got rid of that idea because of Jaena's marvelous and exciting arrival."
"Maybe. But I don't think so. If you want him, he's out in the hall, on the computer. Can I hold the baby, finally? Please?"
I remembered. "Oh yeah!" I handed her the baby gently and she cuddled Jaena, whispering delightfully to Jaena. I saw Jaena grin a little at one comment.
I got out to the hall, finally. "What are you doing, husband Dan?" I asked kindly, stopping by the desk. "Booking a vacation. It was supposed to be... a surprise, but you know..."
"Angie told me."
"Your cousin told you? When?"
"Just right now."
"Oh, then that's fine. But anyways, if we go to have some private time with just the two of us... relaxing at a faraway, tropical place maybe... then we'll have to hire a nanny."
"No, Angie can babysit Jaena. She and Jaena could be best friends!"
Dan looked up at me. "Good idea!" He replied. "So, which one of these places sounds good: Paris, France; Twikii Island; The Middle East, like in China; or the mountains, closest to our lovely house here?" I loved the fact Dan was letting me in on this kind of stuff.
"I'd love Paris, but maybe something more... private. I hear that tropical places like Twikii Island in Hawaii are the best vacation spots, all my friends make huge stories out of them. Maybe there, Dan?" Dan agreed with my choice. "Let's book it the latest we can to save tons of money on the flight.." He did a few clicks, and exclaimed happily, "Got it! Honey, I can't wait 'til our big vacation comes! Just us... together... alone..." He gave me a mischievious smile. I chuckled and rolled my eyes. "Oh, Dan! You're funny."
After that, I went back into the nursery and explained the news to Angie. "However, we know how you and Jaena are very good together... would you like to babysit her while we're gone?" Angie's eyes lit up delightfully. "Would I?! Even if I had to pay you $5, heck yes!!" She cuddled Jaena and began to excitedly say, "I'm going to play with you! We're going to have so much fun, Jaena!!" She hugged Jaena and I asked Angie to change Jaena's diaper. Then I exited the room and back to Dan. "She's more than excited and happy to!"
"Oh, hunny, that's great! C'mon, let's get packed and prepared early." I smiled, and we embraced in a romantic hug. "My life is so fulfilled!"
---------------------------
That's the end of chapter 3! Want MORE? Here's a sneak peek at the title of Ch. 4!
Oh yeah, and in Ch 2, I may have said that this chapter's title would be different, but because I didn't use the original draft of this chapter, change of plans.
Ch 4 title: "Vacations are the best... or not?"
Enjoy, thanks for your awesome comments! [Only two comments...

]
---

I am a Slytherclaw! And totally the obvious demigoddess daughter of Aphrodite, pssh heck ya.