Replies: 7 (
Who?
), Viewed: 2483 times.

Scholar


Original Poster
#1

24th Jan 2016 at 2:32 PM Last edited by DJ. : 19th Jul 2017 at
5:14 PM
. Reason: fix pic links

How to build a functioning deck/foundation/room over a beach area on BV beach lots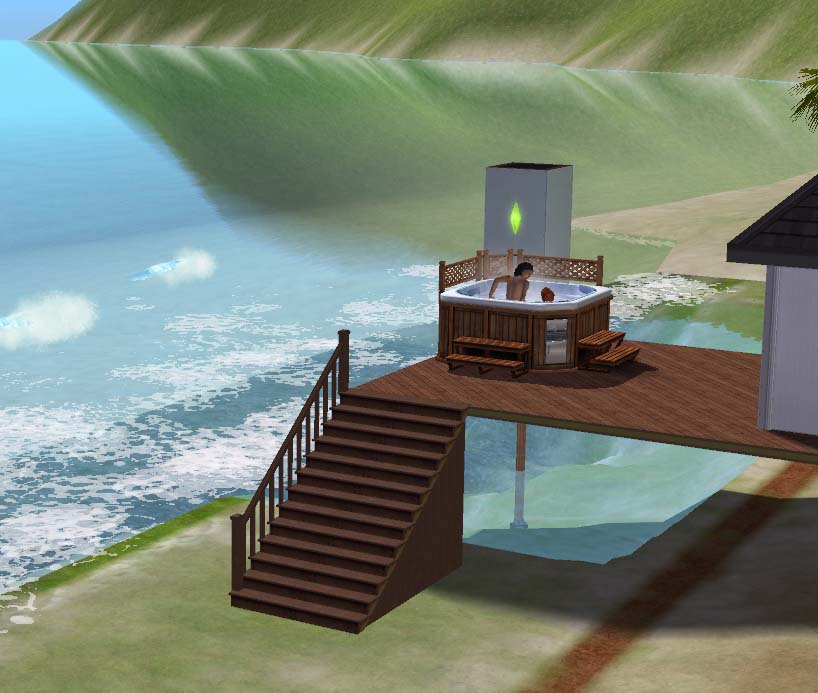 This tutorial will show you how to make it temporarily possible to build a wall, room, foundation, fence or how to put down objects on or edit the terrain of the beach area on a Bon Voyage beach lot.
In this image, I marked the typical areas of a beach lot: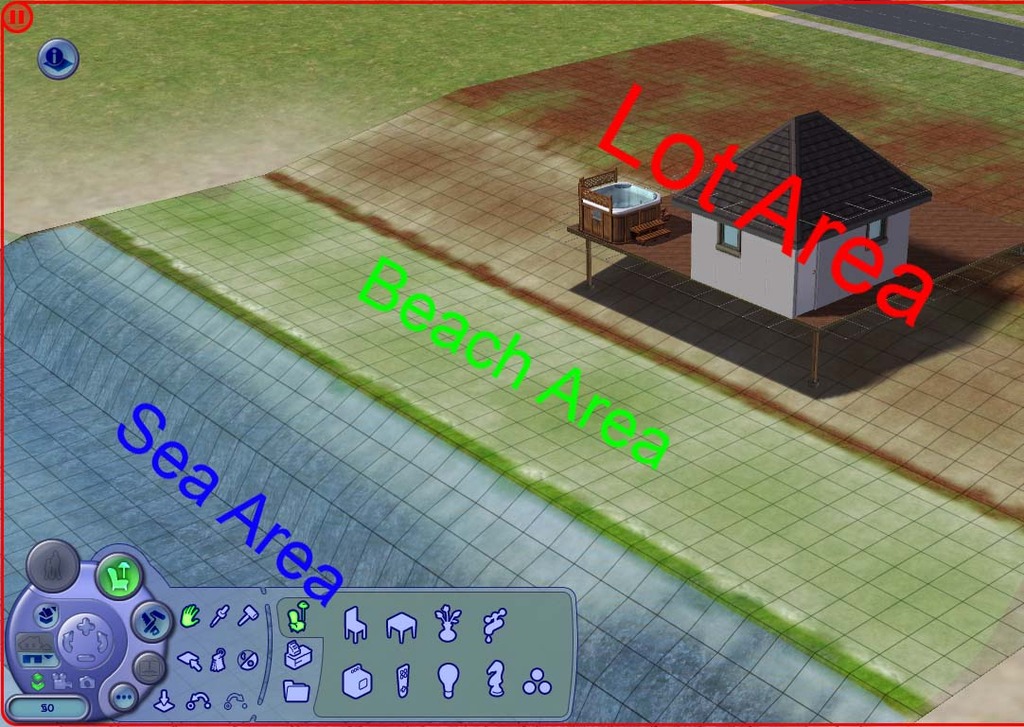 As you can see by the image below, building a new or extending an existing foundation, room or deck, or placing some objects is normally not permitted over the beach area:




Using Mootilda's Lot Adjuster program, it's possible to temporarily remove the "beach lot" flag from a lot, which will then remove the beach area restrictions.

Things you will need:
0) Back up your neighborhood.
1) Place down a beach lot. (This method works with existing lots as well.)
2) Exit the game, and open Lot Adjuster.
3) Locate your neighborhood, and pick your lot from the list of available lots.
4) Click the Advanced button.
5) Un-check the "Beach lot" box, click Finish, and close Lot Adjuster.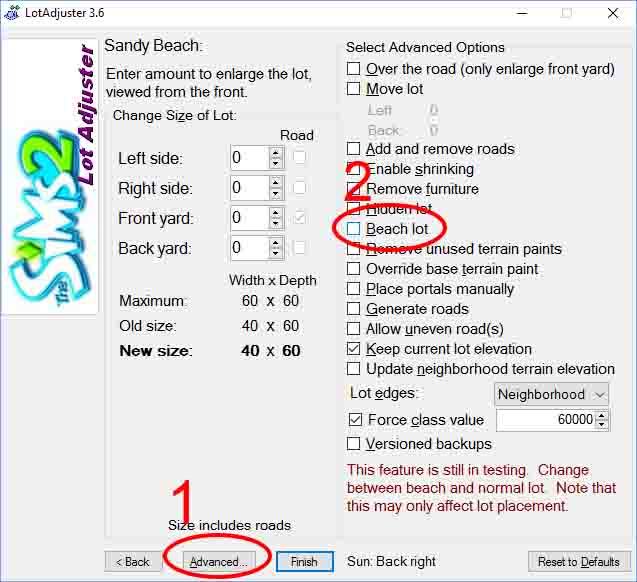 6) Open the game, and load your lot. You'll notice that the water now looks different, i.e. no reflections, the water might be hovering over the ground. This is because beach lots draw water differently than regular lots.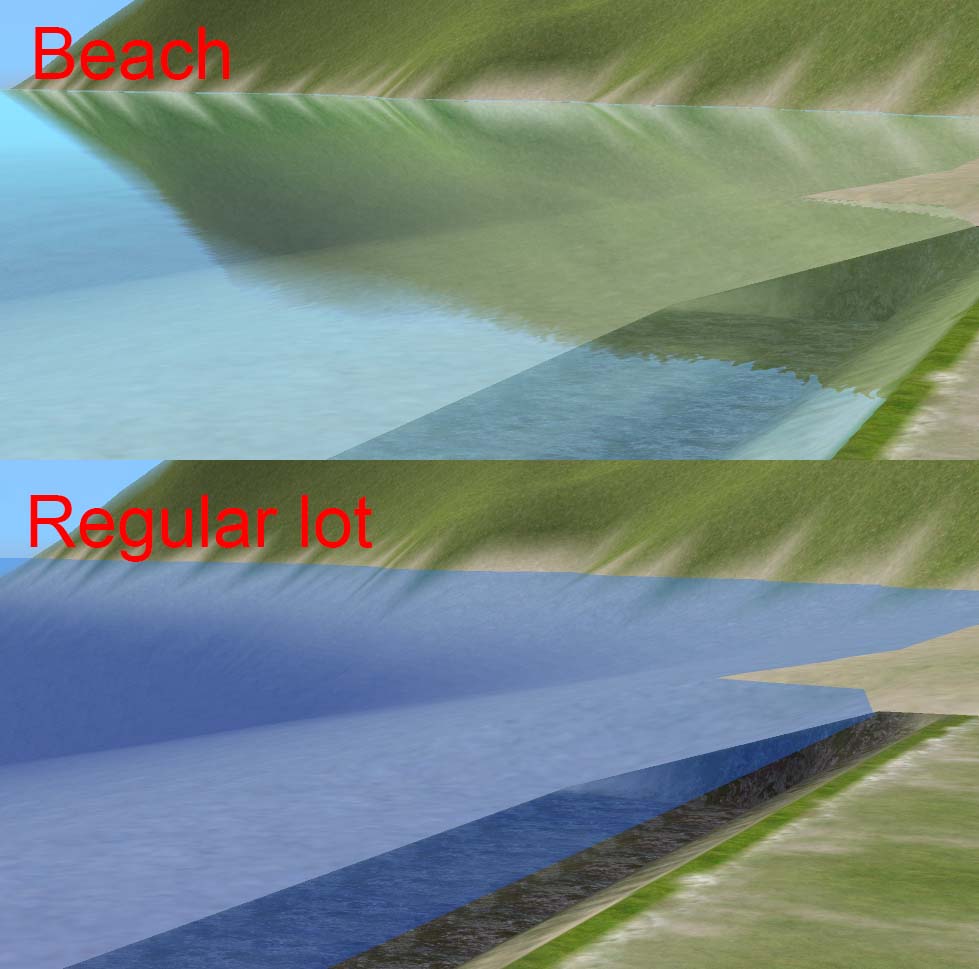 7) You may now customize the beach area as you wish, without the use of moveObjects or constrainFloorElevation codes.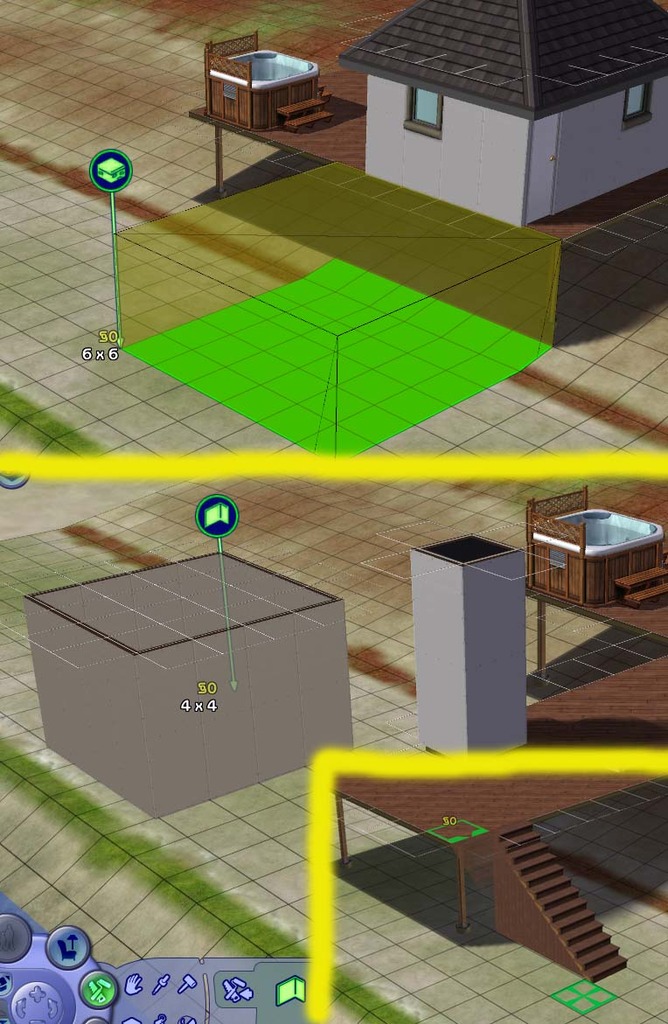 -----------------------------------------------------------------------------------
If you're also willing to create interesting terrain effects over the beach, you may do so. By lowering the terrain, the water will flood the beach area, and by raising the terrain, you'll be able to create peninsulas or small islands.
Bear in mind, however, that the water won't flood past the beach, i.e. the "lot" area in the first picture can't have sea water on it. The water simply stops on the lot area-beach area border. Make sure the border is leveled or of higher altitude.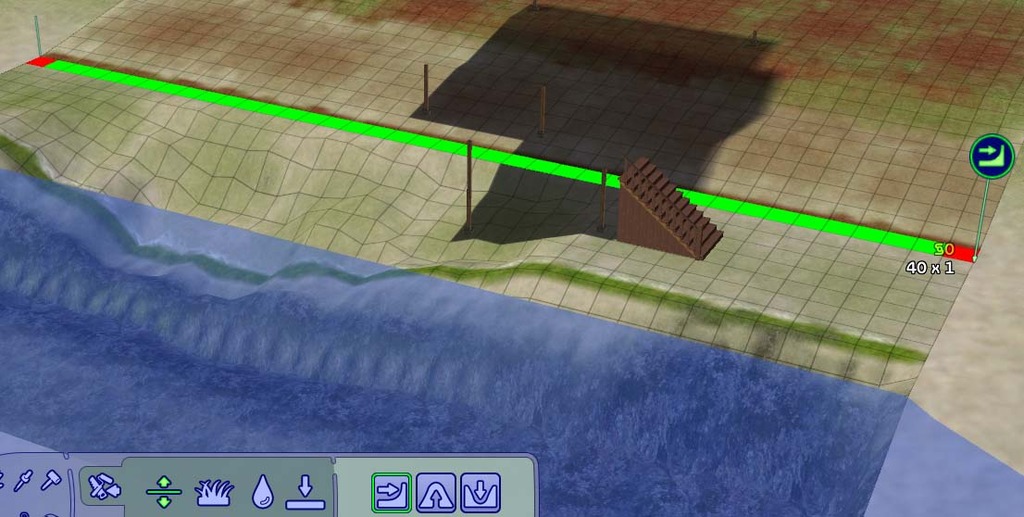 If you've made a somewhat shallow area, you can proceed to step 8. If you've created a bit deeper water over the beach, your Sim might go deeply under water, to "enter" the sea to swim. This can be fixed by placing down the Portal Revealer (an object that looks like a yellow plastic flamingo, found under Build Mode, Doors & Windows, Double-Story Windows). Once it's placed on your lot, it will make all the portals on your lot turn into a yellow box with an arrow on it.

To fix the above problem, grab the portal and move it to the edge of the water. Make sure there are no areas where Sims could circumvent those portals (i.e. portals placed a tile apart instead of next to each other). If a Sim can circumvent those portals, they might walk into the ocean and stand in it, instead of swimming in it. Do not delete any of the portals on your lot. Once you're done placing the portals, you may delete the Portal Revealer.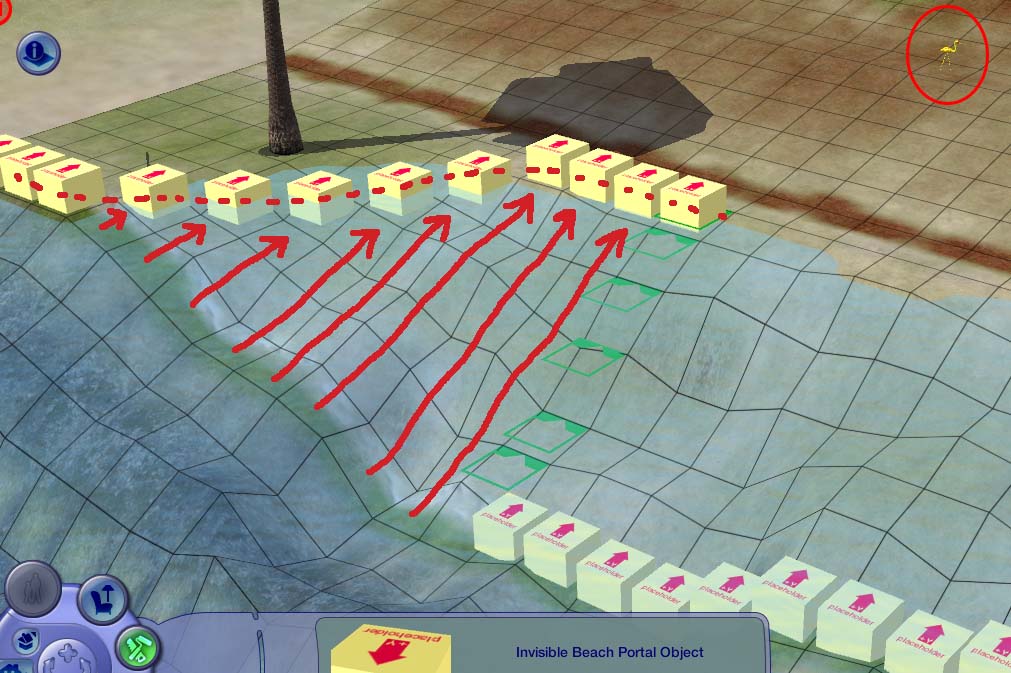 Note that Sims may prefer to access the portals whose "placeholder box" is on flat ground.
-----------------------------------------------------------------------------------


8) Once you're done editing your lot, save, and quit the game.
9) Open Lot Adjuster, locate your lot, and under the Advanced options, check "Beach lot" box. Click Finish, and close Lot Adjuster. Note: if you've moved the portals around in step 7, make sure that "Place portals manually" box is checked.


10) Open the game, and load your lot. Test it out thoroughly. Does the water look normal again? Can Sims interact with objects placed on a beach?...

Congratulations - with a bit of effort and imagination, you can now create even more beautiful beach lots for your Sims!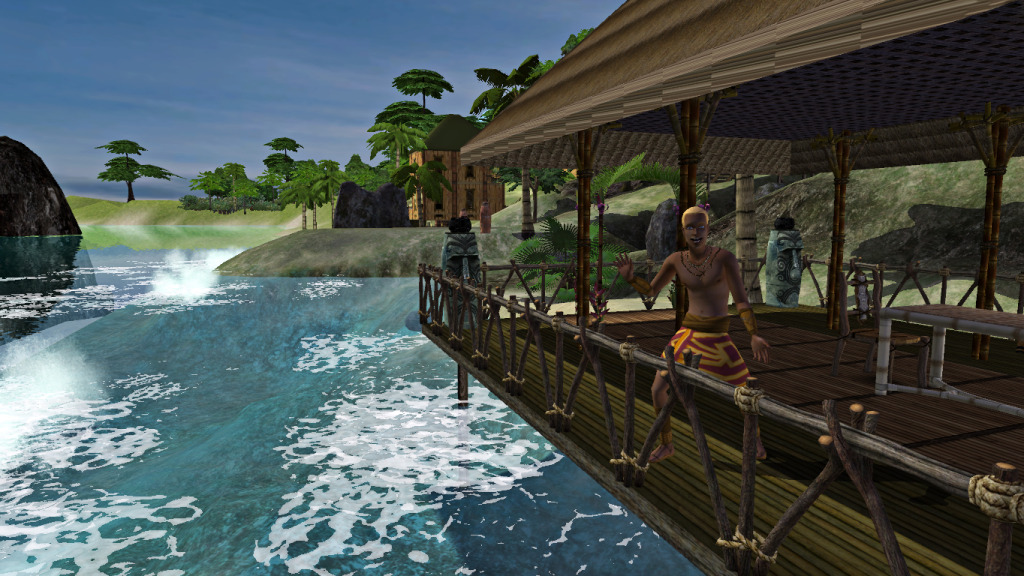 IMPORTANT NOTE ON MOVING/BINNING/PACKAGING/SHARING BEACH LOTS

As with any typical beach lot, placing it down in a neighborhood will reset its beach area. In my tests, the terrain was shifted from a cove back to a flat shore line, while the deck remained. The portals also remained on their custom locations, some sank under ground.
If you wish to share such lots, the only way to do it is to either:
upload the entire neighborhood your lot is in, or
follow this tutorial which further explains which files are required to be included along with the lot file itself, and what the end user is supposed to do when installing the lot in their neighborhoods.
---
DJ. who?
"What do you have to be nervous about? You're someone on the internet." -A.M.R.

Lab Assistant

#2

24th Jan 2016 at 7:44 PM
Thank you, this is a very useful tutorial!
I also like your use of a darker terrain paint below the waterline. It makes for a much more realistic look, in a way.

Alchemist

#3

24th Jan 2016 at 8:59 PM
Thank you! I didn't know it was possible to create such beach lots.
Theorist


#4

24th Jan 2016 at 11:38 PM
It was so nice of you to put this tutorial up for everyone. Thank you!

---
"It would be most inconvenient since I've sworn to loathe him for all eternity." ~ Elizabeth Bennet

"You pierce my soul. I am half agony, half hope." ~ Captain Frederick Wentworth


Top Secret Researcher



#5

24th Jan 2016 at 11:48 PM
Love this. Thank you for posting.


Lab Assistant
#6

25th Jan 2016 at 11:10 AM
This will come in very handy, thanks a lot!
(Question: Will I be able to edit the sea bottom with the water terrain tool? I've been dreaming of building fishable sea shores.

)

Scholar


Original Poster
#7

25th Jan 2016 at 11:43 AM
The only idea I have on my mind is that you extend the sea over the beach area, create a pond in it, and have Sims fish there. It will look odd, though.
You can't really create it deep in the water (sea area) because Sims won't be able to route to the pond shore.
Try and experiment, perhaps I'm mistaken.
---
DJ. who?
"What do you have to be nervous about? You're someone on the internet." -A.M.R.

Lab Assistant
#8

25th Jan 2016 at 11:54 AM
Ah okay, thanks!
True, I guess the best way to see how it looks like might be to go and try to build it.
Back to top