Welcome Little Baby
Date Posted: 8th Dec 2013 at 9:31 PM
Hubby and I had our baby several days ago. He is wonderful and we love him bunches. I would like to upload the alpha shirts I made, but it may take me a few days. We currently live in three hour chunks.

Alpha Sleeve Testing
Date Posted: 14th Nov 2013 at 8:25 AM
This is why testing in game is needed, not just in Body Shop.
These sleeves will be part of an alpha tunic too, not just this shirt.
I want to get them right. It's a pleasant challenge so far.
Clipping is actually reduced from what it was initially.
edit: The hands were an easy fix, I had simply put in the wrong bone assignments, 50% thumb rather than 75%.
The underarms are trickier. Already did quite of bit of reshaping the sleeves and modifying the bone weights,
trimming the underarms a tiny bit, and that reduced some clipping, but added clipping elsewhere!
My current solution is to throw more polys at the problem in the sleeve underarm portion, and thus
make the bone weight change more gradual from the undarm to the upper arm in the sleeve. This will
also put some more space between the underarm and arm / sleeve. I was able to look *inside* the torso
in MilkShape to see just where and how much the sleeve was intersecting the underarm, big help!
.
lace shirt - more colors
Date Posted: 13th Nov 2013 at 7:15 AM
I can't make one color of something. Can't do it. MORE COLORS!!!
Make the black lace blacker (done). May need to make the white a bit darker...
The red actually looks much better, but Paint jpg save is lousy.
Good thing I use Gimp for actual upload screenshot saving.
.
Alpha Shirt - lace
Date Posted: 12th Nov 2013 at 4:38 AM
Here's another example of what you can do with the alpha sleeve mesh, a lace shirt over a tank. Think once these are done, I might actually start uploading! Got piles of shirts ready to go, but wanted to start with a variety pack that showcases the possibilities inherent in the mesh. [edit] I'm also waiting to upload until I've tested the heck out of the mesh with various alpha textures. Alpha parts can be tricky at the joints, while animating. Don't want bare skin poking through. Not an alpha issue, but need to adjust bone assignments at sleeve near wrist and hand...
a work in progress...
edit: fixed the clipping on the lower arm too
Got the original lace texture off one of the numerous textures sites, don't recall which.
The original is not mine, but I did modify it by scaling and layering, as seen above.
The inspiration for this current project, a pink lace shirt over a tank.
.
Alpha Shirt, blue flower 3/4 sleeve
Date Posted: 11th Nov 2013 at 6:14 AM
update: 11/11
Now it's really done!
The soundtrack to making this shirt was Katy Perry's "Wide Awake", which in my head sounded like "I made a shirt".
I'm making a series of shirts with various length sleeves, sheer sleeves, lace sleeves, to demonstrate the options possible with my alpha mesh. Here's one in the series, with somewhat longer sleeves than the "simple basics" and stripes I did earlier. Also has a different collar because variety is a good thing. It's slow going, but very pleasant.

This one was SO much easier than the stripes. With a pattern from a photo, I just have to do the collar, the shadows, the shading (so you can see the shape of the bust in bright light), the bump map, but NOT the pattern. Maybe lace sleeves next... Or a wrist length button up... or a crop top with hearts and lace edging...
skirts and pants by Trapping, BlooM, xgoat, migamoo, Sentate, and me
.
upcoming stripes preview
Date Posted: 8th Nov 2013 at 10:32 PM
These are almost ready for upload, need to take in game pics. Five shades of B&W stripes, can be worn tucked or untucked.
edit: Just noticed the thick black stripe under the bust is thicker in back, squashed in front. Had tried to prevent that with my
UV map edits. :/ Tweak UV map some more. I can't unsee it now. *twitch* If it takes more than a day, will say "good enough".

edit2: It's not the UV map, but the mesh animation. I could adjust the texture... but I'm trying to dial down the perfectionism. XD
.
more stripes :)
Date Posted: 7th Nov 2013 at 8:19 AM
Nov 7: This is the last of the stripe pattern shirts I had planned.
After these, cardigans, lace shirts, applique tanks...
edit: Nov 8, after some changes to stripes...
Can't really see it in the picture, but the mesh was updated too.
Sims were still stabbing themselves in the armpit with their shirts, in the back, fixed now.
Nov 7, texture seen in Milkshape
move the chest stripes down some, and middle stripes on arms too
.
wide stripes done, damn it
Date Posted: 6th Nov 2013 at 9:13 AM
Hello, my name is Cat and I am a perfectionist. I could agonize about these shirts some more, or I could define them as done, much as that not perfectly straight line near the underarm pains me. If I make it straight for that pose, it will surely be wavy for another pose, such is the effect of animations on a mesh. I must accept this and move on to other projects or this will stop being fun. Onto exciting new textures! Lace! Cardis! Appliques! ... and that square shape of the underarm, seen from the back. Could have textured that to look more round. No, bad Cat! Stop nitpicking! Make it round on the next shirts. Breathe... relax... remember many folks won't even care about that. Stop looking at it! Think about lacy sleeves.
skirts and pants by fairywasteland, migamoo, Sentate, and me
.
Pregnancy Morphs for Aikea, Sentate, and HappySim Pants
Date Posted: 6th Nov 2013 at 3:11 AM
Small side project: added pregnancy morphs to Aikea, Sentate, and HappySim's wonderful pants. Meanwhile, check out my other pregnancy morphs for
Sentate, migamoo, and HP separates
and also for
Gelydh capris
.
IN MOD QUEUE NOW
Get them
HERE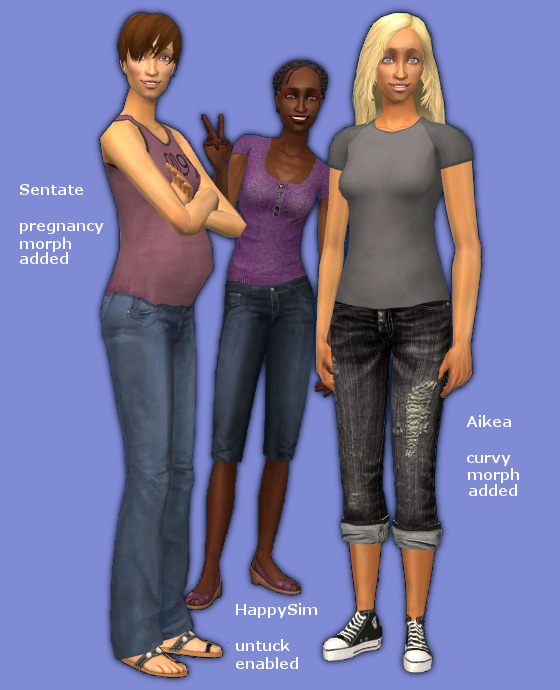 Alpha Tunics - project goes on...
Date Posted: 1st Nov 2013 at 8:43 PM
The Alpha Tunic Project is going full steam ahead, it's just a slow process.

So far, I have a series called "Simple Basics" that's just some plain shirts 'n tees
on the alpha sleeve mesh, almost ready for upload. Doesn't really showcase
the alpha capabilities of the mesh well, but it's something I wanted, so I made it.
I do have more "alpha-y" ideas from photos. We'll see if my texturing skills can
do justice to these lovely shirts, heh heh. I think I can manage the belted cardis,
and the lace, but the crochet may be quite challenging for me. The stripes are
almost done! Look a few journal entries back to see how the stripes are doing.
Simple Basics - more colors
Simple Basics - yet more colors
Shown with
Sentate's Baggy Jeans
, which I plan to add a preg morph to.
Some Aikea jeans are getting curvy and preg morphs as well...
Stripes Photos - hand made textures almost done
Big Ideas for Alpha Tunic Meshes
.