>

Pixel dollhouses/For sims to live their lives in/Nice houses for sims
The Rococo Heart - Eclectic Moderne
MTS has all free content, all the time. Find out how YOU can help to keep it running.
Tell me how...
368

Downloads
101

Thanks Thanks
3

Favourited
40,538

Views
Personal Picked Upload!
This is a personal favourite of the creator!


Created by porkypine View Policy / About Me View all Downloads
Uploaded 12th May 2006 at 9:06 AM · Updated 17th Mar 2009 at 3:04 AM by porkypine : update
Title - The Rococo Heart - (Eclectic Moderne)
The Rococo Heart is dedicated to Simnuts101
. :0)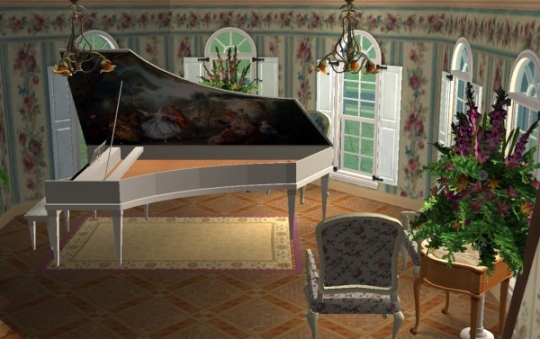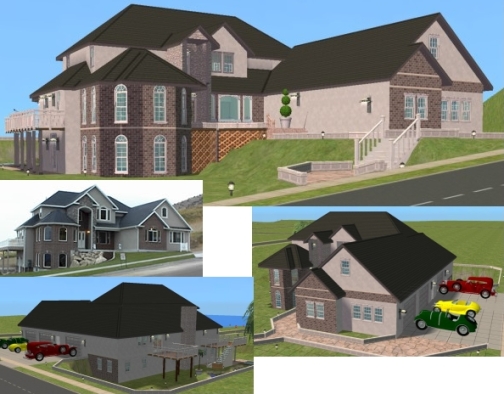 Partially furnished, 6 bedroom home with an attached, 3 car garage on the second level.
Designed for a sloped corner lot, though you can always use it elsewhere.
Lot size 5 x 4
222K Simoleons - Use the motherlode or FamilyFunds cheat to move your sims in! This house is worth it!
This house uses items from Nightlife, University, OFB and base game.
---------------------
**** First thanks go to the MikeInside tutorials! Otherwise, I'd never have been able to make this house wiht the garage on the second floor level. :0) ****
This beautiful home has gorgeous custom content made by several wonderful creators at ModtheSims2.com without their content, this house would not be as nice as it is.
Thanks to: Simnuts101 for his exquisite, 2-manual harpsicord and other Rococo furnishings, To LyricLee for her Llama Fever wallpaper, Numenor for this recolorable stairs and his Wall Widow set, Nengi65 for very nice terracota floor tiles, Lethe_s and the magic modders for their wonderful medieval hanging tapestries, shields and wallpapers, to the creators of the Grand Trianon and Le Petit Trianon collections for their wonderful arches, windows, reflective mirrors and wallpapers. If I have left any of the content creators out, I appologize - the error is mine.
This is my first major, complex build - It's built on a slope with an attached garage at the second level of the house. It has a partial basement, retaining wall and the lowest level is open to daylight. aka the first floor on the downhill side. I used lots of cheats to get it to work and I think it came out very well especially since I don't know how to change the pitch on individual roof sections. If someone knows how to change the pitch on individual roof sections, please PM me. The roofslopeangle cheat changes the pitch of all pieces. In spite of the roof limitations and the fact that I had to build the driveway slabs around the garbage can & mailbox, It's still built as close to plan as possible considering the limitations of the game. (No closets since sims use dressers instead of closets.) There is supposed to be an octagonal roof over the anteroom but the game piece was just way too tall. If I flattened the angle of that piece, then the rest of the roof was too short, SO, I used a substitute roof over the anteroom.
If you want to remodel portions of this home - (people wonder, "Why would I do that?" cuz I always fiddle with my home layouts), be careful around the garage walls that meet the house, If you remove the wrong one, you'll sproing the house - odd bits will pop out in weird places. :0) You can see the wall distortion if you paint the wall immediately between the house and garage. Go ahead and play with it if you want to learn how I built it. (See MikeInside tutorials). If you mess it up, just delete it and reinstall the sim2pack. :0) Feel free to add walls to the great room below. Do Not remove the walls around the garage unless you're willing to reinstall the house.
Enough about the construction! On to the features!
This house came out so well that I decided to share it, especially after partially furnishing it with some lovely custom content I've gathered from MTS2. :0) I didn't furnish it entirely because you have to put your own mark on the house too. (Actually, I made myself stop before I got too carried away.. lol) My taste in furnishings is eclectic. This house appealed to me, so that's good enough. :0) And, for those of you who "NEVER use custom content" - You're missing out. Just be selective about your custom content, is all. :0)
The Rococo Heart is dedicated to Simnuts101
. :0)
So, Why does this modern, 6 bedroom home have a Rococo Heart? The plan states that the partially octagonal anteroom just off the left side of the foyer is intended as part of the master Suite - a nursery or den. After constructing it, I saw that it was perfect for all the wonderful Simnuts101 creations that I've collected. He makes such lovely Rococo furnishings that this room begged to harbor them. You will find other furnishings created by Simnuts scattered throughout the house. Yes, I DO have the Le Frenetre window shutters on the insides because the lot didn't call for exterior shutters. But they kinda look charming, don't you think? eclectic - remember? :0) Country chic. Just shut the 'shutters' instead of drawing the curtains for the evening.
Several wallpapers in the house are from the Grand Trianon Collection and, I couldn't resist the Llama Fever wallpaper created by LyricLee, which graces the upstairs guest room off the balcony and also a couple of bedrooms in the basement. Except for the master bedroom, I only put in plain beds for scale. The large rooms without beds are storage rooms. You can take the beds out and furnish them with all your Llama accessories.
Of course, I used the recolorable wooden stairs by Numenor and his WallWindows for the transparent railings on the internal second story balcony which overlooks the Foyer and the Great room. I hope your sims don't suffer from vertigo. The railing is clear because the view is so good. :0) It just wouldn't be the same spectacular view without Numenor's WallWindows.
I couldn't resist Lethe-s and the Magic modders 2 and 3 tile tapestry wall hangings and banners. This house has the internal wall space for them! I just had to pack it so you could see how to incorporate Medieval, Rococo and Modern all in one house. :0)

Special Features of the home:
* Simnuts101 'Rococo Heart' anteroom - A perfect setting for his Harpisichord and lovely Rococo furnishings. You've just GOT to look under the hood of his 2-manual harpsichord! Exquisite! The harpsichord has a prime location to show itself off in style. Pictures below.
* Freehanging balcony and walkway overlooking the Foyer and Great Room - graced with Numenor's tinted Wall Windows for a teetering view.
* Formal living room to the right of the Foyer furnished with Maxis and Simnuts101 fancies. The mirror displays the Grand Trianon mirror effect very well. It also has the large square painting the - Pienture Caree - by Simnuts101.
*Lovely Craftsman Parquet and bamboo flooring for the Foyer,Balcony, Formal Living Room, Great Room and dining area.
*Lethe-s and the Magic Modders hanging wall banners and tapestries and wallpapers.
* 3 car, attached garage on the second level
*Pond in the backyard.
Included in Lot:
Grand Trianon Dream Team:
wallpapers -
http://www.modthesims2.com/showthread.php?t=76172
- - Beige Stripe, Kids doll, Blue Floral, Simple Floral Print and Crackle Stripe.
Mirror effects -
http://www.modthesims2.com/showthread.php?t=76172
- Grand Trianon Dream Team Mirror effects for all the wonderful mirror reflections in the home.
Lyric Lee:
Sorry guys, Lyric Lee has pulled her creations off of MTS2. I don't know if this wallpaper is available elsewhere. The game will probably insert a default wall.
Luxurious, Llama Fever wallpaper -
http://www.modthesims2.com/showthread.php?t=143683
Simnuts101:
Exquisite, Two Manual Harpsicord - -
http://www.modthesims2.com/showthread.php?t=135031
Various Roccocco furniture and paintings:101 Chaise de biblioteque, Tableau lateral, Pienture Caree, Pienture 18ene Chaise de Rococco de Siecle, Pienture de Chemnee. -
http://www.modthesims2.com/showthread.php?t=123012
Le Petit Trianon Windows, doors and arches -
http://www.modthesims2.com/showthread.php?t=146562
Numenor:
Recolorable wooden stairs -
http://www.modthesims2.com/showthread.php?t=53159
- numenor: main floor staircase and front walkway exterior stairs.
Wallwindow glass -
http://www.modthesims2.com/showthread.php?t=70222
- numenor: interior balcony rails.
Lethe_s:
Medieval banner pack -
http://www.modthesims2.com/showthread.php?t=106636
Flemish painters, Van Eyck -
http://www.modthesims2.com/showthread.php?t=62585
Magic Modders - MIDSUMMER NIGHT'S DREAM -
Wallpapers and banner meshes (Plus other marvelous items)-
http://www.modthesims2.com/showthre...206#post1206206
tiggerypum:
Fabulous Wall tapestries
http://www.modthesims2.com/showthread.php?t=123974
Nengi65:
Terracotta Floors -
http://www.modthesims2.com/showthread.php?t=135217
plaster walls and floors
____________________________________________________
I suggest you get the following which are in the images but weren't included in the lot. Your sims will go NUTS over the 1930 Packard by wintermuteai1 :0)

Recommended but NOT included:
Really cool Cars:
http://www.modthesims2.com/showthread.php?t=100961
1930's Packard - wintermuteai1
http://www.modthesims2.com/showthread.php?t=99646
1930 BMW 326 Cabriolet - wintermuteai1
http://www.modthesims2.com/showthread.php?t=99673
chrysler prowler - wintermuteai1
Big corner tub for the master bathroom:
http://www.modthesims2.com/showthread.php?t=123589
get the corner tub here - Mickyss
Mickyss also has some fish for the pond and nice plants
Very nice plants for the yard from AussieTopEnders.com they also have a huge selection of rugs that work with Echo's rug mesh.
---------------------------------------
I believe I've got everyone listed. If I accidently missed a wonderful creator, please let me know so I can fix my error.
I recommend that you visit each creators site to get the rest of their recolors and any updated meshes for their creations.
DO NOT UPLOAD THIS LOT OR CONTENTS TO ANY OTHER SITE. The custom contents of this home are the copyright of the respective creators. Each item in this home made by other creators has their name on their creations. Use Sim2pack
Clean Installer
to see who made which parts and visit modtheSims2.com and input their usernames to review their policies and see if they have any upgrades for their creations.
The rest of this home uses Maxis parts - you will need all EPs for this lot. Sims2, Nightlife, University and Open For Business.
Enjoy this home in your game - This home is worth using the money cheat! Use it to move your deserving sims in. :0)
familyFunds (Familyname) +300000
by porkypine
---------------------
p.s. Some people have reported problems downloading the lot with the CC installed. If your house shows up unfurnished, follow the links I've given and get the mesh and any recolors from the original creators of the CC.
Mashed Meshes Policy
We all know what a pain it is to find a gorgeous outfit that someone recolored but then we have to go to some other site to get the mesh. Sometimes, that MESH is not easy to find, OR is no longer available. AND, sometimes people just don't have the time to go shopping so they bypass something they may have liked but it was just too much of a hassle to go find all the parts.

With the above thought process in mind , I have decided that any and ALL of my meshes may be packaged along with any recolors that people make, or it can be published at their site as the MESH download of a recolor. The only string attached is that the recolors of my meshes must remain totally free. You can put them in a free download section of a paid site but they can't be a gift for a donation. After all, you got the mesh for free and you wouldn't have been able to make your garment without the mesh.

And, if someone wants to 'steal' my stuff and take credit for it... well, they have to answer to a higher authority for it.
You may include any meshes I create in your uploads as long as you give me credit. :0) Send me a PM so I can see what you've done. :0)

Added: Since I know how much work goes into creating meshes from scratch, you can use any of my meshes as a starting point and add your own stuff to it or change things on it, as long as you take responsibility for the changes to the mesh and DO NOT CHARGE for it. :D

P.S. By all means, if one of my creations is BORKED and you can fix it, please do so. I am a busy person and can't get around to fixing game things all the time and I'd appreciate it if you'd send me a pm with a link to the fixed item. :0)

NOTES FOR SIMS 4 MESHES: Jan 18-2015
I'm learning how to make Sims 4 meshes. Please note that Sims 4 object recolors pack the original as well as the modified mesh along with the recolor. Until that is fixed, (if anyone is interested in doing so) I will only allow recolors of my meshes if they stay here at MTS where I can track them down. The reason for that is if EA makes a change that breaks a mesh, the people who've made recolors need to remake their recolors so it can be packaged with the updated mesh. Sorry, This is a design issue made by EA. This may change later if EA makes a change.