Buy Mode

>

>

Entertainment, TVs & computers, audio, and small electronics.
*2007 Update*Animated/Functional Value Vending Machine! (Chips, coke, & more)
MTS has all free content, all the time. Find out how YOU can help to keep it running.
Tell me how...
25,414

Downloads
4,167

Thanks Thanks
311

Favourited
298,146

Views
Featured Upload! This is a featured upload! It showcases the best talent and creativity available on MTS and in the community.

Personal Picked Upload!
This is a personal favourite of the creator!
Uploaded: 7th Oct 2006 at 2:37 AM
Updated: 19th Mar 2009 at 1:54 PM by -Maylin-

Updates
-March 8/07 - The vending machine SHOULD no longer replace my drink vending machine. I think the GUIDs were the problem. But if it still does, then I don't think there's anything I can do. I will test it later. This new version is called "VM 07" when you download it. If you download both vending machines, DO NOT download the one here that has over 20 000 downloads.
- October/6/06 - Added a new food dedicated and requested to/by DiscordKitty! Now your Child - Elder sims can purchase a bag of cookies!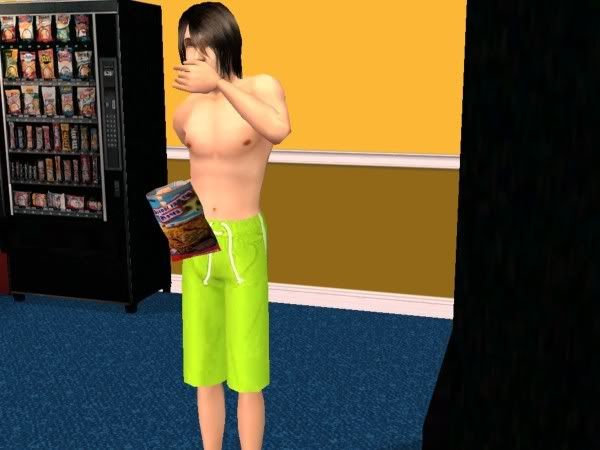 I am deleting the old files and adding a new one. So the downloads number will drop back down to 0. If you downloaded the version without the cookies, then just download the vending machine that replaces the old one an download the Cookies Accessory (all files included in .zip)
So now there are 5 files to extract!!
Description
Wow...well....where do I start? There was a hell of a lot of work put into this, guys. Seriously. Not only is it Version 2 of my original (ly crappy) vending machine, but it is also a new object! What I mean is, I fixed everything I said I was....and I also added new features! I dont know how I did it, folks....been working on this for so many days and the coding was breaking my back

Anyway, lets skip my pain and get with the download.

FEATURES (PLEASE READ)
There are a lot of new features in this vending machine. Here goes:

- Sims can now choose 3 foods from the vender (Chips, coke, and Energy Drink)

- Sim now eats the food DIRECTLY from the vending machine. In version 1 the sim placed it on a surface and you had to tell him/her to drink/eat it.

- Sim now burps after eating



- Sim now places hand directly in compartment instead of...well....not in the compartment

- Has a totally new look! (which suits the chips)

- Energy Drink raises energy+hunger of sim!

- No more doorbell sound; Sim now uses right hand instead of left.

Credits
Echo
- This object was cloned from my vending machine, which was originally cloned from her cauldron because I couldnt get the Pie Menu strings and functions to show for the end table
Numenor, Smonaff, Atavera
- They all helped in the custom animating and Numenor and Smonaff in finding some burping animations *cant resist giggle*
And a special round of applause for my very good pal
Smonaff
. Who has helped me with BHAV editing ever since I started

I wouldnt be where I am without you, Smo!
Age Groups
Child sims CANNOT buy an Energy Drink. I thought this would make it more realistic. They can still by pop and chips

Child - Elder can use this vending machine. Making it work for the Child sims was like making the machine all over again....

EP Compatibility
*In testing* Please test this and tell me what glitches you get, etc. 2 known glithes so far:
1. Sometimes a sim anatamously (is that how you spell/say it?) grabs the food from the corner of the machine and will intersect some parts...
2. When a sim places a big of chips on the ground so that you can dispose of them, half of the chips sink into the ground. Dont worry, they are still *clickable*
Downloading
Total of 4 files included in .zip. MUST EXTRACT ALL!!!
Find this under Electronics/Miscellaneous for 1250 simo's
Animations
This project contains custom animations
Not custom as in something you've never seen before, but Numenor led me to create the doorbell animation without the doorbell sound. Well, I figured out most of it myself but he put me on square 1

The new animation consists of 2 files!!!
1: a2o-door-pushbuttonbyptp_anim
2: c2o-door-pushbuttonbyptp_anim
According to Numenor, these files are included within the vending machine and DO NOT replace the doorbell animations in-game.
Poly counts
Vending Machine: 128 Poly's
Bag Of Chips: 1312 poly's (used from Maxis bag of chips with Doritos textures)
Energy Drink and Coke: 526 Poly's
Costs
Bag Of Chips - 5 simoleons
Coke - 5 simoleons
Energy Drink - 25 simoleons (almost maxes out Energy of sim and raises hunger like the others)
Energy Drink effecting needs:

PLEASE VIEW

I have some video's for you guys becuase pictures cannot show the coolness of this thing! I was playing it for hours

I even forgot I was testing it!

Please click the following link to view a video of an Adult Sim using the vender to buy a coke:
To view videos, you must click on the pik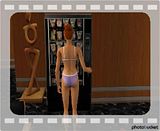 Please click the following link to view a video of a Child Sim buying a bag of chips (its so cute!!)
Comes with an At-The-End dialogue!
Please report any bugs/errors/otherbadstuff at once!
Feel free to recolor

-ptp
Terms Of Use
Just use my stuff however you want,
except for, of course , the usual:
+Uploading on other sites (especially if you say the work is yours)
+Generally claiming my work as yours
+Using my stuff without giving me credit

Yes, you can recolour, with credit, use my stuff in your pictures, don't have to give credit for that.
If I missed anything , message me .