Sims 2

>

Buy Mode

>

>

Plants, sculptures, wall hangings & paintings, mirrors, curtains, and miscellaneous.
Recolourable Full-Wall Mirror *Upd 08sept07*
8,739

Downloads
984

Thanks Thanks
108

Favourited
114,788

Views
Picked Upload! This is a picked upload! It showcases some of the best talent and creativity available on MTS and in the community.


Uploaded: 29th Jul 2007 at 3:08 AM
Updated: 7th Sep 2009 at 6:19 PM - Fixed (again) link to Millennium shader
RECOLOURABLE FULL-WALL MIRROR (a.k.a. "Reflection Wall")
with FULL/HALF/NO reflection modes!
Updated 08 sept 2007: fixed clickable area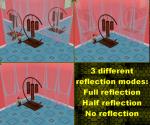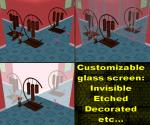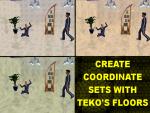 IMPORTANT


Teko's "Millennium Shader" can be downloaded FOR FREE
from THIS PAGE at TSR.
---------------------------------------------------------------
Probably many of you know the astounding
Prada ReflectionFloors
and the
Millennium semi-transparent set
by
Teko (Murano)
. I've been asked to create a reflective wall coordinated to those floors.
After all, it's the same technique I already used long ago for the
Grand Trianon
set: a mirror with a recolourable glass on top;

but now with the option to have a
half-transparent mirror
, that reflects and lets you see what's behind at the same time. This incredible result has been achieved by the
Millennium Shader by Teko (Murano)
(downloadable
separately
).
WARNING:
using too many Full-Wall Mirrors or too many Reflection Floors (by Teko) may slow down your game.
MAIN FEATURES
Full-wall size: the mirror's width is exactly the same as one wall section, granting seamless junctions with the adjacent modules.
Three reflection modes (full/half/no reflection): while the full reflection hides completely what's behind the mirror, the half-reflection lets you peek the colour of the wall (so that you can add a reflection to any existing wallpaper). The "no reflection" is used to completely disable the reflection, leaving only the visible glass screen (for example, to add a decoration to any existing wallpaper).
Recolourable/Invisible glass screen, usable to apply etchings, scratches, breakings, messages written with the lipstick, and anything your fertile mind can imagine The glass can also be used also to create recolours coordinated with Teko's ReflectionFloor, and with the many existing recolours created for it.
Mix & Match at will! You can match any of the three reflection modes with any of the glass screens. You could even select a "no reflection" mirror with an invisible glass, but it would be just silly
DIFFERENCES between my wall-mirror and Teko's Millennium Set
My Full-Wall Mirror is just one piece, a single 1-tile wall mirror; Teko's set is composed by many pieces, that include different shapes for floors and walls.
On the other hand, my wall mirror is recolourable, and can be decorated with etchings and other graphics; moreover, at any time you can choose to turn the reflection to full, half or off, without selling anr rebuying the mirror.
DOWNLOADABLE PACKAGES
IMPORTANT - PLEASE READ! Each of the following downloadable package REQUIRES an additional package to be installed. READ the requirements next to each package name!
FullWallMirror_main.rar: it's the main mesh, containing the three reflection modes, the "invisible glass screen" and one glass recolour (an ornated etching from the Grand Trianon set). REQUIREMENTS: you must install the "murano_millenium_SHADER.package", that can be downloaded for free from THIS PAGE at TSR.

FullWallMirror_Recolours_GrandTrianon.rar: archive containing 4 glass recolours from the Grand Trianon set (1 "optical" and 3 Art-Nouveau). REQUIREMENTS: none (you DON'T need the Grand Trianon set to use these recolours).

FullWallMirror_Recolour_Teko-Prada.rar: this rar contains the recolour coordinate with the original Teko - Prada ReflectionFloor. REQUIREMENTS: you must install the "teko_prada_reflectionfloor.package", found in the "teko_prada.rar" that you can download from THIS PAGE at ReflexSims.

FullWallMirror_Recolours_Lex.rar: this rar contains five recolours coordinated with Lex' Recolours for Teko's Reflection Floor. REQUIREMENTS: you must install the following packages:

lex_teko_prada_reflectionfloor_asmallbeigestonetile.package
lex_teko_prada_reflectionfloor_beigemarmor.package
lex_teko_prada_reflectionfloor_olivemarmor.package
lex_teko_prada_reflectionfloor_skylinespeckle.package
lex_teko_prada_reflectionfloor_whitemarmor.package

all contained in the "Lex-Teko-Pradafloor-recolors.rar" that can be downloaded from THIS PAGE at ReflexSims.
IN-GAME USAGE
You will find the reflection walls in
Decorative -> Mirrors
. As soon as you pick one, the default configuration is: half-reflection + invisible glass (i.e. the configuration suitable to add reflection to any wallpaper). You can select a different reflection type (full reflection or no reflection), as well a different glass (decorated, coordinated with the Prada floors etc.). The "keep buying" feature is enabled (like when you buy chairs, for example).
The wall-mirrors have all the standard mirror functions; in order to get the pie menu,
you have to click on the upper half of the wall-mirror
(this is to prevent overlaps with the clickable area of the objects placed in front of them).
GAME COMPATIBILITY
- My
Full-Wall Mirrors
are compatible with any game configuration (from the base-game to Seasons/H&M).
- The
Millennium Shader
, as far as I can see, it's compatible with any game up to Seasons/H&M, too.
- Teko's
Prada Floors
currently require Nightlife, but I've prepared an all-games version that will be soon replace the one at ReflexSims.
- The
Murano Millennium Floor
currently requires Nightlife, but Teko (Murano) is modifying it so to be compatible with any game.
HOW TO CREATE RECOLOURS
IMPORTANT
- Though this mirror has TWO recolourable subsets ("mirror" and "glass"), only the "glass" subset should be recoloured! Don't even try to recolour the "mirror" subset: you can't change the reflections! All the following instructions explain how to recolour the "glass" subset.
Create a recolour using your own texture
Use Object Workshop as usual. Keep in mind these important facts: a) the texture must be semi-transparent; b) only the leftmost 1/3 of texture is actually used (this was needed because Teko's floor is 3x3, while the walls are 1 tile only); therefore, if you create a 256x256 texture, only the leftmost 85x256 are actually used.
Create a recolour coordinated with a ReflectionFloor recolour
Open the floor recolour with SimPE; select the Material Override and write down the content of the "Name" field.
Then, using Object Workshop, create a CLONE of my "Teko-Prada" wall recolour; select the Material override (it's the only file in the package) and fill in the "Name" field the name you have written down earlier. Commit and save.
This way, your wall "recolour" will actually use the original TXMT and Texture from the floor recolour, ensuring a perfect correspondance; of course, the coordinated floor recolour must be in your Downloads, or the wall recolour won't work.
FAQ: ONLY ONE SIZE? NO DIAGONAL?
Yes, the Full-Wall Mirror comes in only one size (1 tile); I'm NOT going to create 2-tile, 3-tile,
n
-tile modules. Teko has told me that he's planning to create semi-reflective walls in several different sizes, so you should check often MuranoMobilia.com for updates!

As for the diagonal, I'm not sure... The best results with these walls are achieved with square-angled walls anyway. If I find the time, I could add a diagonal version in the future.
CREDITS and ACKNOWLEDGMENTS
Credits to
Teko (Murano)
for his marvellous Millennium Shader and for the original Prada Reflection Floor; thank you, Teko, for you valuable contribution to modding!

Credits to
Lex
for the textures referenced (but not included) in the my recolours attached to this post.
Credits to
The Dream Team
(which includes me

) for the Grand Trianon etchings.
REDISTRIBUTION POLICY
DO NOT CLONE - DO NOT REPOST ANYWHERE.
Please read my full policy in my
profile
.
Poly Count
: too few to mention...

Packs Needed
None, this is Sims 2 base game compatible!
Other Information
Style
:
– Contemporary
– Modern
– Ultra Modern
Maxis Flags
:
– Not Applicable
Redistribution Policy and License Agreement
This policy applies to ALL my creations, unless otherwise stated on the download thread.

It's FORBIDDEN: to repost my stuff anywhere.
It's FORBIDDEN: to clone my creations.
It's ALLOWED: to create recolours for my objects (and post them on any site, including paysites), BUT you can't include the mesh in your recolour: you must give credits to me for the mesh, and provide a link to the mesh download thread.
It's ALLOWED: to include my creations in your lots, BUT the lots must be uploaded on free sites (except the Exchange), and you must provide credits and a link to the download thread.