Sims 2

>

>

Community lots/For when sims leave their houses/It's scary outside
Harry Potter Collection: Godric's Hollow
MTS has all free content, all the time. Find out how YOU can help to keep it running.
Tell me how...
2,405

Downloads
263

Thanks Thanks
28

Favourited
56,025

Views


Uploaded: 6th Nov 2007 at 3:46 AM
Updated: 16th Sep 2011 at 5:46 PM - MTS2 House Information Update
WELCOME TO THE WORLD OF MAGIC: Harry Potter Collection of Lots!
GENERAL INFORMATION ABOUT THE COLLECTION
This set includes both residential and commercial lots. There are a total of 25 download pages (with 34 individual files to download) in this collection.
See my
Journal
for details and changes about the Harry Potter Collection:
Steph's Journal -
http://www.modthesims2.com/member/j...owjournal&j=570
-----------------------------------------------------
Harry Potter Collection: Godric's Hollow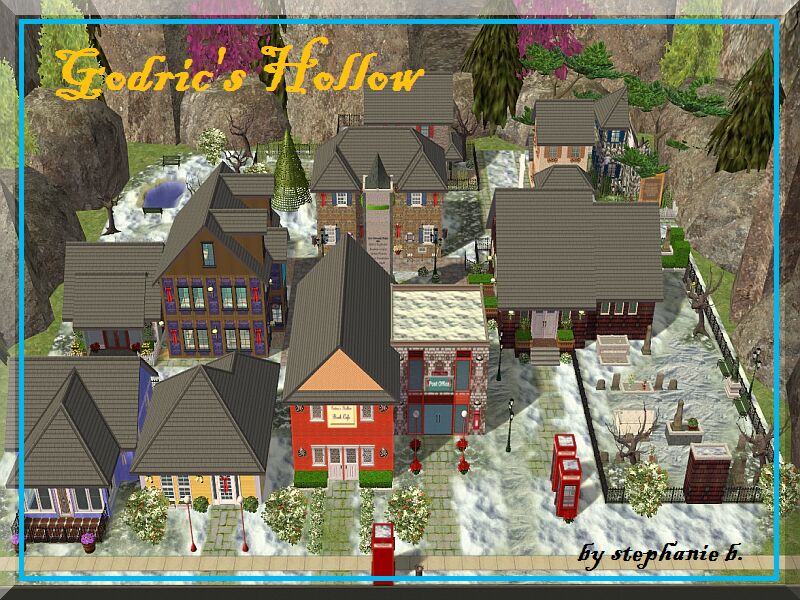 Note: The Christmas decor used in the pictures comes from the Christmas Stuff Pack. Since I removed the Stuff Packs, they are no longer a part of the decorated Godric's Hollow.

LOT INFORMATION
This has to be my FAVORITE lot of the Harry Potter Collection so far. The details are amazing! (Don't worry, NO SPOILERS here!) Beginning with the Town Square and it's Obelisk Monument, on to the Kissing Gate entrance to the graveyard behind the church and ending with the Potter Cottage where it all began for Harry Potter. Harry Potter Story Makers and fans will have a BLAST strolling through Godric's Hollow! I promise! YOU MUST SEE this lot in the game to believe it! Totally WICKED!

Godric's Hollow
Lot Data
COMMERCIAL LOT / §0 / 5 x 5 Lot / Partially Furnished / 2 Stories (Highest Level)

Includes:
A Town Square with War Memorial Obelisk in the Center

The Obelisk contains a list of Godric Hollow heroes

for Muggles and an image of the Potter family etched in stone for Witches and Wizards. I included both walls so you can change them as needed or leave as it is!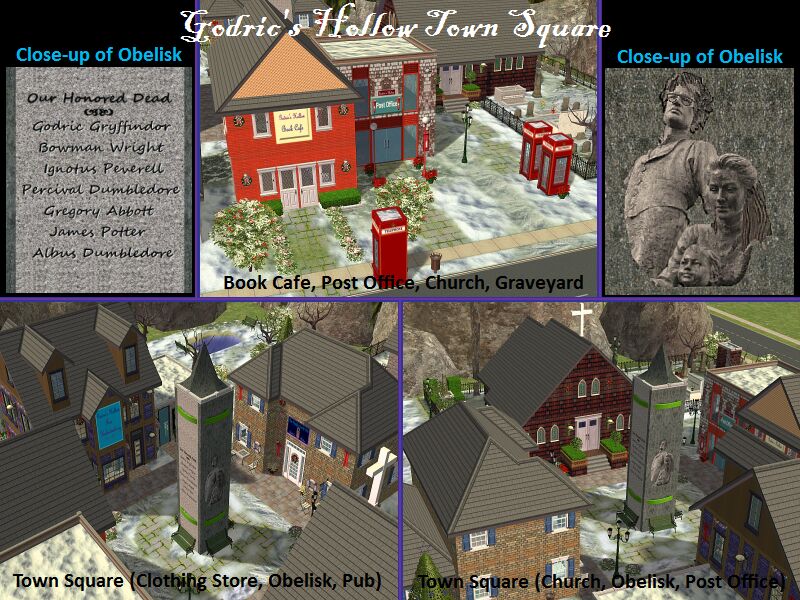 Church with a Massive Graveyard
(Minimally Decorated)
I REALLY used the books to try to get the details of the graveyard correct from the Kissing Gate entrance to the location of the Dumbledore and Potter graves. I didn't decorate the insides too much as I personally will be using objects I didn't get from free sites for this church. I will leave it to your decorating expertise.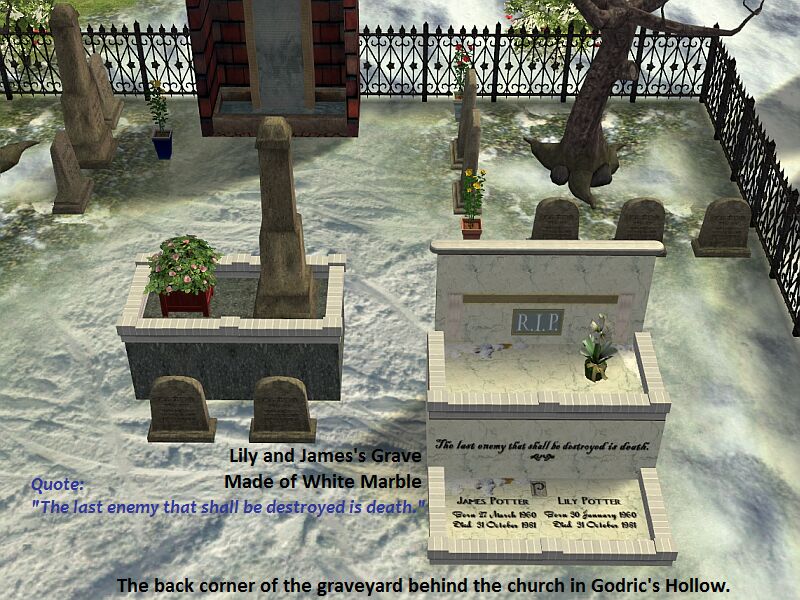 A Public House /Pub
(Decorated)
Bar Downstairs, His/Her Restrooms, Beds Upstairs (Sleeps 4), Upstairs Showers (4)
A Book Cafe / Book store, Computer Cafe, Restaurant
(Decorated)
Downstairs: Computers, Books for Sale
Upstairs: Restaurant
Haberdashery / Clothes Store
(Decorated)
Downstairs: Ladies and Gentlesmens Clothing Store
Upstairs: Restrooms
Grocers
(Decorated)
Small community grocery store
Post Office
(Not Decorated)
I leave this to you. I was going to use my owl wallpaper for the upstairs (for the Magical Folk) and make the downstairs a standard Post Office (for the Muggles who visit Godric's Hollow). Hope this helps a little!

Pond Area
A small pond behind the stores, cottages and Bathilda Bagshot's home.
6 Cottages
There are 6 Cottages. Three are at one end of Godric's Hollow and 3 are on the other end past the church. Bathilda Bagshot's Cottage is somewhat isolated. It is the grey stone building with red window shutters. The cottage at the end of the lot (with the crumbled roof courtesy of Lord Voldemort) represents the Potter Cottage. The Potter Cottage has a memorial sign for the Potters. The cottages are not decorated (with the exception of the dilapidated Potter Cottage). I could not decide if I wanted them to be purely decorative, serve as small businesses or actually simply be small homes, so...YOU decide!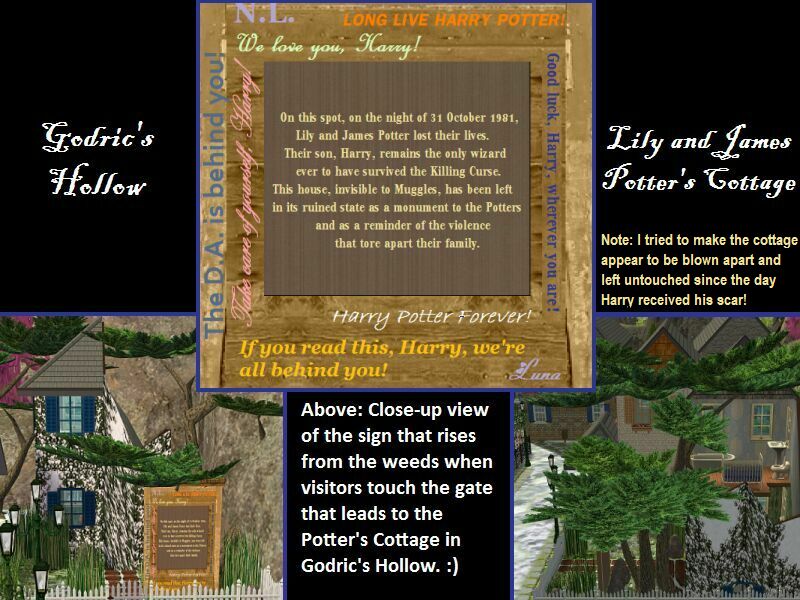 -----------------------------------------------------


OTHER INFORMATION
THANK YOU!
I owe the deepest of gratitude to all the extraordinary artists whose objects helped to bring my vision of Harry Potter's Magical World to life! Thank you for sharing your time and talent with the Sim community. Thank you to the following artists for helping to bring a little "magic" to the Sim World: Ailias, bootsbrisket, Cazkiwi, fireflies and lara9taylor. Be sure to browse the links at the end of the post for other fabulous downloads by each artist!



ADDITIONAL DOWNLOADS!
Although the following item is NOT included in the download, I thought it would add a little authenticity to this lot:
Maylin's Telephone Booth Cover

For this lot, I created a few red walls to represent the London Phone Box (an idea first executed by cyclonesue). They are purely decorative as house phones do not work in community lots. However, there is a totally wonderful London Style Community Phone Booth cover created by

Maylin

that can be used to replace my booths in this lot if you so wish. The booth cover can be downloaded here:

http://www.modthesims2.com/showthre...845#post1812845 MY TEXTURES

:

All stephanie b. walls, floors and ground covers included in houses downloaded from MTS2 can be used in lot creations on any free or pay site as long as I receive credit for the textures. Please do not post my textures (walls, floors or groundcovers) or lots on other sites without my permission or reupload them as your own by giving them color face-lifts without giving me credit for the original design. Thank you!

NOT A CARBON COPY

:

These lots are creations from my imagination based mainly on excerpts from the books and on-line information. I am basing very little on the movie versions of each place, so don't expect exact replica's of movie versions of the various places in the Magic and Muggle World.

MY VISION FOR HARRY POTTER NEIGHBORHOOD

:

My vision for this neighborhood is that the students do not "live" in Hogwarts. I see the school as home to only a few teachers (Dumbledore, McGonagall, Trelawney). Everyone else is spread out in either their family homes or in the Summer Houses.

MY SOURCE

:

I used the floorplans found on the Harry Potter Lexicon site as inspiration. For extensive Potter INFORMATION, checkout the HP Lexicon here:

www.hp-lexicon.org MY JOURNAL

Be sure to download the entire Harry Potter Collection of lots here at Mod the Sims 2 (as they appear):

http://www.modthesims2.com/member/StephSim

Enjoy the community lot!

Stephanie

2U

-----------------------------------------------------


Lot Size: 5 x 5
Lot Price: §0 (Commercial Lot)

Custom Content by Me:
- Snowy Brick Floor 1 and 2
- Snow Blue Bumpy Floor 5 x 5
- Natural Snow Floor 2 x 2 and 5 x 5
- Dark Oak Wood Floor
- Normal Oak Wood Floor
- Seamless Black Granite Floor
- Seamless Grey Granite Floor
- Grey Granite Headstone DD1 and 2 Walls
- Hogwarts Floor 1
- Harry Potter Brick Floor 3
- Inspired Floor 10
- White Marble Headstone 1 and 2 Walls
- White Marble Lichen Ice A and B Walls
- Crushed Ice Terrain
- Big Bumpy Terrain
- Disturbed Snow Terrain
- Grassy Snow Terrain
- Snow Natural (THE BEST SNOW GROUNDCOVER EVER)
- Moss Brick Terrain
- Lichen 2 and 3 Walls
- Snowy Building Wall 1
- Black Granite Wall
- Black Granite Wall Potter 1 and 2
- Desperate Housewives: Young 2 - 4 Walls
- Grey Granite Wall
- Granite Headstone DD 1 and 2 Floors
- Harry Potter Brick 6 Wall
- Harry Potter Brick 8 Wall
- Harry Potter Brick 12 Wall
- Harry Potter Brick 17 Wall
- Harry Potter Brick 17 Leaky Cauldron A Wall
- Harry Potter Brick 17 Leaky Cauldron B Wall
- Purge and Dowse Wall
- Hogwarts Wall 3
- Godric Hollow Walls 1-3 - Post Office
- Godric's Hollow Walls 4 and 5 - Pub
- Godric's Hollow Walls 6 and 7 - Book Cafe
- Godric's Hollow Walls 7 and 8 - Clothes Store
- Godric's Hollow Walls 10 and 11 - Grocers
- London Phone Booth 6 (Alternative)
- London Booth Walls 2
- London Booth Walls 4
- Alternative Color Phone Booth
- Blue and White Ornate (Malfoy Manor)
- Green Floral Wall (Malfoy Manor)
- Godric's Hollow Obelisk Walls 1 - 4
- Godric's Hollow Walls - Potter Ruins 1 - 4
- Snowy Building Walls 2 - 5
- Vibrant Texture 3
- Weasley Wall 6A
- White Marble Floor
- White Marble Walls Headstone 1 - 4


Custom Content Included:
- Red Edge Smoother by By Ailias
- Bootsbrisket's Gravestones by bootsbrisket
- Long and Short Grass with Mesh (Light & Dark Green) by Cazkiwi
- Snow Covered Bougainvillea and Hibiscus by fireflies
- Church Cross (White Mesh & Black Recolor ) by lara9taylor


Packs Needed






For a full list of packs with names, see the
Packs Needed
popup.
Other Information
Number of bedrooms:
Not Applicable: For Commercial Lots
Custom Content Included:
Build and Buy Mode Content: Furniture, decorations, etc.
Furnishings:
Unfurnished: Lot is a basic shell with walls, floors, windows, doors, stairs, and landscaping, but does not contain basic fixtures, plumbing, or furniture.
Starter Furnishings: Lot is furnished similar to how one would expect a real life furnished house or apartment to be

Tags
#Harry Potter, #Potter, #Godric's Hollow, #Graveyard, #Church, #Bathilda Bagshot, #Dumbledore, #Potter Cottage, #Cottages, #stephanie b., #StephSim, #Stephanie
Packs Needed
| | Base Game |
| --- | --- |
| | Sims 2 |
| | Expansion Pack |
| --- | --- |
| | University |
| | Nightlife |
| | Open for Business |
| | Pets |
| | Seasons |
| | Bon Voyage |
~*~StephSim's Creations~*~
❤ Welcome to my little space of the Simming Community!❤
As of July 2016, I've decided to reinvent myself (again). Basically, my Sim Creation Renaissance is long overdue! It's time to release the old and move forward, doing things that sustain me in meaningful ways. ◕‿◕
I shall start with a wonderful new Sim Place to call home! And now the Official Unveiling (....drum roll...):
CLICK HERE to experience StephSim's BRAND NEW SIMS 2 WEBSITE called *** Proudly Banished *** !!!
Proudly Banished is my little storage place for a select few of my Sims 2 creations. Since I will NOT be Simming as much, I wanted to provide a small landing pad for random creations I will be sharing. I will on occasion share NO CC/ LOW CC Lots and MTS related recolors here on MTS. However, my CC LOADED Lots will be Housed at Proudly Banished. I've also add the updated Fully Loaded Versions of the American Gothic Mansion. Be sure to click on the Slideshows when available! You will find a few lots, object recolors, clothing recolors and the Regina Mills Sim (from Once Upon a Time)! There should be a little something for everyone!
Take your time and explore the site and be sure to check out *Sherwood Forest* for my PBK Community Goodbyes!
See you there. (。♥‿♥。)
POLICY
All StephSim walls, floors, and ground covers can be freely used in lot creations on any free or pay site. Feel free to use my neighborhood maps/terrains for any and all of your Simming needs. Feel free to use any objects or object recolors shared on MTS or elsewhere in the Sims 2 community in your creations (lots, movies, stories) Feel free to recolor objects I upload and include the mesh. Feel free to use any Sims I create or my lots for your Sim movie making purposes! In using any of my creations. Credit is not necessary, but please do not claim any shared creations by myself,
Sophie-David
,
Jason Duskey
or anyone who I team with as your own.