Middleground -- Neighbourhood with lots; base game compatible
35,901

Downloads
2,917

Thanks Thanks
444

Favourited
404,050

Views
Featured Upload! This is a featured upload! It showcases the best talent and creativity available on MTS and in the community.

Uploaded: 2nd Dec 2007 at 12:49 AM
Updated: 13th Jan 2015 at 4:18 AM
A perfectly mainstream middle-class suburbia in an idyllic location next to the shore, complete with lots but no sims. With a bit of pre-christmas decoration in most of the lots, because I like the Maxis Poinsettia and .. well, look at the calendar =).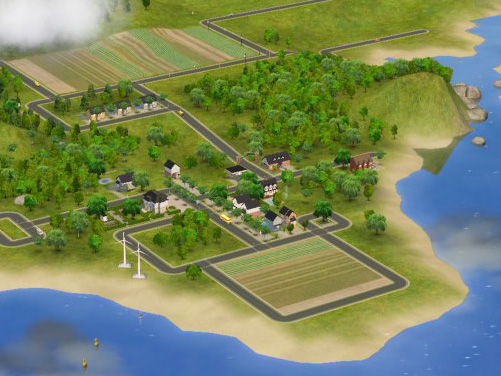 Middleground is centered around a museum and park with city-ish houses down Main Street, older country style houses in Riverside Drive (to the right of the picture) and newly-built family starters in Forest Lane up the hill. There's also an oldfashioned cottage in the woods, two beach/holiday houses, and one house in Dieffenbach Boulevard (down the left side) where I imagine more upperclass houses and villas could be built -- behind the loop at the end of the street would be a perfect location for a small castle or oversized mansion.
The street layout of Middleground is small (no cameramod needed), but still with room to expand. The neighbourhood is 100% flat in the buildable areas; the sc4 terrain (available as a separate download below) is flat in the central part but may have slopes elsewhere.
Middleground will install as N514. Made with the
Empty and Cleaned-up Templates
by SaraMK and Argon @ MATY -- it contains no playable sims, townies, NPCs, or other traces of sim life. Pets users: if you don't want your game to generate random pets when you start playing, the
thread on MATY
has an empty Pets template too.
Map of Middleground: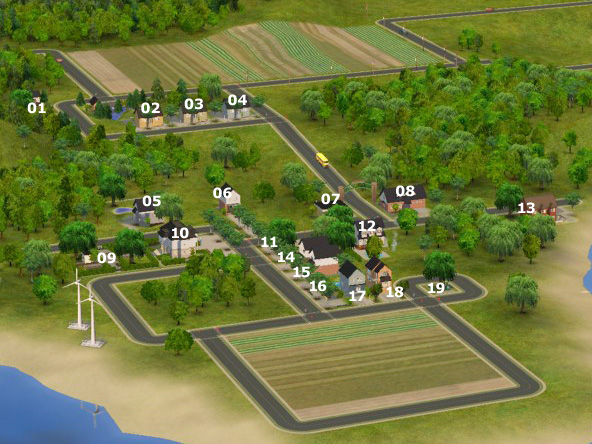 Middleground comes with 6 community and 13 residential lots, 6 of them starters; see follow-up posts for pictures and detailed descriptions of each one. The lake in the upper left corner is not included, that's the "Swimmable Lake" from
this thread
(base game compatible).
R = Residential
C = Community
01
R -
04 Forest Lane
1BR 1BA cottage with basement
02
R -
03 Forest Lane
2BR 1BA starter house
03
R -
02 Forest Lane
2BR 1BA starter house
04
R -
01 Forest Lane
2BR 1BA starter house with pool
05
R -
02 Dieffenbach Boulevard
2BR 2BA
06
R -
12 Riverside Drive
2BR 2BA starter house
07
C -
10 Riverside Drive
Mini Market (Groceries)
08
R -
08 Riverside Drive
2BR 2BA country house
09
C -
Middleground Cemetery
10
C -
01 Main Street
Museum for Asian Arts and Crafts
11
C -
Middleground Central Park
12
R -
09 Riverside Drive
2BR 2BA with garden and pool
13
R -
01 Riverside Drive
3BR 2BA + spare rooms
14
R -
02 Main Street
2BR 2BA
15
R -
03 Main Street
2BR 2BA starter house
16
C -
04 Main Street
Newsstand
17
R -
02 Langerak Drive
2BR 2BA, with pool
18
R -
01 Langerak Drive
1BR 2BA starter house, with spare room
19
C -
Willow Square
(tiny park)
Most of the lots are rather small, between 1x1 and 2x4. The largest ones are 3x3 (the cemetery and the museum).
All residential lots have a garden and are furnished for at least 2 sims. Every house includes the usual starter equipment (double bed, table and seating for two, bookshelf, lights in all furnished rooms and outside, toilet, bathtub or shower, fridge, kitchen sink, phone, trash can, smoke detector, burglar alarm -- most of the houses have some extras on top) and has room for at least one driveway.
Playtested in the Base Game, Base+NL, and Base+Seasons.
Snow and other weather effects on the screenshots are a Seasons feature
-- there are no custom terrain paints or snow decorations included. Community lots are not playtested as owned businesses, only as visitable lots. All lots are tested for adequate lighting at night and are landscaped to a reasonable degree (there's not just blank terrain underneath the snow).
Compatibility:
Middleground should work for everyone -- it's made in the Base Game, residential lots are prepared for NL with room for driveways, all lots are playtested in Seasons for weatherproofness, gardens are easy to fence off (if they aren't already) against strays/pets, businesses are ready for OfB with lockable areas and staff toilets. I hope that BV users will be able to place at least a few beach lots somewhere; this I can't check out myself so if it doesn't work you'll have to build non-BV beaches instead (get frillen's
floortile hider
if you do, it really makes a difference).
How to install:
1.
Download middleground_customcontent.rar, expand and put in My Documents\EA Games\The Sims 2\Downloads
2.
Download middleground_neighbourhood_N514.rar, expand and put in My Documents\EA Games\The Sims 2\Neighbourhoods
3.
Start your game: Middleground should appear as last entry in your Neighbourhoods menu (unless you already have one that has a higher number).
Middleground will be N514. Please make sure that your N514 folder ends up in the /Neighbourhoods folder *directly*, not inside a subfolder! (thanks to
JessieBee185
for catching that one). In case you already have a N514 hood, rename the folder you downloaded from here and all files inside it that start with "N514_" (the ones in the Lots and Thumbnails subdirectories too) with a number that you don't already use. Anything up to "N999_" works, in my experience.
Alternatively, if you want this to be a subhood for example, or if you want your default townies in it, you can also install the hood as above, then use the sc4 terrain to make a new empty (sub)hood, move the houses over to that one and delete Middleground.
Enjoy!
Files below:
- middleground_customcontent.rar -- all custom content that's needed for this hood (see list) in one neatly subfoldered pile
- middleground_neighbourhood_N514.rar -- the compressed Neighbourhood folder
- middleground_sc4.rar -- the .sc4 file + previews for those who only want the blank terrain
Please do not ask for
zip
files: Windows users, get
WinRAR
| OSX users, get
UnRarX
For two people,
lots #15 and #17
(3 Main Street and the blue one in Langerak Drive, number 1 or 2 or whatever) didn't show up in the neighbourhood -- if you have the same problem, you can download them separately from
post #53 of this thread
. I'd reupload the whole thing if I knew what the problem actually is, but right now I don't (if you've got any ideas, please post).
Custom content:
What's contained in middleground_customcontent.rar
Doors/Windows:
- Two doors by MaryLou @ MTS2, from
this thread
- Three windows by MaryLou @ MTS2, from
this thread
- White recolor of the Maxis French Door by HolySimoly, from
this page
Columns:
- Timber Column and lattice + recolours by Reyn @ MTS2, from
this thread
- Wooden post by Marina, from
this page
Stairs:
- Open Underneath Steadfast Stairs by crocobaura @ MTS2, from
this thread
- Recolorable Wooden Deck Stairs by Numenor @ MTS2, from
this thread
- Recolorable Wooden Deck Stairs by Reyn @ MTS2, from
this thread
- Two deck stair recolors by justmoi @ MTS2, from
this post
- One deck stair recolor by
nengi65
@ MTS2
- One deck stair recolor by Reyn @ MTS2, from
this thread
Please see the threads linked above for installation instructions -- the lots will work just fine if you don't install the stairs properly, but you won't be able to select or change them or use them in other lots (they won't show up in the catalogue, which is what the installation procedure is for).
Other:
- White Pinegultcher fence by
nengi65
@ MTS2
- Ceiling rim and white recolour by 4esf, from
this page
- Two wallpapers by
larsson1970
@ MTS2
- Four wallpapers by myself
Buy Mode - Meshes:
- Classic Wreath and Poinsettia by
Maxis
Buy Mode - Recolors:
- White recolor of the Maxis cheap toilet by perdita_x_dream @ MTS2, from
this thread
- White recolor of the Maxis cheap stove by
WebbyMom
@ MTS2
- Two recolors of the Maxis "Wall Flowers" light by justmoi @ MTS2, from
this thread
Thanks:
- All of the authors of the custom content listed above, for making it and especially for allowing it to be redistributed
- SaraMK and Argon for their
Empty and Cleaned-up Templates
- Numenor for the
Base Game Starter
- Frillen for
this collection
- Andi8104 for the
these mini lots
- MaryLou for
those mini lots
- Everyone involved in the LotExpander/LotAdjuster development: without you, the nonstandard lot sizes in this hood wouldn't have been an option.
Thanks in advance:
Please don't PM me with downloading issues or build mode problems (post in the appropriate forums instead) and don't ask me for sc4 files or Body Shop content (I do lots and won't consider anything else). Any feedback related to this download, please post here instead of PMing me. Thank you.
Packs Needed
None, this is Sims 2 base game compatible!
Sharing and recycling:
Everything I upload here is published under the current
BY-NC-SA Creative Commons
license (Attribution, Non-Commercial, Share-Alike). In practical terms:
– Feel free to recycle, you don't need to ask.
– For the attribution, please link to the upload you're using wherever possible (instead of my profile). This is particularly important with edits made for/with different games or game versions.
– If you use my stuff in something you make, please upload the result to a free, accessible, noncommercial site with no more restrictions than these. Code must remain open source; meshes and other material must remain re-usable.
Please do not redistribute any unmodified files – link to the upload post instead.