Sims

>

>

Big eyes and blue hair/All the boys look like they're girls/DESU DESU YO
*OUTDATED* King Boo and his Minions! (From the Mario Series) *OUTDATED*
MTS has all free content, all the time. Find out how YOU can help to keep it running.
Tell me how...
458

Downloads
197

Thanks Thanks
19

Favourited
48,407

Views

Uploaded: 1st Feb 2008 at 4:12 AM
Updated: 13th Dec 2008 at 6:36 AM - *OUTDATED*










YOU MUST READ THIS NOTICE BEFORE DOWNLOADING!!! DUE TO RECENT THEFT OF MY WORK, I AM PUTTING THIS ON ALL MY DOWNLOADS. YOU ARE NOT TO REDISTRIBUTE MY WORK VIA ANY OTHER SITE, INCLUDING THE EXCHANGE. IF I FIND MY WORK HAS BEEN STOLEN, I WILL NOTIFY THAT SITE THAT IT MUST BE TAKEN DOWN, AND YOU WILL BE CONTACTED BY ME. I DO NOT ALLOW MY WORK TO BE REDISTRIBUTED. READ MY POLICY ON MY UPLOADS PAGE.













PLEASE NOTE THESE ARE OUTDATED, IF YOU WISH TO DOWNLOAD THE NEW VERSIONS, GO HERE:
http://linna.modthesims2.com/showthread.php?t=302777



My very first mesh! A strange choice, I think, of subject, but it sure was fun to make!
Anyway, these are completely new meshes, and of course you can see that they are the boos from the Super Mario Series.
What wikipedia says on Boos:
"Boos are spectral beings resembling traditional Halloween ghosts, having beady eyes, long tongues, vampiric canine teeth and nubs for arms. The first appearance of Boos was in Super Mario Brothers 3, where they appear under the name Boo Diddlies and can be found in fortresses. Boos possess powers commonly associated with ghosts, such as the ability to travel through solid objects, teleportation and invisibility. Due to being intensely shy, Boos cover their faces with their arms and cower when directly looked at and become semitransparent, though this trait has been used somewhat less in recent games for the sake of game play. They now seem to have a weakness for light.
Boos appear as playable characters in various Mario spin-off games, such as the Mario Party series, and various sports games, where they sometimes act as items as well, doing deeds such as stealing objects from opponents. Though Boos are depicted as being malevolent in most games, some portray them as simply being mischievous and occasionally good, like in Paper Mario, where a green female Boo named Lady Bow acts as an ally of Mario. In Super Mario Galaxy, an item known as a Boo Mushroom is introduced that allows Mario or Luigi to take on the form of a Boo, gaining some of its abilities.
Boos appear in both The Adventures of Super Mario Bros. 3 and Super Mario World animated series, and printed mediums like Nintendo Adventure Books and Super Mario Adventures as well. Several Boos also make a small cameo in the Super Mario Bros. film on a television screen depicting a scene taken directly from Super Mario World."
So there you have it, boos are ghosts. What it does not say is that pink boos are the opposite of boos in that they like sunlight and are scared of the dark.
I made your basic boo mesh, recolored it pink, and made 2 king boo meshes. Wikipedia has an article on king boo too:
"King Boo first appears as the boss of Luigi's Mansion and plays minor roles in various other Mario games. He is member of the Boo species, though he is larger than the average Boo, and dons a crown, a large ruby in Luigi's Mansion, and a regular crown in subsequent appearances, on his head. He strangely has a blue tongue and red eyes (as opposed to the regular red tongue and black eyes) in his first appearance (as shown on the image to the left). King Boo also has a distinctive cackle that is lower in pitch than that of smaller Boos. After Luigi's Mansion, he appears as a boss in Super Mario Sunshine, Super Mario 64 DS, Mario Kart DS and Super Princess Peach and continues to appear as a character in spin off games such as Mario Kart: Double Dash!!, as the partner of Petey Piranha, and other sports games. He also gives out stars on his own board in Mario Party 8 entitled "King Boo's Haunted Hideaway."
In Luigi's Mansion, King Boo lures Mario and Luigi to the mansion by making them think they won it through a giveaway. After Mario arrives, King Boo traps him in a painting. He acts as the final boss, whom Luigi must defeat in order to free Mario. When Luigi reaches the mansion's secret altar, where Mario is being imprisoned in a painting, King Boo sucks Luigi into the painting of Mario, and then attacks using an unidentified Bowser-like entity as a tank of sorts."
So that's king boo in a nutshell. He can also change size at will, so I made a normal boo-sized king boo, and a huge one. you can do a TOTALLY WICKED thing with the two king meshes. Assign the big king to one clothing selection (undies, for example), and assign the small one to another selection, and have them change from on to the other like he's changing size. It's a great comedy routine. :D
The tongues on all the smaller boos swing back and forth when they move,
but the bigger king boo doesn't because it didn't look right.
The
zip
file that says "smallboos.zip" contains the regular boo, the pink boo, and the smaller king boo. The one that says "kingboo.zip" contains the big king boo.
all comments welcome, and remember this is my first mesh, so it may have minor problems. I haven't found any yet, but it could happen.
TERMS OF USE:
You may recolor this, but you may NOT include the mesh in the recolor, always link back here for the mesh. You may not post the recolor on any paysite ever, and if you wish to upload it to any freesite other than from mts2, you must send me a heads-up PM with a link to the website, just so I can keep up with where my mesh is going.

You may not sell this mesh, or redistribute it EVER without my permission, and you may not claim it as your own. You may use it in picture or videos, but send me a link to the picture or video so I can see it. These may never be used in any adult uploads (how you could,

I can't see, but...) This is just to protect my creations from plagarism, I'm not trying to be harsh. If you feel that I wouldn't approve of what you want to use my creations for, just ask me.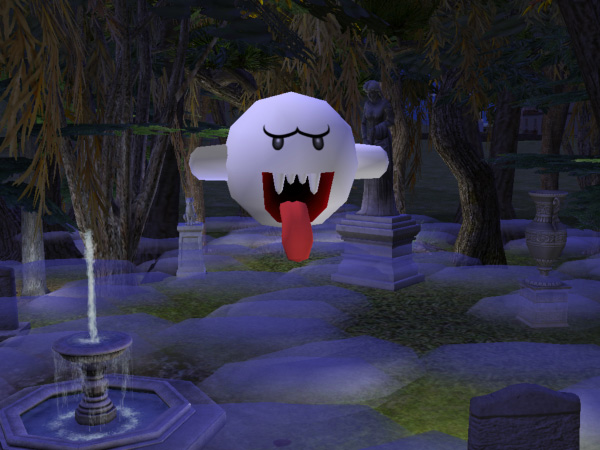 Big King Boo: 847 vertexes
2236 polys
Small King Boo: 1224 vertexes
2236 polys
Regular Boo (pink and white): 795 vertexes
1408 polys
Custom Content by Me:
- A boo by rapsheba555
- A boo by rapsheba555
- A pink boo by rapsheba555
- A boo by rapsheba555
- A boo by rapsheba555
- A boo by rapsheba555
- A boo by rapsheba555
- A boo by rapsheba555
Additional Credits:
Adobe Photoshop, SimPE, Milkshape