>

New terrains for your custom neighborhoods & CAS screens
Virgin Valley Neighborhood-My first
MTS has all free content, all the time. Find out how YOU can help to keep it running.
Tell me how...
349

Downloads
90

Thanks Thanks
3

Favourited
12,966

Views

Uploaded: 13th Mar 2008 at 6:39 PM
Updated: 21st Mar 2008 at 3:57 PM - text correction, untick req ep
Well, I decided that I liked this neighborhood enough after I played it, so I decided to make it my first SC4 upload.
I figured since this is my first attempt at uploading a neighborhood that Virgin would be an appropriate title although the story I have for it is that a young man seached far and wide for a beautiful, flaxen-haired maiden that was as pure as mountain snow and known to be able to bring the devil himself to his knees with her crystal blue eyes and glorious face, only to find that she had taken her own life by drowning in the river that passed through the valley. She could no longer bear the loneliness. The young man then vowed to stay by her side by placing a wreath of mountain flowers onto the water and since he did not know her name, he called the valley... Virgin Valley. uh, well, winded, but that's what I came up with.
Anyway, make certain you extract these files to C:documents, EA games, the Sims2, SC4 terrains
**DO NOT PUT IN DOWNLOADS**
This is my first neighborhood upload, so if I did miss anything or you are having problems with it, PLEASE LET ME KNOW!

Because the neighborhood is fairly large, you will want to use this hack to view/use the whole thing:
GunMod's Camera Mod 3.1
Correct me if I am wrong so that I can update this file.
Okay, enough blabbing.. download and give her a shot!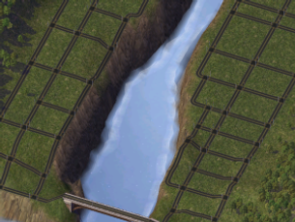 Additional Credits:
GunMod for the awesome hack so I can use the larger neighborhoods fully!
Kalamity's Law
All I ask is common courtesy, if it's one of my sims, or lots, feel free to use them in pictures. (A pm to let me know where they are would be cool so I can see how they turned out for someone else, a link back to me would be appreciated, too). I will bring down the wrath of Kalamity on anyone who claims them as their own! I take a lot of time to make them look nice!(With proper credits to all the creators skins, hair, etc.-if they aren't my own- Thank you all) As far as any walls, floors, groundcovers, etc; please provide a link to them to show where you got them and all. None of my items are allowed to tag along on uploads to any type of paysite and cannot be claimed as your own! I have a fragile ego, after all ;) , and don't be afraid to make suggestions or polite critiques! After all, I need to know how my stuff turns out for you and if you have any suggestions to keep my busy. Otherwise, enjoy that's what I'm here for, too!
I also want to add that I am no longer creating for Sims 2 at this time, but I still appreciate the thanks and feedback. I am still trying to wrap my brain around the Sims 3, so have patience, I will have something out there eventually! ;)