>

New terrains for your custom neighborhoods & CAS screens
Orville - A Victorian Neighborhood w/ Lots - Updated 30th May
MTS has all free content, all the time. Find out how YOU can help to keep it running.
Tell me how...
13,736

Downloads
863

Thanks Thanks
103

Favourited
150,916

Views
Picked Upload! This is a picked upload! It showcases some of the best talent and creativity available on MTS and in the community.

Created by The Sim Supply View Policy / About Me View all Downloads
Uploaded 19th Apr 2008 at 12:33 PM · Updated 17th Jul 2021 at 12:45 PM by HugeLunatic

STAFF NOTICE: This neighbourhood contains stub sim data, aka corruption. We therefore recommend that you use HoodChecker's "Fix" option on it before playing.
---------ORVILLE---------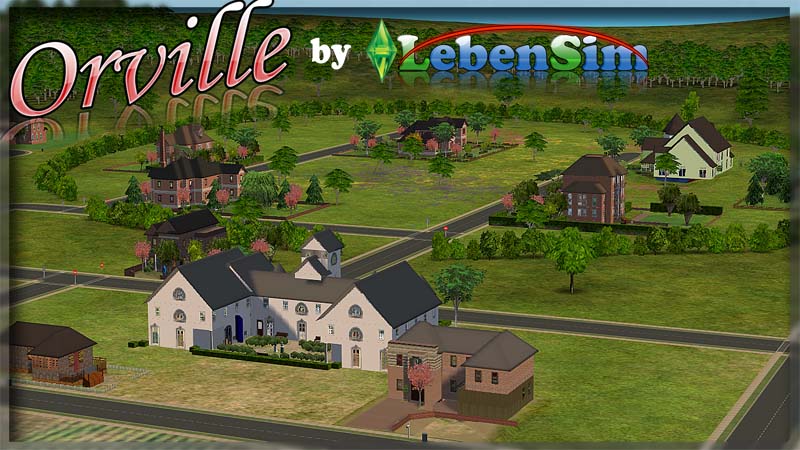 _____________________________________________________________________

UPDATE - 17th May

Orville Complete Package
No Fuss!
Seeing as we have had a few problems with the lots in Orville not working and such Flabaliki has made a new .exe file that contains the whole neighborhood already which automatically installs everything in the correct places.
Orville - Town History
The old Victorian London neighborhood was founded back in 1863 by Orville Williams & Harold Shaw. The two friends were both entrepreneurs and set out into the english country side to start their own town where everyone knew each others names.
After one year the town had grown to 50 people. It was a community the was like clockwork. Every person had their job whether it be a farmer, baker or even an educator they all played their part in Orville.
In 1865 the town had blossomed in size to 200 Sims. Even though the town was small; just like Williams and Shaw had visioned, most Sims lived in the Pumbury Place Apartment block which housed over 50 sims.
The town has stopped growing since and sims began to move away after the death of Williams in 1902. As the first world war settled in the sims moved away to a safer town closer to supplies in case they needed it.
The town is a little dusty but has been left in mint condition. Until this day no other Sim has lived there. Will you bring back Orville and Harold's vision of a community that knows everyones name?
The town is in your hands now. Complete the story of Orville!
Brief
Orville contains 22 lots and each of which have been play tested by the creators of each lot. Orville was started on the 25th of March when Mauriemom suggested the idea that we submit an entry for the Victorian London challenge. We were already going to work on a neighborhood but Maurie's idea gave us the extra push to make this neighborhood even better!
The green circle of trees you can see in the neighborhood is all of the upper class homes.
Below is a key of the lots in the neighborhood: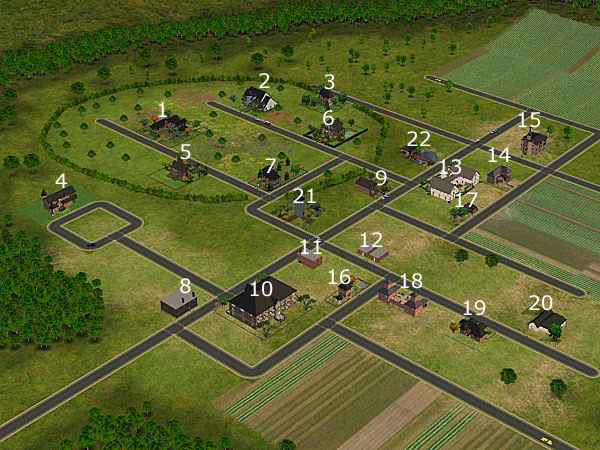 Pick which lots you like the look of and find them below.
Installing
1. Download the file OrvileSC4Terrian.rar
2. Extract it to My Documents/EA Games/The Sims 2/SC4 Terrains
3. Download the file OrvilleCustomContent.rar
4. Extract it to My Documents/EA Games/The Sims 2/Downloads
5. Download the file N532.rar
6. Extract it to My Documents/EA Games/The Sims 2/Neighborhoods
7. Download any of the 22 lots you wish to have in your game
8. Extract the downloaded lots to My Documents/EA Games/The Sims 2/Neighborhoods/N532/Lots
9. Start the game and enjoy!
Thanks
A special thanks goes to Tiggerypum for all of her help on this project!
A bit about us
http://thesimsupply.com/images/MetroSnack/logo.png
A Little History
LebenSim, as it was formally known prior to December 27, 2008, was infact founded as a small building group on Mod The Sims in March of 2008. Sir_Stan, a member at Mod The Sims, was the member who jump started the entire group, he, however, never appeared again after his original post. Once the original members of our group had been set (choccy94, Flabaliki, mauriemom, PenChris, Sir_Stan, Solloby, Pokedude9777 and Deluxe Designs) we proceeded to set up our own free website to allow us to share our projects and creations with the public (Original Website).
When June 2008 rolled around, the group had made the decision to purchase a hosting package and set up their own site. Flabaliki decided to cover the costs and develop the site further. Nearing the end of 2009, the group decided to pick a new name, one that was easy to pronounce, and actually had a meaning to it. They came up with, The Sim Supply. With that, on January 1st of 2009, http://thesimsupply.com was officially opened.
TSS as it is now, was revamped and remade from the ground up in December of 2009, and then officially updated and opened on January 1st 2010, one year from the sites original opening date.
The TSS Community
TSS now has a large community of creators and members at our own site, we offer downloads, video tutorials, podcasts, competitions, and a friendly community.
See What We're Up To
You can find out more about us on our very active forum which hosts downloads, loads of information about us and our projects and lots of sims related chat topics called
The Sim Supply
. You can also upload your content to this site! This includes lots, sims, objects, movies and more!
Thank you from the whole team,
-The Sim Supply-
p.s.
we also go by the name TSS for short ;)