Sims 2

>

>

Pixel dollhouses/For sims to live their lives in/Nice houses for sims
Petty France - Seasons Shrunk Lot for your Downtown
929

Downloads
272

Thanks Thanks
16

Favourited
26,279

Views
Uploaded: 30th May 2008 at 3:36 PM
Updated: 30th Aug 2008 at 9:50 PM - added thanks to moderator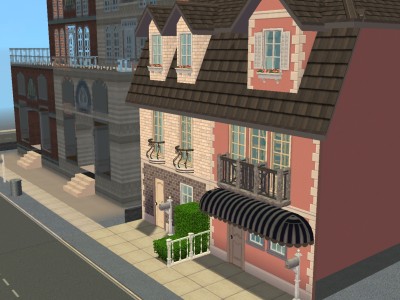 Description:
This is a typical old French house, built during the 18th century. The building is divided into two narrow tenements, one of which has been converted for commercial premises.
The left side, in grey and white brick, is barely furnished for one or two sims, with room for more. The street door opens onto a living room, with separate eat-in kitchen at the back. A small toilet takes up one corner, and there is a door to the pocket-handkerchief garden. Parking is available in the back alley. (car not included)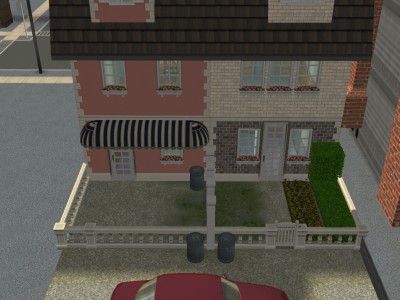 Spiral stairs lead to the first floor, which has a spacious hall overlooking the street, a bathroom and the master bedroom. The stairs continue up to the attic, containing another good-sized chamber and a second small bathroom. Dormer windows give this floor plenty of light.
Although there is not much furniture, the basics are provided, including phone and fire alarm. New tenants can have all the fun of decorating!
The right-hand side of the building has housed both a beautician's shop and a bakery. The ouside has been plastered and painted in rose, while the interior colouring is neutral. The upper floors have not been used recently, but are accessible. This side of the lot is presented unfurnished.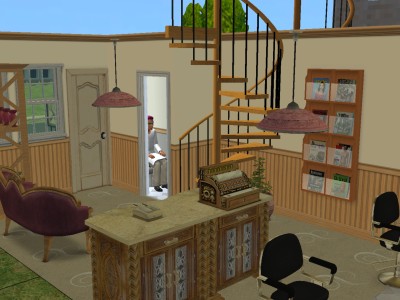 The shop has currently no access to the laneway, but a gate could be added. It would also be simple to pull out an internal wall or two, and join the upper storeys to make a larger residence.
Notes for Players:
-I always aim for buildings to be starters if possible, and the bare lot is just under $20, 000. However, I thought it best to add some furnishings, so it isn't in the starter category. If people ask, I can add the unfurnished version later.
- I am hoping this kind of lot will be very useful when the Apartments EP comes out - until then, try lockable doors, or keep the two sides under one tenant. I tested the lot with two sims, living in one half of the building and running two different businesses from the other half. It worked very well.
-The house has a sideways driveway in the rear. I left it in since it isn't worth very much money, and I don't think downloaders would want to add it for themselves. If you want to cheapen the house a bit more, you could remove that.
-I added an extra letterbox and rubbish bins. Only one of the letterboxes will be used by the postie. Any of the bins will work.
-Also, since the letterbox is not in the default postion on the edge of the road, the movie shown when new sims move in will look odd. It doesn't affect game play at all, only that movie.
-This lot was shrunk with LotAdjuster 1.1. It has been playtested with new CAS sims for two sim-weeks without problem.
-The house is built edge-to-edge on the left and right sides, so it will look good in urban areas. There is a single tile of 'dead' space on those two sides, blocked by walls perpendicular to the edges.
-
Please note:
If you want to make structural changes to this lot, be aware that the last two tiles from the edge are unbuildable in exactly the same way as on all other lots. This includes the outermost tiles of the house in this case. You cannot modify the left and right outside walls (parallel to the lot edge), the "fake" front and back walls, the roof, or floor tiles on the edges. However, you can *delete* all of that if you wish. You should be able to modify all inside walls. Using the shift key may assist in altering floortiles on the edges.
-
More information:
Discussion: Lot Size, Orientation, Rotation, etc. --
Research thread
@ mts2; the first post has lots of relevant pointers
LotAdjuster
download thread -- only post there with issues related to the tool itself!
1x2 (shrunk)
Unfurnished lot with driveway 19, 728 (I can upload the file if it is wanted)
Partly furnished lot with driveway 25, 128
Separately packaged
- Frillen's invisible driveway, Marvine's stair animations. For some reason, these never package with the rest. Install these files before using the lot.
Required But Not included
- Seasons-matching country windows ('Truth Divider' and 'Truth Divider No Shutters') by Susan of
Simsconnection.com
. Please visit that link to get the meshes, and install them before using the lot.
Lot Size:
1x2
Lot Price:
25, 128
Custom Content Included:
- invisible Driveway by
Frillen
- Stair Animations by
Marvine
- Puerta De Cedro Con Cristales "La Clásica" by
temptress
- Window Balcony 2 Tile by
macarossi
- Curved Balcony 2 by
macarossi
- White brick wall 002 by
LyricLee
- Simple Spiral Stairs - Left turn by
Marvine
- Spiral Stairs - Railing - Right turn by
Marvine
Additional Credits:
-Frillen's extracted object collection (
http://sumomo.modthesims2.com/showthread.php?t=131127
)
-Mootilda (the LotAdjuster)
-Plasticbox - for pioneering the upload policy for shrunk lots.
Thanks also to the moderator for their assistance.
Packs Needed




For a full list of packs with names, see the Packs Needed popup.
Other Information
Number of bedrooms
:
– 4 Bedrooms
Custom Content Included
:
– Build content only : only Walls, floors, terrain paint, fences, stairs, windows, doors, etc.
Furnishings
:
– Starter Furnishings : Lot is furnished similar to how one would expect a real life furnished house or apartment to be
Packs Needed
| | Base Game |
| --- | --- |
| | Sims 2 |
| | Expansion Pack |
| --- | --- |
| | University |
| | Nightlife |
| | Open for Business |
| | Seasons |
About Me
One of the best things about the Sims 2 community is the generosity of so many people, who make things, write tutorials and generally encourage everyone to get the most out of the game. I have benefited enormously from the work and advice of many others, and I thank them for their time and effort.

If you like my work, remember to hit the Thanks button. It's nice to feel appreciated. Constructive feedback is also welcome - I can't fix it if I don't know it's broke.

Please enjoy my creations, and keep it free!