Sims 2

>

>

Trees, Flowers, Shrubs
Manor House Collection: Garden [UPD Oct 17]
169,126

Downloads
6,884

Thanks Thanks
586

Favourited
401,545

Views
Featured Upload! This is a featured upload! It showcases the best talent and creativity available on MTS and in the community.


Uploaded: 28th Sep 2008 at 12:41 AM
Updated: 18th Oct 2008 at 3:59 AM - add notice
Upd Oct 17
: It's two weeks late, but I finally have a fix for the problem pathlight.
Sorry for the troubles everyone.

__________________

After a long wait, here is the second set in my Manor House Collection project (and my first upload post-MOCCA! Mmmmm...mocca...).
This is the Garden set, and features numerous topiary bushes and other garden-type things like urns and lampposts.
I hope you enjoy it

(please note that I used items NOT created by me, as well as unreleased Manor House Collection pieces in the following pics of the garden/conservatory).
__________________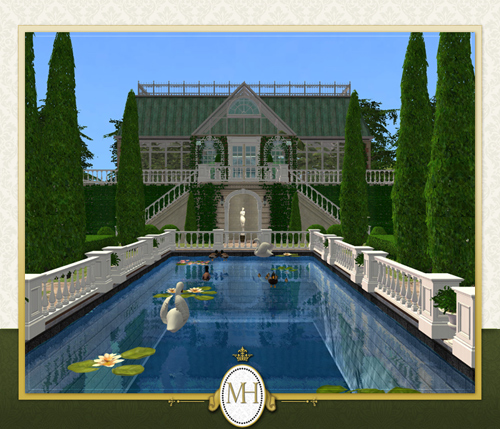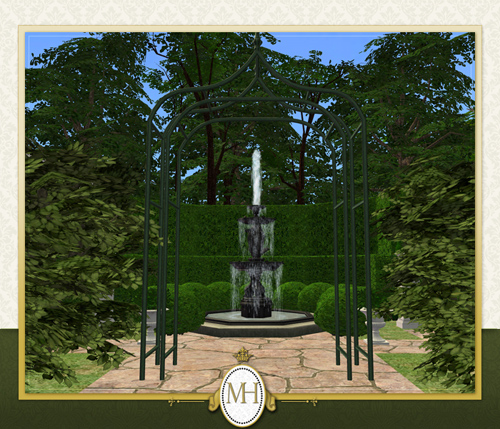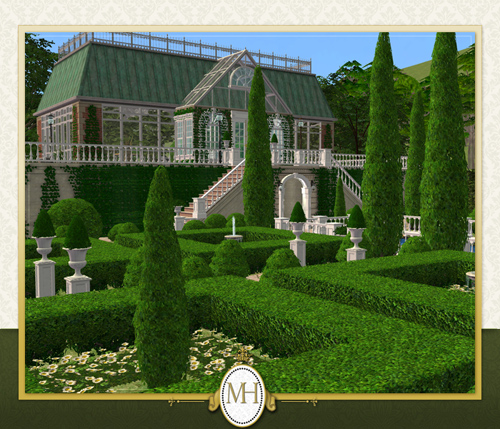 __________________
Set Contents
(repository objects are bolded)
Topiaries/Hedges (all topiaries and hedges are slaves to the Maxis 'Boxy Lady' hedge and are
plastic
, i.e. requiring no watering or pruning):
-cone
-ball
-oval
-tower
-miniature oval
-miniature ball
-miniature cone
-miniature tower
-tall monolith hedge (height is taller than the large Maxis hedge)
-medium sized hedge (height is midway between the small and the large Maxis hedges)
Lights:
-pathlight (+ gold and bronze recolors)
-sconce (+ gold and bronze recolors)
-lamp post (+ gold and bronze recolors)
-ceiling pendant (+ gold and bronze recolors)
Ivy:
-
thick wall ivy
(this is the repository object for all the other ivy plants and contains all color information)
-moderate wall ivy
-window ivy
-right facing ivy
-left facing ivy
-upward trailing ivy
-downward trailing ivy
Trees/Other (the trees are not seasons ready):
-tall hardwood
-
great oak
(repository object--contains color info for the large oak tree)
-mighty oak
-urn
-
pedestal urn
(contains 4 different recolors; is the repository object for the floor urn)
Polygon Counts:
Hardwood tree: 1518
Tall and medium hedge: 1190
Lamp post: 1884
Great oak: 4873
Mighty oak: 4831
Path light: 1350
Ceiling pendant: 1670
Sconce: 1818
Topiary ball: 730
Topiary cone: 730
Topiary oval: 730
Topiary tower: 1406
Miniature topiary ball: 730
Miniature topiary cone: 730
Miniature topiary oval: 730
Miniature topiary tower: 1406
Urn: 1378
Pedestal Urn: 1488
Ivy Full Wall: 940
Ivy Left/Right: 304
Ivy Up/Down: 368
Ivy Window: 192
Ivy Wall: 312
Additional Credits:
SimPE, CEP, Photoshop, 3D Studio Max.
ETA: I made a mistake in the preview images. The tall thin tree should be labeled 'Hardwood', not 'Great Oak'.
Upd Oct 17
:
!PLEASE READ!
I've added a fix for both the pathlight and the topiary bushes. These fixes are
NOT
included in the MHGarden.zip file!
Previous and first time downloaders alike MUST download these two zips if they want the fixed files in their game
!
Pathlight [fixed Oct 17].zip
contains ONLY the pathlight file. Numenor was kind enough to come up with the fix for me, but I couldn't completely test it myself without uninstalling all of my EPs. I'm deferring to his superior modding skills and trusting that the fix will work for those who had the flashing purple problem.
You must allow this file to overwrite the original cmmanorgardenpathlight file. PM me if you have further issues with the pathlight
after
installing the fix.
Topiaries [fixed Oct 17].zip
contains ALL the topiary files, but they have been edited to prevent your Sims from walking through them.
You only need download this file if you prefer your Sims didn't pass through the bushes. You must allow these files to overwrite the original topiary files.
Hey you!

***ANNOUNCEMENT***
Due to school obligations, I am taking a hiatus from creating until spring of 2010. Please see my journal for more details.
http://i29.photobucket.com/albums/c...mts2_policy.jpg
_______________________________
Thanks for visiting my page! I invite you to check out my journal, where you can find information on my current and upcoming work, or just head straight to the downloads area!
***Please Read***
I will not answer any PMs about downloading or questions about where to install downloaded files. If you are having problems
downloading
a file, that is a site issue I CANNOT help you with.
The 'Game Help' section of this website exists for that reason. It was put together by people who are heaps more knowledgeable than I am. Any questions about troubleshooting/the mechanics of downloading will be ignored and deleted.
However, if my files cause any in-game issues, I encourage you to PM me and chew my head off.