Sims 2

>

Buy Mode

>

>

Plants, sculptures, wall hangings & paintings, mirrors, curtains, and miscellaneous.
Eight Simlish Fairy-Tale Posters for the Sim Kids
1,927

Downloads
482

Thanks Thanks
45

Favourited
44,516

Views
Picked Upload! This is a picked upload! It showcases some of the best talent and creativity available on MTS and in the community.


Uploaded: 28th Sep 2008 at 9:59 PM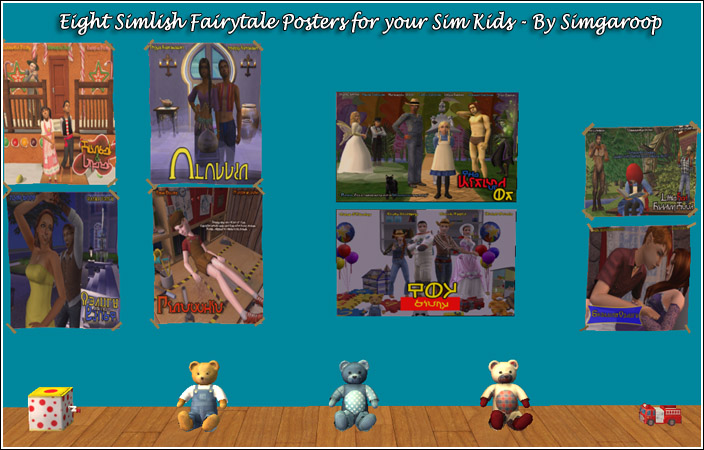 I'm always looking for cute paintings and posters to decorate my sim kids nurseries and bedrooms, especially if they are "simlish". So far, I've had little luck, so I decided to make my own.
I'm currently working on a few cartoons, videogames and superheroes sets of simlish posters for the kids.
But for now here's my first set, featuring several Sims from all the Pre-Made Maxis neighborhoods (except for Belladonna Cove) disguised as fairy tale characters.
Descriptions and required EPs for each poster below: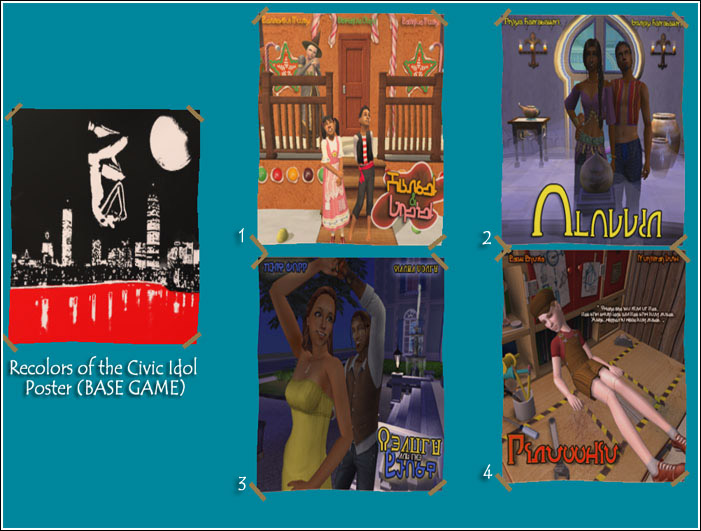 1. Bennedict Monty, Catherine Viejo and Beatrice Monty in
"Hansel and Gretel".
2. Priya and Sanjay Ramawsami in
"Aladdin"
.
3. Bianca Monty and Kent Capp in
"Beauty and the Beast"
.
4. Beau Broke and Mortimer Goth in
"Pinocchio"
.
The quote in the middle says:
"There are two kind of lies, lies with short legs and lies with long noses. Yours...happen to have long noses."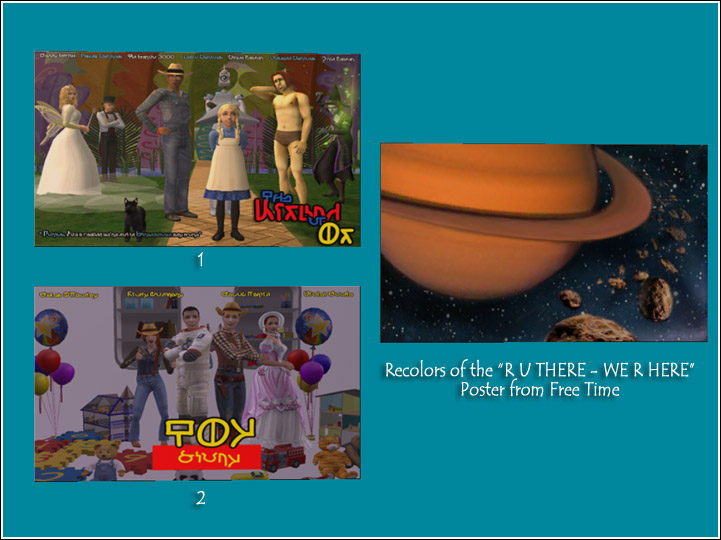 1. Jenny Smith, Pascal Curious, Tin Servo 3000, Lazlo Curious, Circe Beaker, Vidcund Curious and Erin Beaker in
"The Wizard of Oz"
.
Quote at the bottom:
"Portos, I've a feeling we are not in Strangetown anymore..."

2. Jules O'Mackey, Ricky Contrary, Jacob Martin and Violet Jocke in
"Toy Story".
(Technically, this is not a Fairy-Tale, but I got inspired to take this picture while I was looking for custom content for my posters).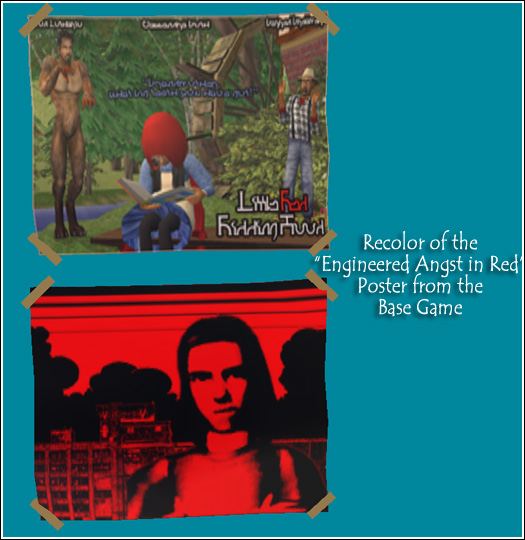 Don Lothario, Cassandra Goth and Darren Dreamer in
"Little Red Riding Hood"
.
Quote in the middle:
"Grandmother! What big teeth you have got!"
(Picture in the Thumbnails below)
Puck Summerdream and Hermia Capp in
"Sleeping Beauty"
.
(I gave them more "modern" looks because I just couldn't dress Hermia in a fancy princess dress!)
Terms of Use:
You are free to do anything you want with them (pictures, stories, include them in FREE lots). There's one exception, though: Please don't upload them as yours in another site or use them to create Paysite content/lots, all right?
Enjoy these posters!
Additional Credits:
Custom Content Used in the Posters:
Hair: Maxis, Nouk, All About Style, Birhen.dk, SimArtistsUnion and Kavar (Insim).
Clothes: Maxis, Sherahbim (MTS2), CatOfEvilGenius (MTS2), Parsimonious, Marvine (Insim), SynapticSims (Insim), kalynn06 (MTS2), Aligeth (MTS2), FifthAce2007 (MTS2), All About Style, SunnyMonster (MTS2) and Emma (at Illusions of Grandeur).
Genetics: Eyes by Icnitos (MTS2), regular skins by engram_au (Livejournal), wolf skin by SynapticSims (Insim), Lion skin (tail and ears) by Genesims and BJD skin by Teru_k (MTS2).
Makeup: Helaene, Nouk, Pooklet (Garden of Shadows), Rensim, Anva (MTS2).
Accesories: Generalzoi (MTS2) and PronupSims.
Objects: SimCredible Designs (Orpheo and Fun Corner sets), Crocobaura (MTS2), Lethe_S (MTS2) and Parsimonious.
Lots: Parsimonious and jhd1189 (MTS2).
Required Mods:
- OMSPs (JohnBrehaut1 @ MTS2)
- Invisible magicsplay recolor (by pfish @ MTS2)
- SarahMK's hack to allow neighborhood deco in lots (MATY)
- Lot Debugger (to turn Circe into a witch) from MATY
- Insiminator 2.9
- Jaydee's Animation boxes
- GunMods Camera Mod (MTS2)
- Decorgals' Model Box (MTS2)
- Squinge's HulaMod (Insim).
Other:
- Simlish Font by SIMale (MTS2).
-
SimPE
to extract the sims and make the recolors.
Thank you so much!
Packs Needed


For a full list of packs with names, see the Packs Needed popup.
Other Information
Style
:
– Childrens : Childs furniture or objects
– Fantasy : Fantasy styled things
Room
:
– Bedroom
– Nursery
Maxis Flags
:
– Not Applicable
Tags
#fairy-tale, #sleeping beauty, #posters, #little red riding hood, #aladdin, #fantasy, #children, #nurseries, #oz, #toy story, #pinocchio, #beauty and the beast, #hansel and gretel, #fairy
Packs Needed
| | Base Game |
| --- | --- |
| | Sims 2 |
| | Expansion Pack |
| --- | --- |
| | University |
| | Free Time |
About Me
Hello!

I'm Simgaroop, from Mexico. I've been playing the Sims for almost three years and I'm still amazed by its immense creative potential. There's so much you can do with it besides playing the game as it is, that I'm still not done exploring all the options from the EPs, and I don't think I will for a very long time.

I recently opened a site, Simlish Creations.
You can visit it here:

http://simlish.dreamwidth.org/

Nice to meet you and thanks for your visit!