>

University/Gerbits, gerbits, goooo gerbits!/Dorms and greek houses
Dark Dorm - A castle/medieval themed dorm, sorta...
MTS has all free content, all the time. Find out how YOU can help to keep it running.
Tell me how...
1,390

Downloads
100

Thanks Thanks
7

Favourited
22,853

Views

Uploaded: 24th Nov 2008 at 3:30 AM
Updated: 8th May 2009 at 3:46 PM
Hi. Ok, so first thing on here (so far), but not my first thing... actually that was a shirt, but... anyway, Dark Dorm (

gotta love the name, don't you think?) is a castle/medieval themed dorm I made for a vampire sim or 2 or 5 of mine, I randomly decided to uploaded it. Probably mostly because I need sleep, and because I want some feedback on how good/bad/awful my building skills are (so comments would be great, even if you don't download it

).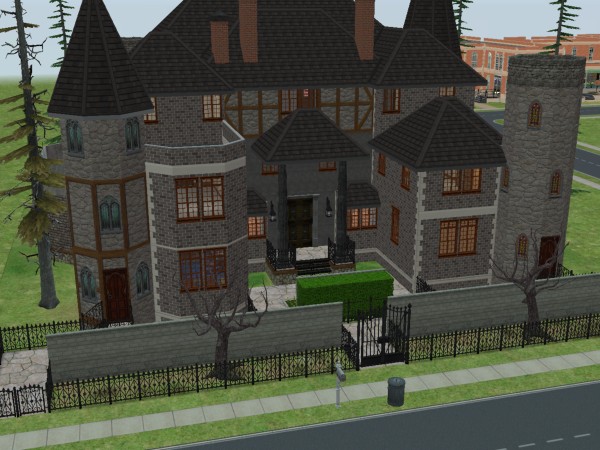 Even though I think taking pictures of this thing without shadows just doesn't do it justice... (btw, that's Shrieve Hall in the bg, a work in progress, if anyone cares)
The file with the Dark Dorm is actually a dorm.
The file with the Dark 'Dorm' is just a normal rent-able lot (which costs like 52,883 or so....). I included it for easy editing.
Oh, and I typo a lot, so some of the stuff in the info file might be misspelled...
Anyway, some info stuff: (more info in the info txt file with download)
Lot Type: Dorm or living on own (depends on dorm or 'dorm')
Lot Size: 3X3
Price: Either free or like 50k (again, dorm or 'dorm')
Floors: 3, plus basement
Bedrooms: 15 dorm rooms
Bathrooms: 9 (and like 15 toilets)
Rooms with private bath: 1
Major Features: Computer Lab, Library/Book Room, Bar/Guitar/Drums, Games, Dinning Room/Kitchen, 5 Towers, 4 Accessible Balconies, 5 Current Fireplaces (easily up to 9 or 11)
Note: The rooms on the 3rd floor are very thin. Use some of the other 9 rooms on the first two floors for your playable sims. Also, the dorm rooms are supposed to look bad/plain, re-decor like real college students do.
Also, not every room is way overly bright 24/7, because I wanted it that way.
Ok, let's take a small tour.
Dinning court/room and kitchen (with lots of counters, table space, chairs, and fire. it even has an extra stove so my sims and the lunch lady don't start a fire together.... again. also - 3 dishwashers so sims don't walk across the whole house to wash their dishes in the bathroom)
Library (featuring books, chess, and fire)
Computer Lab (has seating, computers, fire, and yeah. I don't know what happened with this room... I think I was in a weird mood...)
~ (For more pictures see below and
here
and click on a picture) ~
~ (Small Important Note, If You Noticed Lack Of Full-Sized Stairs - There are no full staircases to get between the floors, I only used Targa's Ascension V2 (see CC list) as the 'stairs' because they don't take up space, and I've never been good at planing around a big full size staircases, so your sims can get between all floors (well, not in the roof) due to magic brown/wood colored circular pads on the floor) ~
Yes, I used some CC (not very much though). NONE of it is mine, I just put a few things in here because I wanted to. Find something I forgot to credit? tell me asap. Find something I shouldn't have included in the upload? tell me sooner. Either way, I'll fix as soon as I can (by giving credit or taking said thing out), and I'm sorry. I built it for me, not uploading (at first) so I didn't pay attention to CC, and I worked on it late at night.... Anyway CC list: (mostly MTS2 stuff)
-Targa's
Ascension V2
(and these go with medial because of magic)
-
"Anywhere" Candles
by Kate @ Parsimonious.org
-
Lantern
by -Maylin-
-
Concrete fence (ConcreteStairs-MatchingFence.rar)
by Marvine
-
OMSP for Counter *Usable*
By Load Darcy
-
Gym Locker Re-colors
(well, I used the black one) by
Lara9Taylor
-Some beddings by
himawara106
,
SunnyMonster
,
Rikku
, and
Kate
. That should be everyone

and thanks to the CC makers.
Objects/Stuff used from: Well, base and uni, NL, kitchen and bath stuff, teen style stuff, seasons, and maybe freetime. I'm not sure about FT and any others. You don't need AL or if there's another stuff pack after Kit&Ba. The games list below (with pictures) is a list of all games installed while the house was being built.
NOTE:
There shouldn't be any issues with object/door/etc placement (at least not like major ones); however, it isn't fully play-tested, yet. Everything should work fine though. (I'm working on play testing it now)
Boo-Boo's Found in Play Testing So Far:
(note-these have been changed in the download file for the dorm/'dorm', but not in the pictures unless I say otherwise)
-Coffee table in library was too close to the sofa (fixed by moving it away 1)
-Hot tub in basement was too close to a door, discouraged walking the actual short way around (fixed by moving 1 away from door)
-Didn't include the master object from Kate's "Anywhere" Candles (fixed by adding it on top the fireplace in the hallway on the first floor, near main entrance). See
link
to see the master object (all others are slaves)
-If your sims don't claim a room with e fireplace, it looks sorta weird, there's like this big hole in the chimney when the fireplace 'disappears', but I think this is just the game being weird. (currently
NOT
fixed, because only thing I can think of is deleting the fireplace or just not worrying about it- but I'm open to suggestions)
-Objects in basement got in the way and caused canceling of pool (billiards) game by all sims. Ok, this one needs so much explaining I'm just going to re-picture it because I'm lazy. (picture includes hot tub fix also)
Website & Policies
I have a blog thing:
https://jacqslabz.wordpress.com/
My policies
All my content is under
Attribution-NonCommercial-ShareAlike
- This means:
-
Do NOT upload my stuff to paysites
(including TSR/patreon/etc.) in any way/shape/form (including screenshots). If money is trading hands (including "giving subscription/donation/supporter/etc gifts"), don't use/involve my content. I do NOT make mods/content for ANY game so someone ELSE can make money. Period.
-Outside of paysites: Just give me credit for what I did. You can make content based on my content, you can include my content in lots/sims/whatever, you can re-upload my content, etc.