Sims 2

>

>

Pixel dollhouses/For sims to live their lives in/Nice houses for sims
"Casa de Rosas" Fully Furnished, No Custom
425

Downloads
214

Thanks Thanks
7

Favourited
25,349

Views

Uploaded: 6th Feb 2009 at 5:48 PM
Updated: 1st Mar 2014 at 7:28 PM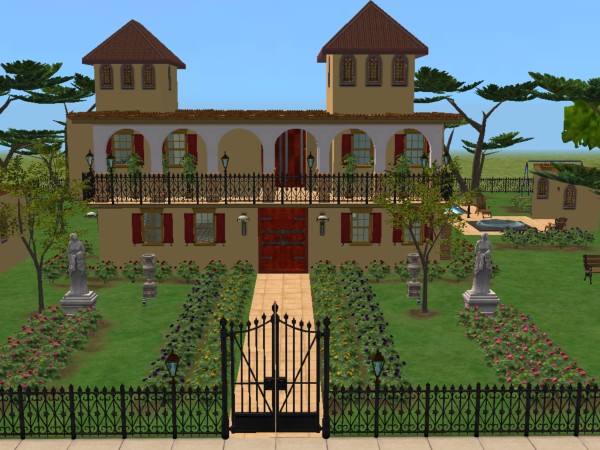 Red-brown flat tiled roofs surrounded but not as frequent by a tower. Stucco walls, arches, balconies with railing of wrough iron, window grilles made of wood or iron. George Washington Smith unquestionably stands out among the eclectic architects of the 1920s, particularly with his work in Mediterranean or Spanish imagery.
Smith was one of the first architects to derive inspiration in scale, proportion, massing, colors, and texture from the farmhouses of Andalusia in southern Spain. From 1920 - 1930 Smith's produce some of the finest examples of Spanish Colonial Revival, that is still throughout many countries today.
This home "Casa de Rosas" is base on some of Smith's imagery or designs.
Details: Fully Furnished, NO Custom, Two Stories ( NightLife EP is needed )
Lot been played and tested.
2 Bedrooms- Master suite with private bath.
3 Bathrooms- All full bath.
Living area- Fireplace, piano, one wall in red "Mosaic" as a decorative accent.
Dining & Kitchen- Lovely dining and Kitchen area.
Family room- cards, chess, etc.
Study area- Computers etc.
Outdoor pool- A beautiful pool "Pavilion" and hot tub.
Outdoor- Dining, play area, workout area.
Pond- With water fountain, Garage, fire and burglar protection, Telephone.
NOTE: Check out pictures ( Walls are down )
Game Tips: This home is known for it's landscape of roses, for your sims or gardener to finish his or her job just click on "Ultra Speed Time" when finish set back to normal time in your game.
NOTE: All Comments Or Just A Click On Thank You Would Be So Nice.

Lot Size:
4x4
Lot Price:
300,882
Additional Credits:
Thanks to Numenor for your Any Game Starter.
Thanks to Delphy and the MTS staff and site helpers.
Thanks to all creators who continue to give and share their best.
Packs Needed

For a full list of packs with names, see the Packs Needed popup.
Other Information
Number of bedrooms
:
– 2 Bedrooms
Custom Content Included
:
– None : No Custom Content included
Furnishings
:
– Fully Furnished : Lot is completely decked out in furnishings
Special Flags
:
– Not Applicable
Packs Needed
| | Base Game |
| --- | --- |
| | Sims 2 |
| | Expansion Pack |
| --- | --- |
| | Nightlife |
About me
Creation is wonderful it is the act of making things, and having the power to create, and sharing with others, that is my love, I truly believe creating is love made visible. My main goal is to create excellent quality in all my houses and not quantity meaning how many houses I may have; but to give each of my houses a special quality in workmanship. By doing so it will give you or whoever should download one of my houses the best. For I try to make sure you or any members will enjoy playing it with their sims, with no problems for I make it a point to play test my houses. Enjoy :)


My grandmother would always tell me while growing up, there are two things in the world that can never walk with grace a thief and liar, or for a better word scoundrel. My only policy is to be true to yourself, if you know it is not your creation please do not claim it. Please give credit where credit is due for me and all creators here on MTS it is a called respecting others, for I would do the same by you.


I am beginning to feel the chill of coldness in the season that come across the air from the East, North, West, and South. I do think Winter is in the air, I feel a very freezing like air. Oh wait my three big Parrots Spike and Dusty,Toby just told me so. So I am right or should I say they are. Humm to see the land once again cover with a blanket of white snow. Oh well I need to get my warm coat and hat and gloves out.

NEW YEAR 2018, Be kind to yourself, look on the positive side of things in your life. Remember nothing stay the same. Once you have learned from mistakes in life. Move On to your next stages of life. Live, learn, and experiences is all apart of the greater picture and growth of life. Smile along the way :) My Parrot Dusty pass away in 2014 but she is always with me in my heart, she send her relative Parrot Toby to me.