>

Pixel dollhouses/For sims to live their lives in/Nice houses for sims
Seattle, Washington TAA38
MTS has all free content, all the time. Find out how YOU can help to keep it running.
Tell me how...

Created by intel1397 View Policy / About Me View Downloads Home
Uploaded 21st May 2009 at 10:23 PM · Updated 21st May 2009 at 10:20 PM by intel1397
Tour Across America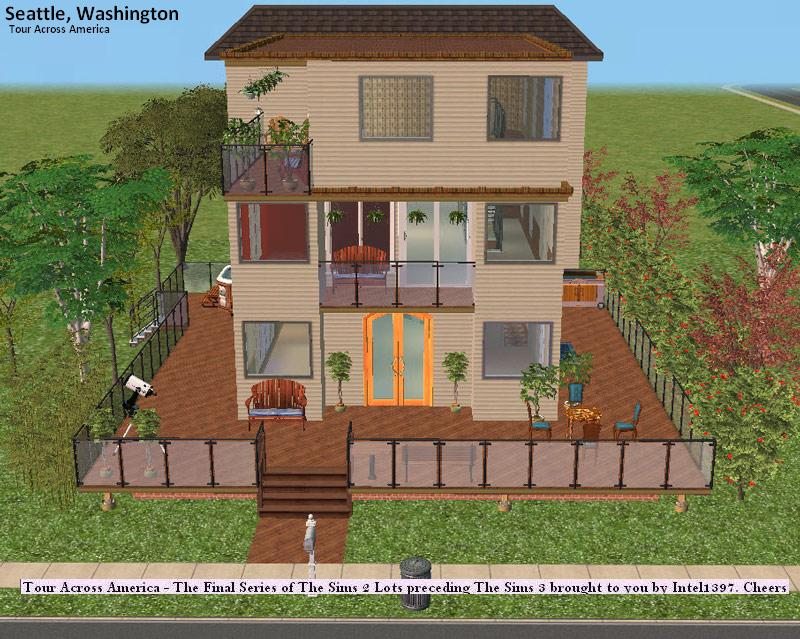 Washington is a state in the Pacific Northwest region of the United States. Washington was carved out of the western part of Washington Territory which had been ceded by Britain in 1846 by the Oregon Treaty as settlement of the Oregon Boundary Dispute. It was admitted to the Union as the 42nd state in 1889. The United States Cens...
As we escape the history lesson we now venture out into state of Washington, a state named after that of the first president of These United States. Traveling north from the cloudy yet dry regions of Montana, we now trek briskfully through yet another day of beautifully yet rainy weather. Through the storm we notice a large unobtrusive estate not common to the area of Seattle but indeed is common to the homes of the hills or the mountains in this case. The large abrupt home indeed caries some sort of history with it for its been around for quite a while, ever since the Space Needle was erected which happens to be a few blocks down the road.
Entering the lot of the home with the windshield wipers on low, one is able to view the home through the scarcely place trees found in this part of the country. The home is made up of three tiers of glory. The outer core may not be all that fancy, but this is a case in which we should not judge a book by its cover. Entering the home along the first floor we come upon the commons area where one can catch up on the news or catch a few reruns of House. The computer room and study can be found to the right of the living area, and the dinning and kitchen area can be found straight ahead just off of the living area.
Heading deeper into the plot of the book or may we say heading up the stairs in this case, we land on the second tier of the home where we find bedrooms one through three a bathroom and a outside smokers loft.
Heading even further towards the resolution of the abode or upstairs to the third floor one will find them self in the masters quarter of the home, where masters one and two which are twins can be found along with a full bath. Spa region 2 can be found up on the third tier as well along with an inner and outer deck area.
Stay tuned when another premiere of a tour across America continues, in the state of Oregon.
Description of the Property Follows:
1) Bedrooms
{5}
2) Bathrooms
{4}
3) Expansion pack(s) needed
{No}
4) Modified Creations Included
{No}
5) Floor(s)
{1}
6) Alarms Included [F = Fire, B = Burglar]
{F|B}
7) Lodging Capacity
{4+}
8) Pool
{No}
9) Spa
{Yes}
10) Phone
{Yes}
11) Computer
{Yes}
(FULLY FURNISHED Just Download, Introduce your Sims and enjoy.)
The Deed to your Lot Awaits | Click Thanks if you feel lucky

MTS2 Pick Decatur County, Indiana TAA001
Greer, Arizona TAA002
Plymouth, Minnesota TAA003
Tumbleweed House Spotted TAA004
Pasadena, California TAA005
MTS2 Pick Pittsburgh, Pennsylvania TAA06
MTS2 Pick Albany, New York TAA07
MTS2 Pick Orlando, Florida TAA08
MTS2 Pick Macon, Georgia TAA09
Kansas City, Kansas TAA10
Winston-Salem, North Carolina TAA11
Charleston, South Carolina TAA12
Portland, Maine TAA13
Montpelier, Vermont TAA14
Portsmouth, New Hampshire TAA16
Providence, Rhode Island TAA17
Hartford, Connecticut TAA18
Baltimore, Maryland TAA19
Trenton, New Jersey TAA20
MTS2 Pick Dover, Delaware TAA21
Norfolk, Virginia TAA22
Beckley, West Virginia TAA23
Akron, Ohio TAA24
Glasgow, Kentucky TAA25
Champaign, Illinois TAA26
Ann Arbor, Michigain TAA27
Madison, Wisconsin TAA28
Urbandale, Iowa TAA29
Papillion, Nebraska TAA30
Columbine Valley, Colorado TAA31
Bismark, North Dakota TAA32
Sioux Falls, South Dakota TAA33
Casper, Wyoming TAA34
Cottonwood Heights, Utah TAA35
Lot Price Unfurnished:
§54,084
Lot Size:
3x3
Lot Price:
§241,672
Number of bedrooms: 5 or more
Custom Content Included: None
Furnishings: Unfurnished Fully Furnished
Special Flags: Not Applicable