>

Programs and utilities either to mod the game or to make it easier to install content.
Auto Cheater
MTS has all free content, all the time. Find out how YOU can help to keep it running.
Tell me how...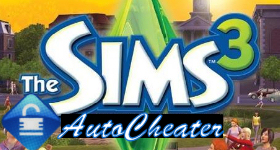 This program allows you to assign hotkeys for any commands or cheat codes that you find yourself entering too often.
Upon execution this program will launch the Sims 3 for you, and set your F1 - F11 keys to act as hotkeys that will automatically enter your chosen commands into the games console.
How to install this program:
Extract anywhere you like.
How to configure this program:
Click the edit button or open the Commands.ini file in notepad, and replace any of the commands with any commands or cheat codes you would like to use.
The Commands.ini file comes with a few commands pre-entered just as an example to get you started.
A full list of commands can be found
here
.
A full list of cheat codes can be found
here
.
To change the path of your game exe that is launched on start up, Open the Commands.ini file in notepad, and replace the path variable with the path to the exe you want to have run.
How to use this program:
1. Run it. On first run you will be prompted to locate your Sims 3 game exe.
2. Wait for the Sims 3 to open.
3. During the game hit your F1 - F11 keys to have your chosen commands automatically entered for you.
Requirements:
1. Windows PC (Vista users may need to run as administrator)
2. The Sims 3
3. The
Debug Console Command Enabler
for some commands. (Which has been reported to be incompatible with the latest patch.)
Why you need this program:
I got really tired of hitting CTRL+SHIFT+C and testingcheatsenabled true every time I started the game.
I also found myself using the money, lifetimehappiness, moveobjects, and freerealestate commands quite often.
My time is valuable, and I am sure yours is as well.
If you find yourself using the same commands over and over like I do, this program will save you countless hours over the life of your game.
*Updated 6-30-09*
I have added an edit button to the program that will open the Commands.ini file, then reinitialize the program when that .ini file has closed.
I have also added a path variable to the commands.ini so you can change the path to where you have installed the game.
Now prompts for the location of your sims 3 exe the first time the program runs.
I have also added a minimize button.
Enabled keys F9 - F11
Operating System: Windows
Utility Type: Miscellaneous
Plugin Type: Not Applicable