-STREAKED!- Raon57/Dustfinger Hair Recolors
4,115

Downloads
418

Thanks Thanks
51

Favourited
42,504

Views

Uploaded: 17th Jul 2009 at 8:11 PM
Updated: 8th Jan 2013 at 6:38 PM
So on Wednesday I plan to get all my hair chopped off again. I'm tired of the long hair and it is FAR too hot for summer. I have enough to donate to
Locks of Love
. They were the very first charity I ever wanted to donate to. (I was like 10 and they ran a story in my American Girl Magazine.) Okay, enough being off topic. The best part about having really short hair is that you can dye it! The color grows out quick so you can change your mind all you like. I'm thinking my hair will look like the brown haired version of this set. (Yes, I know my avatar has black hair, but its been a really long time since I had black hair, and it was dyed then too.)
I started my recolors from Dustfingers fabulous
Maxis Match
recolors of this
Raon Mesh
. This mesh is all ages and I've applied my streaks to all of them. On the grey hair you can tell that the hair used to have streaks in it but now have all faded to various shades of grey. The mesh is
NOT INCLUDED
so be sure to grab yourself a copy of it if you don't already have it.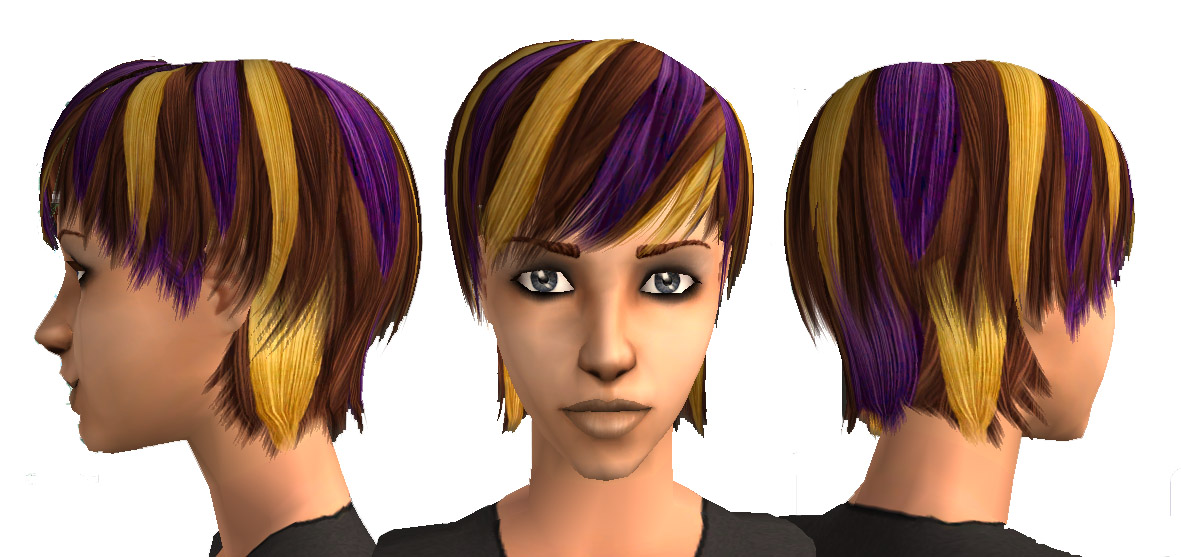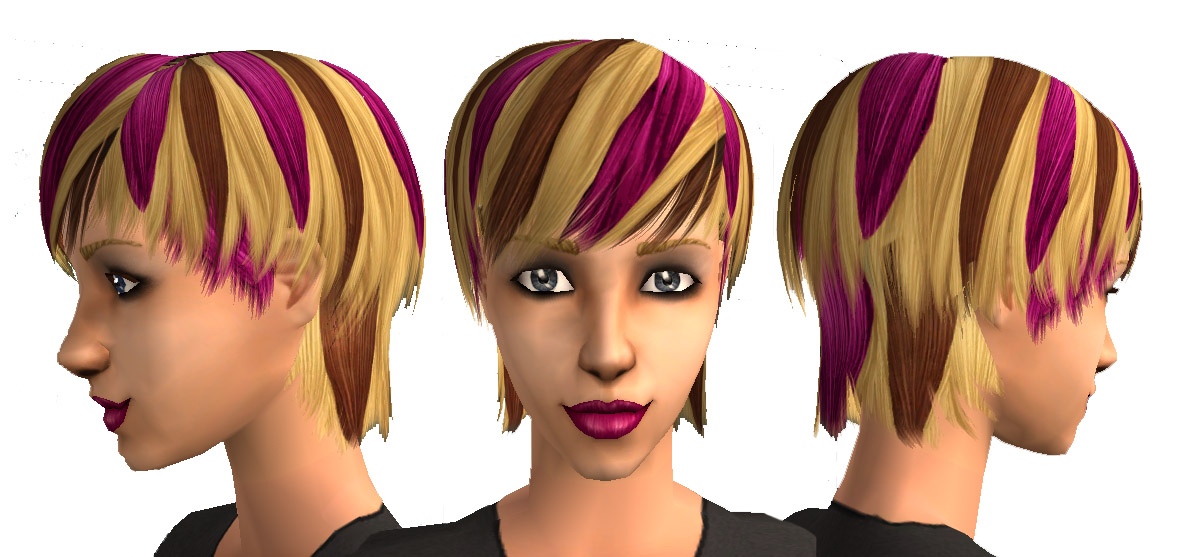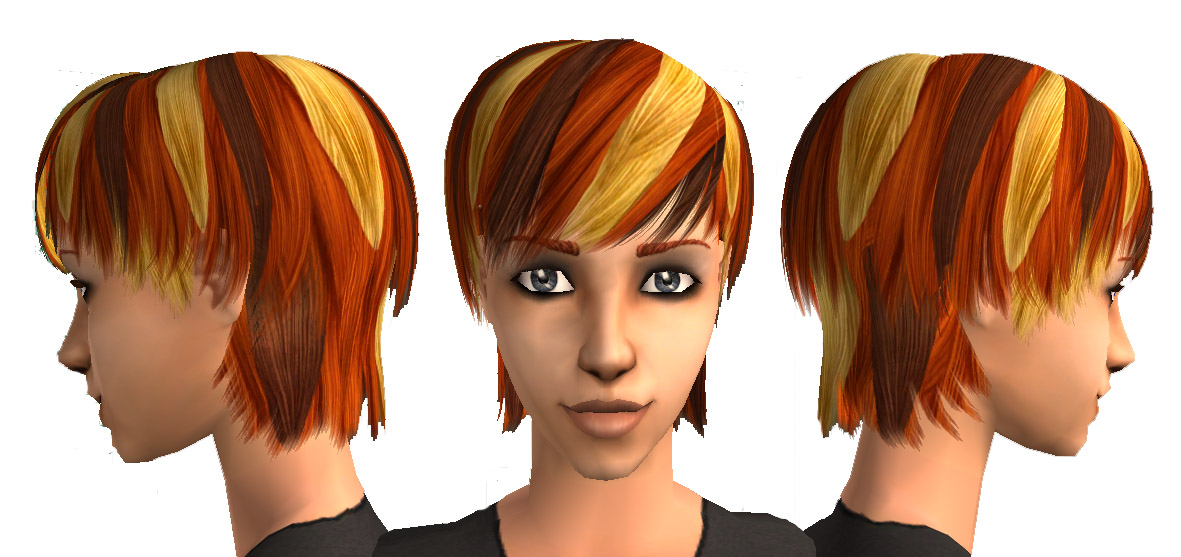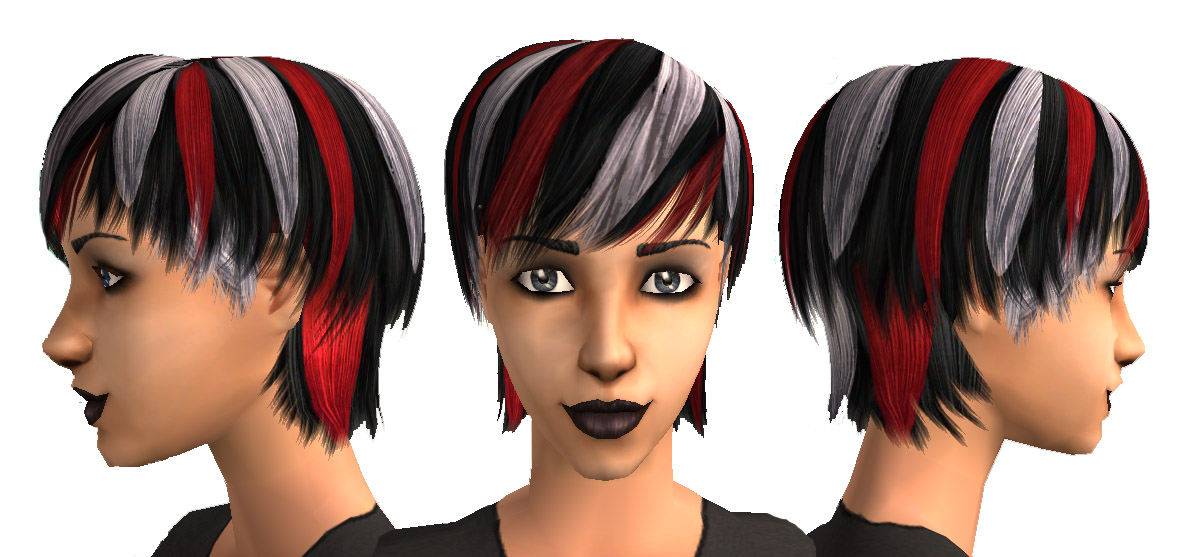 There are two options available to you, one of them being regular old CC version with all four colors being in the custom bin. They do all have the correct eyebrow colors and there is only one grey version. The Binned version has them all in their appropiate color bins, and family linked so clicking back and forth between colors they stay with each other. I personally prefer to have my hair colors binned unless the whole thing is some weird color like blue or green.
Enjoy!
-Phae
Additional Credits:
Dustfinger for the base textures
Raon for the mesh
Packs Needed
None, this is Sims 2 base game compatible!
Other Information
Hair Style
:
– Punk/Streaks/Crazy Colours
Maxis Flags
:
– Not Applicable
Age
:
– Toddler
– Child
– Teen
– Young Adult
– Adult
– Elder
Blurb and Updatez:
Please don't reupload my work anywhere else. Just point them back here, I'm not going anywhere! :)
Please ask permission before using my work as a base for your project. I almost always say 'yes' and often times I will help you with your project! :bunny:
If you make something (like a story or a video) and it has something of mine in it, send me the link, I love to see my stuff 'in action'!
Sadly, but honestly, I can't take on requests. You can ask if it's something already related to one of my current projects, but I'm not likely to take on your project for you. MTS has lots of wonderful tutorials ;)