>

Glasses, necklaces, earrings, and anything else you want to decorate your Sim's face with - get them here!
Totally Random Tatts - for TYAAE Males
MTS has all free content, all the time. Find out how YOU can help to keep it running.
Tell me how...

Created by iamiam80 View Policy / About Me View Downloads Home
Uploaded 26th Aug 2009 at 10:59 AM
This is a package of "Totally Random Tatts" for your Teen, Young Adult, Adult, and Elder Male Sims. The package includes 10 unique designs so you can find that perfect fit for all of your Sims! The Tatts are based on Sock recolors, and can be found in the Accessories-Socks section of all clothing Categories. The Tattoos included in the package are as follows:
Abstract Woman Tatt: This tatt has a torso design featuring an abstract woman's face, and a lion design on the chest!
Angry Dragon Tatt: This tattoo showcases a fire-breathing dragon on the chest, who's tail wraps tightly around the right arm!
Egyptian Tatt: This tatto is made up of various Ancient Egyptian symbols on the back, chest, torso, and calf!
Maya Animals Tatt: This tatt has a variety of Maya inspired animal designs on the back, chest, torso, and thigh.
Swallows Tatt: This tatt is made up of two Swallows (representing good luck) on the chest.
Devil's Wings Tatt: This tattoo is made up of a pair of skeletal wings, attached to a spine on the back. It also includes two devilish stars on each arm!
Dragon w/ Symbols Tatt: This tattoo includes an asian inspired dragon with symbols on the back!
Jungle Jaguar Tatt: This tattoo is made up of opposing jaguars on the torso, with a Maya jungle symbol on the chest!
Phoenix Tatt: This tattoo consists of a phoenix rising from flames on the back!
Wings Tatt: This tatt is made up of a pair of angels wings on the back!
I hope your Sims enjoy these great Tattoos as much as mine do!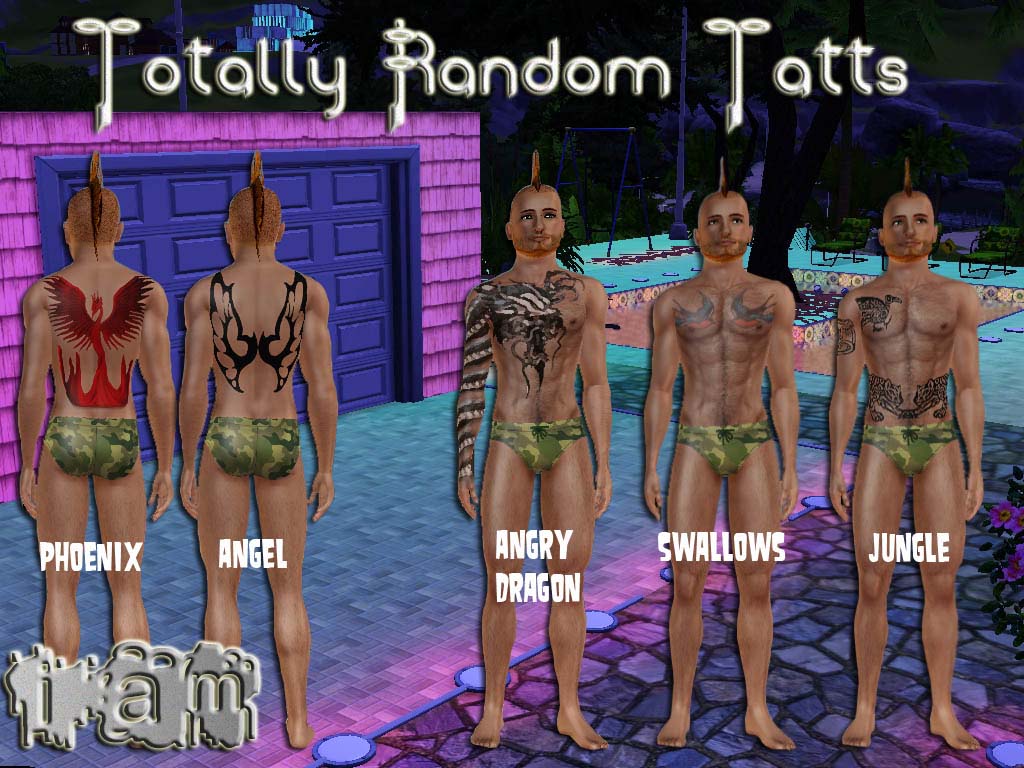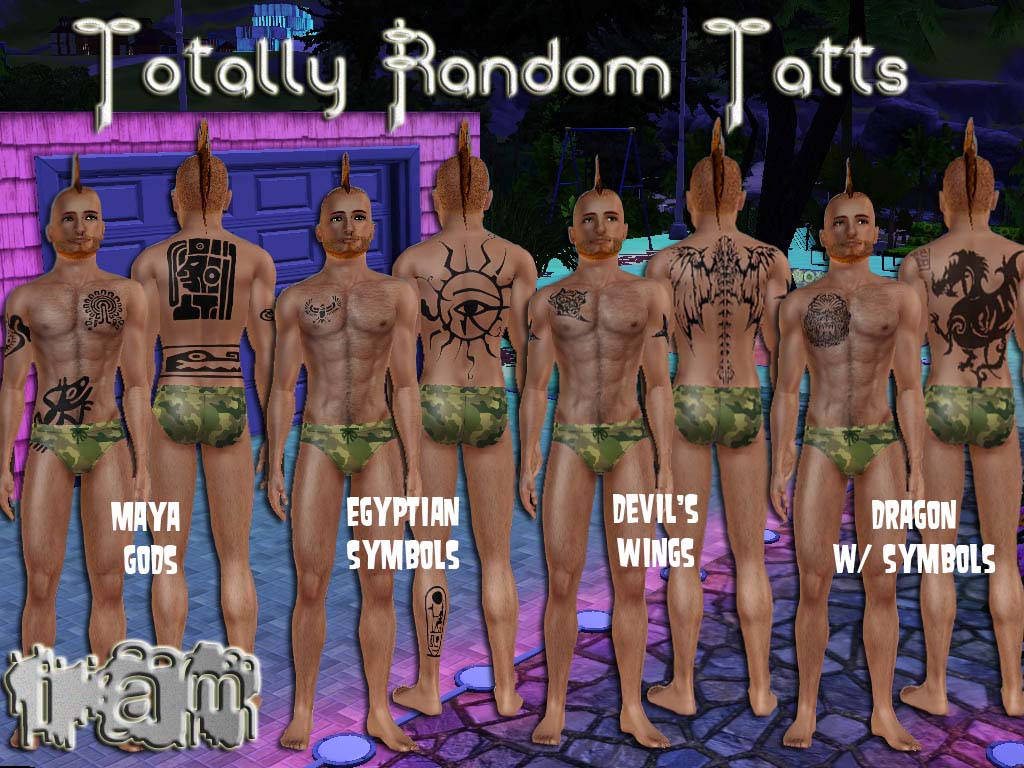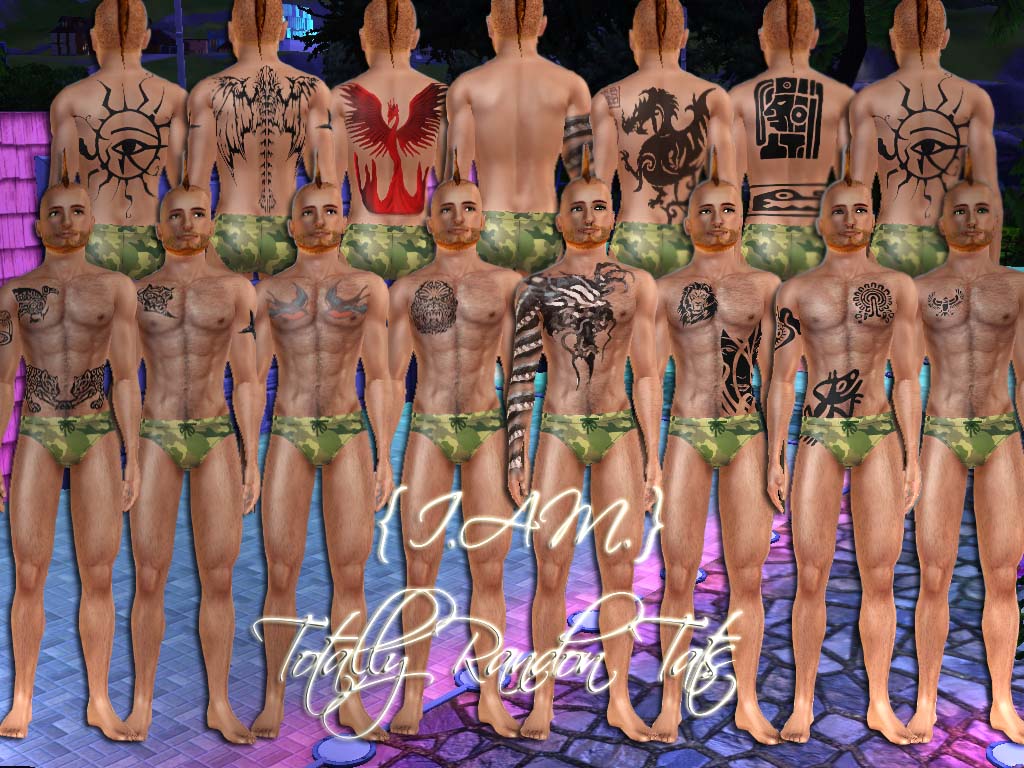 Accessory Type: Misc
Age: Teen Young Adult Adult Elder
Maxis Flags: Not Applicable
Gender: Male

Tags: #totally random tatts, #totally, #random, #tatts, #tattoo, #tattoos, #male, #socks, #stockings, #cool, #fun, #awesome, #new, #great, #original, #designs, #design, #body art, #body, #art, #egypt, #egyptian, #maya
The Truth
Hey all. Iam that Iam. I'm a laid back, fun loving, and free spirited college student majoring in sociology. I pride myself on the unique and innovative styles of my designs. From items to lots, (and in real life), I always try to make things a little different - or see things from a new and interesting perspective! I hope you all enjoy my creations as much as I enjoy making them!
A note on my policy:
I don't mind if you share my creations with others, but I ask that you only use them on free sites - and please don't upload them to the exchange without my knowledge. THANKS!