>

The eyes are the windows to your soul. Get the eyes you think your Sim deserves.
Daluved1's Bright Eye Default/Contacts
MTS has all free content, all the time. Find out how YOU can help to keep it running.
Tell me how...


Created by daluved1 View Policy / About Me View Downloads Home Tumblr
Uploaded 19th Sep 2009 at 3:16 AM · Updated 29th Sep 2009 at 2:31 PM by daluved1 : Added Contact Version
So, stepping out of my comfort zone, I branched into something a little different.
One thing I hated about the EA eyes were how dull they were. And, even most of the custom eyes out there are very dark and gloomy (no offense to any creators). So I decided to try my hand at making my own set of eyes, called the "Bright Eyes" set.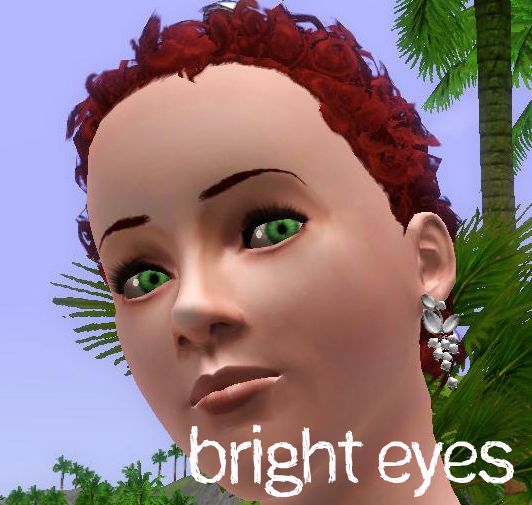 What makes my eyes unique is that they are noticeably brighter and they have a somewhat jeweled glassy effect to them.
Another thing that irked me about the default EA eyes are how big and cartoony they are, so I made my eyes a little bit smaller than original ones (10% smaller to be exact).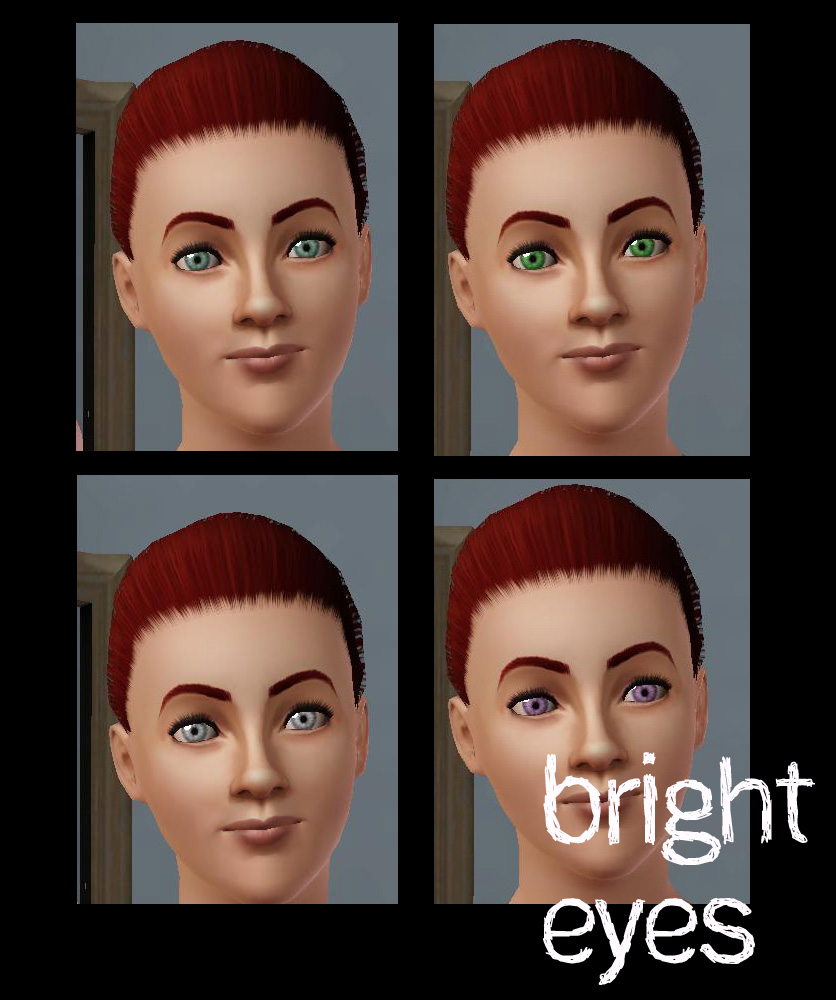 These eyes are completely recolorable, and they show up for all ages and genders.
Remember these are
default replacements
so you'll have to remove any other default replacement eyes to use these. Also you might have to delete your simcompositer cache file to get the eyes to regenerate on preexisting sims.

Update
I also added a contacts version of these because I realized that some pre-existing sims looked pretty freaky with the default replacements

So to use these, go to the costume makeup section in CAS and look for the Bright Eyes thumbnail. And unlike a lot of contacts, these are completely recolorable as if they were the sims genetic eyes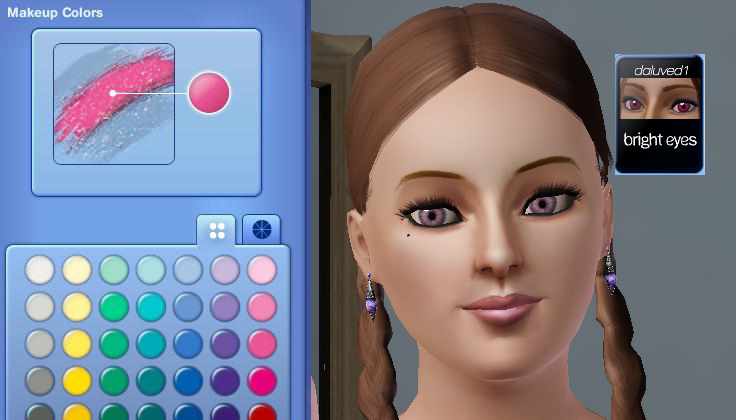 You may (of course) use these for sims and such, just please link back here for the download instead of including the eyes in your upload.

And just like with everything else, uploads of my content to the exchange and/or paysites are frowned upon :D
Additional Credits:
Red Adult Female Hair - HP (MTS)
Red Adult Female Brows - Me
Brown Adult Female Hair - Peggy Sims (Free)
Brown Adult Female Brows - Me
Blond Toddler Female Hair -Wojtek0 (MTS)
Default Replacement Skin (face) - Aikea_Guinea at Club Crimsyn
Default Replacement Skin (body) - HP (MTS)
Blue Dress - Liana Sims
White Toddler Dress - Around the Sims
Earrings - Rose Sims
Eye Type: Custom Default Contacts
Eye Style: Human Anime

Tags: #eyes, #bright, #pretty, #jewel, #glassy, #contacts, #anime
Awesome to the tenth power...squared.
Want to convert one of my TS3 creations to TS4? Go right ahead! Just please credit me for the original texture/mesh.

MY INBOX IS DISABLED. I WILL NOT RECEIVE ANY PMS.

Because my policy is really inconsistent on my uploads, I've decided to make an official policy! So
whatever you see here on my profile is my current policy
. You may
disregard any ''policy'' information you see on the actual upload itself
.
-You may use my creations with sims
-You may use my objects with lots.
-You may retexture my meshes.
-You may include my meshes with retextures.
-You may NOT upload my creations with sims
-You may NOT upload my objects with lots.
-You may NOT upload my creations to paysites.
-You may NOT upload my creations to the exchange.
-Always credit me with a link
-I do NOT take requests!