>

A little dab'll do ya. Or maybe a lot. Paint your Sims faces at this makeup counter.
This is Halloween. 6 boo scary masks.
MTS has all free content, all the time. Find out how YOU can help to keep it running.
Tell me how...
9,243

Downloads
409

Thanks Thanks
59

Favourited
79,487

Views

Uploaded: 14th Oct 2009 at 10:17 PM
Updated: 14th Oct 2009 at 3:01 AM - Updating files.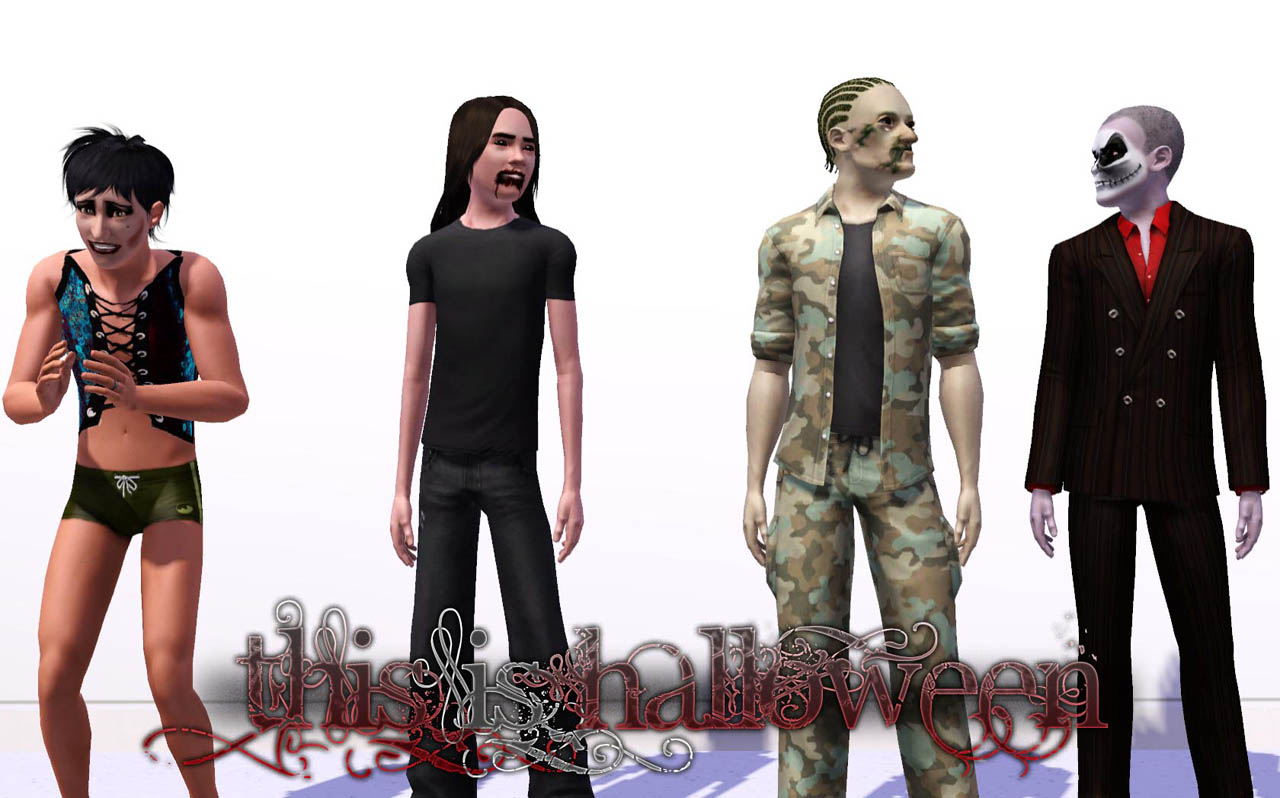 Toothyface was inspired by a old horror movie cover where the face is torn so the teeth are showing, can't remember name of that old movie, his eyes are black and shiny for a nice creepy listless look. It was something really terrible any way. The teeth were the teeth in game, just made as a mask. Jack Skellington is from the movie "The Nightmare Before Christmas". I made a minor adjustment to lessen the shadow appearance from what is shown in the screenshot. But I liked the screenie and didn't want to retake it for just a minor change. Crocodile Breath was inspired by the aliens from the movie "V" which are all green and scaly underneath their human make-up. It features alligator eyes and a scaled tongue. Sweet Transvestite is the lustrous Frank Furter of Rocky Horror Picture Show, made with a body mask for the corset. Which is sort of thrown together, not a proper mesh or anything. It's only meant to be decorative. The corset appears under glove category and you can only see it if you have no shirt on. If you have nude top enabled for all categories, it is wearable in all. This is an alternate design in the same package file as the body mask for X-Ray Masque. Which is the x-ray of a chest with a steampunk heart inside the ribcage. X-ray Masque uses stock x-rays and feature x-ray style eyes. And finally, Zombies Ate My Brains, gory mouth with grungy teeth and zombified eyes and dirty rotty skintones.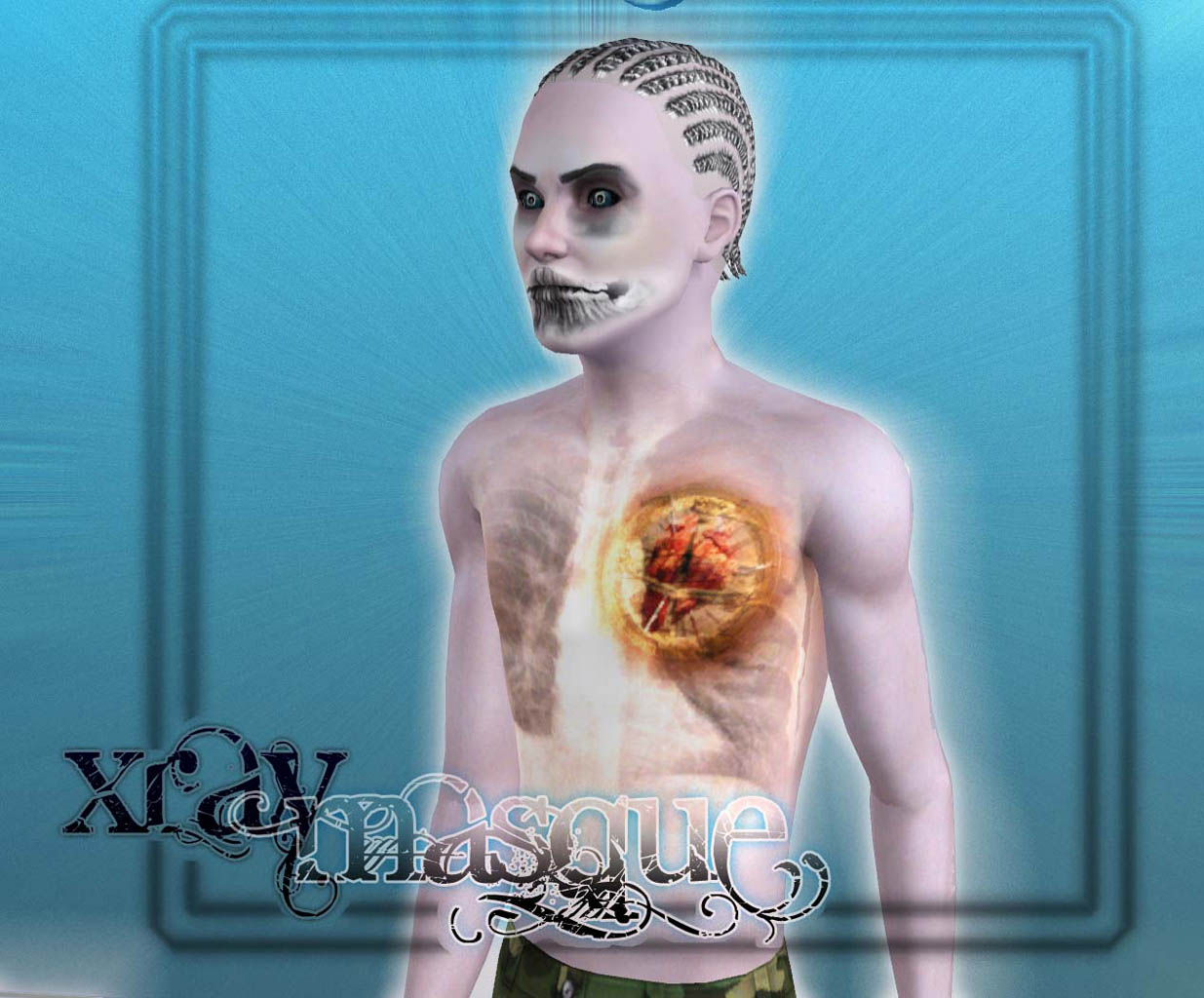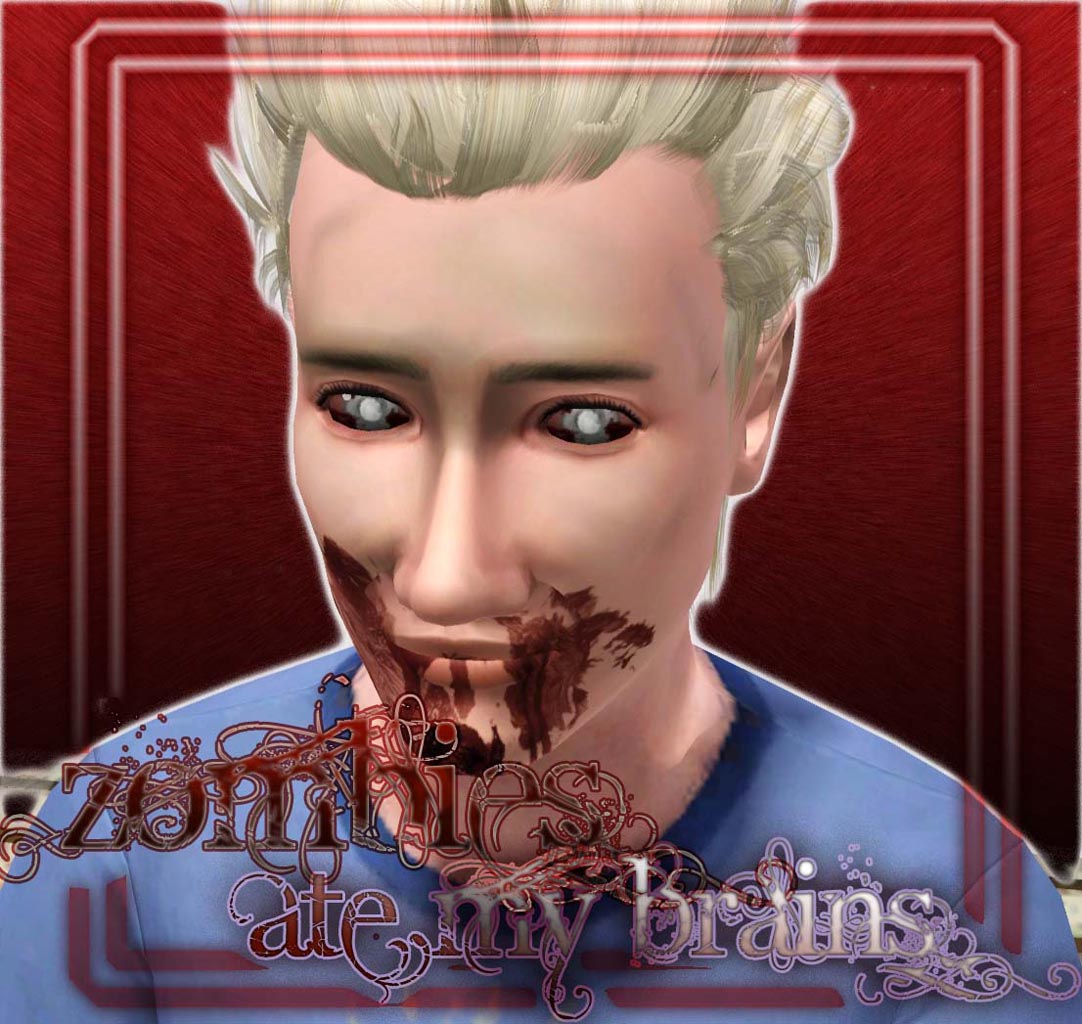 These are male only, young adult and adult. There are only two files, the face mask and the body. Each design is an alternate design in the same file. A total of six faces and two bodies (EDIT only X-Ray Body). The bodies match with
Sweet Transvestite
and X-ray Masque. I did this so they all stay on the same row in the costume make-up category. Defaults are all set to white, but you are able to adjust for some color tinting. However, there's only one color channel, so all parts will be tinted. I'd love feedback on these for future masking endeavors. These are my first masks and would love tips and suggestions on them. Though these are final, I will not likely be making any further modifications to them. For the Sweet Transvestite Corset, you can download the body file (with both masks, no need to download here) on my blog,
the Rejected
, because that was rejected and I'm not redoing it.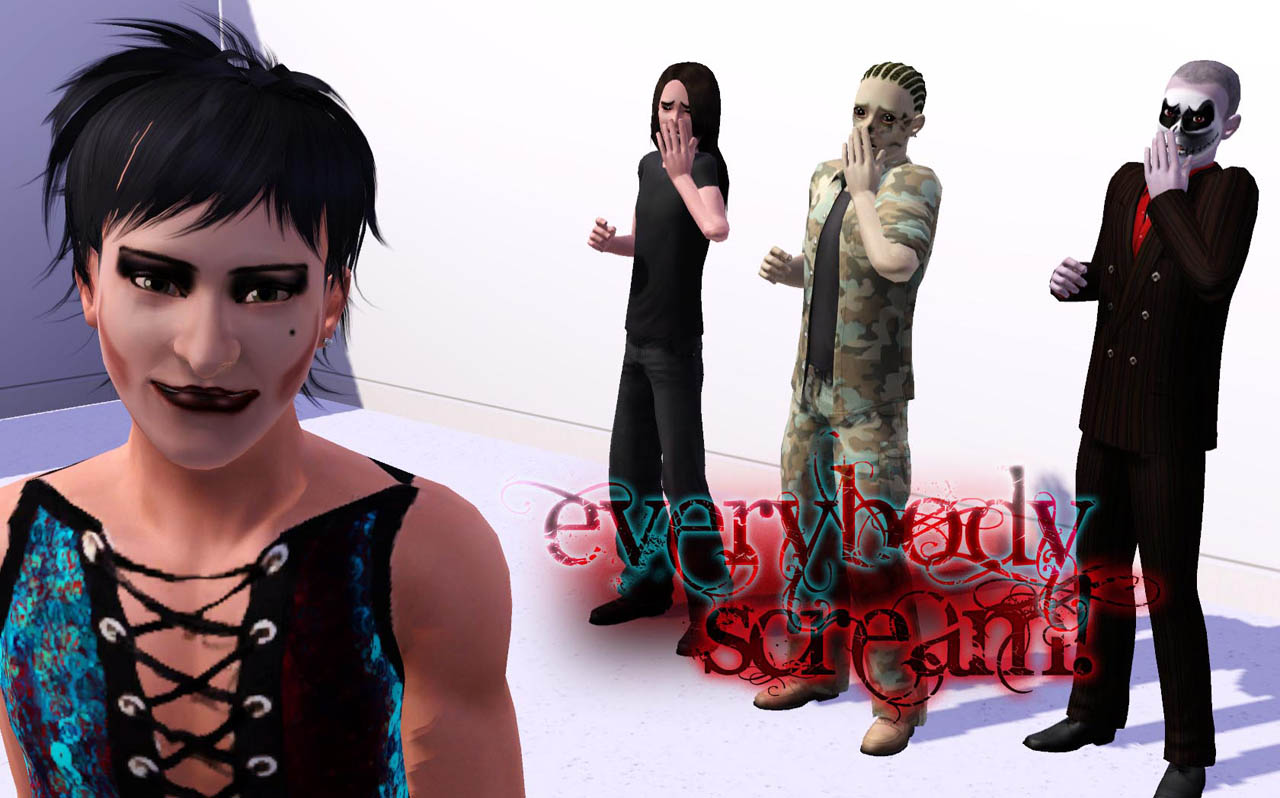 Additional Credits:
* Delphy's
CTU
, without which Sims 3 would be lame.
* Hair by Aikea, from
here
and
Peggy 04198 Converted for TS3
by
Gelydh
* Models were all designed per costume, so are not pre-existing. They will be available to download as a household on my Sims 3 exchange page only, mostly for self promotion purposes only. Warning, Jack Skellington has a really flat small weird nose as for screenshot purposes it was best, and Croc Breath has a very bizarre facial sculpture, as I was trying to make him as reptilian as possible. But if you like them --->
This is Halloween
. (Apparently Zombies Atemybrains was originally based off someone else's blueprint, which I altered a bit, so it's not entirely the same, and my apologies, but I have no clue who to credit.)
Stock textures and brushes and images used: (please visit my blog for entire link list
This is Halloween...
)
* Moldy Chaos yuck yuck yuck by crumpstock
* Alien Skin stock by rustymermaid-stock
* alien skin texture by mark1960
* Jack Skellington Texture by stillcoldair
* Preview - Heart - 3 by resurgere group
* Brass Sunwatch Stock 2 by Angelus-Knight
* Clock Face by tia-stock
* X Man Raay by AzzQim
* Xray Brush Set by anodyne-stock
* Chest XRAY Front - HUGE by cfstock
* PSD-iris-set of 20 by dead-brushes
* Animal eyes stock pack by ftourini
* Bloody Tears - PS7 Brushes by KeepWaiting
Miscellaneous credits:
* Font face displayed is Angelic War - Free Font by KeepWaiting
* Followed a tutorial by Aikea Guinea for Creating Default Replacement Skintones for TS3 by Aikea Guinea and Default Replacement Eyes, Plus Changing The Whites by Aikea Guinea.