Clothing

>

Female

>

>

Everyday clothing. This is your Sim's default outfit.
Ancient Egyptian Outfit for AF
MTS has all free content, all the time. Find out how YOU can help to keep it running.
Tell me how...
26,222

Downloads
560

Thanks Thanks
83

Favourited
74,283

Views

Uploaded: 9th Jan 2010 at 6:30 PM
Updated: 9th Jan 2010 at 2:58 AM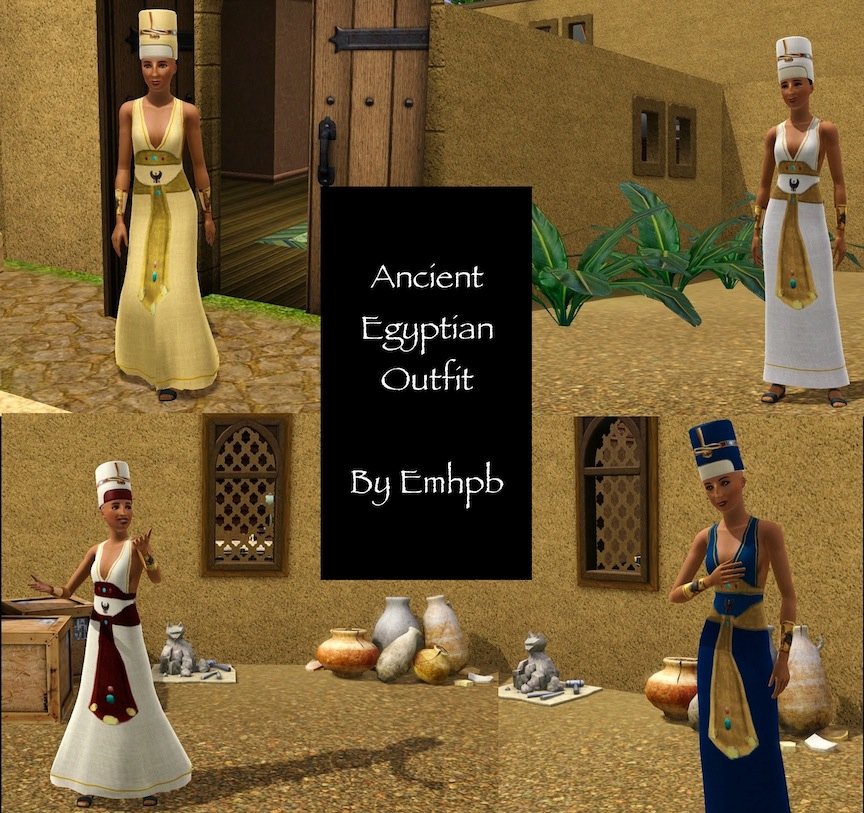 This is a complete Ancient Egyptian outfit for AF and YAF, including a dress with 2 mesh options and 4 overlay options, armband accessories, and a Nefertiti Crown-type-thing with 2 scalp options.
This whole outfit was inspired by Ahlaam21's Nefertiti sim, who needed something other than the cheesy WA outfits to wear. ;D The Dress comes in two versions, wide skirt (Parsimonious mesh) and tube skirt (basegame mesh). Both dresses have four overlay options, with varying levels of decoration. They all have 3 recolor options, (see attached pics) the torso, the skirt, and the sash/girdle. They can be found under Everyday and Formal options.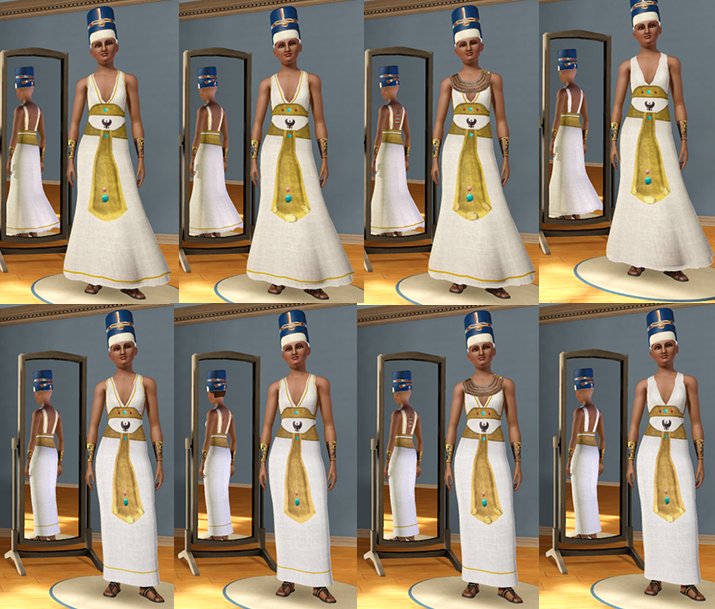 (the last design is sans gold lines for purposes of stripy pattern usage looking decent, again see attached pics)
The armbands are just a little something I threw together for this outfit, but didn't want to put on the actual dresses. They layer as gloves and can be worn with anything.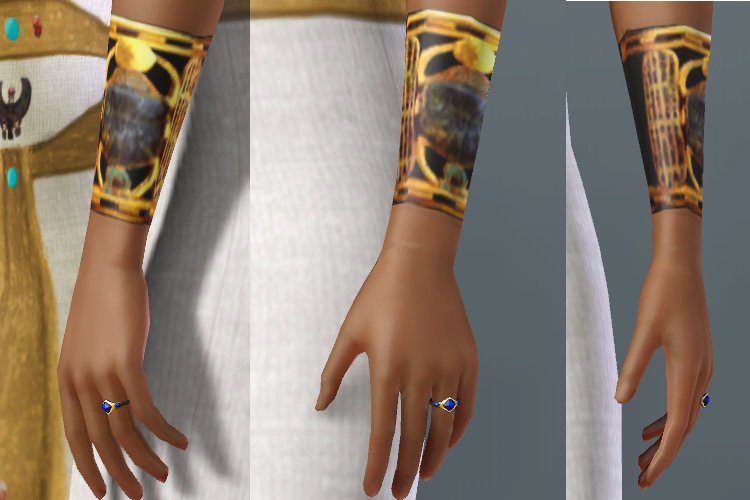 About the crown- it's not fabulous, as it was done on the basegame chef's hat mesh, and therefore isn't the right shape. (I am not a mesher, nor could I be a mesher even if I wanted to, on account of being a Mac user) However, it's adequate for cosplay purposes. It can be worn with anything, and has two scalp options, one that's completely bald, and one that includes a scalp overlay which can be recolored to look like stubble, or to artificially extend the crown.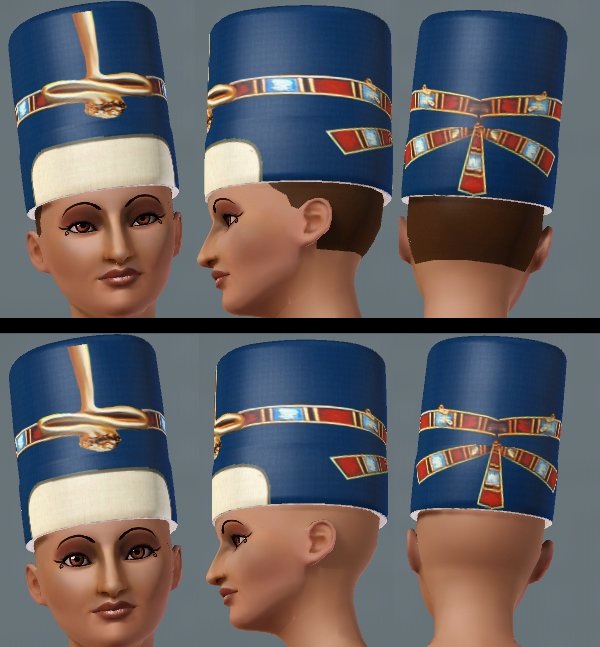 (the two options are two different packages, so you may choose which one you want if you like)
Other Info
-Everything has been tested in Basegame and World Adventures, and works fine in both. So you do NOT need World Adventures to use this outfit, however it does go well with some of the World Adventures accessories.
-Everything is a package file, so if package files don't work for you because of WA, then these definitely don't work.
-On the crown, outside of CAS, some black lines appear on the back of the head. These are from the hair mesh (which incidentally, is still there) and I can't do anything about them, as I am not a mesher. I suggest you obscure them with the scalp overlay if they bother you. (Honestly I wouldn't have uploaded the crown at all, as it is flawed, but Ahlaam21 needs it for her Nefertiti sim)
-If there are any other problems that you encounter, please let me know by leaving a comment. Thanks!
Additional Credits:
Mesh for wide-skirted dress:
Parsimonious
(
TOU which allows use of mesh
)
Programs used: Delphy's CTU, GIMP, and others.
Testing: (with WA) Ahlaam21, (without WA) Fawkes, nene1234
In-game Previews: Ahlaam21, Flabaliki
Other help: Ahlaam21, who had most of the ideas, found most of the references and source pics, extracted the custom mesh, tested, made suggestions, and was generally awesome~ Thank you, this project would not have been completed without you! Also, big thanks to everybody in the
Creator Feedback Forum
who made suggestions and gave encouragement!
About Me
Hi, I am not at the moment playing, creating, or modding any sims games, nor am I active on MTS or any other sims community. I'm very sorry to all who asked for requests or help. I will probably come back to creating for TS3 someday, but for now I am inactive and my stuff is pretty much unsupported. Feel free to use and improve upon my creations in your work, since I will no be doing so. Just credit me and run with it.

Again, sorry for the inconvenience and to everyone who messaged me after I left.

-Em