Sims 3

>

Buy Mode

>

>

Counters, tables, end tables, coffee tables, desks, and park tables.
A simple dining table – Update 2014-08-27: Rigfix
7,344

Downloads
1,294

Thanks Thanks
78

Favourited
46,978

Views
Uploaded: 3rd Feb 2010 at 7:29 PM
Updated: 2nd Sep 2014 at 8:45 PM
A simple and versatile dining table for four sims. Can be styled to fit into almost any context.
Update 2014-08-27:
Ran this through granthes' RigFix and now it is fixed. Pets-or-later users, please remove the old package and use the "rigfix" one instead! Thanks for testing, FH|RA! =)
Update, 2010-06-11:
The table now has two additional deco slots, thanks to
cmomoney
– see screenshots in
post #24
of this thread. Redownload the package and let it overwrite the old version (I don't think the instance of the object has changed and you wouldn't need the same table twice anyway).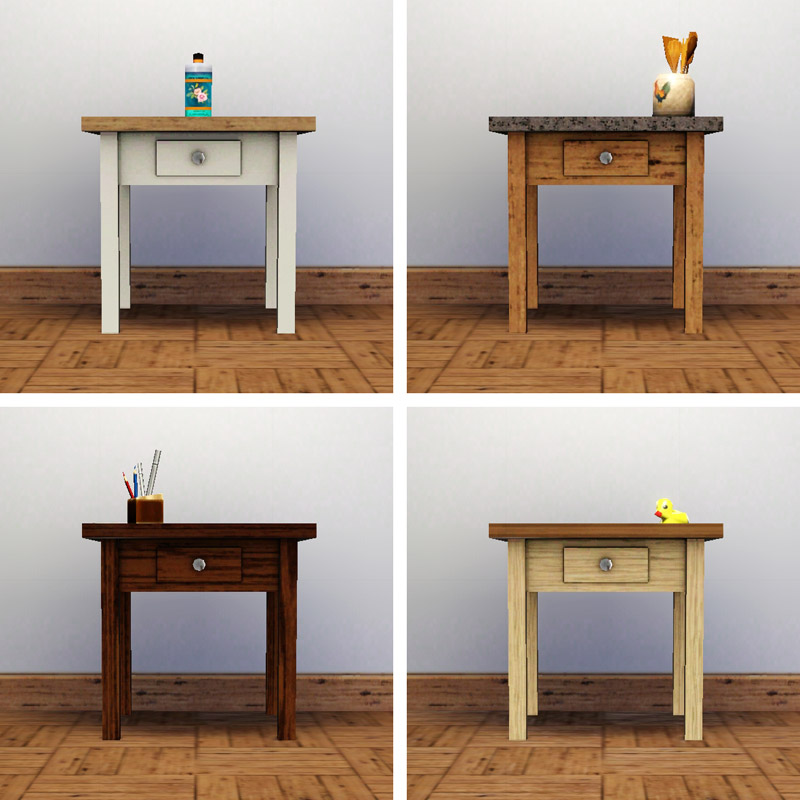 Two recolourable channels (top and body); the drawer handle is always silver. It costs 120§ in game and is in Surfaces > Dining tables (cloned from the Bistro dining table). Made from 1.8.25 files; I have no idea how it behaves in lesser versions.
It has four custom presets (see the "presets" screenshot below); three of them are using default EA texures so it's easy to match stuff, plus a weathered outdoorsy version. The shadow texture is rendered in blender, so it's as accurate as it can be. The mapping is as seamless as I could make it; the left and right sides of the tabletop are mapped perpendicular to the top side but this is on purpose – I didn't want to bend wood textures at 90°. Think of it as a strip that's laminated around the edge.
Made in
blender
with the help of s3pe, s3oc, Aorta, Milkshape, S3 Object Mesh Tool, BBEdit, Photoshop and others. Many thanks to
cmomoney
who helped me figure out how to map it the way I want it to (without making the game throw up) and who also wrote
this tutorial
on custom presets.
Polygon Counts:
The high-resolution mesh has 160 faces, 245 vertices. The low resolution one has I think 74 faces (no bevels on the tabletop; drawer handle is a box).
Packs Needed
None, this is Sims 3 base game compatible!
Other Information
Style
:
– Antique : Antique or Historical
– Retro
– Contemporary
– Modern
– Childrens : Childs furniture or objects
Room
:
– Kitchen
– Dining : Dining Room
– Study : Study/Office
– Outdoor
Maxis Flags
:
– Not Applicable
Sharing and recycling:
Everything I upload here is published under the current
BY-NC-SA Creative Commons
license (Attribution, Non-Commercial, Share-Alike). In practical terms:
– Feel free to recycle, you don't need to ask.
– For the attribution, please link to the upload you're using wherever possible (instead of my profile). This is particularly important with edits made for/with different games or game versions.
– If you use my stuff in something you make, please upload the result to a free, accessible, noncommercial site with no more restrictions than these. Code must remain open source; meshes and other material must remain re-usable.
Please do not redistribute any unmodified files – link to the upload post instead.