>

The eyes are the windows to your soul. Get the eyes you think your Sim deserves.
Glowing Eyes for Men and Women, Teen to Elder
MTS has all free content, all the time. Find out how YOU can help to keep it running.
Tell me how...

Created by Esmeralda View Policy / About Me View Downloads Home
Uploaded 19th Mar 2010 at 2:12 AM · Updated 19th Feb 2012 at 11:05 AM by EsmeraldaF : Some changes to text
Here is a set of white glowing eyes for your cyborg or alien simmies.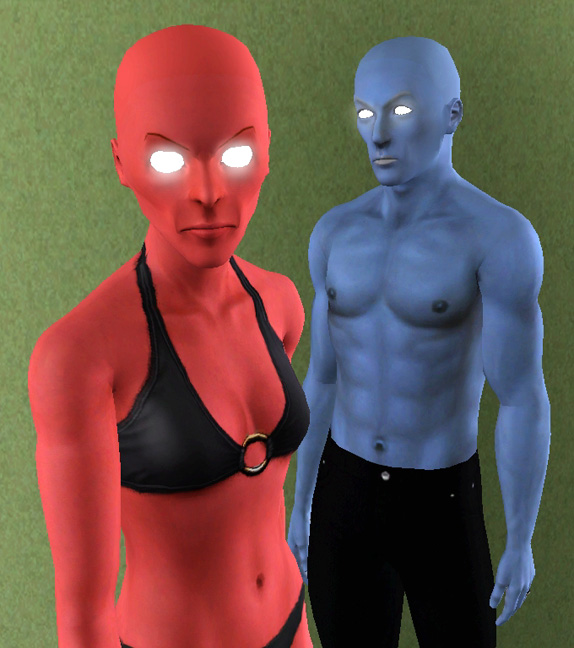 They're for adults from Teen to Elder, and are an accessory, not a contact lens, so they will be found in the Accessories panel, in the Eyeglasses section.
They are in white only and are not recolourable (I have not been able to work out how to change the colour of the 'glow' property and don't know if it's even possible). I saw the old Horror/Sci Fi movie 'Colossus of New York' recently and felt inspired, ha ha:
http://1.bp.blogspot.com/_iL6ciL0Gq...h/colossus6.jpg
.
They are a mesh and will need fitting to your sim's eye using the Eye Depth slider. You can fit them to achieve two different types of look, as below - depending on how far to the left or right you move the Eye Depth slider, they can be either fitted directly onto your sim's eye (left), or placed forward so that your sim has big round bulging glowing eyes (right). (Please note that you may need a slider range multiplier such as the ones that come with Awesomemod or Master Controller to get them to bulge as much as they do in these screenshots):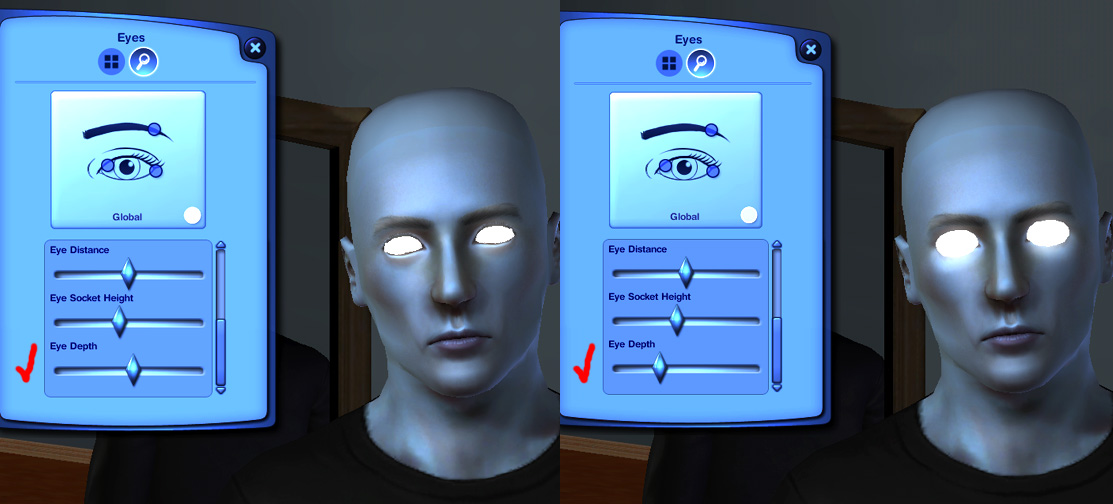 To fit them exactly into the sim's eye, you need to adjust the slider carefully to get the mesh so that it just sits inside the sim's eyelids without going too far to where the real eye shows through, but at the same time, far enough into the eye so that the upper eyelid can close over it (you'll see what I mean when you apply the mesh in CAS and your sim blinks). This can be a bit fiddly to get right.
To fit them as a round bulging eye, it's much easier - just pull them forward of the sim's real eyes until you get the round shape.
One issue: Note that your sim's eyes must be in an average/default position, the way they come on random sims in the Sim Bin. The mesh does not move along with the eye, so if you make your sim's eyes higher, lower, further apart or closer, the mesh will not be in the right position.
Also,
you must have a medium-to-high spec graphic card for these eyes to display as seen here. If you have a low-end graphics card/chip, you won't be able to get the glowing effect.
They will look flat greyish-white instead.
In-game, Mr Scary Cyborg has gone for the fitted-into-the-eye look, while Mrs Scary Cyborg has gone for the all-out round bulging eyes look.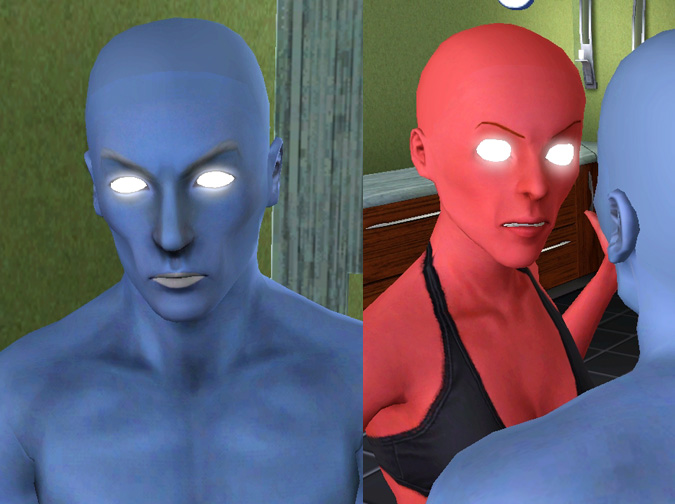 They look very effective at night, below. Handy for finding your way around in the dark.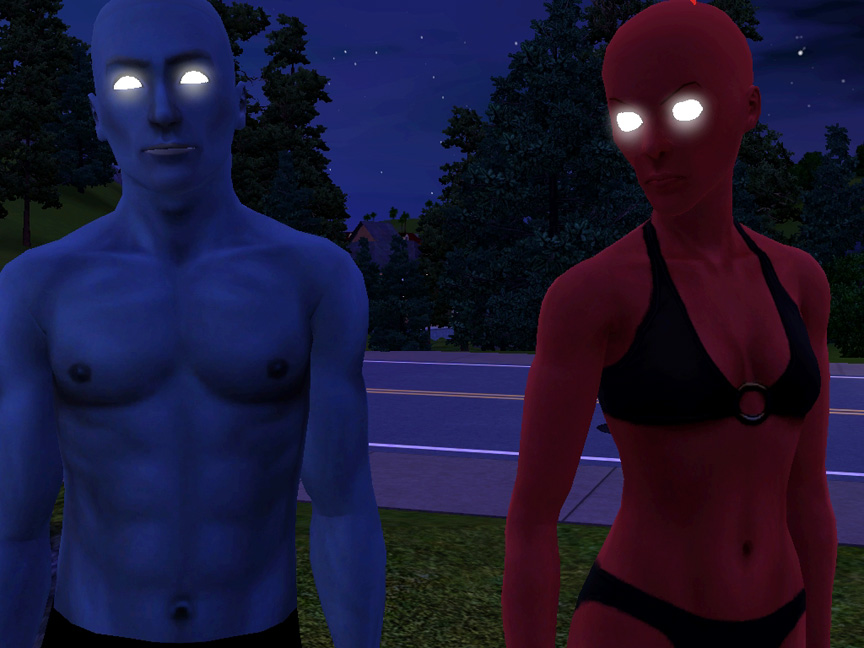 INSTALL INSTRUCTIONS:
Unzip the .zip file, and copy the .package file to your Mods\Packages folder. You only need the one file for both men and women, as it is enabled for both.
If you don't have a Mods\Packages folder and/or don't know how to install .package files, please see full instructions here:
http://www.modthesims.info/wiki.php...g_Package_Files
Thanks for looking and I hope you'll find this a useful scary accessory.
Poly Count:
192
Additional Credits:
Made with the mighty Cas Texture Unitool:
http://www.modthesims.info/download.php?t=364926
Eye Type: Custom
Eye Style: Alien Fantasy

~ * ~ RETIRED CREATOR ~ * ~
Retired to move to Fallout 4 creation but I'll still check here for PMs or questions. Thank you to those who liked my Sims stuff, love all of you.
My Fallout 4 creations: www.nexusmods.com/fallout4/users/38171995 . And some more of my Fallout 4, TS4 and TS3 stuff: http://colorfulcommonwealth.proboards.com/
~ * ~ POLICY ~ * ~
I'm pretty easygoing, please just don't steal or copy my work.
You may recolour my meshes, just please credit me and give a link back here to the item(s).
You may include my creations with your sims, lots, storytelling, etc - just please credit me and give a link back here to my item(s).
Don't claim my creations to be your own work, don't re-upload my stuff to paysites, adfly sites or similar, or to The Gallery.
And, please don't copy my work and upload it here. I learned that's allowed when someone duplicated my Sims 2 Servo conversion and got Featured for it. But, as happened with that person, you'll be disrespected by other Simmers for copying. Because of that, I now ask that if you choose to duplicate my work, you must credit me for having done it first and give a link to my item.
Thanks!