MTS has all free content, all the time. Find out how YOU can help to keep it running.
Tell me how...


Dolphin's Magic Mood Manager (2011-06-08: Updated for Generations)
by
dolphin26
Posted 19th Mar 2010 at 8:59 PM - Updated 31st Oct 2011 at 11:59 PM by dolphin26 : New Version
998
Thanks
Thanks
132
Favourited
Note:
This item needs to be updated for Pets. I'm pretty busy right now, but I hope to update this mod to work in a week or so.
The Magic Mood Manager allows you to give and cure various moodlets, just like the reward that comes with the game. Unlike that reward, however, you get to specify which moodlets you wish to give. I've added "on fire" and "mummy curse" to the list of negative moodlets you can create, and there are some positive ones available as well. It also has the ability to max motives that aren't currently causing a negative moodlet.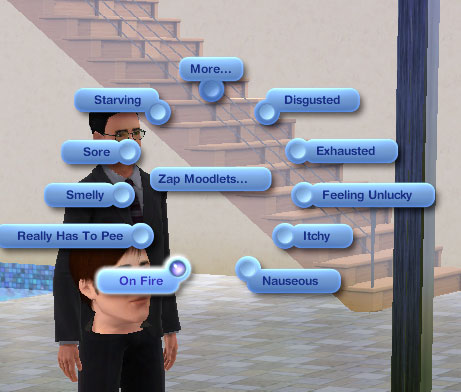 Change Log
Verison 1.05 2011-06-08
: Updated for Generations
Version 1.03 2010-12-24
: Fixed a problem that prevented it from working with the custom magic skill.
Version 1.02 2010-12-12
: Fixed a problem that prevented it from working with vampires.
Version 1.01 2010-12-07
: Added support for late night. It should work with the current patches.
Version 1.00 2010-03-22
: Added significant feature enhancements, including:
You can now use Kolipoki's Custom Magic Skill to recharge this object. See the notes below on where to find the interaction to do this.
Some positive moodlets have been added, including the "Completely At Ease" one that you get from the spa. (That one costs 5 mana points, but lasts a whole week.) See documentation below for other positive moodlets.
Added mummy curse to the zap moodlets (requires WA)
Added the mana cost to interactions
Fixed a problem which would cause mana to get reset when you travel via World Adventures.
Added "About Magic Mood Manager..." object interaction to get current version information.
Fixed several other minor bugs.
Version 0.9
2010-03-20: Updated non-translated languages to use English because it is better than cryptic messages surrounded by *** characters. (If you use English, you don't need this update, otherwise get it!)
Version 0.8
2010-03-19: Initial post
The Mana System
I've received requests by some players that don't like to straight-out cheat to make my magical items work in a way that still keeps some game balance. To address this need, I've made this item require mana, or stored up magical energy, to work. This is the first item I'm uploading with this, but I plan to also retrofit my previous items to use it as well.
To charge a magical item, you have three choices.
1) You can use gems to charge a magical item. Currently, you get one unit of mana for each §100 that your gems are worth but I may make this value tunable at a later time for people that want it to be harder or easier to charge magical items.
2) You can recharge your wand using
Kolipoki's Custom Magic Skill
. This will show up on the object's "Mana...->Recharge with magic wand" menu when you both have the magic skill and have the wand in your inventory. To do this interaction, the Magic Mood Manager must also be on the ground and not in your inventory.
Warning:
Charging using the magic skill takes a lot of energy. Be sure that your sim has a near full energy bar -- otherwise, you might pass out!
3) If you'd rather cheat than use gems or use the wand, there's a convenient Mana->Cheat menu option which allows you to directly edit how much stored mana there is. This item will also be useful to non-cheaters that may need to delete and recreate the item if they run into a bug while this item is in beta.
Menus
Most of the objects functionality is on the Sim menu. To see it, you must have the Magic Mood Manager in your sim's inventory and have that sim selected. Then click on another sim (or yourself if you want to operate it on yourself.) Then, you will see a "MMM..." menu, like the one below. All functionality that operates on a sim is off that menu: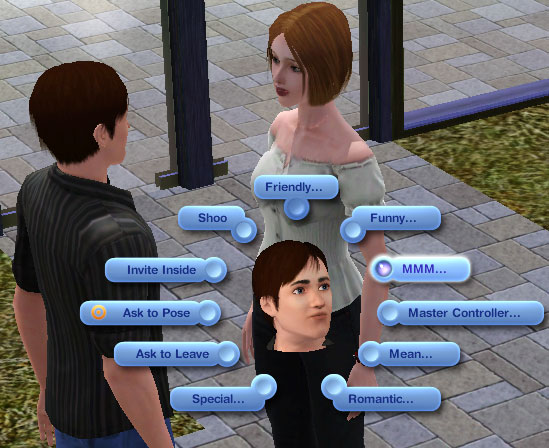 However, recharging mana is an item off the object itself: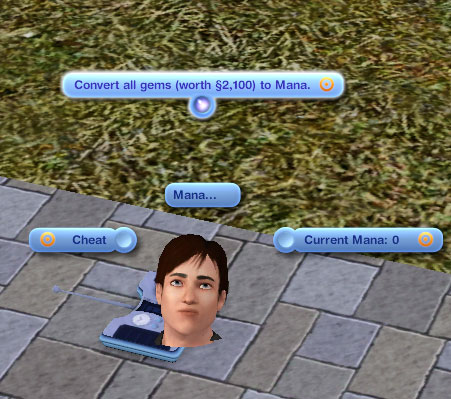 Here's a full listing of what the current menu options on the sim "MMM..." menu:
Sim->MMM...->Zap Moodlets...

Mummy Curse
On Fire
Really Has To Pee
Disgusted
Exhausted
Feeling Unlucky
Itchy
Nauseous
Smelly
Sore
Starving
Aching Back
Buzz Crashed
Cold Shower
Overworked
Sleepy
Tastes Like Fridge
Tired From Moving
Uneven Cooking
Very Hungry
Virtually Nauseous
Sim->MMM...->Cure Moodlets...

Adrenaline Rush
Blessing of the Sphinx
Completely At Ease
Feeling Lucky
Fiendishly Delighted
Inspired
Meditative Focus
Oddly Powerful
[/indent
Sim->MMM...->Other...[indent]
Zap Naked
Cure
Max Motives
Cure and Max Motives

Where do I find it?
Under Electronics->Misc for $1000. See here: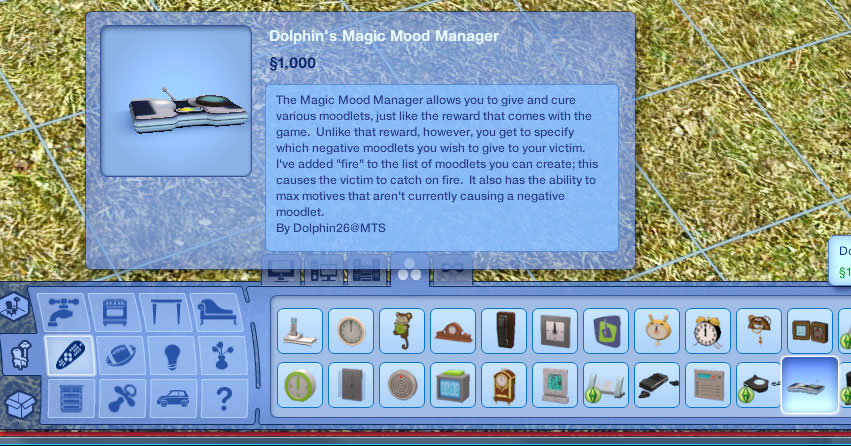 A note on translations
I've learned how to merge translations with new functionality, so I'm now accepting translations for anyone who knows how to do it. Thanks!
If you don't get interactions...
How to install package files has changed with the Ambitions EP and the updates that have come out around the same time even if you didn't buy Ambitions. Follow these instructions:
http://www.modthesims.info/wiki.php...ch_1.12/2.7/3.3
If you install it properly, you will see something like this when you start: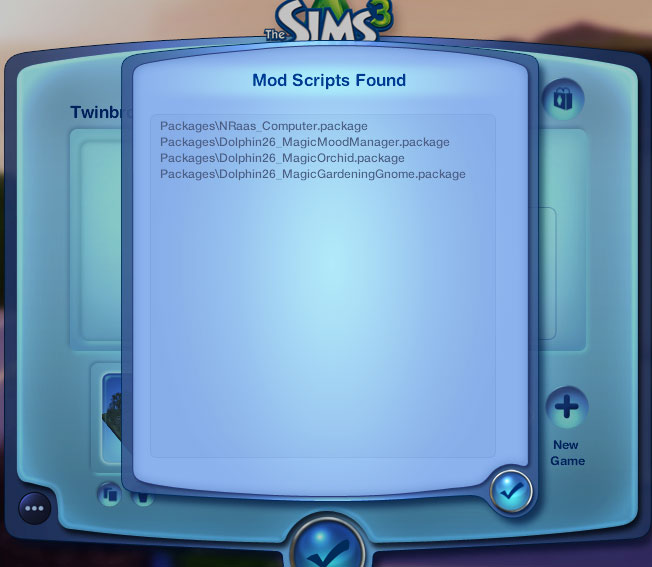 If you don't see something like the above,
do not ask me for help.
You either don't have the framework installed correctly or you put the package file in the wrong place. Reread
the instructions
and if you still have problems
ask for help in this forum, not here
.
That said, if you have problems with the object and
do
see the screen similar to the one above, post a screenshot of it with your post for help. It might help by showing other mods you have that might conflict.
So in summary, if you see a screen shot like the above, ask for help here. If you don't, ask for help
in this forum
.
See Also
Thanks to...
Peter & Inge Jones -- for the tools used to do the mods
Twallan -- for pointers along the way
Jonha & Digitalchaos -- for tools used to handle translations
Delphy -- for this site
wheatberry -- for the Chinese strings
Check back here for more updates
This object has tons of potential, so I will definitely be updating it in the future with new functionality. Ideas I have include having it
give some positive moodlets
, or perhaps some mind control where you force your friends or neighbors to clean your house or do other specific interactions, like the influence system worked in Sims 2 Uni.
133 Comments / Replies (
Who?
)
Users who thanked this download also thanked:
Expansion/Stuff packs required:


133 Comments / replies (Who?)
14,136 Downloads
154,843 Views
Type:

Also recommended: