Poses: The Sims have the Powerrrr!
MTS has all free content, all the time. Find out how YOU can help to keep it running.
Tell me how...
9,092

Downloads
627

Thanks Thanks
76

Favourited
74,629

Views

Uploaded: 2nd Jun 2010 at 10:45 PM
Updated: 25th Nov 2010 at 10:26 PM by whiterider
W00T!!!! After just over a year in the making, I finally present it to you in it's final form.
This is for the Picture Takers and Story/Movie Makers out there. Here's my third Game Mod. It's
SynapticSim's Power Pose Object
. It contains 25 different poses.
The Poses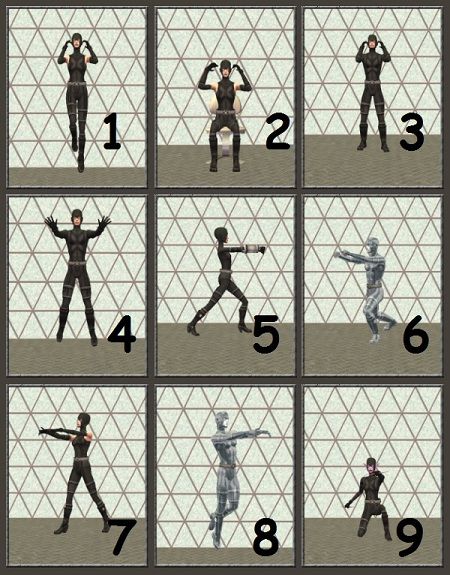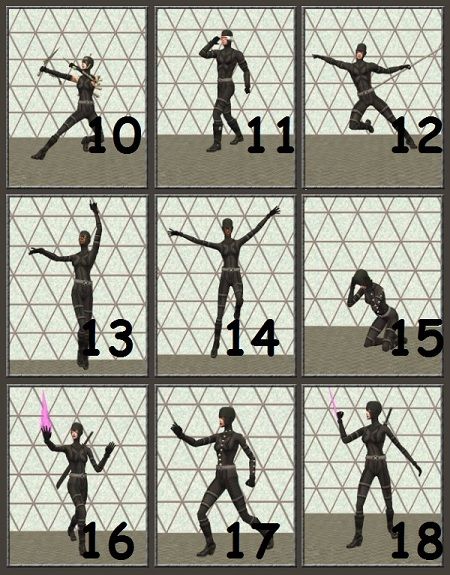 1 - Telepath Floating
2 - Telepath Sitting
3 - Telepath Standing
4 - Powers Arms Out Stop Hand
5 - Powers Blast 1
6 - Powers Blast 2
7 - Powers Blast 3
8 - Powers Blast 4
9 - Powers Blast 5
10 - Powers Blast 6
11 - Cyclops Visor
12 - Gambit Unleashed
13 - Summon Storm 1
14 - Summon Storm 2
15 - Mental Attack
16 - Telekinetic 1
17 - Telekinetic 2
18 - Telekinietic 3
19 - Dead Man Hang
20 - Containment Float
21 - Beast Attack
22 - Arms X
23 - Strong Guy (or Gal)
24 - Classic Supes
25 - Telekinetic (Child) - Accessed by Children Only
As you can see, a lot of these are specific to X-Men Characters. However the pose can be used for other sims, it's just the name I came up with for the pose and what character I had in mind. "Dead Man Hang" would best be used by placing close to a wall as if your poor little simmy is shackled to the wall. OMSP's would be great in that case for different heights, angles, and such. "Containment Float" is good for sims who are trapped in stasis in containment fields, lab test tubes, etc. "Arms X" is good for both Wolverine and someone like Wonder Woman who gets in that pose to deflect bullets via her mystical bracelets. "Classic Supes" was made specifically with Superman in mind, however, it's just a general good pose for any hero.
What is the difference between this "Pose Object" and the "Pose Boxes" that are out there?
I love pose boxes, however, one thing that drives me crazy is the requirement to go back in and stop the animation or using the Force End or Stop All. The Pose Object will queue the animation and hold it for 6 seconds. This is ample time to hit the "pause" button.
Who does this work for?
It works for Teens through Elders, and both genders of'course. And one pose even works for children!
Where is it located in the game?
NO Expansion Packs REQUIRED!!! You will find this in Buy Mode under the General/Miscellaneous Category. It costs 1 simolean. At least it shouldn't require an EP. Please let me know if you find out differently.
Recommendations:
I highly recommend using the
Freezer Clock
by treeag. This allows you to freeze only one sim in a certain pose/animation while the rest of the sims on the lot go about their business as usual.
I wouldn't recommend uploading this with your lots because some people are opposed to hacks/mods. Should you upload it however, that is fine with me, but DO NOT under any circumstance upload this to The Sims 2 Exchange or any Paysite. If you upload it to any other site, please be sure to provide a link back to this thread or to
SynapticSim's Lair
.
No credit is required if you use this in pictures, stories, or movies.
Please have a blast with this!
~ Syn
SynapticSim's Policy
If you include/use my meshes with your uploads, please add a link to my site SynapticSim's Lair:
https://synapticsimslair.jcink.net/
Should you use a mesh such as the Lean Bodybuilder that was created based off of Marvine/BeosBoxBoy's work then credit should be listed in this order, Marvine/BeosBoxBoy/SynapticSim
Please do not use my textures for non-sim related projects. If you do use my textures to create something new, please credit me with a link to my site.
I also love to see what people do with my stuff so if you can't contact me by PM on my site then you can send an email to
[email protected]
, just be sure to note that it is sims related in the subject ... I'm paranoid about emails from people I don't know, lol.
Please do not upload anything I make to the Sims Exchange.
This policy goes into effect immediately. No parts of my (SynapticSim's) creations can be used to create Custom Content for The Sims 3 or The Sims 4. This includes the templates that I have released as well as any of my other creations dating all the way back to The Sims 2 Exchange up until my most recent creations and any future creations. I don't even know if it's possible to use Sims 2 custom textures with Sims 3 or 4 custom content, but if it is, please DO NOT use any part of my creations for public use and/or downloading. This includes costumes, skintones, hair, eyes, makeup, face masks, meshes, accessories, objects, mods, hacks, and anything else made by me for use with or in The Sims 2. Please respect my wishes where this subject is concerned. Should I discover my content being used in ANY part on The Sims 3 or Sims 4 creations uploaded to another site for people to download, the admin of that site will be contacted and asked for the content to be removed. Should you also be a member of SynapticSim's Lair, then you will be permanently IP banned without warning.