>

Programs and utilities either to mod the game or to make it easier to install content.
The Sims 3 Crash Log Analyzer
MTS has all free content, all the time. Find out how YOU can help to keep it running.
Tell me how...
144,408

Downloads
4,307

Thanks Thanks
632

Favourited
733,158

Views

Uploaded: 20th Aug 2010 at 10:11 PM
Updated: 9th Jan 2018 at 8:19 PM
I will no longer be watching the comments page after The Sims 4 launches on September 4, 2014.
Translations:
-
Deutsch
Summary:
The Sims 3 Crash Log Analyzer (CLA) parses crash logs (xcpt*.txt) in the the Documents\Electronic Arts\The Sims 3 directory. It then attempts to discover what most likely caused the crash which CLA displays under the "Likely Cause" column.
This is a tool to help diagnose crashes. It is not a miracle worker.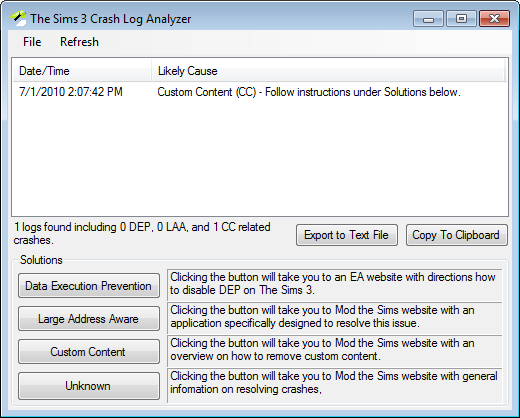 System Requirements:
-Microsoft
.NET Framework 4.0
Client Profile. Mac OS X is not supported.
-An internet connection is required to get the names of The Sims 3 executables. If you don't have an internet connection, it will ask for a "*.plf" file. Download the current version
here
and point to it when it requests it.
Usage:
Upon opening CLA, you will see a list of crashes and their likely causes. You can click on the corresponding buttons under solutions for assistance in solving those specific issues. If you are getting a lot of "Unknowns," you may either click on "Export to Text File" which prompts you to save it or click on "Copy BB Code" which copies the data to your clipboard to be pasted in the comments (see below) or the official
Sims 3 Forums
.
CLA does not delete any logs by default. If you wish to delete the logs, you can do so under the File menu.
Please note that download threads are not for game help and support.
While this program can be helpful in troubleshooting certain issues with your game, download threads are not meant to provide solutions to game problems. Please do not post your crash log stuff here to ask for further help - please use the Help section here at MTS, starting with this:
Game Help:Sims 3 Game Problem
wiki
and following the instructions, each step, in order. This FAQ:
Game Help:Sims 3 Crashing
wiki
can also be helpful. If you continue to have problems even after trying ALL of the steps in the above-linked two FAQs, you can post a new thread in the Help Q&A forums (there's a link at the top of every FAQ) and we will be happy to offer you help for your problems one-on-one. Make sure to include a detailed list of everything you've tried to fix the problem (not just "I've done the FAQs" but a description of the steps you took, in your own words) as well as the summary version of your system specs, using the form you can copy-paste from this page:
Game Help:System Specs
wiki
Unknown Crashes:
If you are getting a lot of unknown crashes, you can use the "Copy to Clipboard" button and paste the results in the comments section.
This information may be used to expand the library of crashes the application can recognize.
Please be aware that is it very unlikely reporting unknown crashes will result in good, immediate advice to fix the crashes. I would recommend looking
here
for a list of things to try to fix the problem. If you happen to figure out what fixed the crashes you reported previously, please provide an update so that I can perhaps automate the detection of that specific type of crash for people that experience the same problem.
Additional Credits:
Sim Jett and members of the official The Sims 3 forums for testing and research.
About Me
If it involves a computer, I probably do it (building, repairing, programming, gaming, reverse engineering, etc.).

I own almost all 'Sim' titles (from the original SimCity to The Sims 3) and a devout fan of Will Wright.