>

Pixel dollhouses/For sims to live their lives in/Nice houses for sims
The Everson House - A Starter House Recreation
MTS has all free content, all the time. Find out how YOU can help to keep it running.
Tell me how...
1,356

Downloads
75

Thanks Thanks
5

Favourited
14,734

Views
Personal Picked Upload!
This is a personal favourite of the creator!

Uploaded: 21st Jan 2011 at 5:48 PM
Updated: 22nd Jan 2011 at 10:23 PM
The Everson House - A Recreation
A Beautiful Starter Home based off of original work by Beatdoc16
Upon request, I was prompted to make this wonderful house. I was provided with an image from a google search result, and I got to work at the house. I loved my work, but I knew it wasn't entirely mine.. After some searching, I found the original creator, beatdoc16, and she was kind enough to let me upload this creation for the community to enjoy!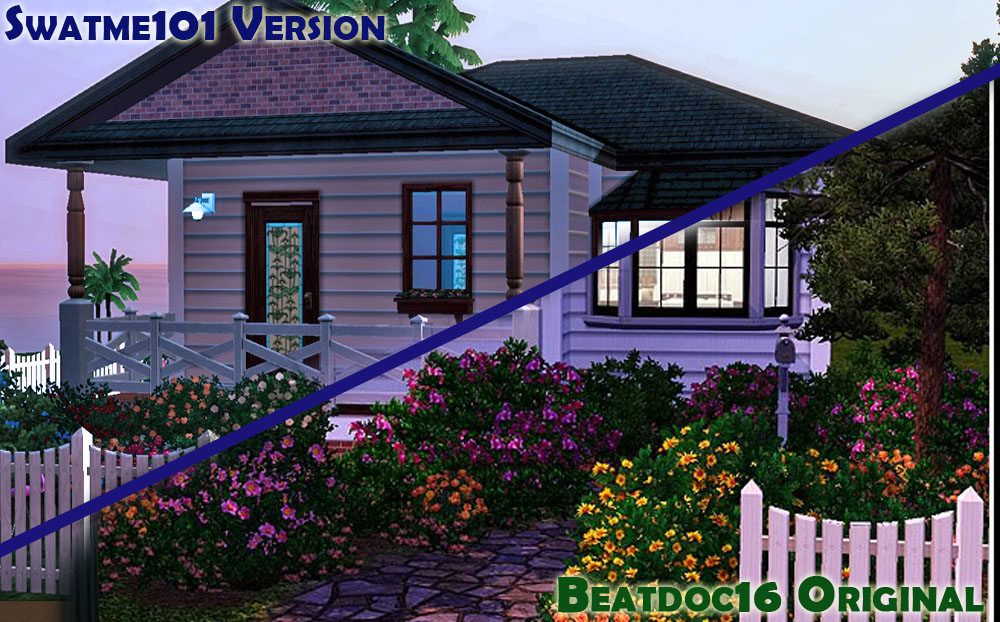 Layout and Design
This small starter home features beautiful flora and landscaping. Within the outer fence, the lot has a small garden, a firepit, and plenty of flowers and plants to admire! Inside, a small kitchen opens up to a simple living room which takes up the majority of the household. The small bathroom features a cosy feel, along with the single bedroom, which contains one double bed along side a huge bay window, to match the bay window of the kitchen. The back of the house has a small deck, and area for your sims to grill; seating for two. A path leads back to the firepit.

The Two Versions (Please Read!)


It may become apparent to you that this lot is quite expensive for a starter house at little below 40,000 simoleans. This is because of the massive amount of flora on the lot. Because of this, I have included two versions of the house for download. Each house has it's respective .RAR file. It will NOT hurt to download both, and they are no different other than what I am going to explain below. Please continue reading

There are two different versions of the house, one of which is cheaper than the other. When I built this house, I realized that the cost of the flora was very overwhelming, and that this lot no longer achieved that "starter home" pricetag. So, to save you the time, I have included a lot that uses Late Night elements of the game to make the house cheaper, as well as a normal version. There is, however, a catch in the more expensive version. The lot is rendered uneditable with the Late Night marker used. There is a simple process of removing the restrictions. Read the spoiler below on how to do this. There is also instructions on how to remove those elements if you do get the cheaper lot and change your mind.
*It has been confirmed that there are NOT any problems with gardening on the cheaper lot.*



How to Edit This Lot
This lot includes build elements that render it un-editable without the use of cheats. To lift the restrictions, the following cheats are needed, and should be typed into the Cheat console by pressing CTRL+SHIFT+C, the cheat, and then enter. Enter each code as shown.

testingCheatsEnabled true
buydebug
rbbb false



To remove the special marker making this lot cheaper:
Once these cheats are typed in, find the sphere in the foundation of the house. Select the sphere and delete. If you did this correctly, the house should change in price. Done!
The Lot Size Mixup

Okay, so there is one minor annoyance in this download. I did not check before building, and realized that this lot has been built on a 21 x 25 lot, rather than the regular 20 x 25. This means that you CANNOT place this on a 20 x 25 lot. Now, depending on your lot avaliblity, you can just plop this lot onto a 25 x 25 lot and call it a day. However, if you have a 20 x 25 lot space for it, and you want to keep this lot nice and snug as it is, you are going to need a method of creating a custom sized blank lot. There are many ways to do this, and it is not that hard to do. If you already have Awesome Mod installed, all you need to do is type "addlotsize 21 25" into the cheat console. Alternatively, you could use the iJLotSizes mod and read those instructions. I'm really sorry about this little annoyance in the lot. But like I said, you can always place it on a 25 x 25 lot or bigger and it will be fine.
Custom Content
To ensure the quality of the lot, some objects are required to be downloaded.
This content is NOT included in the package and MUST be downloaded for the lot to appear exactly as shown in the screenshots!
Creators Content
:
1.
The One More Slot Package
by
granthes
*Highly Recomended, Awesome Object In General!*
2.
Shelf Clutter Pack
by
cmomoney
3.
"Stuff on the Fridge" Mod
by
cmomoney
EA Store Content
:
Note:
These objects are nice accents to the house, but I would not suggest you go out and buy them just to get this download to look EXACTLY like the screenies. If you do not aquire these items, they will be replaced with default EA content.
Please note that most of these store items belong to bigger store collections.
1.
Tropical Fruit Bowl
2.
Ray's Shades
3.
Spa Necessities
4.
Elegant Swirls Lite
5.
Elegant Swirls Wide
Lot Size:
21x25

The Normal House:
Lot Price Furnished:
38,806
Lot Price Unfurnished:
27,161

The Cheaper House (read spoilers above for more information)
Lot Price Furnished:
19,627
Lot Price Unfurnished:
1,372
Custom Content Included:
ATS3 Bed Companion - Books #1 by
Sandy @ Around The Sims 3
Additional Credits:
Thank you again, beatdoc16, for allowing me to upload this original idea of yours

!
Original Post Here
Also, thank you to -Pure- from Snooty Sims for prompting me to make this house!
Request Post Here!
About Me
Hello! My name is Derek. For the most part, I will be uploading lots that I have created. I have not entered the world of mods or objects, but there are is always the future! As a few ground rules...

1) Feel free to recommend my downloads to other people, but please use the download link of the Mod The Sims page.

2) Do not take my creations and upload them to another website, or the exchange.

3) Enjoy my creations, and don't forget to hit the "Thanks" button if you like what you see :)