Finally! Desert Plants for TS3! - Macarossi's Desert Landscape Set converted to TS3
MTS has all free content, all the time. Find out how YOU can help to keep it running.
Tell me how...
75,399

Downloads
1,490

Thanks Thanks
200

Favourited
98,479

Views
Personal Picked Upload!
This is a personal favourite of the creator!


Uploaded: 24th Feb 2011 at 6:41 PM
Updated: 25th Feb 2011 at 6:26 PM - Ready for Moderation Queue - These should go under build plants
What did you say? TS3 needs more desert plants?? ... Well, I agree with you!
Macarossi's Desert Landscape Set converted to TS3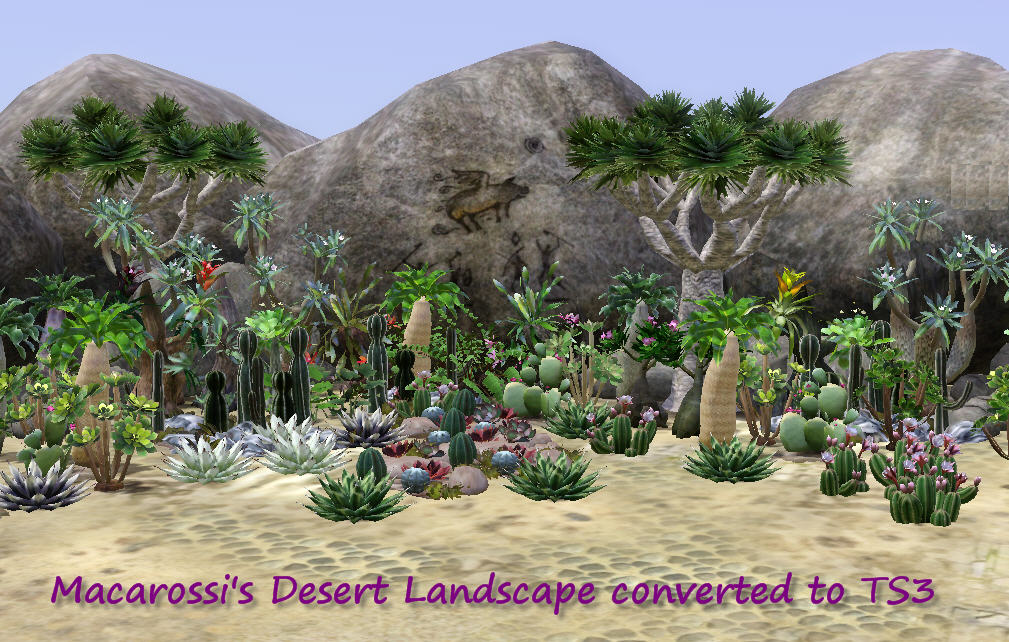 I LOVE Macarossi's garden plants and have been waiting for a TS3 version which has not appeared. Since Macarossi has a liberal policy of basically 'anything if it's on MTS'. I took on the task of converting her entire Desert Landscape collection to TS3 format (cuz I am a greedy porky and want it for my TS3 gardens) It was a big job (Mainly because I am a mesh masher, not a texture goddess

)
CREDITS:
Thank you
Macarossi
for making a beautiful TS2 collection and for having a generous creator policy. Here is a link to the TS2 originals -
Macarossi's original TS2 Desert Landscape collection
I want to thank
Cmomoney
,
Cocomama
and
Orangemittens
for their help while I was learning how to do the conversions.
Ellacharmed
for her detailed tutorial and the creators of all the tools to take apart TS3 packages because I sure couldn't do it without their tool expertise -
Peter & Inge
for
S3PE
& s3oc,
Wes
for MODL decompiler and Milkshape plugins. oh! And I am finally learning how to use Photoshop! I think by mesh 5 I finally learned how to make an alpha quickly. lol (Remember, porky flunked finger painting in kindergarten.

)
Because I have converted Macarossi's entire 'Desert Landscape' collection for TS3, I've arranged the presentation pages differently, according to how you'd find them in the game. You can get complete RAR's of the main plant groupings right here on this intro page, but if you want to 'pick and choose' individual plants, look at the comments section.
Macarossi said, "This is a collection of plants typically found in desert regions: cacti, succulents, Pachypodiums (Thick foot). The only plant that doesn't fit here is (maybe) Jack in the Pulpit. Some of the plants, especially some of the cacti, are intentionally oversized."
These are all outdoor plants and can be found in the BUILD section under the corresponding icons. They are all
base game compatible
- cloned from the ivy ball topiary.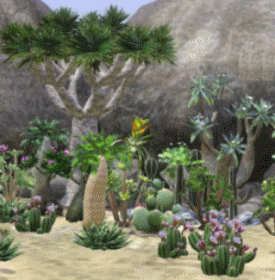 SET of 8 Flowering plants
* Arisaema Candidissimus $55 - 1036 polys
* Beavertail Cactus $120 - 1344 polys
* Brighamsia Insignis - $130 - 1194 polys
* Desert Rose (Adenium Obesum) $150 - 1194 polys
* Disocactus on a tree stump $300 - 1141 polys
* Echinopsis Candicans cactus $110 - 1258 polys
* Flowering Cacti $55 - 1191 polys
* Guzmania - $210 - 1168 polys
Set of 7 Non-flowering shrubs
* Agave $55 - 550 polys
* Arisaema - (shading issues) $45 - 1160 polys
* Cacti and Stones - $210 - 1276 polys
* Cacti Round - $48 - 1120 polys
* Pachypodium Namaquanum $110 - 1244 polys
* Succulent Aeonium - Aeonium Arboreum $65 - 1255 polys
* Zamia - $85 - 1120 polys
SET of 2 Trees
-
* Dragon Tree - $425- 2892 polys
* Flowering Madagascar Palm - $525 - 2303 polys
Set of 7 Terrain Paints
-
* Desert 1
* Desert Sand 1
* Desert Sand 2
* Desert Sand 3
* Desert Slabs
* Desert Stones
* Desert Stones 2
NOTE: THIS SET IS NOT RECOLORABLE or CAStable
Please note: This is a conversion of TS2 textures and meshes. While I have done my best to stay true to the originals there is a little bit of 'fudging' on a few of the texture edges, mainly because TS2 uses floating PNG textures and TS3 uses alpha edits and channels - (so please - all botanists out there- don't hate me, m'kay?

) There were slight differences between the leaf and flower shapes on the plants that had more than one color variation. Rather than clutter your bin with almost the same item but in a different flower color/bark pattern, I just modified the leaf edges a little and packaged them as 1 plant in 2 or 3 variations.
Since desert plants are rare in the Sims3 world, these rare plants are a bit spendy.



And! Most importantly, I encourage you to learn how to do these conversions yourself! I've made a tutorial that shows you every step I used to do this conversion.
Get it on the wiki -
Start to Finish TS2 to TS3 Object Conversion Tutorial
.
Mashed Meshes Policy
We all know what a pain it is to find a gorgeous outfit that someone recolored but then we have to go to some other site to get the mesh. Sometimes, that MESH is not easy to find, OR is no longer available. AND, sometimes people just don't have the time to go shopping so they bypass something they may have liked but it was just too much of a hassle to go find all the parts.

With the above thought process in mind , I have decided that any and ALL of my meshes may be packaged along with any recolors that people make, or it can be published at their site as the MESH download of a recolor. The only string attached is that the recolors of my meshes must remain totally free. You can put them in a free download section of a paid site but they can't be a gift for a donation. After all, you got the mesh for free and you wouldn't have been able to make your garment without the mesh.

And, if someone wants to 'steal' my stuff and take credit for it... well, they have to answer to a higher authority for it.
You may include any meshes I create in your uploads as long as you give me credit. :0) Send me a PM so I can see what you've done. :0)

Added: Since I know how much work goes into creating meshes from scratch, you can use any of my meshes as a starting point and add your own stuff to it or change things on it, as long as you take responsibility for the changes to the mesh and DO NOT CHARGE for it. :D

P.S. By all means, if one of my creations is BORKED and you can fix it, please do so. I am a busy person and can't get around to fixing game things all the time and I'd appreciate it if you'd send me a pm with a link to the fixed item. :0)

NOTES FOR SIMS 4 MESHES: Jan 18-2015
I'm learning how to make Sims 4 meshes. Please note that Sims 4 object recolors pack the original as well as the modified mesh along with the recolor. Until that is fixed, (if anyone is interested in doing so) I will only allow recolors of my meshes if they stay here at MTS where I can track them down. The reason for that is if EA makes a change that breaks a mesh, the people who've made recolors need to remake their recolors so it can be packaged with the updated mesh. Sorry, This is a design issue made by EA. This may change later if EA makes a change.