MTS has all free content, all the time. Find out how YOU can help to keep it running.
Tell me how...


I Can Dance ! : Breakdance Poses Pack #1
by
overlordorochi
Posted 12th Jul 2011 at 6:15 PM - Updated 12th Jul 2011 at 7:25 PM by overlordorochi
351
Thanks
Thanks
71
Favourited
This download is a custom pose or animation. This means that you will need the
Pose Player
or
Animation Player
mod by
cmomoney
installed in order to use the download in your game.
READ ME
You need Cmomoney's
Pose Player
in order for these to work. Do not ask me questions regarding of the Pose Player itself.
PS : This is my first upload on MTS , and also the first few poses I've made for the Sims 3. So, go easy on me and don't expect any perfections.

Tired of making a fake smile face in front of the camera ? Or are you running out of face expressions for the camera ?
Now, you don't need your face to do the work ! Let your body do it instead !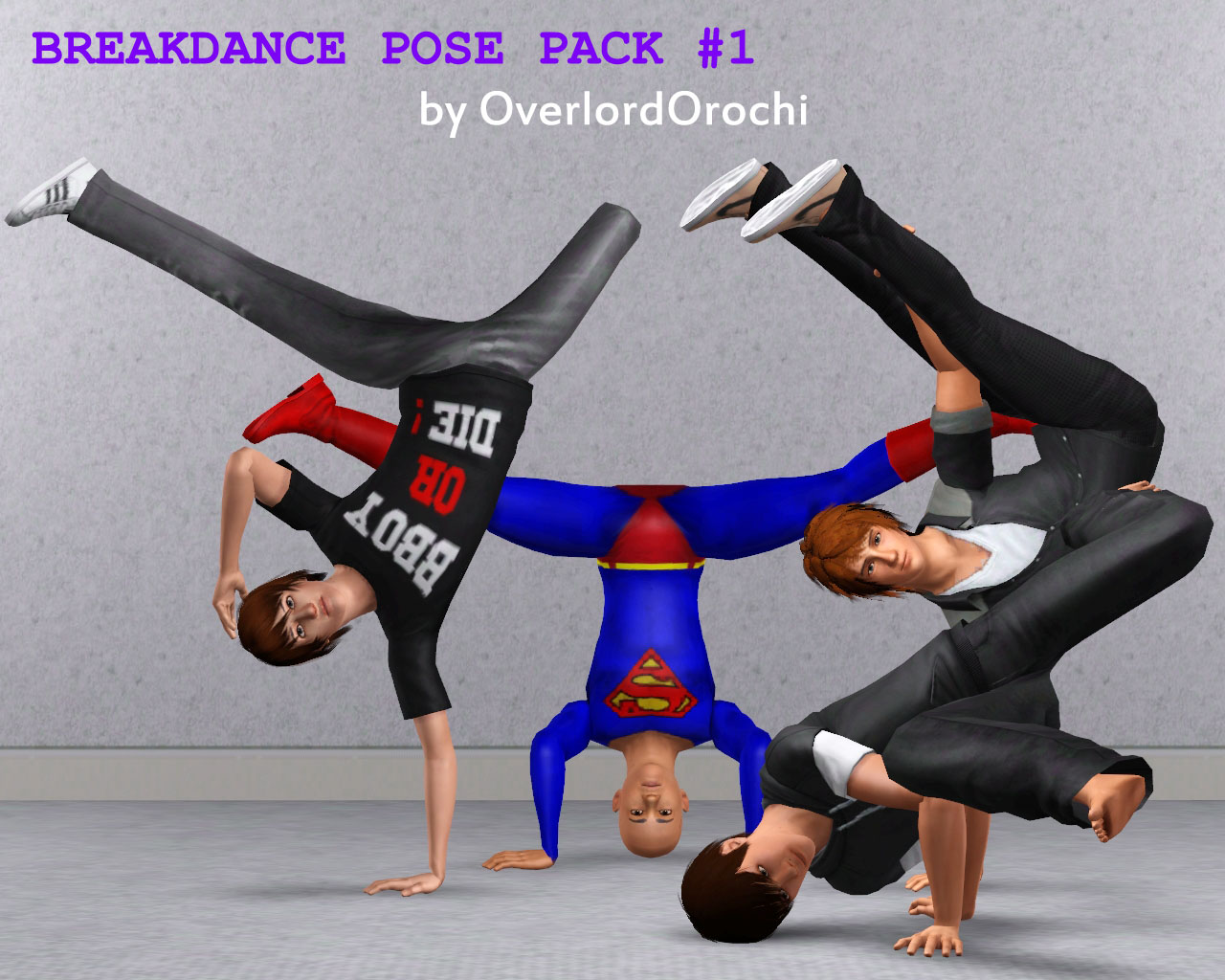 Installation
1. Download Cmomoney's
Pose Player
and follow the instructions there.
2. Choose and download the poses pack I've uploaded according to what you desire.
3. Extract the files and copy the .package files to your Mods folder, usually located at
C:\Users\Username\Documents\Electronic Arts\The Sims 3\Mods\Packages
Contents
I've included 4 .rar(s) for your convenience, choose only the one you desire !
BboyPoseAdults.rar
This contains all of the poses made mainly for the adults, so your teen sims's hand may get sink using some poses
You can use this along with BboyPoseTeens.rar and NikeKickBald.rar
Names of poses :
a_overlord_baby
a_overlord_chair
a_overlord_shoulder
a_overlord_turtle
a_overlord_headstand
a_overlord_nike
a_overlord_pike
BboyPoseTeens.rar
This contains 4 fixed poses for your teen sims, your adult/elder sims may float using them
You can use this along with BboyPoseAdults.rar and NikeKickBald.rar
Name of poses :
a_overlord_babyteen
a_overlord_chairteen
a_overlord_shoulderteen
a_overlord_turtleteen
NikeKickBald.rar
This is the fixed version of nike kick made for your bald sims, with hand touching the head
You can use this along with BboyPoseAdults.rar and BboyPoseTeens.rar
Name of pose :
a_overlord_nikebald
BboyPosePack.rar
This is the combination of the 3 .package(s) above, made into a single .package file
Do not use the other 3 .package(s) if you download this one !
Notes
1. These poses are "right hand stabbed". I'll make the left version when I've the time and mood.
2. If you use any slider that alters the arms length, you might get the sinking or floating symptoms.
3. You'll still need to download the poses for adults if you want the headstand, pike , and nike poses on teens. They only sink a bit on some teens, but should not be noticeable.
CC Info
Guy with "Bboy Or Die" Tshirt
Hair
by Anto, converted by TumTum
Eyebrows
by Heiret (No.3)
Eyebag
by Tifa
"Bboy or Die" Tshirt by myself, I will upload it if someone requests it (You'll need the Generations EP though)

Jeans
by LemonLeafs
Adidas Superstar Sneakers
by arjannl
Non default skin
by Heiret (Also available as Default Replacement)
Guy with brown shoes
Hair
by TumTum
Eyebrows
by Heiret (No. 2)
Eyebag V3
by Tifa
Jeans
by LemonLeafs
Nike Tennis Classic Sneakers
by arjannl
Non default Asian skin
by M.Calero (Strawberry)
Guy with no shoes on
Hair is included in Ambitions EP
Eyebrows
by Heiret (No. 3)
Eyebag V3
by Tifa
Non default Asian Skin
by M.Calero (Apple)
Bald Guy
Hair
by HystericalParoxysm
Costume
by guidion (As separate Top, Bottom, and shoes)
Additional :
Default Replacement Eyes
by Arisuka
SexyFeet Replacement
by Bloom (You need to register at his site)
Additional Credits:
cmomoney - For his Pose Player
orangemittens - For his tutorial
WesleyHowe - For his AnimTool
mesher - For his Adult Male mesh and rig
21 Comments / Replies (
Who?
)