Sims 2

>

>

Wallpaper, Paint, Ceramic Tile, Siding, Ceramic, Wood, Paving, Carpet, Linoleum, and Ground Cover or Sets of all of those
Marble Backsplash Starter Set
20,781

Downloads
559

Thanks Thanks
53

Favourited
55,529

Views
Picked Upload! This is a picked upload! It showcases some of the best talent and creativity available on MTS and in the community.


Uploaded: 19th Sep 2011 at 11:03 AM
Updated: 20th Aug 2012 at 6:00 AM - Updating the files And Images

UPDATE: April 2012

Here is a link to my
Basic Wall Superset
, uploaded to
Sims 2 Artists
a while ago! It includes 3 more Marble Backsplash sets and various Basic Print and Wood Sets as well for your modern decorating convenience. Do enjoy all the downloads!

CLICK HERE:

Download StephSim's Basic Wall Superset (with 3 More Backsplash Options)
Note: Sets 16 - 18 are the 3 Backsplash Sets. Sets 1 - 17 include Basic Woods, Panels and Print Textures to compliment others you may already have!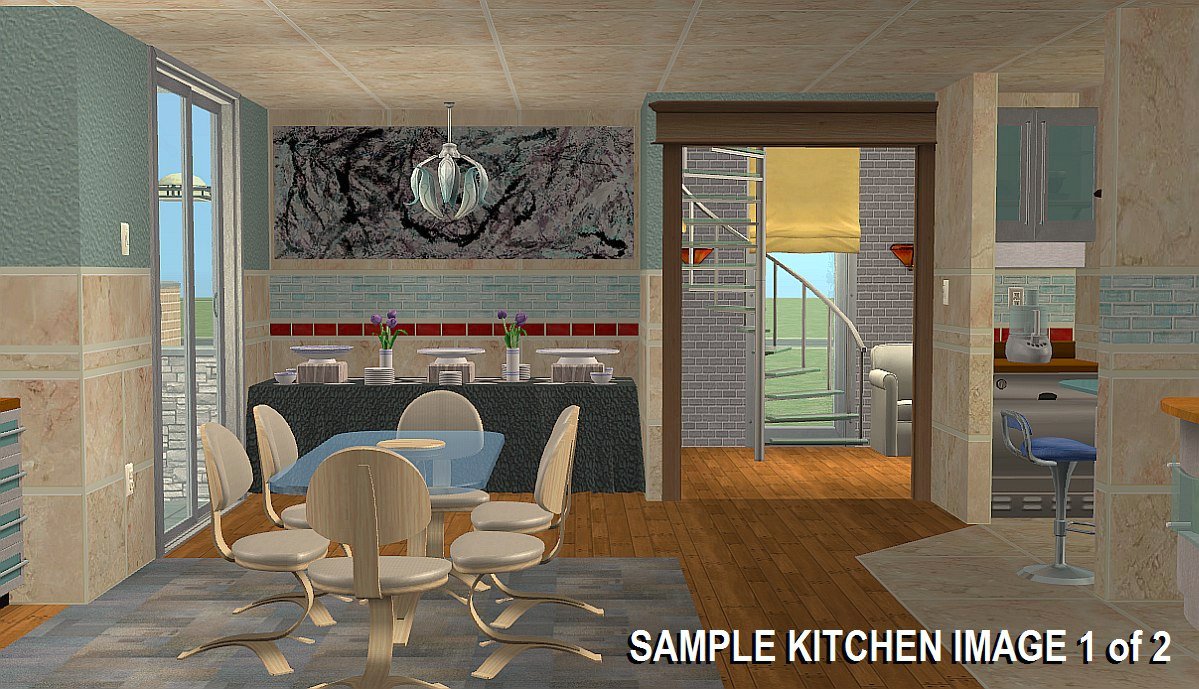 ****
The Backstory
****
I wanted a kitchen backsplash with a bit of color and could not find one that was the right height for the Maxis counters or with the exact colors I wanted. So I created this little set as a template and compliment for future backsplash sets.
I actually uploaded a smaller set of 5 textures initially, but while it was in the queue, I began experimenting with an inlay technique. While the technique may not be new to everyone, it is new to me. It is a balance between extreme 3-D and flat 2-D. It gives the textures a "clean, yet elegant" look that I hope you will enjoy as much as I have come to. As a result, I dumped the original Starter Set and created this set instead. I added a few more walls and floors to make the set more complete as a starter set.

****
To the TEXTURES!
****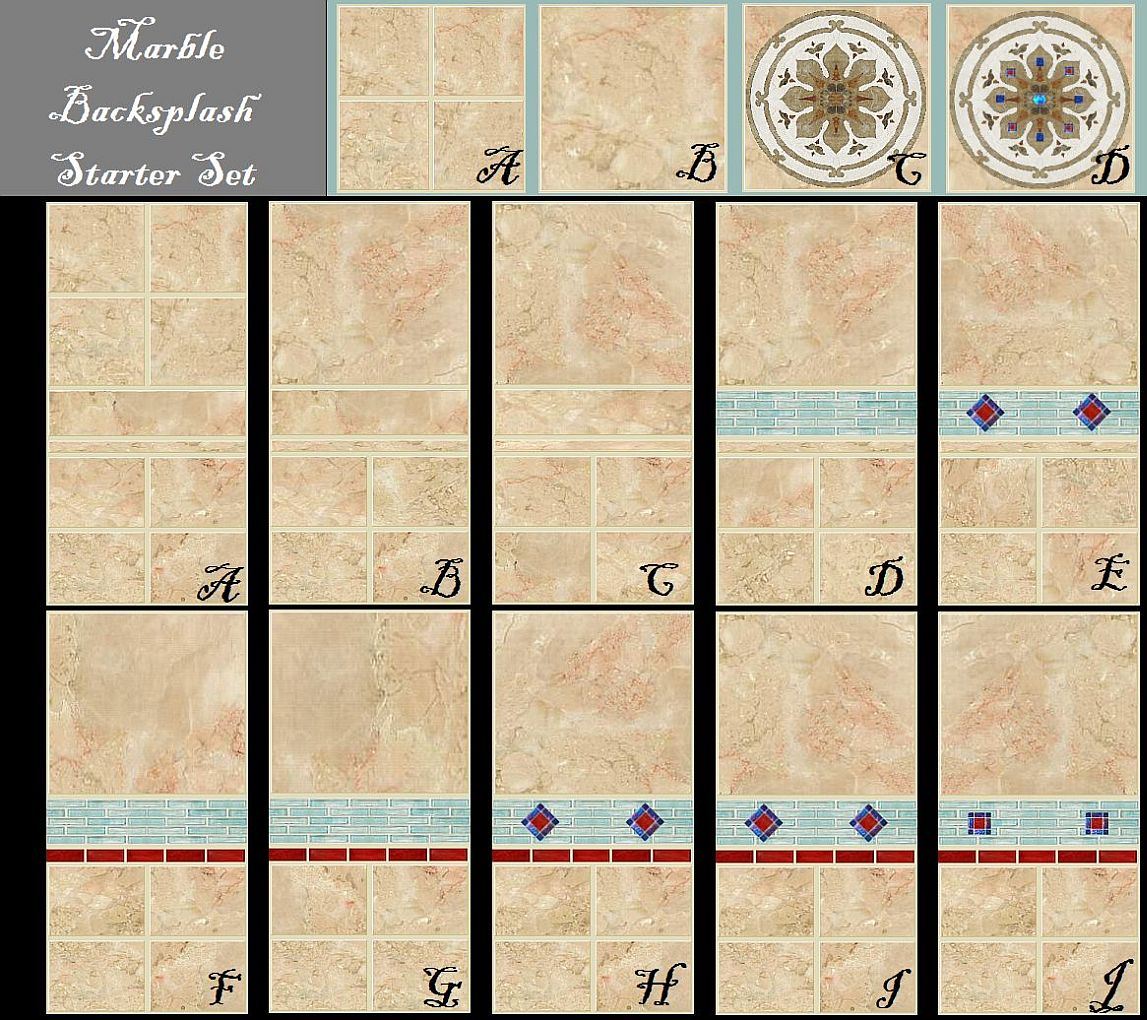 * When designing lots with textured/patterned walls, it is easy to get lost in the repetition of pattern once an individual wallpaper is tiled over several walls. To prevent this pattern redundancy, I created a few "sister" walls for several of the individual walls in the set. Basically two seemingly similar walls have been slightly altered in different areas of the texture so they do not look exactly alike when side by side, but compliment one another well enough to add a bit of realism.
* There are 24 walls and 4 floor tiles.
- 3 Sectioned Marble Basic Walls
- 11 Mosaic Walls (Combining Marble with Glass, Tin and/or Stone) - There are 5 backsplash options to choose from.
- 10 Textured and Marble Accent Walls
- 4 Floors
* The walls can be found in the "Tile" section. Textured Paint & Marble Walls are 7 simoleons, Basic Marble Walls are 10 simoleons and Mosaic Marble Walls are 15 simoleons.
* Floor Tiles are located in the "Tile" section as well. Floor tiles are 10 simoleons.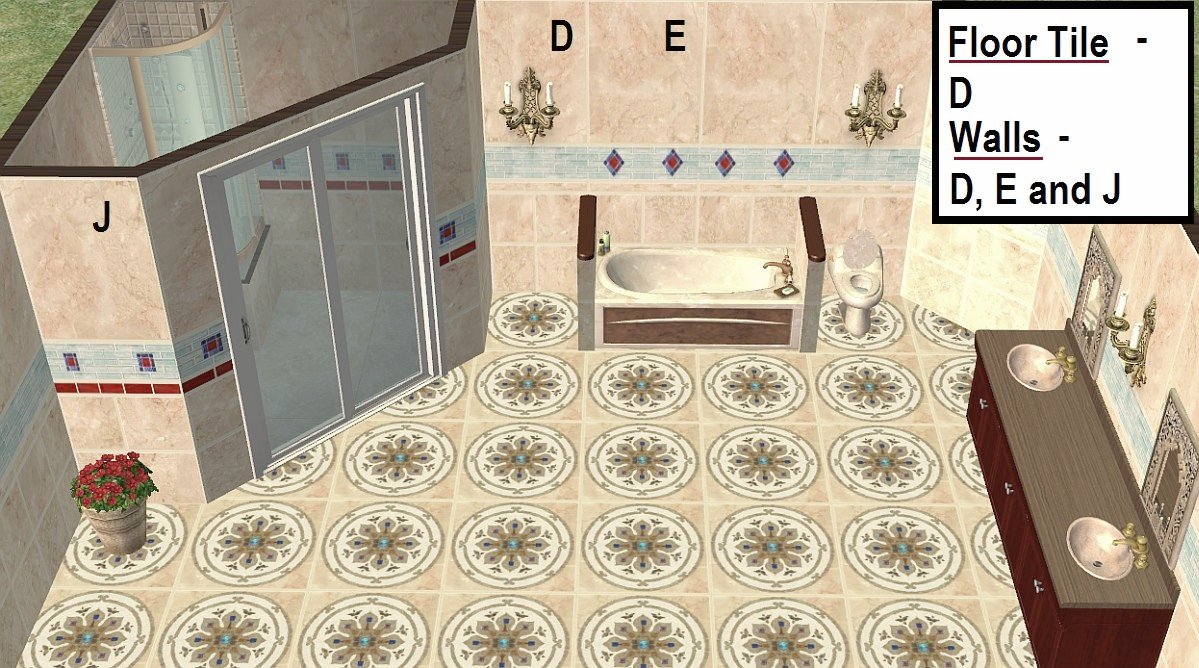 * The floor tiles are all 1x1. There are 2 simple marble floors: 1 is a single tile and the other has four squares per tile. There are also 2 marble floors with medallion inlays. One of these floors has been "bejeweled" and has a rather intriguing look in game. But, I will let you judge for yourself!

* Walls can be used individually or mixed-and-matched. It's all up to you.

*WYSIWYG -
For this set, "What you see is what you get." Unless your computer graphics are not properly matched with your screen resolution and TS2, the images you see in this post are an accurate example of the actual walls in-game. I took great pains to bring out the best aspects of each marble slab used to create each wall (at times altering pixels to perfection). So, do enjoy the set.
*Collection Files for this set are also available in the downloads. Be mindful of downloading the actual textures as well.
* Backsplash Wall K includes a stone tile that matches Stone Floor 08 in the Ultimate Ceiling/Floor Superset. The floors in the Ultimate Ceiling/Floor Superset has many patterned floors that will beautifully compliment this set. Check out the Ultimate Ceiling/Floor Superset here:

7 Part Ultimate Ceiling/Floor Superset
***

HEADS-UP! - F.Y.I. (For Your Information)

***
* Keep in mind this is a "Starter Set". Thus your "backsplash" options are somewhat limited in this set. But I do believe there are enough textures used in this set to get you "started".
* I am putting the finishing touches on a collection of basic walls that I will need for upcoming projects. It will include 3 more "very unique" sets of "Backsplash" Marble Walls with each set including a variety of "backsplash" options and colours. The upcoming wall collections will also include basic textured walls in a variety of colours, walls with white moulding, walls with white wainscotting, walls with brown moulding, walls with brown wainscotting, wood walls (to match floors created in the Ceiling Superset) and Vintage walls. Something to look forward to!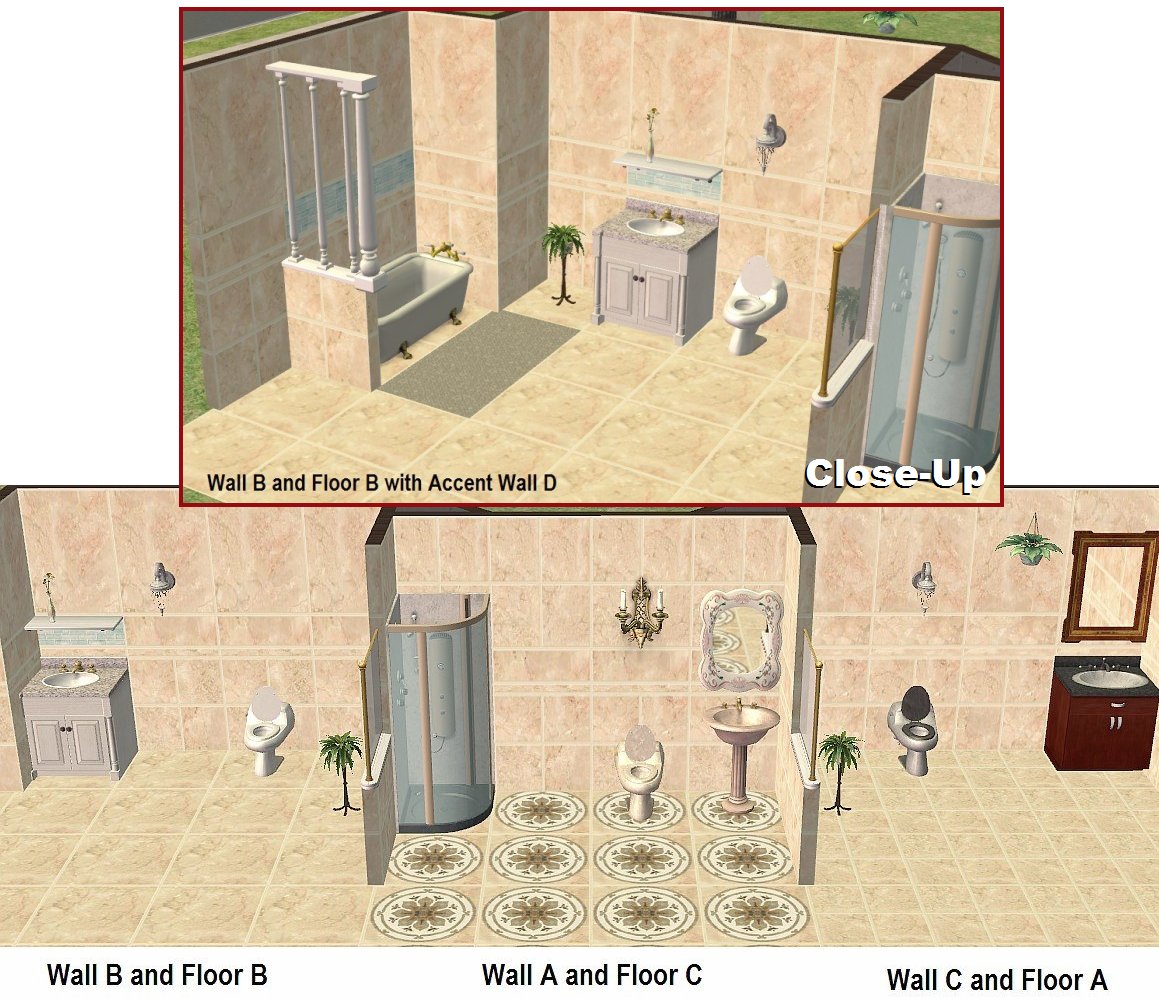 Do enjoy this "small" texture set!

Packs Needed
None, this is Sims 2 base game compatible!
~*~StephSim's Creations~*~
❤ Welcome to my little space of the Simming Community!❤
As of July 2016, I've decided to reinvent myself (again). Basically, my Sim Creation Renaissance is long overdue! It's time to release the old and move forward, doing things that sustain me in meaningful ways. ◕‿◕
I shall start with a wonderful new Sim Place to call home! And now the Official Unveiling (....drum roll...):
CLICK HERE to experience StephSim's BRAND NEW SIMS 2 WEBSITE called *** Proudly Banished *** !!!
Proudly Banished is my little storage place for a select few of my Sims 2 creations. Since I will NOT be Simming as much, I wanted to provide a small landing pad for random creations I will be sharing. I will on occasion share NO CC/ LOW CC Lots and MTS related recolors here on MTS. However, my CC LOADED Lots will be Housed at Proudly Banished. I've also add the updated Fully Loaded Versions of the American Gothic Mansion. Be sure to click on the Slideshows when available! You will find a few lots, object recolors, clothing recolors and the Regina Mills Sim (from Once Upon a Time)! There should be a little something for everyone!
Take your time and explore the site and be sure to check out *Sherwood Forest* for my PBK Community Goodbyes!
See you there. (。♥‿♥。)
POLICY
All StephSim walls, floors, and ground covers can be freely used in lot creations on any free or pay site. Feel free to use my neighborhood maps/terrains for any and all of your Simming needs. Feel free to use any objects or object recolors shared on MTS or elsewhere in the Sims 2 community in your creations (lots, movies, stories) Feel free to recolor objects I upload and include the mesh. Feel free to use any Sims I create or my lots for your Sim movie making purposes! In using any of my creations. Credit is not necessary, but please do not claim any shared creations by myself,
Sophie-David
,
Jason Duskey
or anyone who I team with as your own.