Pets

>

>

Sims 3 Pets go here
Bucky Runnerbeast
MTS has all free content, all the time. Find out how YOU can help to keep it running.
Tell me how...
4,245

Downloads
366

Thanks Thanks
22

Favourited
49,265

Views
Personal Picked Upload!
This is a personal favourite of the creator!


Created by porkypine View Policy / About Me View all Downloads
Uploaded 22nd Oct 2011 at 10:05 PM · Updated 16th Nov 2011 at 7:42 AM by porkypine
Bucky is a gorgeous buckskin stallion and LOVES to run. Get your sim up and riding and enter this horse in the local races! Bucky is agile, fast and brave which makes him good for cross country races and jumping events.
Bucky is shown here, saddled and ready for a ride, with his human BFF, Jerome Woodatsi.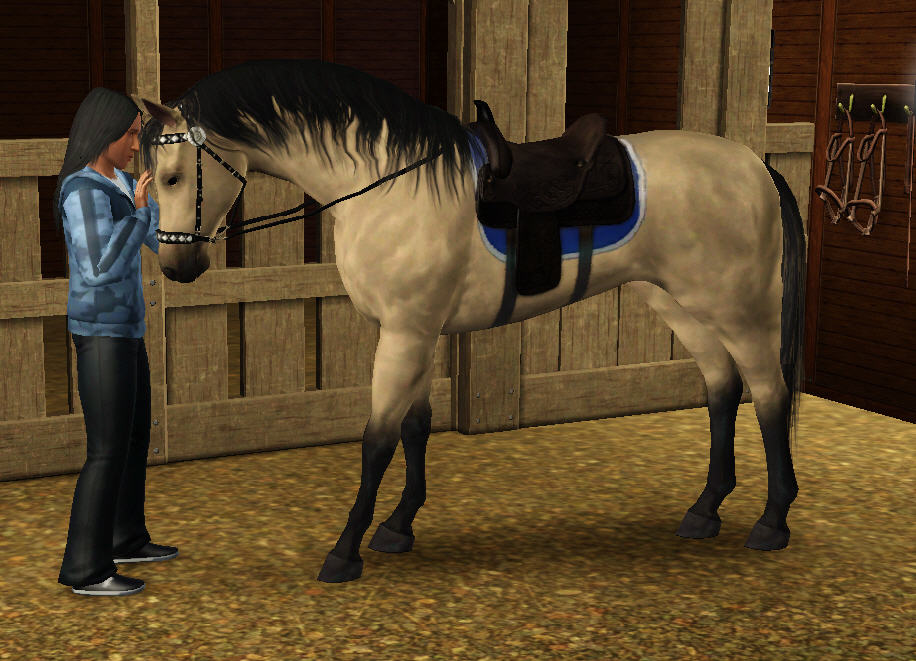 Notes on Buckskin horses: A true buckskin is a light to dark gold horse with minimal smuttiness on the coat. They have dark legs, manes, noses and often a dark or cream stripe on the nose. I think they are very pretty horses. Here's a real life show horse as an example.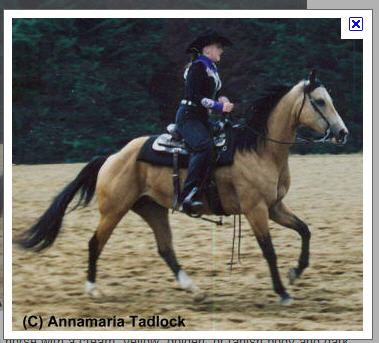 PETS is required for this Horse.

Thanks ivanpowa for bringing it to my attention that I needed to give some installation instructions. The PETS upload here only uses the .sim file from the saved sims folder because it's smaller than a sims3pack and anyone can drop it into their saved sims folder without having to use the launcher. The installer monkey has not been updated yet to recognize pets.
So, put the .sim file in your >
My Documents\Electronic Arts\The Sims 3\SavedSims
folder
Why is it not a sims3pack?? The .sim file is about half the size, and can just be tossed into SavedSims when people download it rather than having to double-click and run the launcher to install. The Launcher doesn't work for everyone!
Mashed Meshes Policy
We all know what a pain it is to find a gorgeous outfit that someone recolored but then we have to go to some other site to get the mesh. Sometimes, that MESH is not easy to find, OR is no longer available. AND, sometimes people just don't have the time to go shopping so they bypass something they may have liked but it was just too much of a hassle to go find all the parts.

With the above thought process in mind , I have decided that any and ALL of my meshes may be packaged along with any recolors that people make, or it can be published at their site as the MESH download of a recolor. The only string attached is that the recolors of my meshes must remain totally free. You can put them in a free download section of a paid site but they can't be a gift for a donation. After all, you got the mesh for free and you wouldn't have been able to make your garment without the mesh.

And, if someone wants to 'steal' my stuff and take credit for it... well, they have to answer to a higher authority for it.
You may include any meshes I create in your uploads as long as you give me credit. :0) Send me a PM so I can see what you've done. :0)

Added: Since I know how much work goes into creating meshes from scratch, you can use any of my meshes as a starting point and add your own stuff to it or change things on it, as long as you take responsibility for the changes to the mesh and DO NOT CHARGE for it. :D

P.S. By all means, if one of my creations is BORKED and you can fix it, please do so. I am a busy person and can't get around to fixing game things all the time and I'd appreciate it if you'd send me a pm with a link to the fixed item. :0)

NOTES FOR SIMS 4 MESHES: Jan 18-2015
I'm learning how to make Sims 4 meshes. Please note that Sims 4 object recolors pack the original as well as the modified mesh along with the recolor. Until that is fixed, (if anyone is interested in doing so) I will only allow recolors of my meshes if they stay here at MTS where I can track them down. The reason for that is if EA makes a change that breaks a mesh, the people who've made recolors need to remake their recolors so it can be packaged with the updated mesh. Sorry, This is a design issue made by EA. This may change later if EA makes a change.